The most reliable point of sale system will thus be saving you time and money. Our top choice, Wild Apricot, comes with a database to store your contacts. It also has an online membership register and various communication channels.
The best country club POS system should take care of your administrative tasks and give you enough free time, so that you can attend to your country club's important events.
This POS solution provides a booking option, funding and payment system, platform for your invent, and many more useful tools.
What To Look For
A great POS must be able to help you track your customer base, recall their orders and assist you to stick to their unique preferences. This will ensure that you effectively fulfill the needs of your country club customers.
Country club POS systems will also assist you to track your inventory, supervise your employees, and handle your sale system flawlessly. Please note that there are different POS plans you can sign up for. In the same way, there are different providers offering country club POS solutions.
In most general terms, your choice of the best POS system and plan depends on the size of your business. This will determine and the services and the features you will be looking for. We have provided here useful guides that will help you to make an informed decision. 
Best Overall Country Club POS System: Wild Apricot POS

Wild Apricot country club POS has made it as the best overall POS solution in our list basically because it is cost effective.  The pricing plans and features it provides compare most favorably among the group.
This POS solution comes with a lot of useful features that will make the management of your country club seamless and easy.
It helps country club owners attract new members, renew the membership of old customers, and take care of the specific needs of their active members. This POS system automates membership renewals and make the activation of member self-service possible.
Basic Functions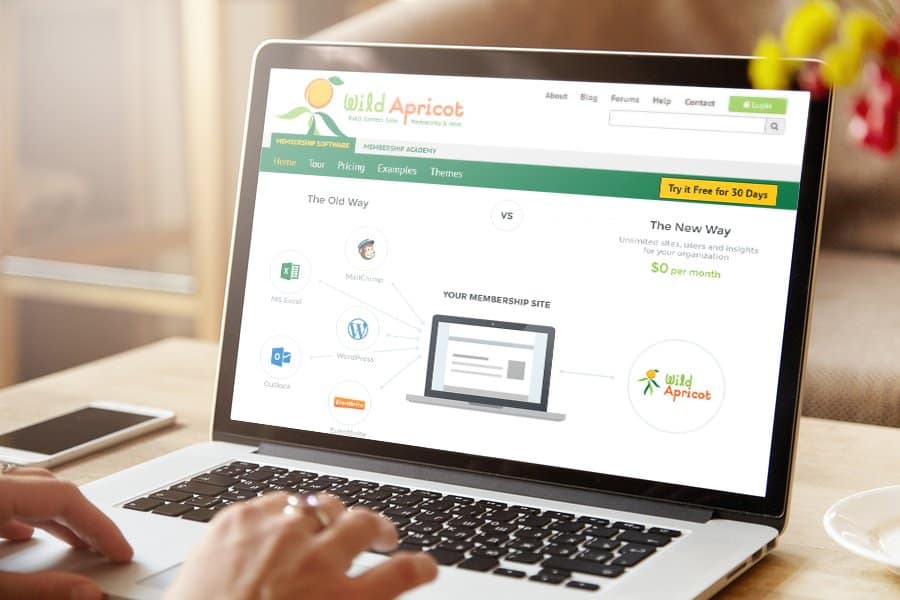 Wild Apricot allows you to generate a mobile-friendly online application form for member's registrations. In addition, it makes subscriptions and payments easy with its integrated apps.
This POS system also facilitates your country club's business operations by effectively managing the workload of your employees.
It also ensures proper and secure management of your customers and their data. whilst allowing membership directories and content from your registered members only.
This POS Allows You To:
Manage your members when you are up and about with the use of a single and versatile software solution.
Develop your country club's website within just a few minutes, regardless of whether or not you have any prior coding knowledge.
Easily incorporate a membership form, event schedule, or payment form to your already functional website.
Make your website both desktop and mobile friendly.
Broadcast online about an upcoming event and register the interested customers.
Bill and collect event fees and payments easily, without any additional costs to your business.
Write and send newsletters and emails to your registered customers. 
Get A Quote from Wild Apricot POS
Top 3 Country Club POS Systems
Top Features

No. of Members



Registration & pricing

250

500

2000

5000

15000

$40

$70

$130

$240

$270

$90

$150

$360

$500

Call to find out

Not stated

Quote Based

Quote Based

Quote Based

Quote Based

Cloud-based database

Yes

Yes

Yes

Yes

Drag & drop website builder

No

Yes

Yes

No

Mobile friendly themes

Yes

Yes

Yes

Yes

Event registration & tracking

Yes

Yes

Yes

Yes

Online payments system

Yes

Yes

Yes

Yes

iOS & Android Mobile App

No

Yes

Yes

Yes
Prices At A Glance
The ClubExpress charges a minimum monthly fee of $90, while Wild Apricot offers a 30-day free membership on their plans. The paid membership plans range from $402-270 for 20 to 15000 members. However, Digital Dining do not list any prices on their website.
Member-Based Software for Country Clubs: Wild Apricot POS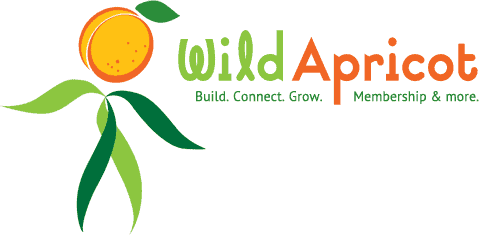 Wild Apricot country club POS has gained wide popularity due to its amazing and cost-effective solutions.
It comes with a 30-day free trial period for all of its pricing plans. Wild Apricot can also help you to develop and launch your website just in a single day.
The POS platform directly manages your website, including emails, point of sales services and invoicing. In this way it allows members of your club to register and pay for events online. The POS software is insightful, very responsive and user-friendly.
"You'd be amazed at the ease with which you can build your website with Wild Apricot!"
Wild Apricot Saves You Time And Money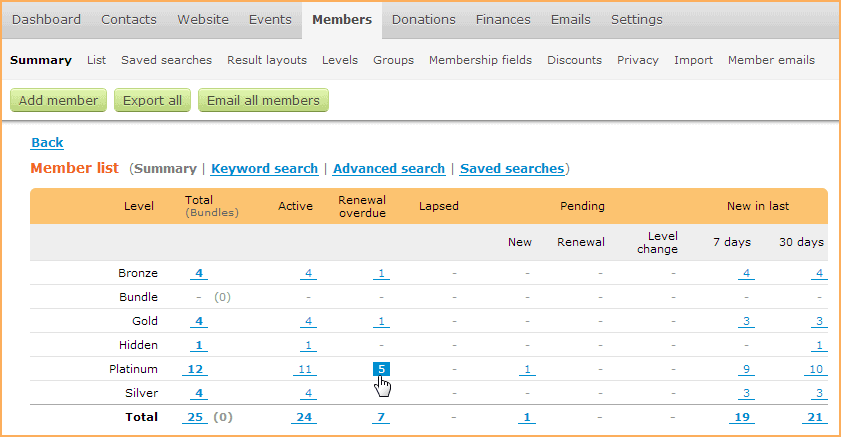 This POS software is a versatile solution that helps you to keep your website up to date, register prospective members, collect their data and store it in the online database.
It also enables you to accept and process payments, plan your staff training programs and send automated bills, receipts, and email reminders to subscribers.
Its functionality frees up a lot of free time for you. You can spend this precious time improving your customer service and thinking of how to take your country club to the next level.
The Wild Apricot's POS solution can save you roughly twenty hours of business time every week. Below, we have listed some features of Wild Apricot's country clubs POS that you'd be able to access for free during the 30-day free trial period.
Apart from the amazing features you see in the above screenshot, Wild Apricot' country club POS has other enviable features like:
Login form for country club members and membership register
Discounts on multiple memberships, family or group memberships.
A mobile, user-friendly app that allows you to manage your country club when you are up and about.
Payment metrics
Free, unlimited customer support with even a free membership plan and the ability to put a yet unavailable feature on you wish list.
The ability to enjoy all the features that are accessible to a paid user within the 30-day free trial period.
The pricing of Wild Apricot's country club POS is shown below. They don't require additional set up charges for all of thier the payment plans. In addition, when you go for annual subscriptions instead of monthly payment plan, you get a 10% discount. 
The wild apricot country club membership POS provides you with:
Membership and customers database
Online subscription platform
Contents from only registered members
Ability to import your database
Automated membership renewals or prompt hark back messages
With the website builder that comes with this country clubs POS you gain the following:
Customizable website building platform and website hosting at no additional cost
Sophisticated tailor-made solutions and API
Broad collection of customizable website themes
Integration of widgets for transferring information to your website
Ability to integrate your country club POS and WordPress easily and seamlessly.
The mobile friendly website that you get from the country club POS comes with a broad collection of:
Mobile friendly themes, administrative apps accessible in both android and iPhone devices. It also allows you to register members for events through the mobile app. Through the website you can also carry out membership renewals or manage the club's business operations through the admin's mobile app.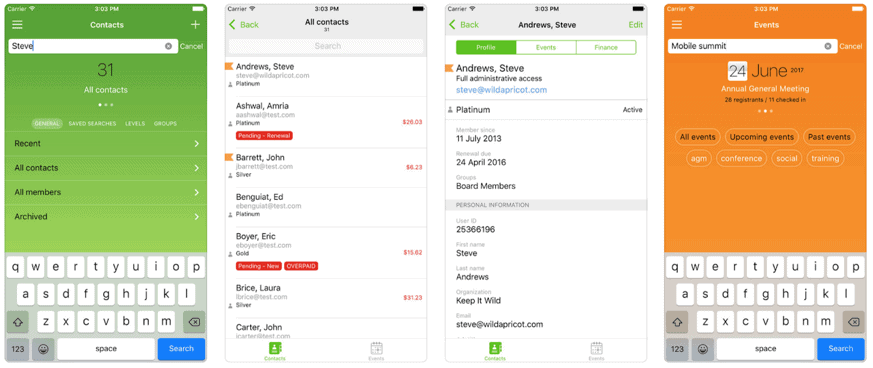 The Wild Apricot's country club POS comes with varieties of online payment solutions which includes the following:
Recurring member charges
Subscription for events and payments
Safer payments through PayPal, Stripe, Authorize and so on.
The email management solution of the country club POS lets you carry out the following:
Send email newsletters
Bulk emails and
Automated emails
The event management solution of wild apricots country club POS helps you to carry out:
Digital web registrations
Automatic reminders
ticketing , restrictions, addition costs and price cuts
Information Resources
With Wild Apricot Country club POS you also have access to a wide variety of useful resources that ensure your business's success. This includes loads of useful articles to guide you through some of the most common practices, plus the ability to access podcasts and blogs and videos.
Community Support
With Wild Apricot's country club POS solution, you become a member of a community made up of peers and professionals who are ready to provide you with live webinars, webinar meetings and useful advice.
The Bottom Line
WildApricot country club POS offers you a lot of features which ensure the smooth and successful running of your country club. These include mobile-friendly website themes, cloud-based storage system and a modernized membership management system.
It also has an easy-to-use website building features, automated email management system, newsletters, and reminders.These amazing features guarantee that you will attract more members, become more effective, grow your business and gain a lot of profit.
Get A Quote from Wild Apricot POS
2. Country Club POS with Accounting Features: ClubExpress POS


The ClubExpress country club POS provides better organization  of your members' database.
On the downside, it doesn't offer so much adaptability and customized solutions for your website. Its content management system isn't very impressive either.
ClubExpress country club POS provides club owners with a versatile, all-i- one package. This includes excellent user experience, self-service adaptability and features, various pricing plans, and solid admin management over the entire country club and its business activities. This system is could also be used as Golf Club POS System.
Efficient Management System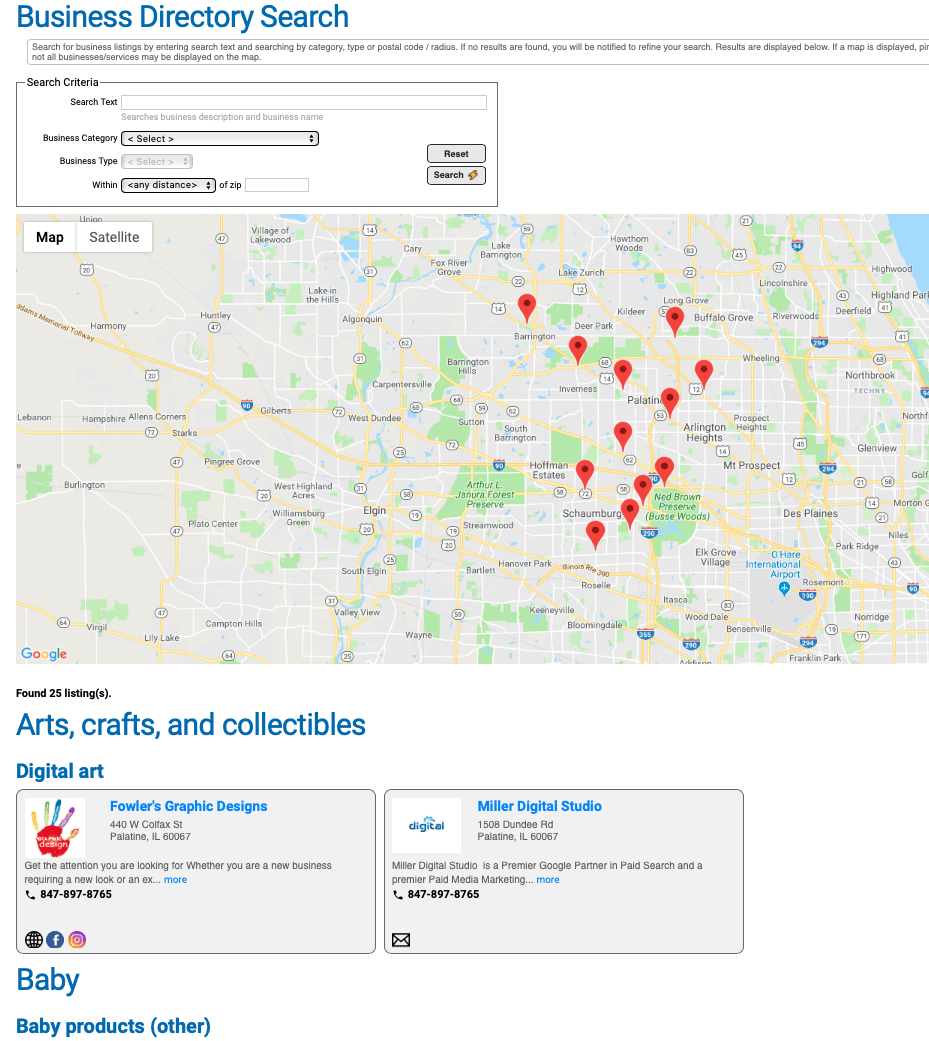 ClubExpress country club POS helps you to manage every activity of your country club through one independent and self-reliant platform. Its features are well over that of a standard membership system.
Mobile friendly
All website you build through the ClubExpress POS are mobile friendly, which means that they can be accessed both via a desktop computer, a laptop, or through mobile devices.
The ClubExpress allows you to create a specific version of your mobile friendly website, which will be over and above the already existing average content editor. ClubExpress POS also comes with unsurpassed mobile app functionality.
Pricing and Support
The pricing model of ClubExpress is unlike any of its competitors'. First and foremost,  the pricing model does not require any long-term contracts. Instead,  it functions on a monthly subscription basis.
Your monthly payment also depends on the numbers of active members and the new members you have. The monthly hosting fee calculator will quickly let you know how much you've got to pay.
In addition to the hosting fee, you  also have to pay a one-time setup fee, which starts at $150 for standard setup, if you have the knowledge and resources to create your own website.
Alternatively, the beginner's package costs $960 and includes a website building option. This option provides their standard website builder, a number of different templates and designs, plus a bunch of standard features like membership forms, help wizard, board and benefits, payments, and so on.
Extras
The White Glove Website Builder plan incorporates website builder setup with the ability to import data. There are also integrations and add-ons like virtual membership cards, in house web designer, together with a quick book feature and intuit. You've got to pay extra for each one of these.
Pros
ClubExpress country club POS comes with an all-inclusive POS and membership management. system to help you manage your club events and receive online payments from subscribers.
It comes with a user-friendly platform, which includes an email marketing system.
It incorporates analytic tools and data management.
All-inclusive help resources.
Solid admin support, management and paid custom-made website.
Short term subscription and payment system based on active membership.
No storage limits and bespoke mobile applications.
Cons
It is specifically built to serve the needs of clubs  and organizations
It is not a fit for all membership management solutions.
Bottom Line
ClubExpress is a complete and independent country club POS system that caters for the needs of clubs owners. It provides useful features like membership and website management solutions and a good communication system.
The list goes on with content management, payment solutions and support, together with a responsive platform. All of these guarantee your customers' great experience.

Digital dinning POS is a highly-personalized and easy to use country club management solution. Its most remarkable feature is the instant member verification.
Members' names are written on the guest check together with their preparation requests to allow for custom-made dishes.
Membership Open Check
Digital Dining country club POS permits members to pay towards their individual minimums. The check carries the member's name and the services, along with the requested payment process and invoicing method.
In addition, Digital Dining is a highly customizable country club POS. It allows you to print checks, prepare vouchers, make entrance and exit slips, and so on. You can also choose the features you want to have, depending on your POS type. 
Time & Staff Management
Digital Dining POS permits staff members to sign in at the start of their work shift. Workers can choose their work department and specify their lunch break time. This country club POS solution protects your customers from identity theft and lets them pay right at their table.
Basic Functions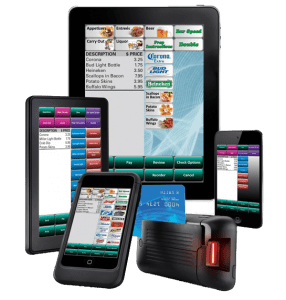 The Check Transfer feature lets users transfer single and multiple open checks safely from one staff member to another.
The Hold & Fire function allows in-house staff members to pick up certain menu items and stop them from being printed immediately, or fire them to the kitchen manually.
The Split Item feature lets you divide menu items like dessert or bottle of wine between two or more members, while the Out Of Stock function alerts you whenever a customer has ordered an unavailable item.
Extra Features
This POS system has a truly remarkable feature with which you can send your members' special orders directly to the kitchen without any delay. The Round Order function allows your customers to easily repeat their orders whenever they need to.
Pros
Amazing mobile country club POS feature
Insightful and responsive user-friendly web design
Great functionality
Data safety
Cons
Incomplete back-end reporting
E-commerce technical glitches.
Bottom Line
Digital Dining was initially designed to be used by restaurants, but its use has now extended to country clubs as well. And that's hardly a surprise!
It comes with user-friendly platform that is accessible through multiple devices and can be used to manage other membership systems. Digital Dining provides handheld POS solution to meet the needs of business or different types and sizes.
Get A Quote from Digital Dinning
Country clubs are organizations that expect excellence all around. The members are held to high standards, but their staff is held to even higher standards. With this mentality in place, it only makes sense that a country club's POS system should be top notch.
Before You Get a Country Club POS System
Manage Memberships
Being able to access any club member's account at the touch of a button is a thing of beauty. With no more than a few clicks, you can have any and all information regarding a member at your fingertips.
This type of easy access will give you several tools that will make day to day operations a breeze. For example, if a member requests a specific tee off time and does not show up, you will be able to pull up their cell phone number and give them a call.
Daily operations go smoothly when your employees have all of the information they would need at the disposal.
Bill accounts
Billing accounts with one of these country club POS systems couldn't be more straightforward. Merely input the club member's data into the system, and the software will do the rest. The software will automatically charge members in real time for expenses. Members will be able to use installment payments for purchases. By doing this, members have the option to pay over a period of time with simple interest calculated.
The system will automatically charge members their monthly dues at the beginning of each pay cycle. Everything from dining expenses to equipment rentals can be accessed through one interface.
Calendar
Schedules can become quite hectic when running something as complex as a country club. Several events must be tracked and accounted for at any given time. Thankfully, as long as you have the right POS system in place, this task becomes effortless. All scheduled events will be no more than a few clicks away. Edit, delete or reschedule events in real time.
The POS system will update any new information instantly across every device. Being able to view and edit your clubs schedule quickly will ensure for smooth daily operations.
Reporting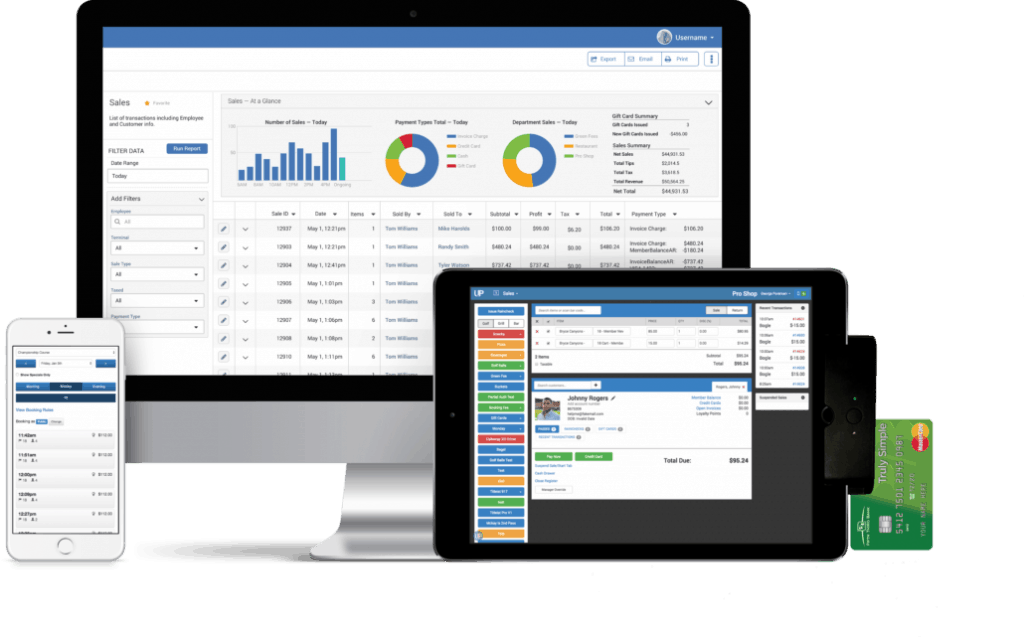 Having accurate records of all transactions is paramount when trying to run any business, let alone a country club. The right system will make your bookkeeping painless and help save you valuable time. A system like that of ClubExpress is exceptional when it comes to reporting. You will be able to see any and all transactions. Charts and other graphics will help to make reading the raw data manageable.
Data is presented in an easy to understand fashion. This information may help influence any financial decisions.
Emailing
Having strong lines of communication between your organization and its members is essential. With software like Wild Apricot, you will have a one-to-one line directly to club members via email. Additionally, a POS system like Wild Apricot lets you send emails in the form of a professional newsletter to your members. An automated emailing system will ensure that every member of your club stays up-to-date.
It is also incredibly easy to update or change a club member's email address in your database. Standardized emailing is something that often goes unnoticed, but it affects thoroughly improve many aspects of daily operations.
Essential Features for Any Country Club POS

Easy to use Website builder
Events creator, registration and management
Automated online payment solution
Online database for storage of membership data
Emails and newsletter solution
Membership Login solution
The above features are the essential features that every country club POS system should provide. In addition, it ought to be able to effectively manage members' databases and make it possible for the club to offer its members great service.
The POS system that you choose for your country club should speed up payments and reduce customer waiting time. To excel as a club owner, you should be able to meet all of your customers' needs. Your POS system should help you provide exceptional service that'd impress your customers. 
The Bottom Line
Wild Apricot country club POS is very much affordable and cost-effective. At the same time, it provides country club owners with a lot of wonderful features like staff training, professional advice, and peer support. These keep them over and above their competitors.
It also offers a 30-day free membership period and does not ask for any set-up charges and onetime fees, unlike some country club POS providers out there.