(Last Updated On: October 19, 2021)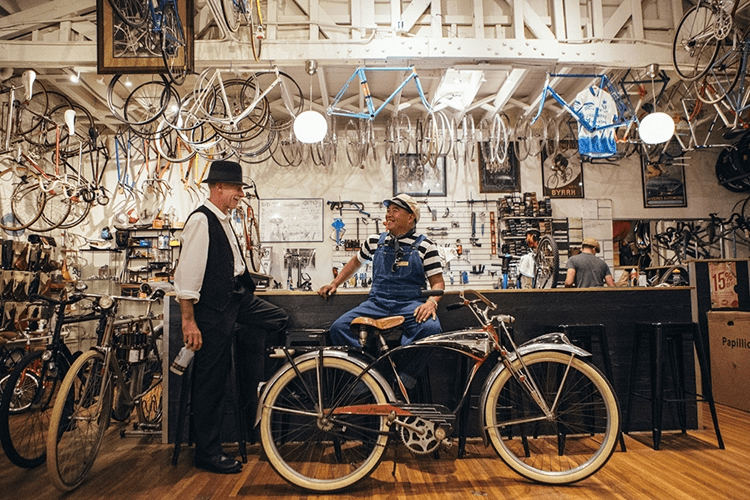 Bike stores, just like any retail store, need technology to drive growth and deliver a better customer experience, which is why we evaluated the best bike shop POS systems.
POS systems merge software and POS hardware to streamline your business's internal processes. They automate administrative tasks so you can spend more time serving customers.
Bike stores need specific POS hardware components. There are tons of bicycle brands and models, and many of them require unique parts that don't fit other bike models.
Inventory management hardware like inventory scanners take the burden off employees who otherwise would have to manually count stock. Bike stores also need tools like credit card readers to process purchases digitally. These tools provide digital records of your inventory, sales, etc., providing you with data to run reports.
That's where bike shop POS software comes in. Scanned inventory data is saved in your central POS database. The same is true for sales data, customer data, revenue growth data, etc. Features like powerful reporting allow you to keep a finger on results and make data-driven decisions about how to grow your business.
There are loads of software features and hardware components that bike shops need. Below we evaluate our top picks for bike store POS systems to assist you in your search for the perfect solution.

The 3 Best Bike Shop POS Systems
Overall

4.9/5

4.5/5

4.5/5

Ease of Use

4.5/5

4.5/5

4.5/5

Customer Service

4.3/5

4.5/5

4.5/5

Starting Price

$99.00/month

$69.00/month

$139.00/month

Deployment

Cloud, SaaS, Web

Cloud, SaaS, Web

Cloud, SaaS, Web

Training

Webiners,
Live Online
In Person

Documentation
Live Online
In Person

Documentation
Live Online
In Person

Support

Online

Online
Business Hours
24/7 (Live Rep)

24/7 (Live Rep)


One of the best things about Lightspeed's POS solution is that it offers a perfectly seamless workflow.
Regardless of whether someone purchases an item from your brick and mortar store, online, or through their phone, Lightspeed Retail automatically adjusts your inventory data in real-time. Moreover, your orders are automatically synced back to the central system. It doesn't matter whether they were placed in-store, online, or from a mobile device.
To sum it up, this POS software makes it easy for bike shop owners to manage their orders, print receipts, refund a customer's purchase, or look up their purchase history.
Purchase Order Tracking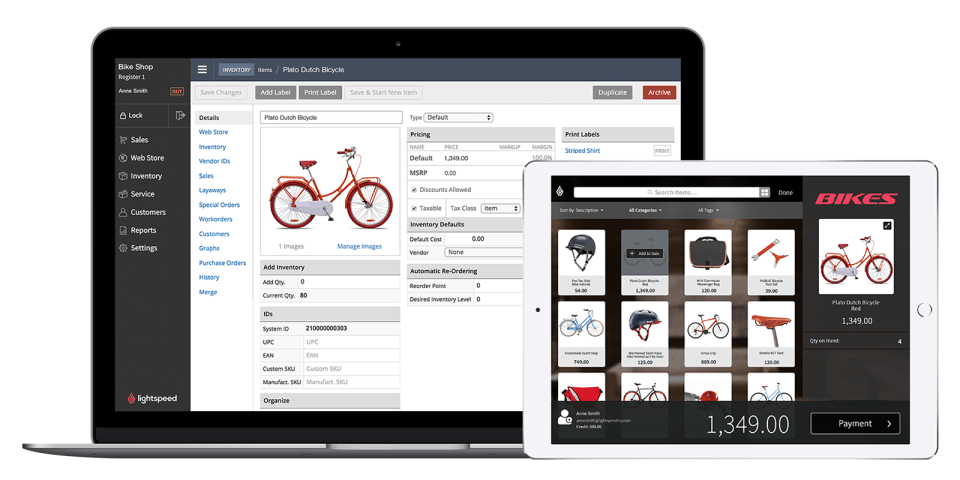 Lightspeed simplifies your purchase order process. Users can select from over 200 vendors and place an order with just one click.
They can focus more time on what they know how to do: selling bikes. Users can also add multiple product categories and item types.
Reporting and Metrics
Lightspeed Retail also delivers powerful reporting and analysis features. With all the data captured by the system, you easily track sales, customers, their purchase patterns, and in-store and online payments. This lets you quickly understand which products are selling well, and which ones aren't.
The analytics features of this POS system provide bike shop owners with a better understanding of how their sales change from one week or month to the next. Thus, you'll be in a better position to make smarter, data-driven business decisions.
Lightspeed Retail offers hundreds of apps and integrations to help your bike shop grow. Its system helps you manage every aspect of your bicycle retail business. Also, they have an integration that helps you automate your accounting, which reduces your bookkeeping costs and eliminates the need to keep an accountant on the payroll.
Marketing Capabilities
Lightspeed allows you to keep customers informed about new offers and encourage them to return and purchase more with built-in SMS and email marketing tools, such as a drag and drop email builder.
You can also automate and customize marketing campaigns and auto-segment those you want to target based on their past purchasing patterns. Lightspeed POS also includes preset marketing campaign templates so you can set one up and start it in no time.
Lightspeed Retail also integrates with third-party email applications, such as MailChimp. This allows you to send out thousands of promotional emails and sales notifications to your loyal customers with a single click.
Inventory Tracking and Management
Inventory management is one of the strongest features Lightspeed offers. It is known in the POS industry as a leader in this area. Lightspeed makes it easy for bike shops to save time by automating inventory tracking, sending you low stock notifications, and running inventory reports. This allows you to always keep an accurate count of what's left and what needs to be restocked.
Users can also import items from external lists and order items from pre-loaded catalogs that are accessible in the Lightspeed POS system. You can create custom line items and automatically calculate taxes.
Great Quality-Price Ratio
Lightspeed is one of the reasonably priced retail POS systems on the market. If you sign up for a free trial, there's no commitment, nor do you have to provide your credit card information.
If you end up watching a demo and liking the software, Lightspeed's experts will work with you to set up the POS system with your company's information, such as company name, logo, and other integrations you need for your business.
Lightspeed Retail POS software systems start at $69/month and go up from there depending on which features you want. The highest tier system costs $229/month.
Disadvantages
Lightspeed doesn't have a rental program feature, and many bike shops rent bikes by the hour so this can be a headache. Plus, many users report the company has poor and slow customer support and their customer support team is often challenged to resolve customer issues.
Bottom Line
Lightspeed Retail is a very reliable choice if you have a bike shop that needs comprehensive in-store and online functionality. Overall, we think it is the best POS system for bike shops.
Vend

: Best iPad-Based Bike Shop POS Software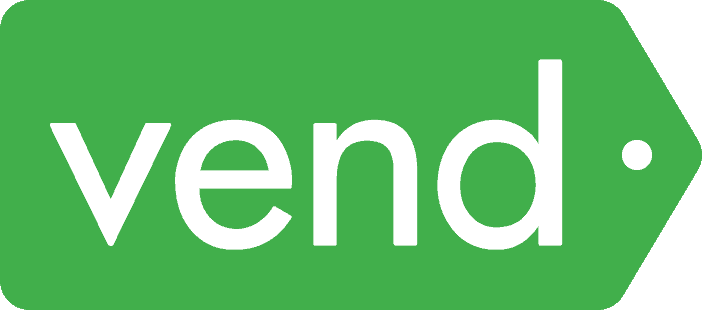 Vend operates through a native iOS app or a web browser. So, it will always be accessible, no matter where you are, as long as you have internet or mobile data.
Adding new locations and registers is very simple. Plus, the system's offline mode makes it possible to process sales transactions in even the most remote locations.
Real-Time Reporting
With reporting in real-time, you get valuable insights you can use to make smarter decisions around growing your business. You can track your best-selling products, your most valuable customers, and your busiest hours. And you can keep track of your appointments as Vend also integrates with third-party scheduling apps.
Inventory Management
This bike shop POS system simplifies managing and importing inventory by allowing you to edit, add, and remove products from your stock count.
It is easy to track stock levels across various locations and order new supplies with built-in management features. This ensures that everything you need is always in stock. The POS system's seamless integration with major eCommerce platforms allows you to sell online via your eCommerce site.
Easy to Set Up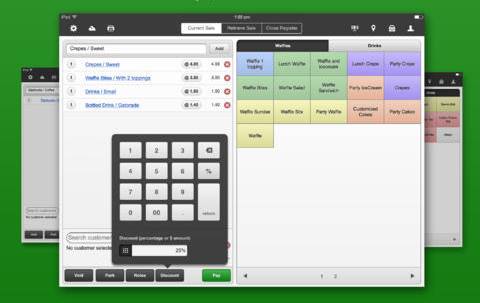 It is very easy to get started with Vend. The system works with a wide range of POS hardware. The company offers a wide variety of tutorials, videos, and a range of support options to help its clients get started.
Bike shop managers can upload products and make sales in minutes. You will be able to maintain constant insight into performance, revenue growth, and much more with Vend's reporting features.
General Features
Vend offers all the POS features a bike shop of any size would ever need. With Vend, you can easily maintain price books and create or update customer lists. You can even design your own branded gift cards.
Vend's employee tracking features help you manage your workforce more efficiently. The content management system enables bike shop owners to improve their online store's functionality. They can, for instance, add products and pages, or rearrange designs quickly and effortlessly.
With Vend, you can set prices depending on client types and location. Best of all, importing and exporting inventory is no longer a challenge. Last but not least, the interface renders correctly on screens of all types and sizes.
Payment Options
Vend integrates with all major payment processors and will quickly have you accepting payments from Visa, MasterCard, American Express, debit cards, and even gift cards.  Your patrons will be able to swipe, tap, or use chip cards.  Vend also works with contactless technologies like Apple Pay and fully integrates with PayPal.
Add-ons & Integrations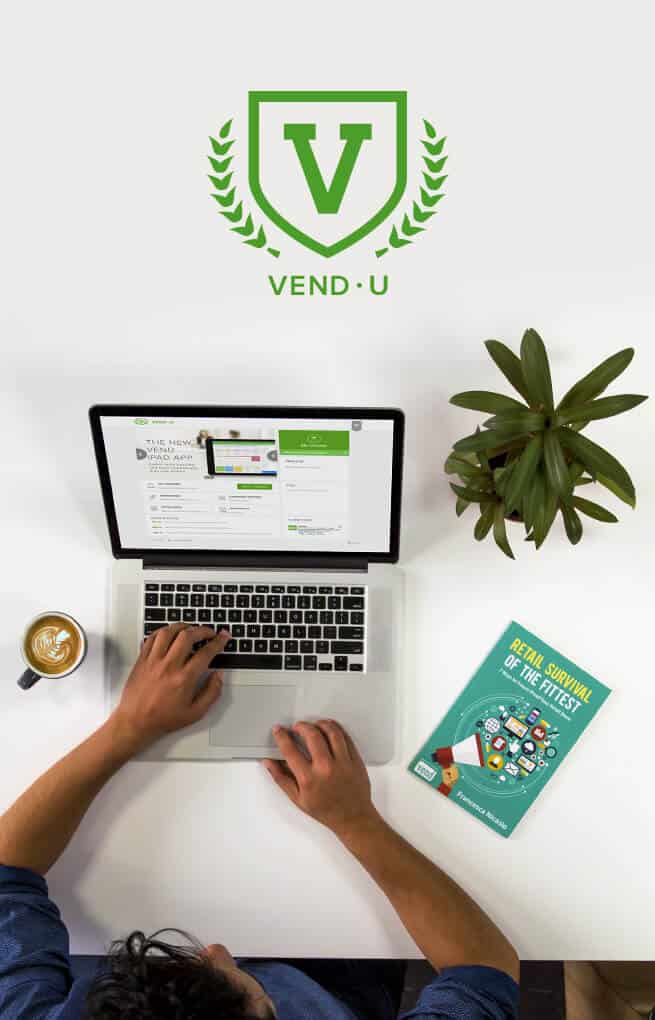 Using Vend as your bike shop POS system will make it easy for you to utilize API integrations with accounting software like QuickBooks and Xero. Vend also partners with numerous other value-added app providers that will help you schedule appointments, optimize inventory, and automate marketing campaigns.
24/7 Customer Support
Vend prides itself on its award-winning customer support.  The company has offices in the US, Canada, UK, Australia, and New Zealand. Priority phone support is included in all pricing plans at no additional charge.
Vend also has a robust Help Center where bike shop owners can access help articles, video tutorials, and set-up guides to get the answers they need at any time.
Top Benefits
Web-based or iPad POs worked on any device
Off-line mode automatically re-syncs all of your data
An intuitive interface makes it easy to train staff
Discounts and additional notation capabilities
Create custom receipts with your logo and other messages
Ability to create layaway and on-account sales
Flexible return capabilities to any payment method
Detailed cash management functions and register closure
Flexible user permission settings
Disadvantages
Unfortunately, Vend's in-store POS system doesn't support purchase orders. This means that you can only configure commission payments on delivery.
Bottom Line
We think Vend is a user-friendly, scalable bike shop POS system that works well for bike shops of all sizes. We definitely recommend you evaluate the system further when shopping around for bike shop POS software.
RetailPoint

: Best Inventory Management Features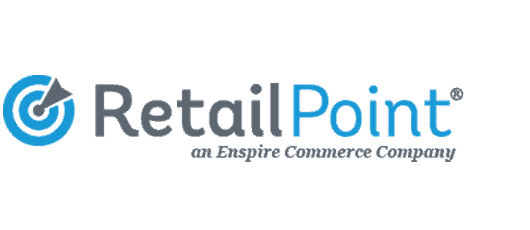 RetailPoint is a rather complex mobile POS system aimed at helping small to mid-market retailers better serve their customers.
The system's functions guarantee a stellar customer experience, from in-store and online shopping to delivery.
RetailPoint is a tablet, cloud-based, and desktop POS system that features an intuitive user interface and cutting-edge software.
On the whole, RetailPoint POS software is a great solution for bike shop owners. It allows users to easily import bicycles, spare parts, and services into the POS inventory. RetailPoint's detailed reports make it possible for managers to track sales, inventory and customer behavior.
RetailPoint POS also provides various customer loyalty programs. This allows bike shop owners to track and compare sales information across all of their shop locations.
General Features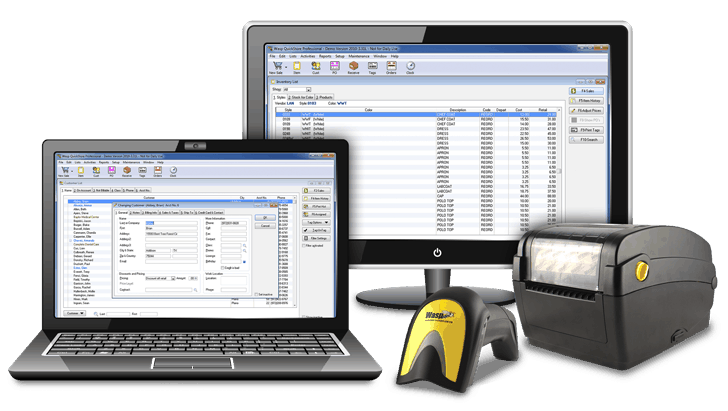 RetailPoint's eCommerce functionality enables bike shop owners to create their own eCommerce website.
The Customer Reporting feature will let you view customers' information and purchase history. Their online profiles can be synced with their purchase history, creating a holistic shopping experience.
In addition, customer profiles also show which of your customers make regular onsite purchases, and which ones prefer online shopping.
Inventory Visibility
One of the best features of RetailPoint is its advanced inventory management capabilities. With this bike shop POS system, inventory levels are instantly accessible. RetailPoint alleviates the product search process by allowing store associates to search using filters for all available data fields.
A retailer can assign any number of attributes to their inventory items, thereby optimizing the search process. All of this is possible with the support of RetailPoint's powerful product information manager.
It can help you classify products based on aspects of your choice – brand, department, size, manufacturer, etc.
You can also add photos or other files to the profile of each item. If a product is out of stock, you can create a store transfer, have the product shipped from a vendor or warehouse directly to the customer's home, or have it held at the nearest location for the customer to pick up.
POS Checkout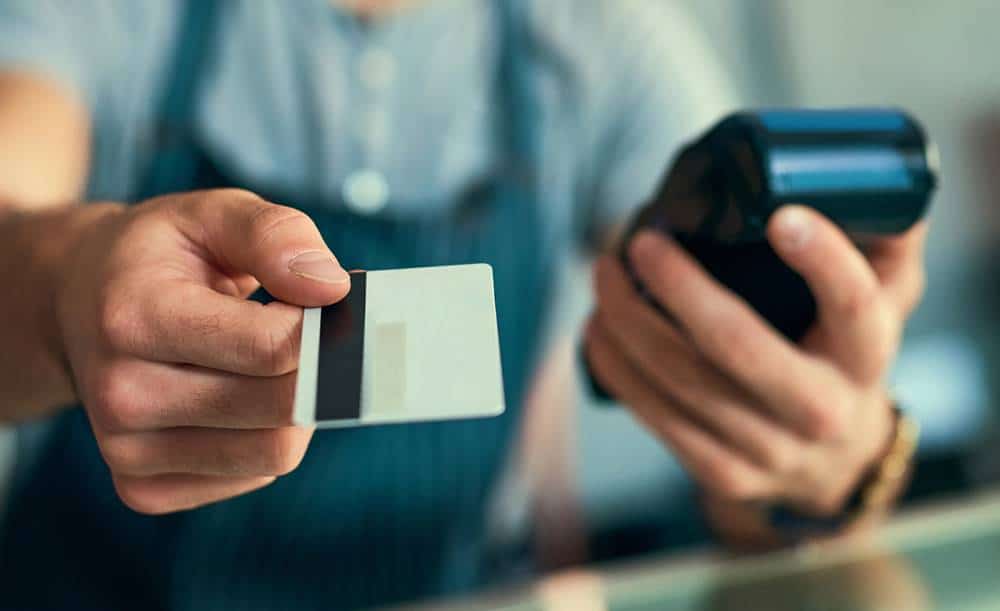 Considering all the other powerful features of RetailPoint, it's easy to see why the checkout process is so impressive.
Products are quickly added to any transaction by searching, scanning, or through the scalable QuickPick buttons.
Staff members can also easily search for and insert a customer's profile to the sale in order to track his or her future purchases.
Disadvantages
Some users have complained that not enough reporting options are available with this POS system. The stock reports are useful, but there should be a feature indicating the expiration dates of some products.
Bottom Line
This POS software is optimized for maximum speed. It is a great asset to have during the holiday season when bike shops tend to have more customers than they can handle.
Honorable Mention:
Shopify

: Fastest POS System for Bike Shops

Around the world, Shopify is one of the most well-known eCommerce and POS platforms used by retailers.  Many bike shop owners have found that Shopify made it easy to create an eCommerce presence and manage their POS functions from a central system.
Top Features
Payment Processing
Shopify POS has you covered when it comes to every payment scenario imaginable. If you run an existing business, your current terminals can be used with Shopify's low-cost processing service, with no hidden fees included. Your cashiers will find it easy to process all payment types, issue and redeem gift cards, and accept partial payments on layaway items.
Checkout
An intuitive interface makes it simple for your employees to efficiently check out customers. Compatibility with mobile devices allows your employees to assist the customer anywhere. Tax rates are all automatically updated based on your store's location.

Discount Functionality
Shopify POS takes the difficulty out of creating and managing discounts and coupons. The system allows you to set up rule-based discounts that will meet any need imaginable. Create a loyalty program or special discounts for veterans or seniors. All metrics and data about your discounts are accessible at a glance on the Shopify dashboard.
Store Management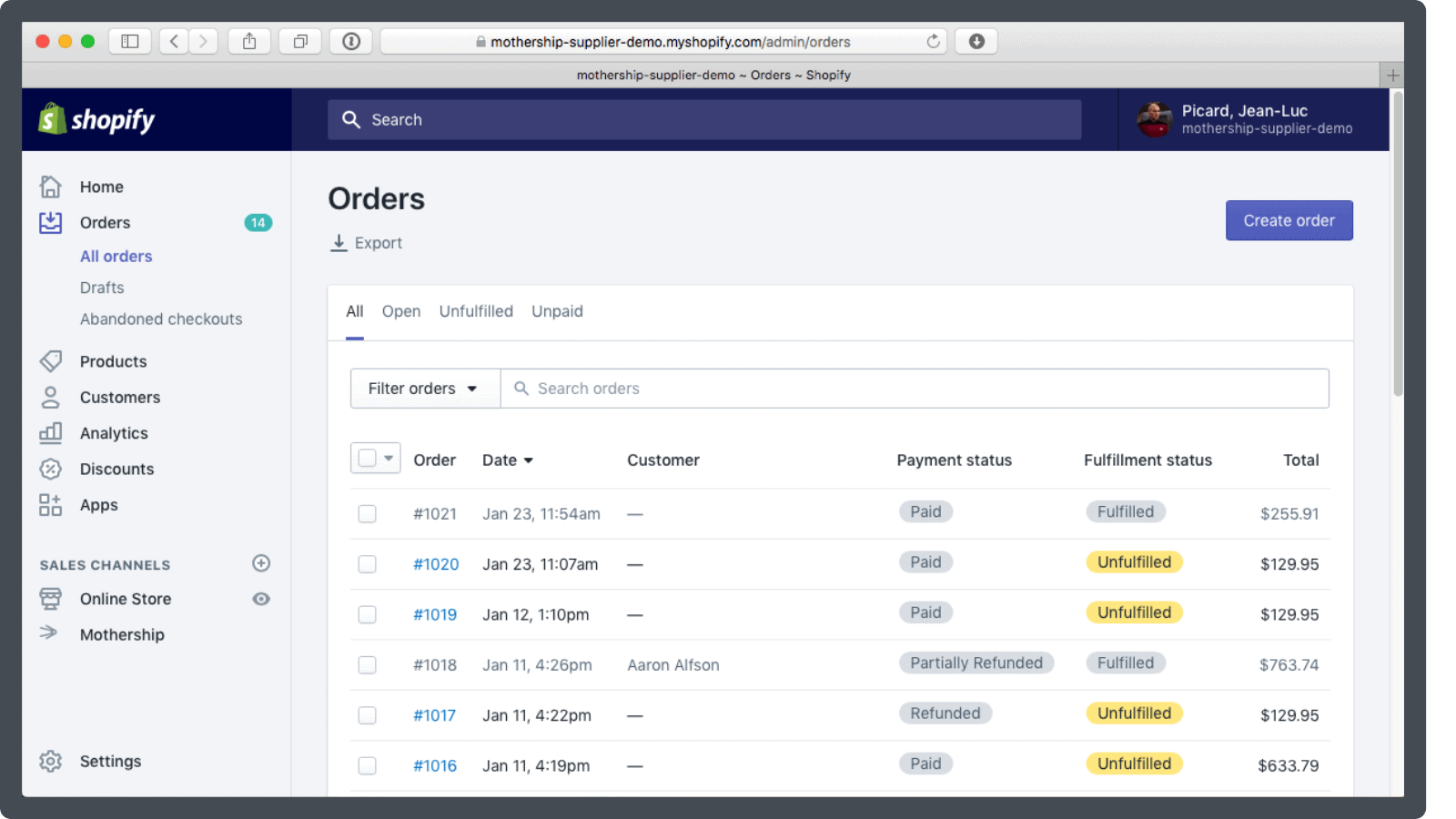 Bike shop owners will love the control and reporting that Shopify POS provides. Cash registers are easily monitored and all employee activity on a terminal is tracked back to that employee.
All employees can access order histories and other information to help serve the customer. Daily reports roll up all the important data and all your transactions are directly integrated with QuickBooks, XERO, and your Shopify POS system.
Customer Management
Every transaction completed with Shopify POS creates a customer profile for new patrons. All your interactions with a customer can be referenced and tracked from one location. Powerful email marketing functionality is driven from this part of Shopify POS.
Product Management
Shopify POS really shines when it comes to product management capabilities. Organize your items by category, season, and more. Managers will appreciate how easy it is to sort by vendor, price, inventory level, or any other variable.
POS Hardware
Shopify POS is based in the cloud and can be accessed by any device connected to the internet or mobile data. This includes desktops, laptops, iPhones, iPads, or Android devices. Shopify supports all common card readers, cash drawers, receipt printers, and barcode scanners. Learn more about Shopify POS hardware.
Reporting and Analytics
One of the main reasons to use a modern POS system is to collect data to help you make more informed decisions about your business. Shopify POS has a detailed dashboard that shows you everything about your sales, orders, and store traffic. Customize reports and go granular to see which products are selling best.
Shopify Mobile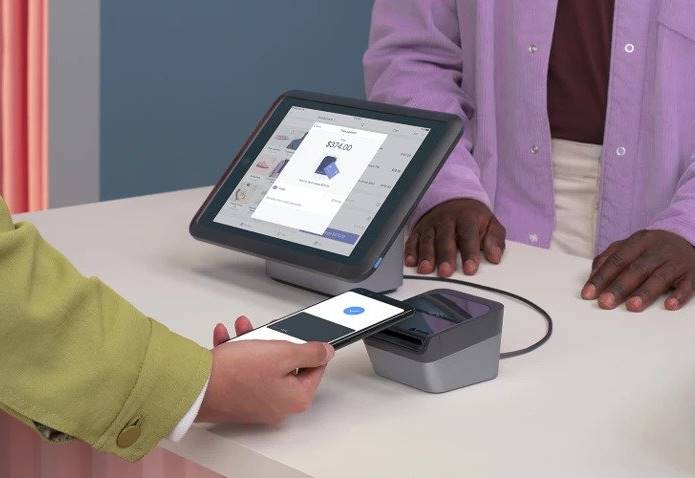 The pace of business is fast. Owners must manage their businesses from anywhere. Shopify Mobile gives you access to the same information as if you were in the store.
24/7 Customer Support
Shopify has a support team ready to assist you 24 hours a day, seven days a week.  Agents can help customers via email, live chat, or phone. Their help center can be searched for guides and tutorials. Plus, their discussion forum allows you to interact with other business owners like yourself to share best practices and ask for advice.
Shopify Pricing
Shopify POS has a plan for everyone.  Their basic plan will have you up and running in minutes and only cost $29/mo. The standard plan costs $79/mo and allows you to have up to five user accounts. Advanced Shopify is $299/mo and includes 15 user accounts. All plans include unlimited products and unlimited file storage.
Disadvantages
Shopify does not have any rental program features. And as mentioned above, many bike shops rent bikes. Plus, some add-on extensions can seem expensive at first glance.
Bottom Line
With $100 billion in retail transactions processed last year, Shopify is a great POS system for bike shops. Quick and easy to deploy, you will find that their pricing is straightforward with no hidden fees and their customer support is world-class.
Things to Consider Before Purchasing a Bike Shop POS System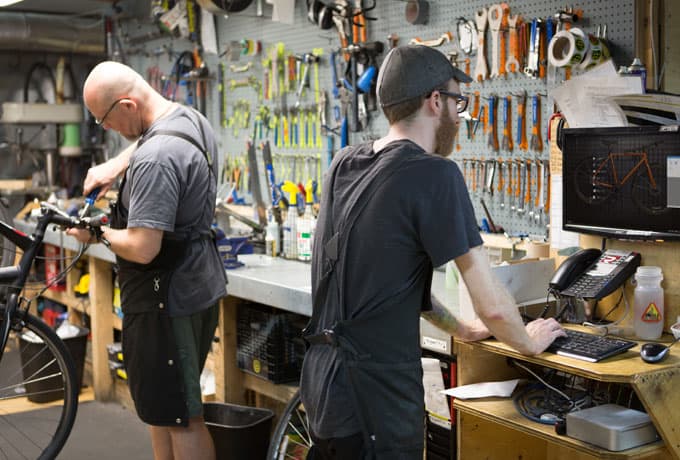 Many factors go into running a successful bike shop. From inventory management to scheduling repairs, you have to be on top of it all. The right system will aid in tackling every task that comes your way.
Inventory
Staying on top of what you have in your inventory is crucial. The right POS software will make this chore effortless. Vend, for example, has fantastic inventory features that are easy to operate and navigate.
Using Vend, you will be able to add, edit, and remove products from your inventory. The system also gives you the capability to track, in great detail, your stock levels on any given product.
Vend will also work across multiple locations. Having access to all of your inventory in one place will save you several hours of work. You can restock all of your locations at once, with a simple touch of a button.
Scheduling
If you run a bike shop, it is safe to assume that you also handle bike repairs. Having the right bike shop point of sale system will allow you to schedule repairs effortlessly.
A POS system like Lightspeed will let you stay on top of repairs. Customers get full visibility into the status of their repair. This information will prevent clients from continually checking in on the state of their bike.
Lightspeed's system will give you an online calendar to work with. Updating your calendar is an effortless process that takes only a few clicks.
Rentals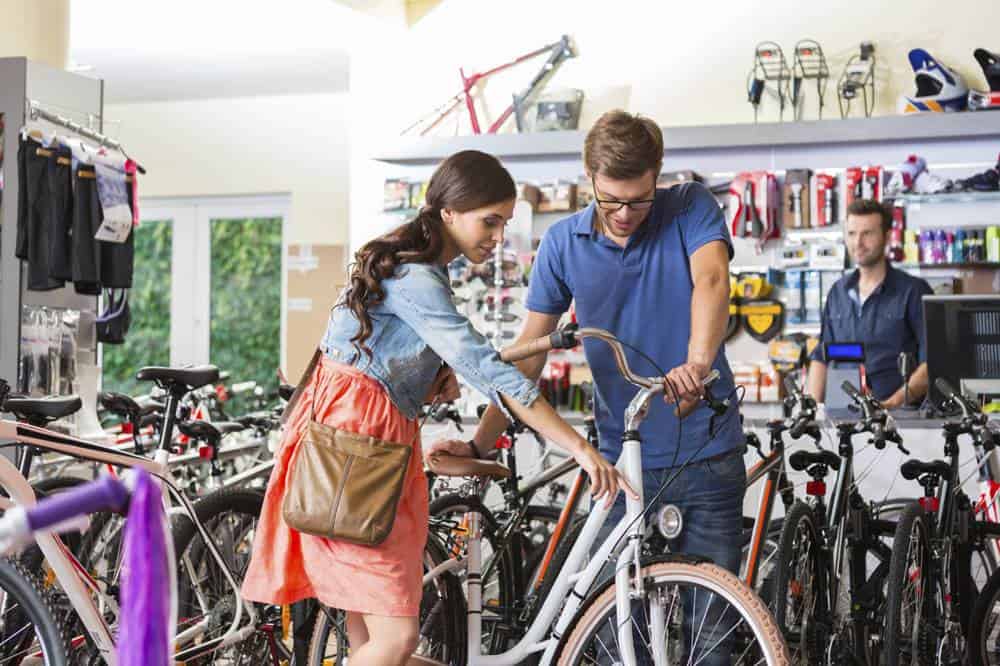 Having a rental program isn't a crazy concept for a bike shop, especially if you operate close to riding trails. The capability to rent out bikes will increase revenue. Having a system in place to track which equipment is going out is vital.
Software, like RetailPoint, allows you to see precisely which pieces of equipment are going out on any given day. RetailPoint will also inform you of who the renter is, when the bike is scheduled to be returned, and any extra equipment they may have taken.
Reporting
Running a bike shop may not be thought of as the most lucrative business. Your books do not have to reflect this assumption.
With hard-working bike shop POS software, your store can be the exception. Regardless of the numbers, you want to enjoy your business and have books that are easy to read.
A good bike shop POS system will display visual charts and graphs showing you exactly how much revenue is coming in. You will have insight into what you have in stock, what is selling, and more.
Purchase Orders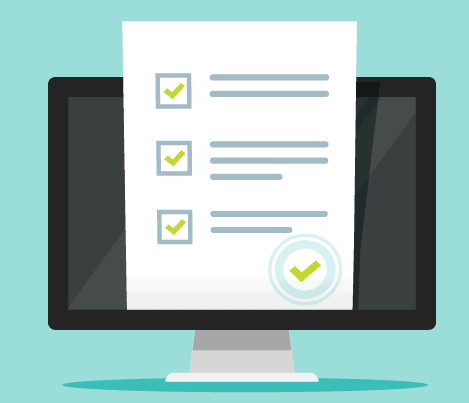 Occasionally, a customer may want to purchase a bike or a part that you do not have in stock. Luckily, finding that special item is just a click away.
You will be able to order and add any special item to your inventory list seamlessly. Once you order the item, it is possible to track the delivery process in real-time.
The second the item reaches your storefront, you will be able to inform your customer and place the item off to the side.
Ready to Evaluate Bike Shop POS Systems?
The most important features of a bike shop POS system are comprehensive reporting, inventory management, and speed. A system should also be able to record your customers' purchase history.
It is worth mentioning that some POS systems have a dashboard offering a full display of your entire business and its performance, regardless of how many bike shops you own.
Many bike shops are already reaping the benefits of using a suitable POS system that provides most of the features discussed above. The POS systems reviewed above are likely to fully meet your requirements and help increase your bike shop's revenue.