(Last Updated On: July 15, 2021)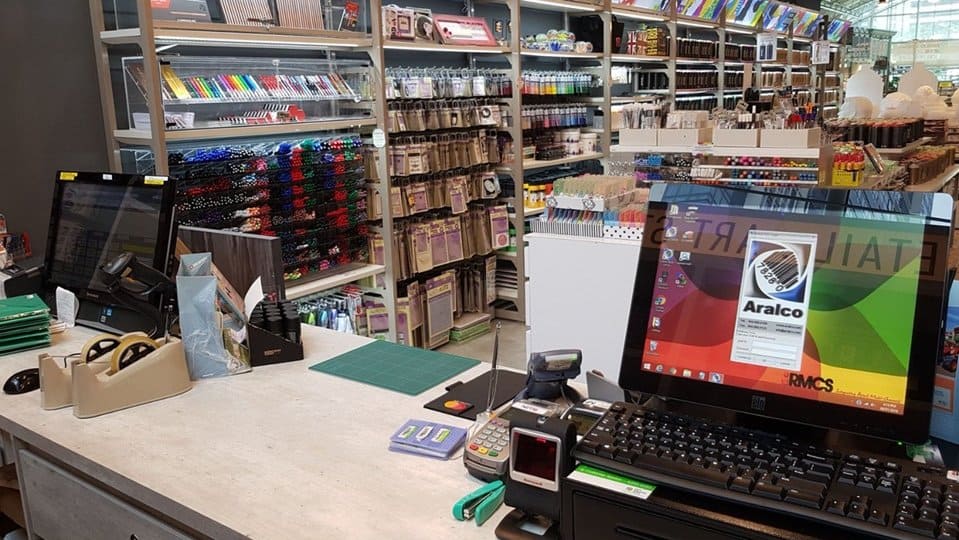 If you run this type of business, you have likely heard of craft store POS systems. Craft stores are unique businesses because many items they sell are one of a kind.
However, that's not always the case. At the same time, they mirror many other types of retail stores—such as bike shops—in the way they operate, and their POS system needs.
Just like most retail stores, they need certain POS software features that are universal at this point. For example, retail stores need inventory management features, and point of sale (POS) payment processing.
On top of that, they also greatly benefit from employee management features, customer relationship management (CRM) capabilities, marketing functionality, gift card processing, reporting, and more.
Owning and managing a gift shop can be easy or it can be a monumental challenge. The difference is whether owners and managers use a retail POS system to streamline processes, automate tasks, and increase revenue.
There is a vast number of retail POS systems on the market, which makes selecting the right one a bit difficult. Luckily, we've compiled a list based on deep research to help you start evaluating systems in search of the perfect one for your craft store.
Below, we'll start with a side-by-side comparison of our top five picks for craft store retail POS systems. We'll also discuss some key features to look for, then wrap things up with a detailed review of each system.
Comparison of the Best Craft Store POS Systems
We've broken down these systems into a comparison grid so you can quickly gain a little knowledge of each one before we delve into our full reviews. But first, we'll reveal our top five picks in the order they ranked.
Square POS: Best Overall Craft Store POS System ۞ [TOP PICK]
Clover: Best POS System for Add-on Apps
Vend: Best System for Loyalty Programs and Business Growth
Springboard Retail: Best Multi-location Craft Store POS System
POS System

Strongest Selling Point

Free Trial

Compatible Platforms

Square POS

Best Overall Craft Store POS System

YES
14-day free trial

Native iOS App
Native Android App
Cloud-Based Access

Clover

Best POS System for Add-on Apps

No information on the company website
but they do offer a free demo

Native Android App
Cloud-Based Access

Vend

Best System for Loyalty Programs
and Business Growth

YES
14-day free trial

Native iOS App
Cloud-Based Access

Springboard Retail

Best Multi-location Craft Store POS System

YES
7-day free trial

Native iOS App
Native Android App
Cloud-Based Access

What to Look for in a Craft Store POS System
Here, we will focus on the POS features that owners should look for when shopping for a POS system, as well as our rationale as to why these are important. These features are standard and many of them come with most retail-specific POS systems.
Inventory Management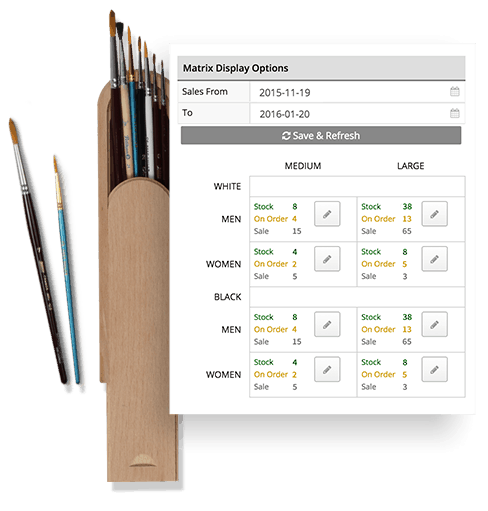 You can save time by automating inventory tracking and running inventory discrepancy reports. Automating inventory tracking and management allows employees to focus on assisting customers rather than completing mundane, manual administrative tasks.
Multiple Payment Method Processing
By providing customers with multiple ways to pay, you improve the customer experience. Be sure to use a card reader that can read credit and debit cards with both magstripes and chips.
Partial and Split Payments
Make it easier for patrons to purchase the items they want by letting them split payment between two multiple payment methods. For example, they may need to pay for half of their purchase with cash and the other half with a credit card. Let them.
Discount and Gift Card Features
Since craft stores are sort of kitsch, you never know what you might find there. That is exciting to many people as they may find a diamond in the rough. That's why people like to give gift cards for craft stores at Christmas or on birthdays. You can improve customer satisfaction by managing discounts and accepting gift cards.
Reporting and Dashboards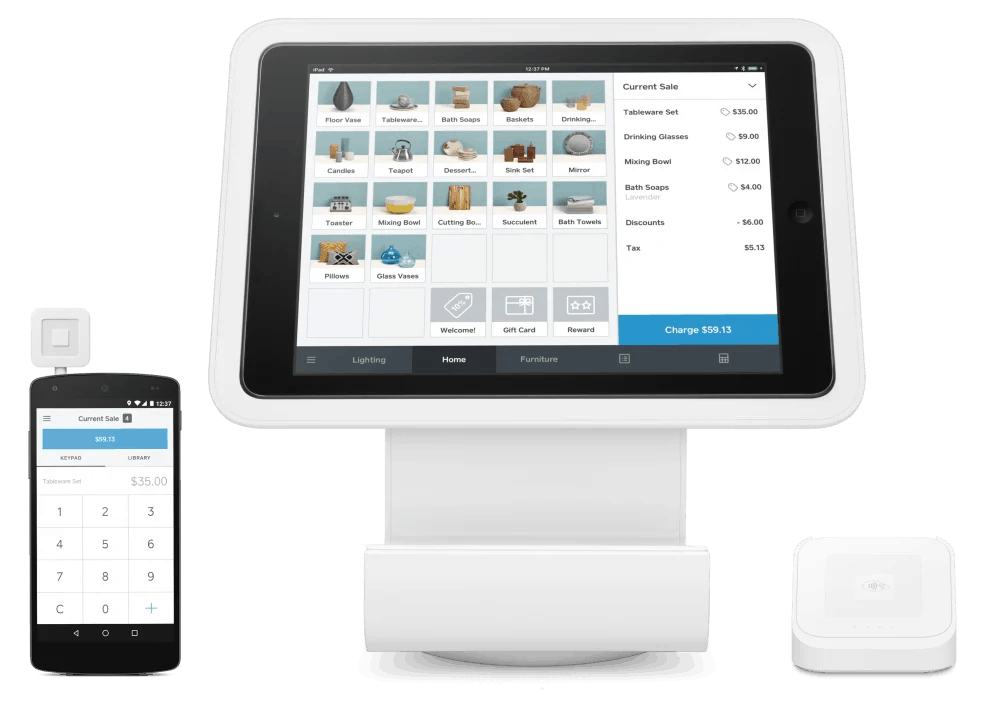 Reporting is important to any retail store. Look for a system with powerful reporting that allows you to maintain constant insight into your results and make better data-driven decisions.
Customer Relationship Management
Customer relationship management features let you form better, more personal relationships with your customers. You get to know them by name because many of them are repeat buyers who visit your store on a regular basis. CRM features let you nurture those relationships and increase recurring revenue.
Feature Summary
There are certainly more features that the best retail POS software provides. Some systems are so feature-rich that they include the majority of those.
However, smaller craft stores may not need so many features and shop owners and managers should take that into consideration when shopping for POS software. Be sure to compare your needs to the power and features (and cost) of the systems you evaluate.
The Best Craft Store POS Systems Reviewed
Selecting the top five POS systems for craft stores was challenging because they are a fairly typical type of retail store and there are hundreds of retail POS systems available. But, after long hours of research, reading user reviews, scouring each system's website, and more, we landed on the list below.
1. Square POS: Best Overall Craft Store POS System

Square POS is a very reliable and versatile craft store POS system. It is one of the most popular names in the industry.
It is a cloud-based system that relies on a tablet or smartphone as the central brain of the system. It offers its own POS hardware components—such as cash registers and various types of card readers that connect directly to your mobile device.
With Square, you can process payments from just about anywhere. You can also track inventory, keep tabs on sales, and send digital receipts to patrons.
Its card reader is equipped to read credit or debit cards. Plus, Square delivers some of the most powerful data analysis and reporting in the market.
However, perhaps the best-selling point Square can boast is that its software is free to use and includes a free card reader to boot—additional card readers are only $10 each.
The only fees you pay are credit card payment processing fees, which are about 2.5% of the purchase plus 10 cents. It's hard to beat a super robust system whose software is free to download and use.
If you want add-on features such as loyalty programs, you must pay for those. Regardless, Square POS is hands down the best POS system for craft stores on a tight budget, as well as the best overall POS system for craft stores.
2. Clover: Best POS System for Add-on Apps

Clover comes equipped with the features that most craft stores need. They also sell entire POS system bundles with hardware components such as display monitors, scanners, and card readers in the same package.
That bundled package, which includes software as well, costs around $1,350.
However, Clover does not require customers to purchase a bundle; patrons can piece together their own system by selecting the software tier and hardware components that will best serve their needs.
It is user-friendly with an intuitive user interface. But what truly sets Clover apart from the competition is the number of add-on apps craft store owners can attach to their system.
This lets them create a customized system that aligns perfectly with their needs—giving them what they need and not charging them for what they don't.
The result is one of the most user-friendly craft store POS systems available, which is how Clover has solidified its brand as one of the best in the market and grabbed the second spot on our list.
3. Vend: Best System for Loyalty Programs and Business Growth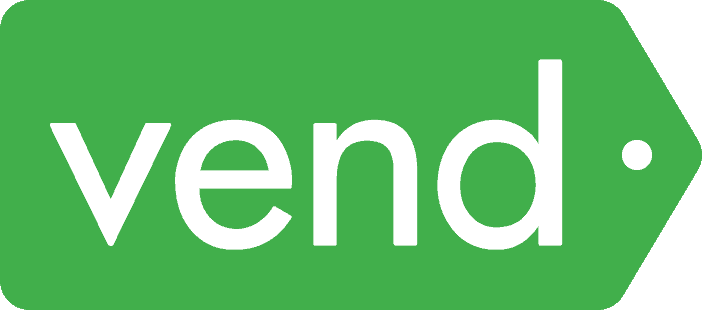 Craft stores that reward customers for repeat business experience more repeat business—it's common sense. Vend's loyalty program functionality is a huge hit with craft stores because it allows them to reward repeat customers and encourages them to return again and again.
It also includes offline functionality so that craft stores can continue operating if their internet signal drops. This prevents downtimes during which the store may have to close its doors until the internet signal returns.
The system also includes complex inventory management features that make inventory tracking a breeze. This saves time that can be used to grow your business.
Best-in-class customer service features allow craft stores to form closer relationships with customers, which also leads to repeat business and customer satisfaction—two things that are essential for business growth.
4. Springboard Retail: Best Multi-location Craft Store POS System

Because the majority of businesses that use point of sale systems are retail businesses, we wanted to cover Springboard. We consider it to be the best retail POS system for businesses with multiple locations.
Any craft store that operates and manages multiple locations needs a system that can run reports with data from all its locations.
Data from every store gets collated into a single database and the system can provide metrics across all locations or drill-down reports for a single location.
Springboard is cloud-based and can be managed through a tablet or other mobile device.
This makes managing multiple locations exponentially easier on the end-user as they can check in on inventory, sales, and other metrics from all locations. And they can do that anytime, from anywhere.
A customizable dashboard and a high level of customizability make Springboard a great option for those retail store owners with multiple locations.
Users may want to track certain metrics differently in two different stores, and customizable reporting makes that a breeze.
Managing multiple locations can be a headache. Keeping up with data from all locations can become a monumental challenge if processes are not configured to account for data coming from every store. Springboard eliminates that challenge.
Get A Quote from Springboard Retail
Ready to Evaluate Craft Store POS Systems?
We just started your evaluation for you. Now you have a high-level understanding of craft store POS systems and what store owners should look for in those systems. With the information above, you should be able to easily evaluate your options further. Start by creating a list of needs and requirements. Then use that list as the base for your search to find systems that meet those needs and align with your budget.
Your list of needs is particularly important because it's painful to invest and install a system only to then realize that the system doesn't provide a feature that is essential to running your business. Simply do your research and due diligence—much of which can be done on review sites like this. Read user reviews. Take your time so you find the perfect system rather than purchasing one in a hurry and later realizing it was the wrong system to buy. By doing your research and due diligence, you will certainly identify the point of sale system that meets most of your needs, aligns with your budget, and will facilitate business and revenue growth.