(Last Updated On: June 4, 2021)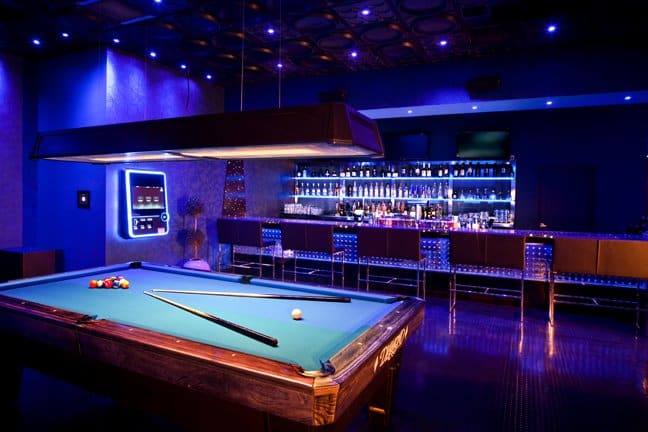 Owning and operating a billiard parlor can be a complex process, which is made easier by a billiard POS system. Point of sale (POS) systems streamline processes and automate manual tasks, allowing you to serve more customers in less time and deliver a better overall customer experience.
The unique aspect of billiard parlors (or "pool halls") is that they are not normally standalone businesses. Rather, they tend to be part of a restaurant or bar. This means you need a POS system for your billiard parlor that includes specific features designed specifically for establishments with pool tables. The system also should have restaurant POS features integrated into the same software platform.
Pool halls need POS features such as table timing, rental management, player tracking, and loyalty programs. The restaurant or bar element of your business needs different features, like menu management, inventory tracking, payment processing, check splitting, and custom reporting.
There are also a host of POS hardware components that restaurants need to operate as efficiently and effectively as possible. These include, but are not limited to, handheld inventory scanners, payment terminals, kitchen printers, and PIN pads. We will cover these things below.
But first, we provide a glimpse into the top three billiard POS systems with a side-by-side comparison of the three. Then we discuss key features and hardware components to look when evaluating systems. We wrap up by providing full reviews of each of our three top picks.
Comparing the Best Billiard POS Systems
Each system we cover below delivers different features, has different pricing, and excels at different things. The system you select to manage your pool hall and restaurant/bar will be determined by your unique business needs and requirements, as well as your budget.
However, with the help of this article, you'll learn about these POS systems, which will empower you to make a well-informed purchase decision when you're ready to buy.
And here they are, our top three picks:
SoftTouch POS: Best Overall System ۞ [TOP PICK]
OnePOS: Most Intuitive, Easy-to-Learn, User-Friendly System
Definitive Synergy: Best System for Billiard Parlors in Bars or Restaurants
Comparison Grid: Best Billiard POS Systems
Here is a comparison grid to provide a brief introduction to each system we cover below in our reviews:
POS System

Strongest Selling Point

Free Trial

Compatible Platforms




SoftTouch POS




Best Overall System

NO
SoftTouch POS only offers
a free demo

Native iOS App
Native Android App
Cloud-Based Access
Windows Installed

OnePOS

Most Intuitive, Easy-to-Learn,
User-Friendly System

NO
The company website does not mention
a free trial

Windows Installed

Definitive Synergy

Best System for Billiard Parlors
in Bars or Restaurants

YES
30-day free trial

Windows Installed

Software Features to Look for in a Billiard POS System
Below we provide a list of point of sale features you should look for when shopping around for a POS system to manage your pool hall and its attached bar or restaurant, if there is one. We break our list down into two categories: 1) Features that specifically help with billiard table management, and 2) Features that benefit your restaurant or bar.
Features for Billiard Table Management
The following features wouldn't help other business types. However, they are incredibly helpful for effectively managing a billiard parlor or pool tables in a bar or restaurant.
Table Timing Management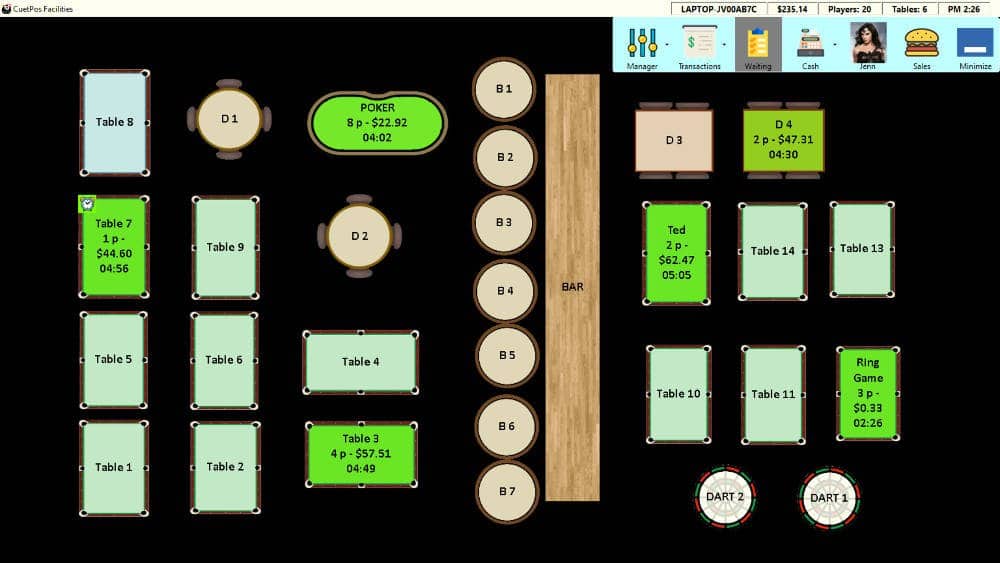 Typically, businesses with billiard tables rent them by the half-hour or the hour. Therefore, employees need a quick and easy way to track the time that has elapsed on each table so they can notify the players who rented the table that their time is up.
To do this, employees start a built-in table timer for that table—each table is timed individually—and enter the amount of time a group of players has paid for.
Once that time runs out, your POS system should sound a soft alarm notifying your employees that Table 5's time is up. Then, they can alert the group at Table 5 that their time has run out, as well as notify the next person or group on the built-in digital waitlist that they are up.
Rental Management
Many establishments that have and manage pool tables place racks of pool cues in various locations throughout the billiards area. However, others do not. Instead, they require players to rent pool cues just like bowling alleys rent bowling shoes along with lanes.
A POS system that includes rental tracking features saves loads of time for employees. They no longer have to manually track table time, nor do they have to keep a paper waitlist. This extra time allows employees to spend more time serving customers and tending to their needs, resulting in a better customer experience.
Player Tracking and Management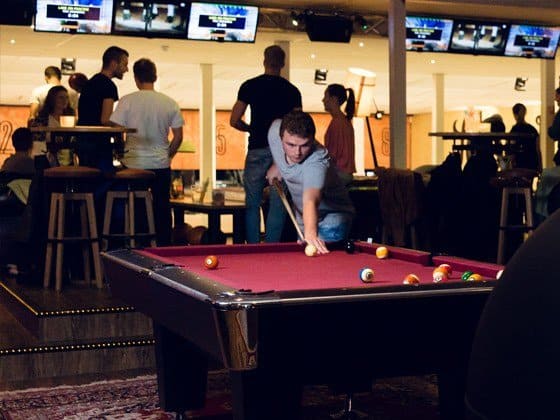 In many instances, pool halls or businesses with pool tables have repeat customers who come in regularly to play a few games. If your POS system includes automated player tracking, all you need to do is ask for players' names the first time they play.
Then each time they come back you enter their name into the system and their playing history pops up. This allows businesses to keep track of who their best customers are (those that play the most), and send them special offers and discounts to entice them to visit and play even more.
Features for Restaurants and Bars with Pool Tables
The features below help streamline and automate operations for restaurants and bars. Many of them are useful to various types of businesses, such as retail stores, hospitality businesses, and more.
Menu Management
Menus are not static. They change regularly when new items are added and items that are not selling are removed. This is standard practice in most food and beverage establishments.
Menu management features track all of this in your POS system. So, you don't have to remember or jot down the last time you offered onion rings, or how long fish tacos have been on the menu and how they have been selling. It's all automated.
Inventory Tracking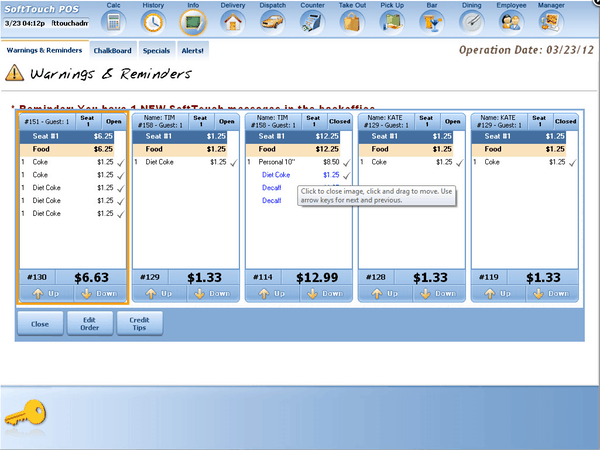 Restaurants and bars must keep inventory stocked on-site and need a way to count and track that inventory on a daily basis. When inventory is counted and tracked manually, it is very time-consuming. Plus, it pulls employees away from more important tasks, and increases the possibility of inventory discrepancies.
Inventory management is simple when you have a handheld inventory scanner, automated inventory calculations, and alerts when an item is running low. Plus, if your system includes the ability to automatically order more of an item when the system sees that it's running low, your inventory tracking worries will float away.
Payment Processing Capabilities
This one should be a given. To charge a customer, you must be able to process their payment. Your POS system should be able to process multiple payment methods—credit cards, debit cards, cash, gift cards, etc.
By providing customers with multiple ways to pay, you improve the customer experience. Be sure to use a card reader that can read credit and debit cards with both magstripes and encrypted chips.
Partial Payments and Check Splitting
Customers generally visit restaurants and bars in groups. It's likely that they will want to split the check, so everyone pays for their own meal. The ability to split payments keeps customers satisfied and improves customer experience. So, be sure to consider whether or not you need this feature when shopping for a billiard/restaurant POS system.
Reporting and Analysis
Powerful reporting, metrics, and analysis are features that every business should look for. With so much data at their hands, users can maintain constant insight into their results and make better, data-driven decisions. They can run customized reports around just about any metric for which there is data stored.
POS Hardware Components to Look for
There are tons of different POS hardware components businesses can purchase. Below we touch on the most important ones for restaurants and bars with billiard tables to have.
Handheld Inventory Scanners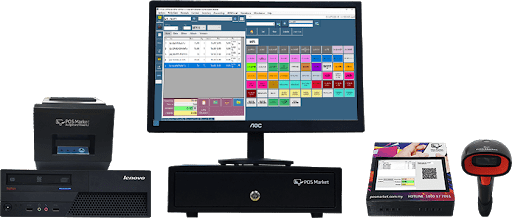 Every business that keeps inventory in-house needs a handheld inventory scanner. An employee carries the scanner to your storeroom and scans the barcodes on stocked items. That data is automatically sent back to your overall POS system and updates your inventory for the day.
Payment Terminals
A payment terminal is a small device that allows you to receive, process, and close payments with customers. The best ones can process payments from credit, debit, and gift cards. And can also read cards with magstripes and encrypted chips.
Kitchen Printers
Once a restaurant server or bartender takes your order and enters it into the POS system, it is instantly sent to the kitchen printers in the back of the house. A chef, grill cook, or another kitchen employee hears the ticket being printed, rips it off, and puts it in the queue. This ensures orders are delivered accurately and in a timely manner.
PIN Pads
POS personal identification number (PIN) pads can also act as chip readers in many circumstances. Some customers will want to pay with a debit card. This will require them to enter their debit card PIN in order to verify their identity. If you want to give customers the ability to pay with debit cards, you need a PIN pad.
The Best Billiard POS Systems Compared
Evaluating systems for this article wasn't an easy task. There are various systems out there and many of them come close to the top three below. But with much scrutiny and research, we arrived at these three systems as the very best.
1. SoftTouch POS: Best Overall System ۞ [TOP PICK]

SoftTouch POS was founded in 2002, so the company has been around the block a few times and learned important lessons that have allowed it to continually improve their product.
The system was developed specifically for and is currently used by thousands of pool halls, restaurants, bars, nightclubs, and other food and beverage establishments. This makes it a perfect choice for businesses that integrate pool tables into their existing business.
Users report that the company's customer support is excellent and solves issues super quickly.
SoftTouch POS is a mobile POS system. These POS systems operate through a mobile device's native app or a web browser on any device with internet.
They are growing in popularity because they are accessible from anywhere and store all your data in off-site servers. That data is backed up in the "cloud" so there is no risk of data loss if the system crashes. Managers and owners can check data, run reports, and more from any location where they have internet or mobile data.
Some of the more valuable features included in this POS system include:
Loyalty Programs
House Accounts
Billiard Rental Management
Food Delivery Management
Gift Card Processing
Split Checks
Online Ordering
Table Management
When we added all of this up, we decided that SoftTouch POS deserved the top spot on our list.
Get A Quote from SoftTouch POS
2. OnePOS: Most Intuitive, Easy-to-Learn, User-Friendly System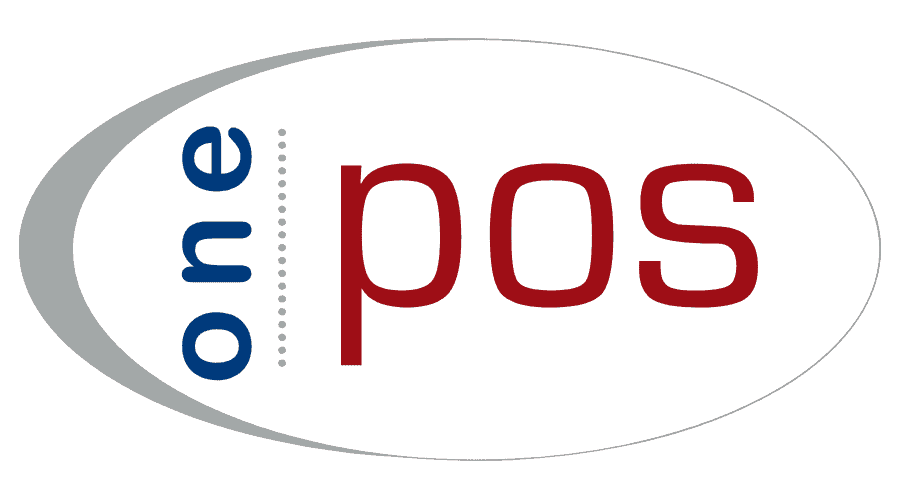 OnePOS keeps the line flowing at the check-in counter and allows your wait staff to focus more time on your customers. That is largely because users say the system is incredibly easy to use and new users can come up to speed with minimal training.
If you purchase OnePOS, the company custom tailors it to meet your requirements, depending on your business needs.
With features such as conversational ordering, intuitive modifiers, and one-swipe payments, combined with over 15 years of software development experience, OnePOS is certainly a viable option for billiard parlor owners and rightfully earned its spot on our list.
Additional features that make OnePOS a top seller include:
[Restaurant] Table Management
[Pool] Table Management
Pool Cue Rentals
Automated Billing and Invoicing
Kitchen Management
Waitlist Automation
Customer Relationship Management
Mobile Access
Real-Time Mobile Alerts and Reporting
3. Definitive Synergy: Best System for Billiard Parlors in Bars or Restaurants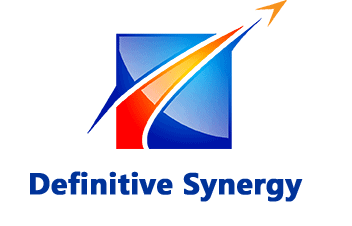 One of the strongest selling points for Definitive Synergy is that is was built specifically for pool halls and billiard parlors.  On top of that, it has evolved over the years and now includes loads of features for restaurants and bars. This is why we called it the best system for billiard parlors in bars or restaurants.
The company sells its billiard management software for $395 and that includes loads of features that help pool halls operate more efficiently, such as:
Table Light Controls
Membership Tracking
Automated Pricing Changes in the System
Waitlist Monitoring
Pool Table Alarms to Notify Players When Their Time Is Up
However, Definitive Synergy also sells a software application called Sales Tracker POS, which can be purchased in a bundle, together with its billiard management software for $595. With both solutions integrated, your system will be a powerhouse that also delivers restaurant-focused features, including:
Automated Invoicing
Tracking of Sales and other Data for Robust Reporting
Table Management
Inventory Tracking and Management
Menu Management
Employee Coordination and Management
That's a lot packed into one system, which is why we awarded Definitive Synergy the third spot on our list.
Get A Quote from Definitive Synergy
Do You Need Your Own Billiard POS System?
We've kickstarted your evaluation and research for you with the information above. Now we pass the baton to you. And here's what we suggest you do:
Start by creating a list of requirements and needs. Then read user reviews because they give you a real-life account of what it's like to use the system in question. Don't forget to consider your budget when you start shortlisting options.
Call the companies that make it to your shortlist to ask questions and gain clarification on anything you don't understand. Then ask for a free trial even if they don't publicly state they offer one. If you can't get a free trial, ask for a live demo.
Do your research and due diligence, check off as many boxes on your requirements' checklist as possible, consider cost and the potential return on investment, and you'll be installing your new POS system before you know it.