(Last Updated On: June 4, 2021)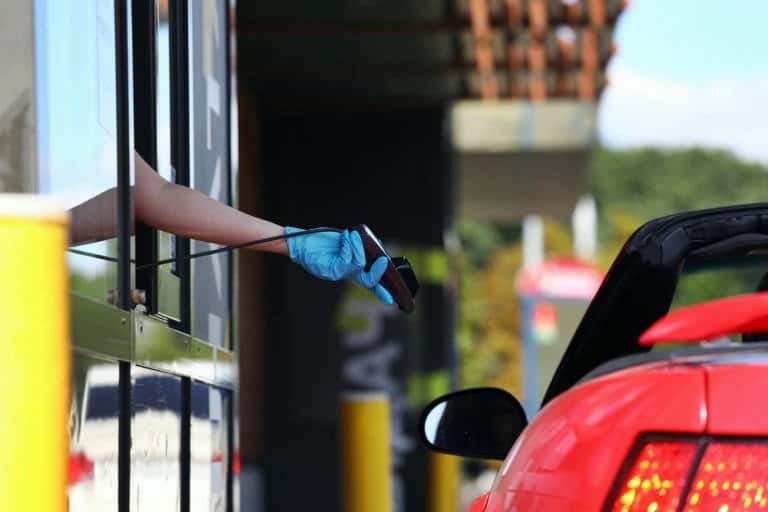 As a quick-service restaurant owner or manager, you've probably dealt with slow lines, inaccurate orders, outdated technology, and peak times. With such a busy operation, your QSR POS system must limit customer wait time to under 60 seconds. Reducing wait times will increase sales and overall customer experience.
Gone are the days where consumers order only from the traditional drive-thru window. Any quick service restaurant now needs to accept orders from at least three major food apps — UberEats, Doordash and GrubHub. While most legacy POS systems don't offer such integration, upgrading to another POS system could help you fully integrate these third-party food ordering apps into your business.
With at least six cars in the line at any given point, speed and efficiency are essential. Restaurants must manage their drive-thru operation successfully to handle the large volume of order pickups.
A Drive-Thru POS system that handles multiple selling verticals, such as selling online, in-app, over the phone, or through a traditional drive-thru is a must. However, multi-app integration is only the beginning.  The ideal QSR POS system will also route orders directly to the kitchen and keep track of the client's location to avoid any wait time. Finally, it must offer real-time transaction data thru the cloud. 
Based on our research, Upserve is the best drive-thru POS system for busy restaurants. It has access to the best POS hardware in the restaurant industry, from kitchen printers to the menu display system. Additionally, the system offers loyalty programs, inventory management, and most importantly, contactless payment options.
For smaller operations, we find Square POS to be a capable alternative. The main advantage behind this system is the ease of installation and ease of use. Ready to take your drive-thru business to the next level? Let's review the top drive-thru POS systems.
Comparing The Top Drive-Thru POS Systems
POS System

Top Selling Point

Free Trial

Compatible Platforms

Upserve

Best Overall Drive-thru POS System

NO
Upserve offers a free "tour" of the system

Native iOS App
Native Android App
Cloud-Based Access

Toast POS

Most Intuitive, Easy-to-Learn System

NO
Toast POS only offers a free demo

Cloud-Based Access

Revel

Best iPad-based POS System

NO
Revel only offers a free demo

Native iOS App
Cloud-Based Access

NCR Silver

Best Customer Support

NO
NCR Silver only offers a free demo

Native iOS App
Native Android App
Cloud-Based Access

Lavuv

Best Multi-Location System

YES
Lavu does not specify the length of the free trial

Native iOS App
Native Android App
Cloud-Based Access

Square

Most Affordable System

YES
14-day free trial

Native iOS App
Native Android App
Cloud-Based Access

1. Upserve: Best Overall Drive-thru POS System

Restaurants with drive-thru ordering require a POS system that can carry a heavy load—in the kitchen and at the window. Upserve does not disappoint in this respect.
However, two powerful features, in particular, keep consumers purchasing the Upserve POS system. Those are its data capture and reporting capabilities, and its offline mode.
Upserve captures loads of data around sales, inventory levels, employee performance, and more. With that amount of data so easily accessible—even remotely—it's much easier for owners and managers to make insightful, informed decisions about how to grow their businesses.
Upserve's offline mode allows users to continue using the system if their internet signal drops and a device becomes disconnected from the network. Restaurant employees can still take and submit orders and process payments while in offline mode.
2. Toast POS: Most Intuitive, Easy-to-Learn System

Toast POS made the list for being the most intuitive, easy to learn system we reviewed. It is a leader in the POS system industry. Prices are a little higher than other solutions, but the system justifies the pricing. As they say, you get what you pay for.
Toast POS is great for boosting efficiency and productivity in your restaurant. It includes solid features such as:
Inventory Management
Employee Scheduling
Menu Management
Easy Check Adjustments
Built-in Accounting Features
Powerful Reporting and Analysis
System users can automate many processes that would otherwise be completed manually. This increases efficiency as staff can focus more on catering to customers' needs than executing administrative processes.
Its interface is intuitive, giving users the ability to streamline processes such as adding, changing, and deleting items from customers' checks.
These automation features and the system's ease of use make it the most user-friendly system on our list.
3. Revel: Best iPad-based POS System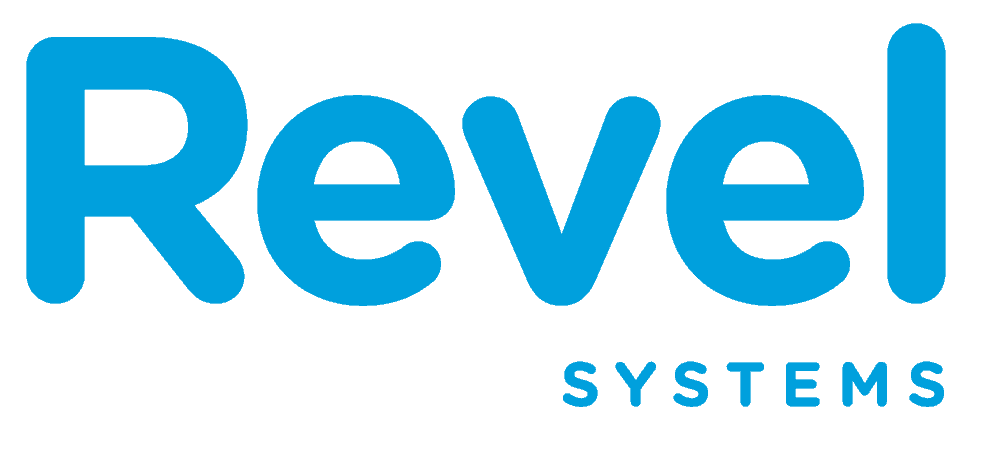 Revel is super mobile and accessible, which, in large part, is why it earned its spot on our list as the best iPad-based point of sale system for drive-thru restaurants.
The company's goal is to transform the way businesses operate by pulling them away from slow, clunky, legacy point of sale systems.
It integrates all business operations, customer channels, sales, etc., into a single dashboard so that users can gain the insight they need in a moment's notice.
Plus, its feature set is robust and meets all the POS requirements of most drive-thru restaurant owners. Those features include but aren't limited to:
Inventory Management
Gift Card Processing
Mobile Access
Robust Reporting and Metrics
Loyalty Programs
Multi-Store Management
Its primary draw is that it was developed specifically for the iPad—with the goal of replacing those old clunky systems—and allows for maximum mobility while using the system. Its feature set complements that to make it one of the best drive-thru POS systems available.
4. NCR Silver: Best Customer Support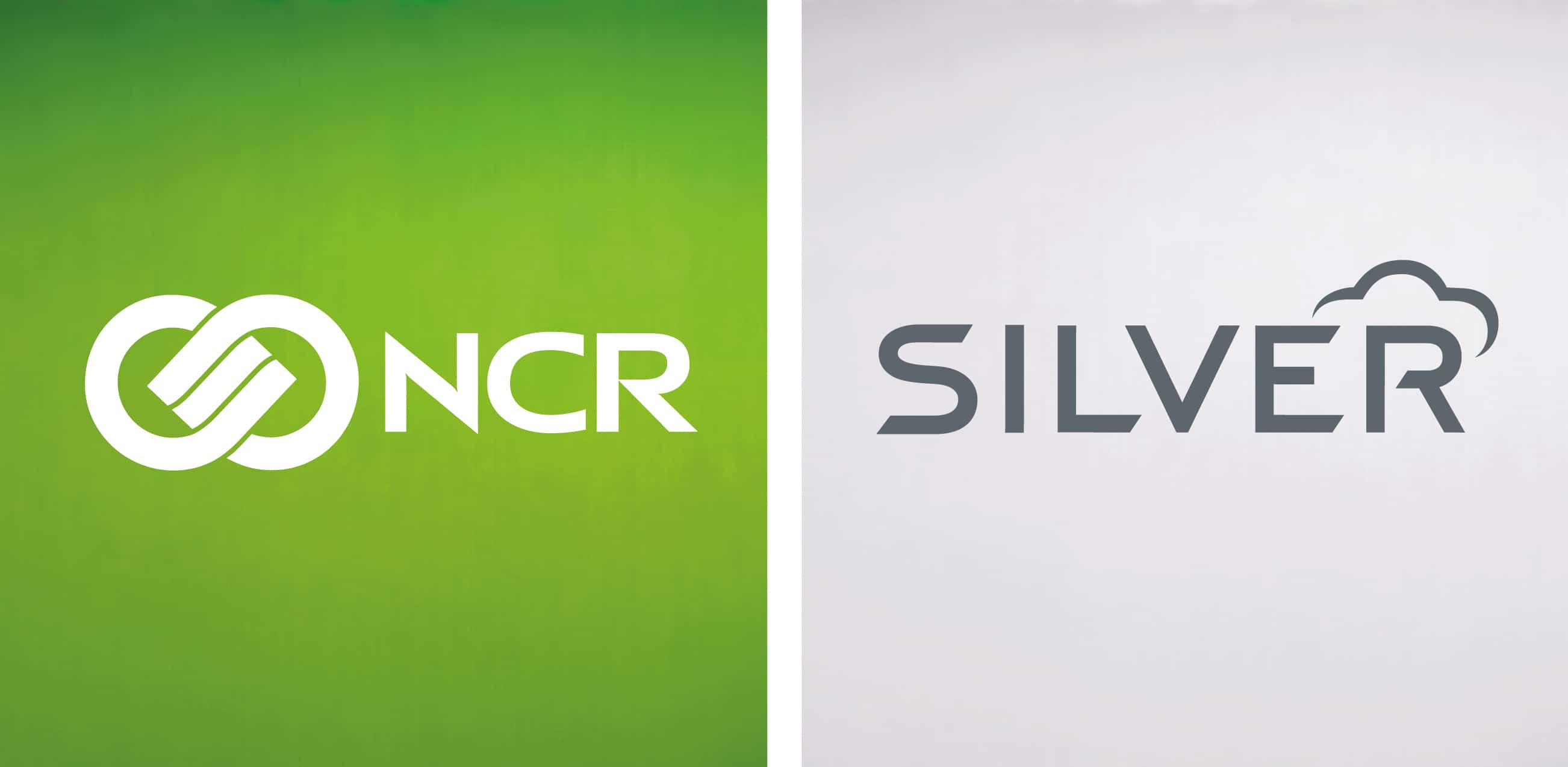 NCR Silver landed the fourth spot on our list for many reasons, including the quality of its customer support.
However, it is also one of the best POS solutions for managing multiple restaurants from a single POS system. Many drive-thru restaurant franchise owners open various storefronts in different towns or cities. So, the ability to manage them all from one centralized system is a huge selling point.
There are a number of additional NCR features that restaurant owners look for in a POS system. Those include:
Robust inventory management features that ensure you never run out of a certain ingredient or packaging item.
Loyalty programs and email marketing features that make it easy for restaurants to retain their repeat customers and more easily acquire new customers.
Intuitive design and ease of use, which enables new employees to learn and start using the system in no time. Plus, it makes each user more efficient while leveraging the solution.
24/7 live support, 365 days per year is another selling point for NCR Silver. When the breakfast, lunch, or dinner rush hits and you experience a problem with your system, you need to solve it immediately. If a customer must wait three days for a response to your support case to be resolved, you're delivering a poor customer experience. With NCR Silver, that is rarely the case; problems are solved quickly so you can continue operating and serving customers.
5. Lavu: Best Multi-Location System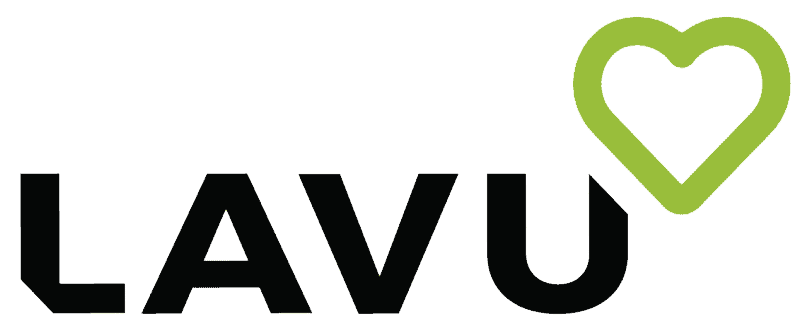 Lavu is a great system for managing multiple restaurants from the same system. NCR Silver excels at that, but Lavu has it beat in that respect.
The system comes with a modern user interface, which you can customize in various ways to meet your restaurant's specific needs. And because drive-thru restaurants experience those mad rushes, they need to operate at a high velocity. Lavu solves for this by allowing users to send an order to a specific kitchen printer, not a general printer that everyone uses.
Lavu's employee management capabilities can designate system permissions and restrictions to employees, regulating what they can see and do in the system. This is especially useful for drive-thru restaurants with a wide variety of employees alternating on a POS system.
But, as we mentioned, Lavu's most compelling selling point is the system's ability to manage multiple restaurants from a central system. Owners and managers can access the system, run reports, and more from the comfort of their home, while commuting to work, or anywhere else they have Wi-Fi or mobile data.
6. Square: Most Affordable System

Square produces various systems, one of which is Square for Restaurants. It rounds out our list not because it was made for restaurants. But rather because it is so affordable. How affordable? The software costs zero dollars. That's right, this is free POS software.
Of course, you must pay for hardware, but the software itself is free. That makes it a perfect fit for a smaller local drive-thru restaurant with only one location and limited resources. Plus, it's easy to use and full of value-added features.
Square for Restaurants is a mobile, tablet-based POS software platform. It comes with its own, built-in payment processing system so you don't need to purchase and integrate a complicated, third-party merchant payment processing system and connected card reader. This is a big hit with users.
But the strongest selling point for Square (aside from the price, or lack thereof) is its broad feature set. The system includes standard features plus additional features that many systems do not have. There are additional, "premium" features that you can purchase as add-ons, but most restaurants won't need those.
Features included out of the box include:
Menu Management
Custom Orders
Inventory Management
Time-Specific Menus
Kitchen Tickets
Customer Marketing
Loyalty Programs
Employee and Payroll Management
Gift Card Processing
Customer Feedback Capabilities
With so many features, an intuitive user interface, a low price point, and many additional add-ons you can purchase to scale up your system, it's easy to understand why Square made our list.
Important POS Hardware Components to Look For
There are various POS hardware components that integrate with your POS software system and relay data to your central database.
For example, a credit card reader is a hardware component. It reads card information, processes the payment, then transmits all that data back to your POS software, where it is stored until you delete it.
Below is a list of some of the most important hardware components drive-thru restaurant owners should look for in a POS system:
Cash Registers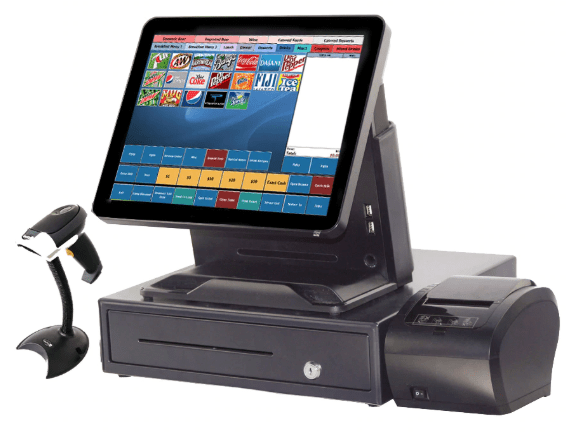 A POS cash register is a digital device that links into your overall POS system. They can be used to keep track of inventory, complete purchase transactions, process payments, and track sales. They automatically store all of that data in a central POS system database. This should be a given, but it's essential for any type of restaurant to purchase a POS cash register.
POS Cash Drawers
When someone pays you with cash and you use your trusty POS cash register to ring them up and process payment, you need somewhere to store that cash. That's where POS cash drawers come in. POS cash drawers come in a few different types: manual drawers, printer-driven drawers, and direct connect USB drawers.
Receipt Printers
Every purchase transaction you complete in your POS system requires a receipt of purchase. Customers need that little piece of paper to keep their finances up-to-date and maintain personal financial records. Receipt printers connect to your POS system and know when to print a receipt. The system tells the printer when a transaction has been made and the printer automatically starts printing.
Handheld Inventory Scanners
Every restaurant can benefit from using handheld inventory scanners. Your employees carry the inventory scanner back to your storeroom and scan the barcodes on the items in your inventory stock.
That data is automatically sent back to your POS system and updates your inventory for the day. A solid handheld inventory scanner reduces the risk of human error that occurs when someone is manually counting items.
Payment Terminals
A payment terminal is a small device that allows you to receive and process payments. Some are stationary and some are mobile. If you run a smaller establishment, you may be able to get by with a mobile terminal.  Payment terminals are one POS hardware component that nearly every business should have—from retail to hospitality to restaurants and beyond.
Card Readers
Today, most credit and debit cards use encrypted chips rather than magstripes to process payments. Customers pop their cards into the chip reader, the necessary information is gathered, and the purchase is processed. Since most credit and debit cards have already moved to chip technology, it's increasingly important to include a chip reader as part of your overall POS system.
Kitchen Printers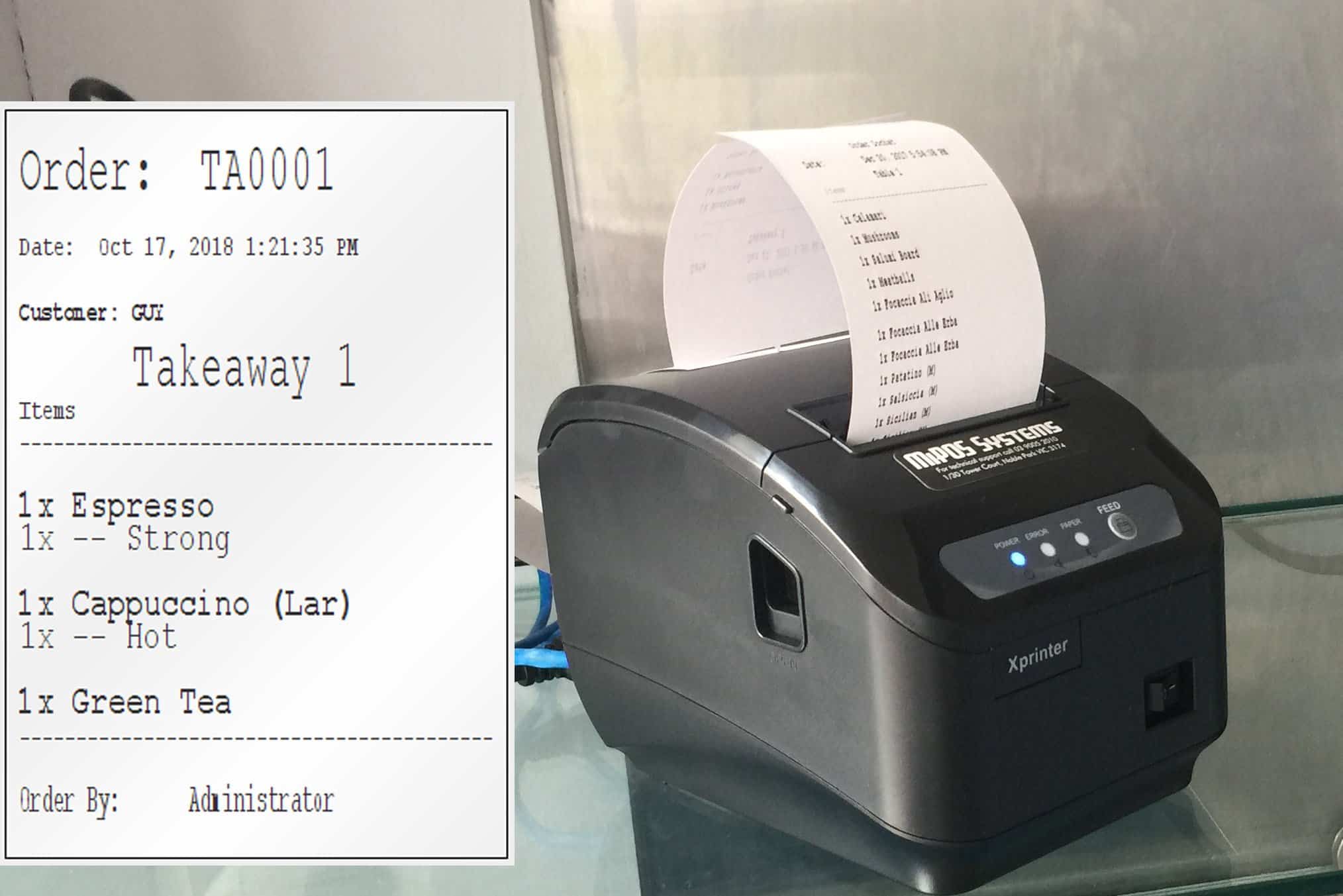 When someone takes your order at a restaurant drive-thru, it is instantly sent to the kitchen printers in the back of the house. A kitchen employee hears the ticket being printed, rips it off, and puts it in the queue. This eliminates the need to take orders on paper and physically hand them to kitchen staff.
PIN Pads
Personal Identification Number (PIN) pads are essential if you want to let patrons pay with debit cards. Because debit card transactions often don't require a signature, entering the customer's PIN is the only way to confirm their identity. In many instances, they also serve as chip readers, meaning you don't have to buy both devices.
Need Your Own Drive-thru POS System?
With the information above, you should be able to easily evaluate your options, create a list of needs, and find the system that matches your needs and budget.
Your list of needs is particularly important because it's painful to invest and install a system only to then realize that the system doesn't provide a feature that is essential to running your business.
Simply do your research and due diligence—much of which can be done on review sites like this. Read user reviews because they are especially insightful. And ask for a free trial or at least a demo before purchasing a system.
Take your time so you find the perfect system rather than purchasing one in a hurry and later realizing it was the wrong system to buy.