(Last Updated On: October 27, 2021)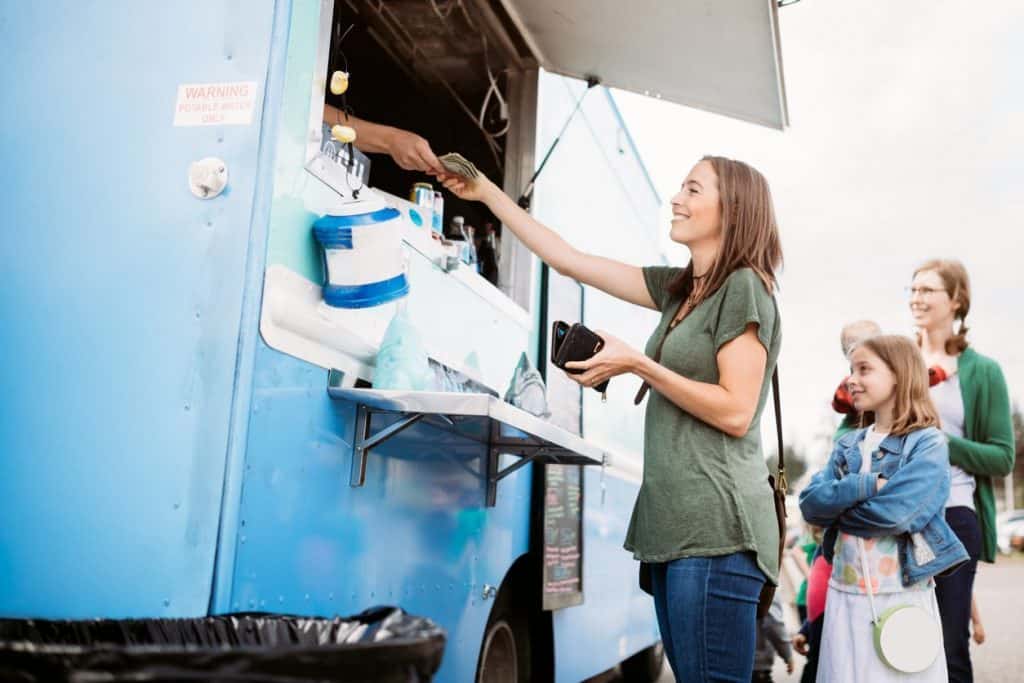 After dealing with permits, regulations and getting a good location, managing a food truck is the next greatest task on your list. To successfully run a food truck operation, you need a reliable point of sale solution to manage your inventory, create your menu, and ring up orders fast.
Ideally, you'll want to choose a POS system that's as mobile as your business. This means getting a cloud-based POS solution, which means all your data is stored on the cloud, even when you're on the go.
Need to update your menu or employee schedule? You can do it right from the system. View detailed sales reports and monitor your business' progress. But perhaps the most important factor is connectivity – you want to make sure your POS system stays up even in areas with limited Internet connection.
After personally testing and comparing seven different POS systems, I believe the best food truck POS system is Square. As most food trucks operations bring in an average of just $250,000 per year, Square is the perfect solution for fast setup and an easy-to-use POS system. Additionally, at just 2.3% + .10 per transaction, Square's processing rate is now more competitive than in previous years.  
To grow your operation, use your point-of-sale software to reward customers for each purchase. When they reach a certain milestone, the POS system can apply a discount. Doing this will make them happy and keep them coming back. This is especially true if your food truck is mostly frequenting the same locations.
Whether you're showing up for a special event or your local spot, tracking and eventually analyzing every sale is crucial. Why event did better? What food items did you sell most? Let's learn which food truck POS systems can help you do that and much more.

The Top Seven Food Truck POS Systems
When you want to bring food to the hungry masses, equip yourself with one of these seven systems to ensure success:
TouchBistro – Best Overall Food Truck POS System
NCR Silver – Best POS System for Large Operations
Revel Systems – Best Cloud-Based Food Truck POS System
Square – POS Software for Rapid Service
Harbortouch – Best Free Food Truck POS System
Toast – Best POS for Small Food Trucks
Comparing The Top POS Systems for Food Trucks
| POS System | Software Costs | Other Costs | Key Feature |
| --- | --- | --- | --- |
| | The basic software plan is free | Square Plus is $60/month per location and $40/month for each additional POS device | Free version is affordable for startups with remote device management, fast order entry, and menu optimization |
| | NCR Silver Essentials is $108/month | NCR Silver Pro Restaurant $178/month | Data-driven employee scheduling with automated swap requests and universal messaging |
| | The first mobile terminal with card swipe is $49.00/month | The second mobile terminal is $44 and a stationary terminal is $119/month | Built for mobility. System runs on 4G iPads and Bluetooth technology |
| | $69/month per license | Online ordering starts at $50/month and gift cards $25/month | Smart upselling tools with pop-up modifiers and high-margin menu items up top |
| | $49/month | $20/month for support | Powerful reporting capabilities on everything from labor to sales and inventory |
| | The Starter package is $69/month | The Essential package is $99/month and the Growth package is $189/month | Toast Payroll for recruiting, onboarding, pay, and benefits |

TouchBistro: Best Overall Food Truck POS System

Increase revenue and speed up service in less time with the Touchbistro food truck POS software program. Get all the power of a traditional point of sale system using just an iPad and a payment terminal. Increase your average check size and take orders at the food truck faster with key features like:
Increase Sales
Help staff increase the average check size and sell more profitable items with smart upselling tools. Pop-up modifiers are set to notify employees when suggested items can be added to the order.
Customers are cashed out in a flash with quick register buttons that will predict likely tender amounts. You can also take mobile payments like Google Pay, Apple Pay, Chase Pay, and chip cards with a simple tap.
Improve Service
Drive repeat business and improve order accuracy by displaying high-margin menu items. You can also use TouchBistro to share upcoming locations for the food truck and make menu changes on the go. Take orders, payments, clock employees in and out, and view reports, even when you're offline. Reduce errors and save time with quick voids that automatically alert the chef.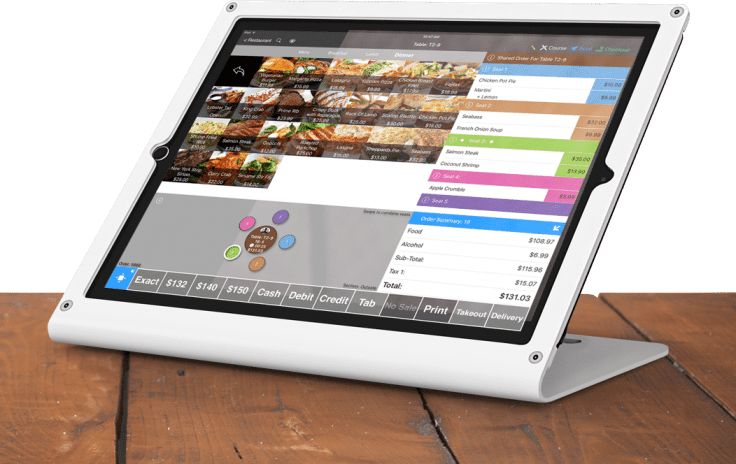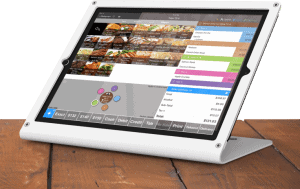 Informed Decision-making
Let the TouchBistro system perform your number-crunching and pull the data you need for smarter decision making. Closely track ingredient inventory to identify and eliminate waste, all while improving your bottom line.
Studying these trends will help you to determine when you need to bring on more staff, run promotions, or identify which items are making you the most money with TouchBistro's suite of reports.
Access all reporting and analytics from anywhere, at any time with secure cloud reporting and the Reports to Go app for iOS and Android.
Staff Management
Staff will always determine the experience of your customers so it's important to have a food truck POS that also caters to their needs. Managing staff schedules and tracking labor costs is no easy task.
A range of issues can make creating a schedule very challenging. Whether you are working around time off, dealing with no-shows, or last-minute changes, TouchBistro is a robust system that can handle it all.
With the system, you can track staff activity, view clock-ins/outs, and maintain payroll details. Personalize accounts with employee-specific settings and facilitate communication with integrated, in-app messaging.
Additional Features
Comprehensive security controls and adjustable settings to reduce theft and losses
Kitchen Display System and self-ordering kiosk that integrates with the software
Tabs and order management to split checks and streamline transactions
Multiple integrated payment processors that accept all types
24/7/365 dedicated support through phone, chat, or email
Pricing
TouchBistro starts with a $69 per month POS license that includes basic features and functionality. Add-ons include online ordering for $50 per month, gift cards starting at $25 per month, and reservations starting at $229 per month.
TouchBistro does not currently disclose their payment processing fees on their website, so you will have to reach out to their team to get a quote.

---
NCR Silver:

Best POS System for New Food Trucks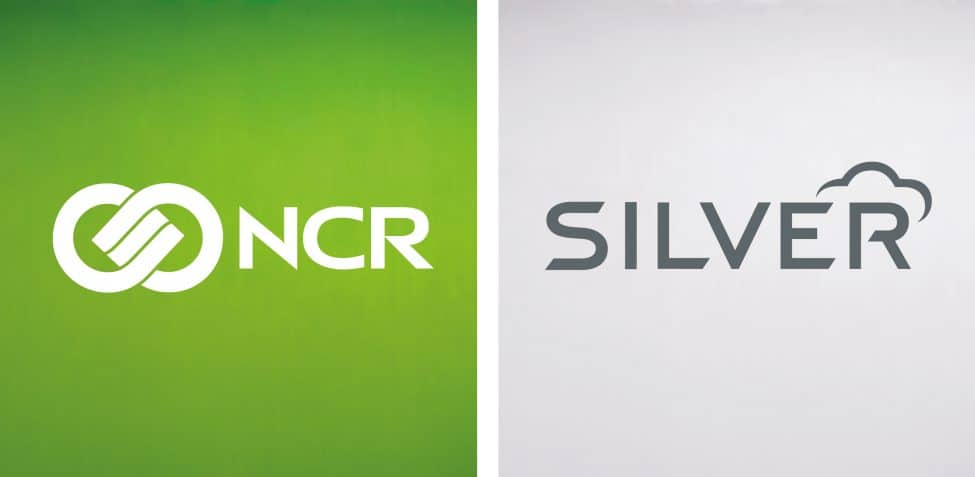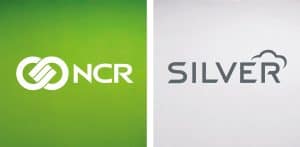 NCR gives a food truck all the flexibility needed to roll with the changes. From real-time insights and contactless technology to online ordering and inventory management. The system is supported by over 20,000 service professionals worldwide and is the #1 rated program by restaurant staff.
Whether you have a single truck or are a multi-location franchise, NCR has the agility and flexibility to move faster than most food truck POS platforms. Prime features to consider include:
Easy Setup
NCR is an out-of-the-box solution that is designed with entrepreneurs in mind. It's a simple setup with everything you need built in. The program also comes with an award-winning concierge service that will get you up and running fast. This can save a business considerable time and money with virtually no guesswork involved.
Employee Management
Keep shifts running smoother while saving on labor costs. NCR helps a food truck build better schedules based on operator targeted labor percentage vs. the schedule, weather, and projected sales.
You can publish schedules to team members via text, email, or the NCR employee portal. Post to the dashboard for schedule enforcement and control early or late clock-ins. Make it easy to message managers, swap shifts, and put in specific requests. Responses will flow to the main NCR dashboard where they can be approved or denied.
Online Ordering
Why wait for customers to order at the window when they can do so before getting in the car? Extend operations online to drive revenue past your truck and deliver a seamless guest experience. NCR also allows a business to own their digital channels. You are free to brand as you wish.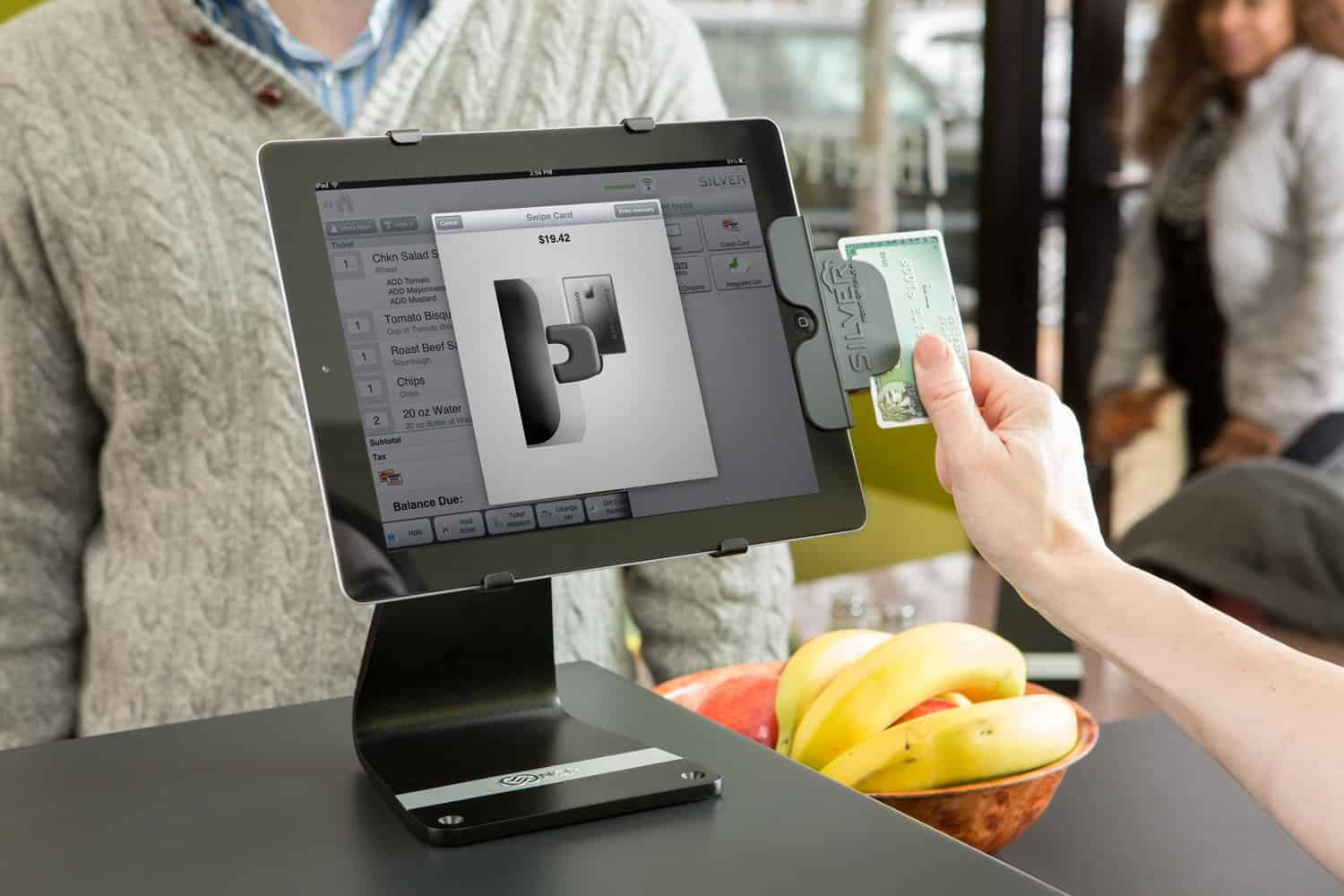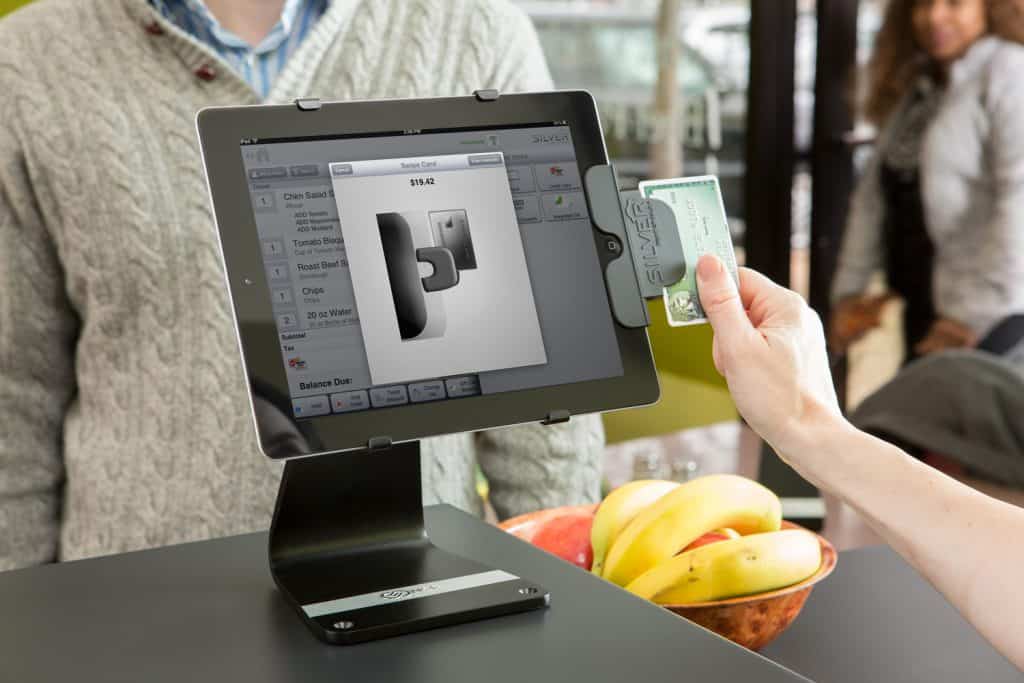 Advanced Reporting
Run in-depth reports with the NCR Silver platform. Compare key performance indicators (KPIs) across multiple sales verticals and locations. This feature helps to better understand product mix trends by team and time.
NCR reports will give a food truck insight into labor costs broken down by day, week, month, or year. You can then compare actuals to targets and forecasts—even the weather!
Consumer Engagement
NCR ensures you are bringing back your best customers with an intuitive customer loyalty and reward program. Track every visit to your truck with what people are ordering, how often, and at what time. You can create stored value and gift cards that are good for multiple locations and keep guests returning no matter where you park the truck.
Secure Payments
Accept all forms of payment with point-to-point encryption (P2PE) and tokenization, including:
Cash
Credit or debit cards
EMV
EBT
Gift cards
RFID
Mobile wallet
Centrally manage and track payment terminals, pin pads, and other equipment.
Additional Features
Over 200 third-party integrations for every business avenue
Personalized customer service via phone and onsite support
Remotely monitor and access systems from anywhere
Instant alerts on sales by hour, day, revenue center, etc.
Powerful customer profiling with data-driven decision making
Pricing
There are two tiers for the platform, with NCR Silver Essentials starting at $108 per month and NCR Silver Pro Restaurant at $178 per month. This price includes both the software and hardware licensing.
Both of these prices are for a single station and based on a 24-month contract. Additional stations each cost $48 per month under the Essentials plan, and $64 per month under the Pro Restaurant Plan.
---
Revel Systems: Best Cloud-Based Food Truck POS System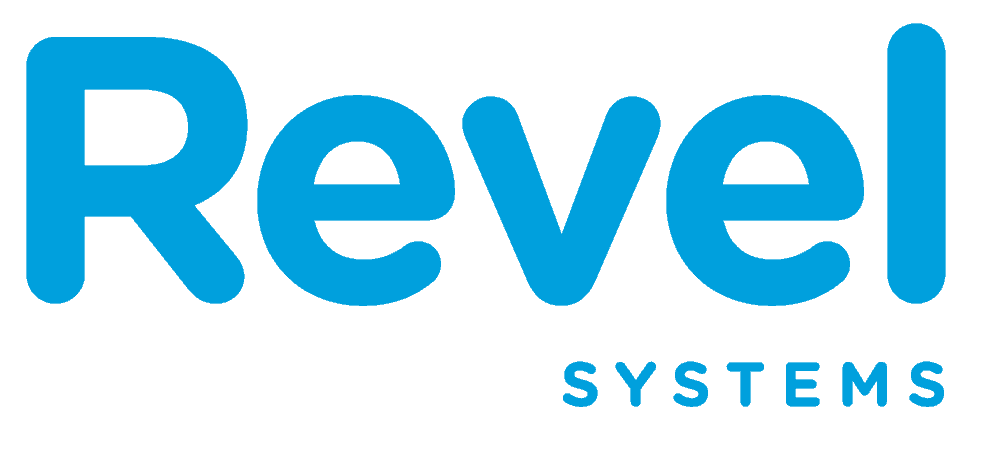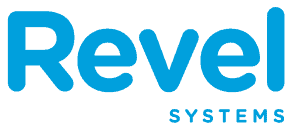 Revel Systems POS is an all-in-one solution that runs on 4G iPads and uses the power of Bluetooth printers. The platform boasts a full suite of features from real-time reporting to employee scheduling. They offer comprehensive options to optimize mobility and allow a food truck to manage operations from anywhere on the go. Key features include:
Customer Engagement
Revel is a food truck POS system that allows you to deploy a customer relationship management strategy with a built-in CRM. Quickly capture customer data at the point of sale and connect with them regularly for repeat business.
Revel Systems allows a business to create loyalty and rewards programs that cater to your best customers and bring more people to the truck. You can also utilize a customer display system to speed up transactions and encourage guests to take control over their own order. This usually ends up with higher check averages and quicker wait times.

Flexible Payments
Revel's flexible payment options are convenient for customers and enable a food truck to accept all types of payment, including tap, swipe, and contactless. All payment processing is EMV compliant and customers can even purchase on store credit.
The Revel Advantage program is their in-house payment processing solution with complete flexibility and industry-low rates. Save time and money by choosing a comprehensive payment processing plugin that integrates perfectly with the Revel hardware and software POS setup.
Cloud-based Mobility
Revel was designed for a business that keeps moving. A food truck can stay confident knowing that the platform will still run transactions, even when the internet is down. The advanced hybrid architecture enables the point of sale system to run, undisturbed, offline, or through a local network.
Since the product was built for mobility, Revel is 100% PCI-compliant. The platform boasts point-to-point encrypted payments (P2PE) and rich user access controls to ensure guest data is always protected.
Additional Features:
Product and menu building with bulk uploads and central console
Streamline labor operations with extensive employee management
Mobile Order Taker program to process sales from anywhere on the road
Online ordering to diversify revenue streams and accept more orders
QuickBooks integration to facilitate back-office accounting
Pricing
Revel Systems start with a $99 per month fee, as well as an onboarding fee starting at $674. This rate is contingent upon a three-year agreement, as well as a two-terminal minimum.
They charge a flat fee for payment processing, but do not disclose it on their website. They also don't offer hardware bundles but allow you to select from a number of hardware options on their website.
Get A Quote from Revel Systems
Square: Best Food Truck POS for Rapid Service


Square POS is all about getting your business up and running efficiently. They have a true appreciation for the casual dining experience. A company can customize the dashboard with an items grid and categories page to match a food truck menu and speed up checkout times.
The platform is one of the best food truck POS products for people just starting out because it's free. Additional features to look out for include:
Payment Processing
Accept all types of payments from customers quickly and securely. Next day transfers are the same rate across all cards. The Square system can accept:
Swipe or dip of a credit/debit card
Tap with NFC technology using Apple Pay or Google Pay
Online payments through Square Online
Key-in payments remotely on the mobile app
With the Square payment processing, there are no extra fees or long-term contracts. Giving customers the option to order online before ever reaching your food truck ensures you never have a long wait. It also gives you an extra resource that a lot of competition might not consider.
Menu Management
Manage the menu dashboard with customizable layouts. Put top sellers on the main menu for easy checkout and add items to a display group as needed. You can alter the menu from anywhere, at any time. If something is 86'd during the lunch hour, every truck in your network will know. It's easy to make menu changes even if you are miles away.
When you make seasonal swaps or changes the Square platform allows a business to do it in bulk. No more adding items one at a time, especially when you need to make multiple changes fast. You can even apply taxes and modifiers to further streamline the process.
Third-party Integrations
From employee time tracking to accounting and inventory management, Square offers integrations for everything they cannot do. That means a food truck can operate with a lot of legacy systems they may already have in place.
The Square product is designed to work incredibly well with other applications and rarely encounters a brand they cannot accommodate.
Additional Features:
Advanced discounts that are easy, automatic, and repeatable
Reporting on everything from top-line summaries to granular daily stats
Shared staff settings for employees to stay synced and connected
Live sales numbers including open checks
Suggested and auto-gratuity (for party-size thresholds)
Pricing
Square does not charge a setup or monthly fee. Instead, you pay 2.6% + $0.10 on each swipe, dip, or tap. Their online payment fee is 2.9% + $0.30 for each transaction.
For most food truck businesses, this basic plan should be sufficient. However, if you manage multiple trucks or want to expand your business, there are other features you can add on like advanced team management, payroll, or inventory.
---
---
Harbortouch: Best Free Food Truck POS System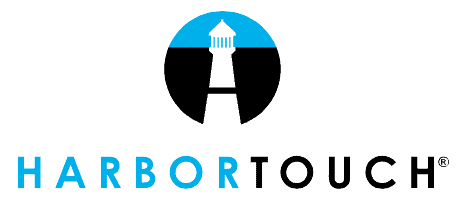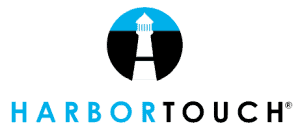 The food truck POS systems by Harbortouch offer a robust point of sale solution that delivers all the features needed to power through long lines and keep the truck rolling. The best-in-class program helps a business streamline operations with powerful reporting, labor management, and a completely customizable dashboard. Other features to consider include:
Personalized Management
The intuitive interface means more efficient operations with keyword tags and a universal search function. This enables a food truck to quickly locate any item in the system. Discounts can be easily added and special requests or holds placed on tickets for a later checkout.
The POS solution has three different modes of functionality and is designed to grow with your system. In addition to a full suite of POS features, you also have a cash register interface and calculator. The module-based software allows you to hide any buttons not needed and add an unlimited number of items, categories, and modifiers.
The customer database has a built-in loyalty function with an in-depth rewards system. You can also manage employee schedules and staffing straight from the universal dashboard. At any time, a food truck can view quantity-on-hand inventory to avoid any potential stockouts. This enables you to always have exactly what your customers crave, right when they want it.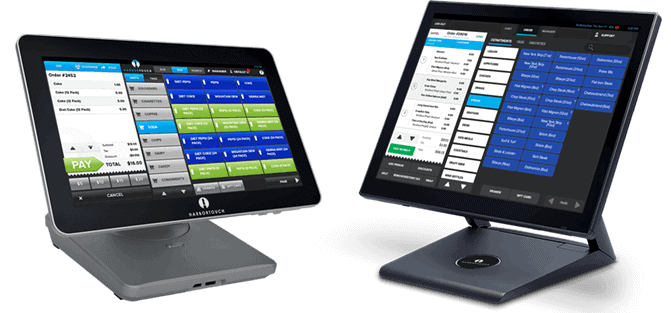 Advanced Reporting
Harbortouch has some of the top reporting capabilities in the industry. It puts valuable data at your fingertips so you can make better decisions about the food truck. Run a total Financial Overview to review your daily totals and list all the transactions for a certain period of time.
The system will also provide a universal view of your sales on all items and show how many of each you have in stock. Other key reports include:
Labor

By Employee
By Employee by Job
Labor Detail
Employee Directory
Tax Form 4070 for cash and tips

Sales

Sales Summary by dept, item, employee, etc.
Discount Summary
Sales and Labor Summary
You can also run reports for discounts and customize your POS to extract the exact data you need.
Additional Features
Mobile payments with near field communication (NFC) technology for Apple and Android Pay
Tokenization and point-to-point encryption for secure payment processing
Lighthouse app for 24/7 access to your account data including transactions, batches, and deposits
Gift card and loyalty program with 50 free, customized, full-color cards
Business cash advance to generate working capital up to $1,000,000
Pricing
Harbortouch prides itself on offering free POS options, including starter hardware and software, at no charge. They feature multiple tiers for additional features, including $29 per month for their small business bundle, and $39 per month for their bar and restaurant bundle.
There is no information on their website regarding their payment processing fees.
---
Toast: Best Integrated Food Truck POS System 


Toast is a flexible gift shop POS system. It has a cloud-based infrastructure that's designed with the foodservice industry in mind. The company offers new feature updates and continuous mobile management with powerful analytics. Toast allows you to maintain inventory controls, make menu changes, and improve customer service. Other features to keep in mind include:
Menu Management
Master your food truck menu no matter where you are located. Make menu updates from any terminal or mobile device. Whether you're running a limited special or 86ing an item in real-time, countdowns to the cashier and kitchen are in sync. All updates are automatically reflected both in-house and online.
Reporting and Analytics
Take control of your food truck's performance with detailed reporting and analytics using cloud-based mobility. Access key reports and analyze sales performance to make better staffing and inventory decisions. Some examples of reports to run include:
Product Mix – Monitor your item and product mix to identify areas of improvement
Sales Summary – Track sales performance over any period of time
Location Overview – Run a unified report of net sales and labor across multiple trucks
The best-in-class user interface facilitates operations and increases visibility.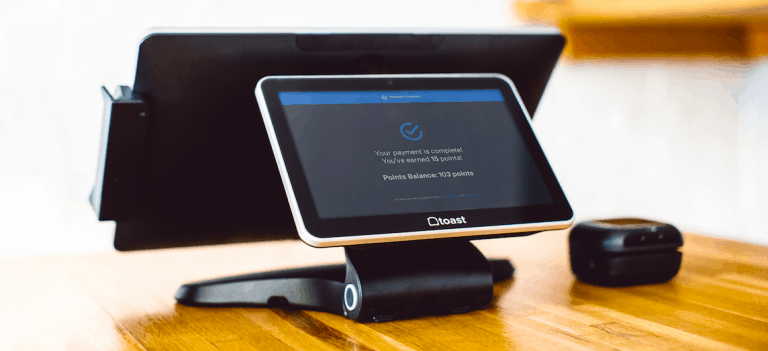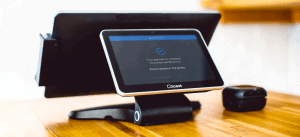 Online Ordering and Delivery
Toast Online Ordering enables a food truck to eliminate extra tablets and third-party commissions for ordering and delivery platforms. The dashboard is highly customizable with direct integrations to save time on each order.
Drivers can be dispatched from pre-set areas while sending online orders directly to the chef. Even though a food truck typically doesn't deal with delivery, it's a new avenue that some trucks are using to rise above the competition and leverage sales.
Payroll and Staff Scheduling
Reduce the time spent on labor management and payroll that syncs with your point of sale system. With Toast Payroll, you'll deal with one employee profile across the POS and payroll platform, with no more double entry needed.
Receive faster timesheet approval with automated tip distribution. The Toast food truck POS platform eliminates time-consuming edits at the end of every shift with no manual entry of hours necessary. Running payroll is a smooth and simple operation.
Additional Features:
Open integrations from leading partners in administrative areas
Restaurant-grade IP54 spill-proof rated equipment
Flat rate pricing on all transactions that is competitive
A single point of contact for payments and POS
Innovative training in Toast Central with a one-stop-shop for all things
Pricing
Toast's platform comes in three tiers. The Starter plan is currently $69 per month and includes POS features, customer care, and payment processing, with the option to add on additional features.
At $99 per month, the Essentials plan includes online ordering and delivery, as well as the Toast Takeout App. Finally, the Toast Growth plan is $199 per month and includes gift cards, loyalty, and marketing tools.
Add-ons include restaurant-grade hardware, payroll and team management, delivery services, and more. They do not disclose their payment processing fees on the website.
Food Truck Point of Sale Buyer's Guide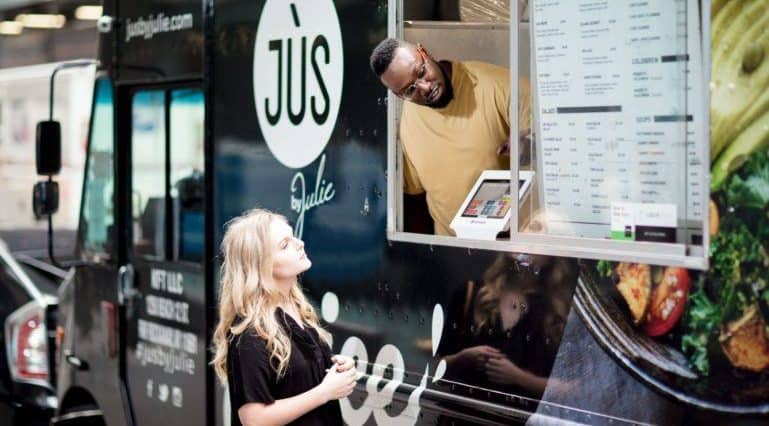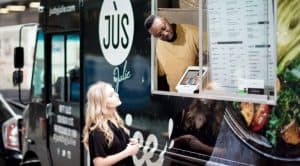 Any quality food truck POS system will possess a variety of features to leverage every aspect of your business. However, it's important to know which features are essential and which might function as cool "extras" when the budget allows. Here are a few points consider when traveling through the buyer's journey:
Must-Have's
Mobility
The number one feature a food truck POS system needs is the ability to run transactions on the go. The system should be cloud-based with offline functionality so payments can be run when you're offline. No matter where you are in the world, the dashboard and operations are managed from a mobile perspective.
Payment Processing
Customers expect to pay any way possible when buying from a food truck. It's no longer just a cash business. In fact, contactless payment is one of the more popular ways to pay.
Customers are on the go and can simply tap your POS with their phone. It is critical the food truck POS solution you choose has an extensive amount of payment processing capabilities with low rates.
Tipping and Receipts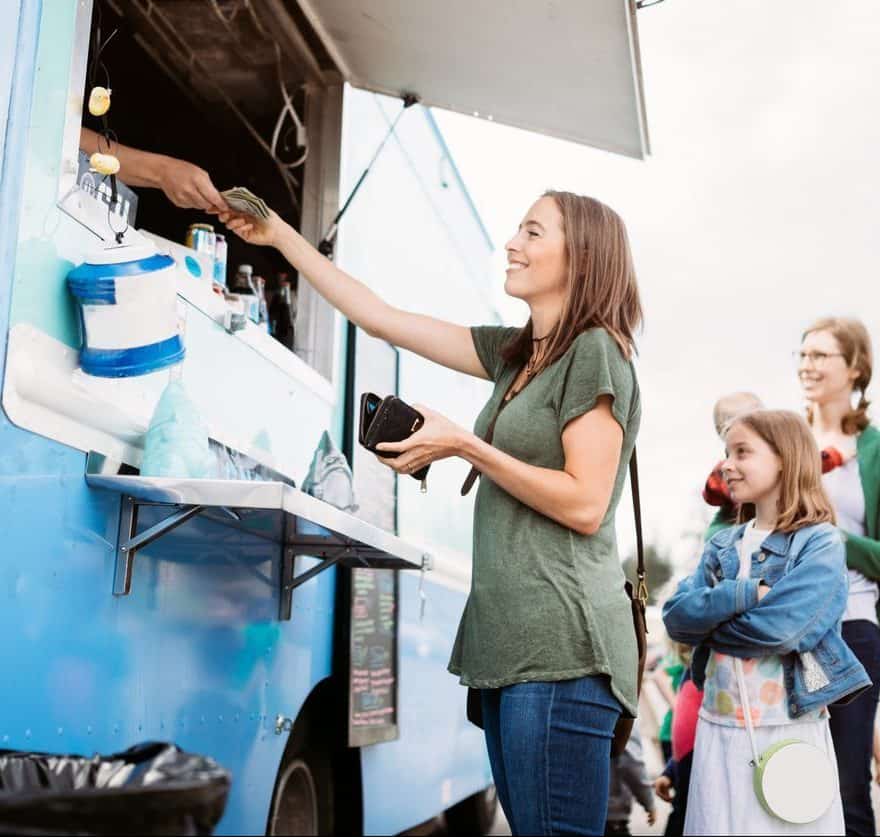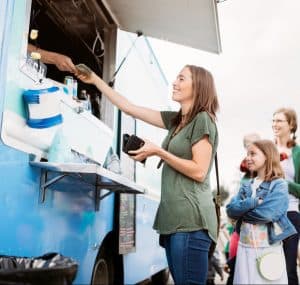 Food truck cashiers are in the tipping business so you need a way to ensure the POS system has a means to process gratuities. Not only does this speed up checkout, it reduces waste and drives employee satisfaction. You can also email receipts to the customer to save space in the truck and avoid the need for a bulky printer.
Inventory and Menu Management
Your food truck POS should automate as many remedial processes as possible while monitoring stock levels. It should keep track of stock and prevent you from running low on items without instant notifications. You must be able to quickly change offerings during a lunchtime rush and 86 items immediately. Push all these changes to one truck or an entire fleet if you need to.
Additional Essentials Include:
24/7 dedicated customer service with onboarding and training
Sales reporting and analytics to identify key trends
Staff scheduling and payroll to facilitate labor functions
Customer loyalty and rewards program to build retention and repeat business
Online ordering to bust lines and speed up service
The Bells and Whistles
In addition to what is considered an "essential" for running a food truck, a POS system can offer fun extras like:
A Kitchen Display System to optimize communication
Multi-location support to network all trucks in a brand
Third-party integrations for everything from accounting to marketing
Customer-facing kiosk to bust lines and empower guests
Mobile app for easier, on-the-go reporting and management
Utilizing POS Software In Your Food Truck Business
Running a food truck business requires speed and agility, two things that can be achieved with a solid POS system. While there are a number of great options out there, it all comes down to what you specifically need for your business. For example, if you're just starting out operating a food truck by yourself, you really only need a basic POS system like Harbortouch or Square.
However, as you grow and expand to need more advanced features, something like NCS Silver, Toast, or Touchbistro may be better for you. Always keep in mind the return on investment you'll get from making this purchase. If more features can save you time and make your business more efficient, then you should invest more. If not, then you don't want to overspend and cause problems, rather than solve them.
It's also important to select the right tier of pricing for your business. Many food service POS systems, like Toast or Touchbistro, come with features tailored for full-service restaurants, like table management. Your food truck doesn't need those features, so avoid paying for them if possible.
Finally, keep in mind your projected growth as well. A basic POS system may work for now but won't provide you with the scalability you'll need later. A food truck POS platform is an important investment, and you want it to pay off well into the future.