(Last Updated On: October 19, 2021)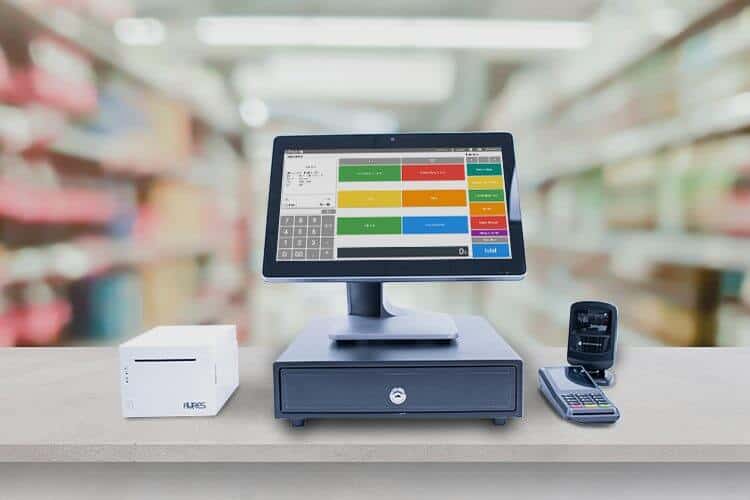 To truly manage a hardware store the right way, you have to pay attention to key marketing and management tasks for the business. Whether you own a small store or a chain with several locations, using a POS system to manage inventory will help you track what's selling and which items are dead weight on your shelves.
From managing employees to scheduling, to accurately tracking your sales, to purchase orders, using POS software in your store will help you make vital business decisions. By using such software, you'll be able to quickly look up an item a customer came in for and make a quick sale.
After reviewing various options, I personally believe EPICOR is the best hardware store POS system due to its fast checkout and easy access to customer information. After watching a demo of the software, I determined you can make a simple sale within minutes. This means a hardware store employee can adapt to the software in no time. Finally, EPICOR's payment processing rates were the lowest among the competition.
Another factor to pay attention to is customer management and loyalty. By using a POS system, you'll be able to collect customer data and behavior. Use this data and analyze it to better serve your customers. Don't have the right grit of sandpaper? Use the system to put in an order with your supplier.
Chances are your current POS system can't handle moving inventory from one store to another or sync all items across all your locations. And we bet your older POS system can't import an entire catalog from your supplier into the system. Luckily for you, we can help.
To compare POS systems that help you do all that plus track your revenue growth by month or year, let's compare the top hardware POS systems.

The Top Four Hardware Store POS Systems
Epicor: Best Overall Hardware Store POS System
Celerant: Best Inventory Management for Hardware Stores
Lightspeed Retail: Most Retail-Specific Features for Hardware Stores
CashierLive: Best Hardware Store POS for Efficiency
Comparing The Top Hardware Store POS Systems
| POS System | Software Costs | Hardware Costs | Our Score |
| --- | --- | --- | --- |
| | Quote-based | Quote-based | 4.8/5 |
| | Starting at $125/mo. | Quote-based | 4.5/5 |
| | Starting at $69/mo. | Quote-based | 4.5/5 |
| | Starting at $75/mo. | Quote-based | 4.3/5 |

1. Epicor: Best Overall Hardware Store POS System


Epicor POS software helps hardware stores of all sizes thrive by making sales more efficient and generating more customer engagement. Specifically, this comes through advanced POS and mobile technology, inventory management, purchasing and receiving tools, on-screen analytics, and more. Because of all these powerful, intuitive features, Epicor is our #1 choice for a hardware store POS system.
Intuitive Interface
Process more sales and engage more customers faster. Epicor provides a simple interface that allows your staff to easily provide superior customer service. Click through to find items and answer questions in just a few seconds — whether you're online or offline. Plus, you can bring the checkout experience directly to your customers through Epicor's mobile POS.
Payment Processing
With Epicor Payment Gateway, you can make up to a million transactions from more than 10,000 locations daily. Epicor's affordable pricing allows for predictable low rates, while also staying secure and PCI compliant. Plus, you can offer multiple payment options and steer customers toward preferred options, like low-cost debit transactions.
Boost sales and profits by setting specific prices for certain times. Track, manage, and review pricing across all locations. Use competitor price comparisons to ensure your products are the most competitive.
Inventory Management
Make smarter inventory decisions: purchasing, stocking, and pricing. Track your products across all locations to see which items are selling and which ones are not. You can view these updates in real-time from any mobile device, so you always have a clear picture of what's in stock.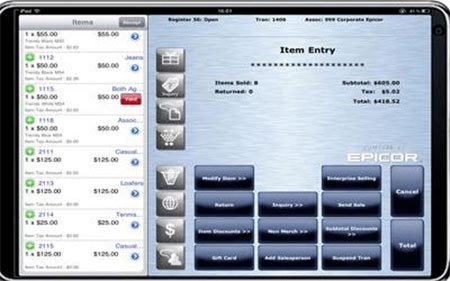 eCommerce
Open up your customer base and make it easier for current customers to purchase products with Epicor's eCommerce platform. Create your own custom online storefront and improve online product selection with third-party data feeds and online catalog integration.
Back Office
Cut back on tedious back-office tasks with powerful business management tools. Epicor's back office features include accounting and financial management, workforce management, employee scheduling, document management, and more.
Customer Management
Build loyalty among your customers through personalized suggestions and rewards. Create customized promotions and marketing campaigns. Automatically view customer files at checkout to offer a personal touch to the conversation.
Analytics and Reporting
Generate real-time reports on all your activities. Build custom dashboards and reports, and drill down into specific sales, inventory, and customer data. Plus, you can access Epicor's analytics reports on any device.
2. Celerant: Best Inventory Management for Hardware Stores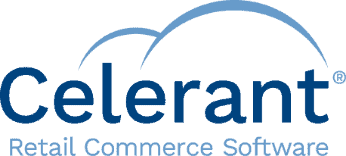 Easily manage your large inventory and integrate inventory with your POS system. Celerant's commerce and point of sale solutions can streamline your hardware store's operations to help you find what the customer needs, right when they need it.
Mobile POS System
Wherever you are on the floor, Celerant's mobile POS system allows you to answer your customers' questions and solve their problems. Pull up prices and inventory levels, process sales with EMV chip card readers, accept returns, hold items, and much more.
Vendor Integrations
Celerant's powerful vendor integrations allow you to send automated purchase orders automatically when your stock reaches a specific min/max level. Browse vendor catalogs, select products, and import product descriptions into the platform. Integration with vendors like Orgill and Emery Jensen allow you to automate this process. You can also print tags, change prices, customize categories, make inventory adjustments, and easily transfer merchandise.
eCommerce
Seamlessly integrate eCommerce into your hardware store's website. Create purchase pages through drag-and-drop, post items, and integrate online orders directly into your POS system. Celerant integrates with online marketplaces like Walmart or Amazon.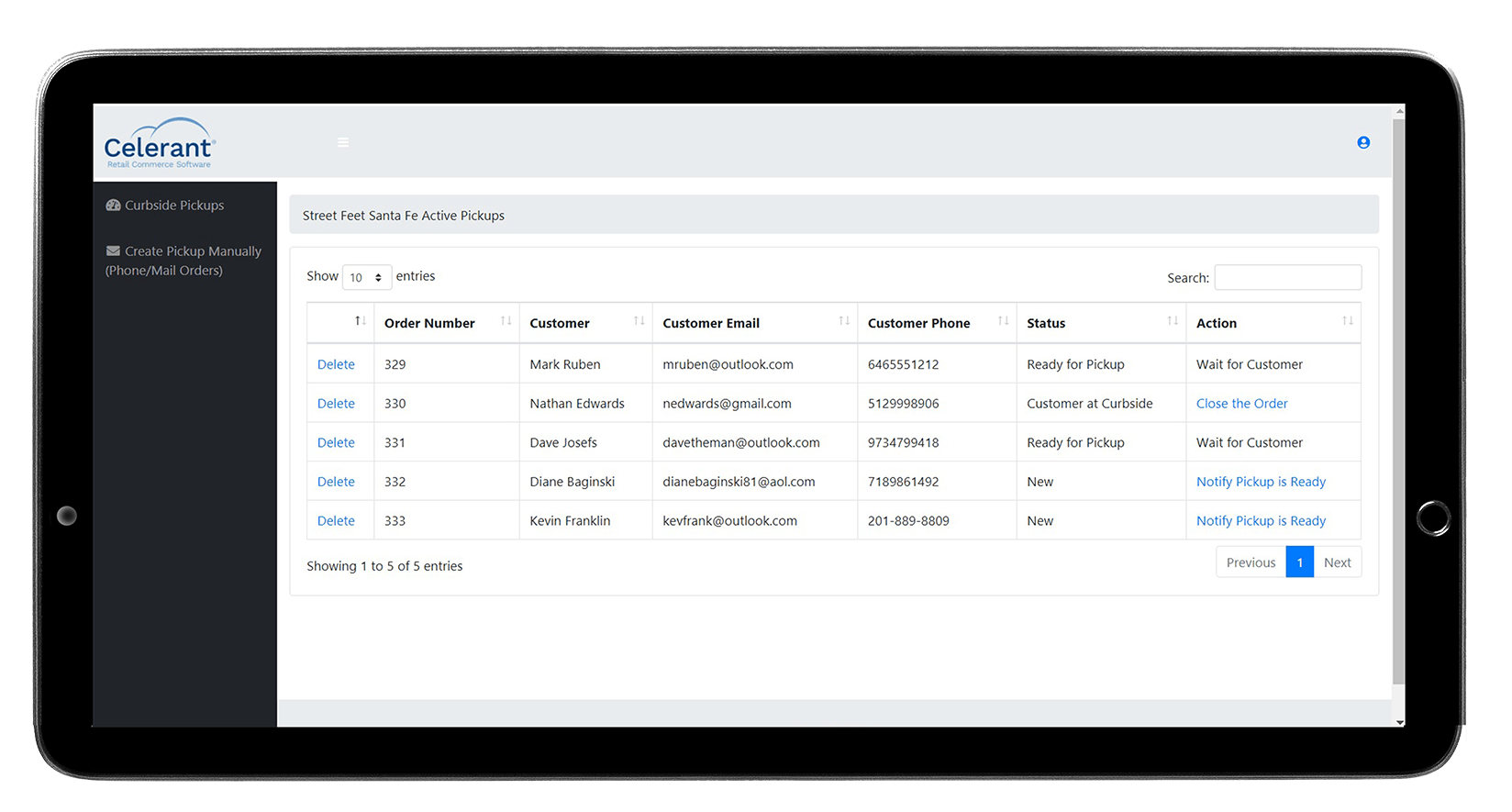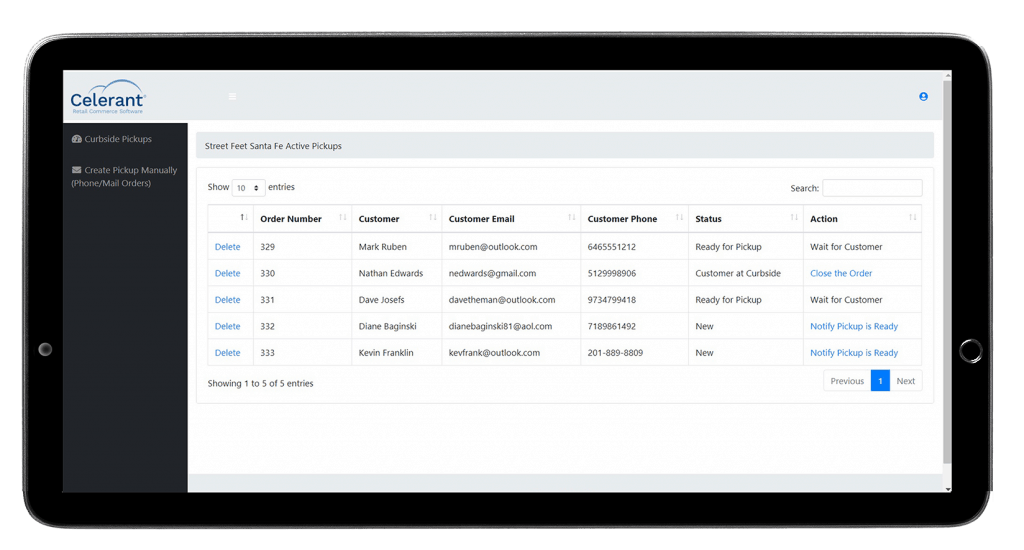 Marketing & Promotions
Hardware demands vary by season. Celerant's point of sale and retail management solutions let you drive targeted and seasonal promotions. Plus, you can leverage customer data to create the perfect message for that person's needs.
Loyalty Programs
Maintain customer loyalty and improve your recurrent sales with Celerant's loyalty reward programs. Customers earn loyalty rewards from all points of sales (including online), and these rewards are viewable in the POS system. Use this data to target coupons and other discounts that are perfectly tailored to the customer.
3. Lightspeed Retail: Most Retail-Specific POS Features

Lightspeed Retail blends sophisticated retail features with an intuitive UI. This makes it an excellent choice for hardware stores that are building and scaling their operations. Here are some of Lightspeed Retail's top features.
eCommerce & Online Ordering
Grow your business across multiple channels with Lightspeed Retail's all-in-one eCommerce platform. Sync your physical inventory with your eCommerce store, import your in-store stock and organize shipments from your back office. Plus, use an automated locations page to direct shoppers to your physical stores.
Omnichannel Loyalty Program
Integrate your customer loyalty across all your channels — both in-store and online. Send targeted offers, one-time birthday or VIP deals, and design engaging emails with a simple drag-and-drop builder.
Mobile & Contactless Payments
Accept all payment methods from both the cashier desk as well as your customers' mobile devices. Quickly move customers through the line with fast transactions, while protecting your business from fraud and human error. Your data remains secure through PCI-compliant payment processing, and Lightspeed Retail provides a free EMV-compatible terminal when you sign up.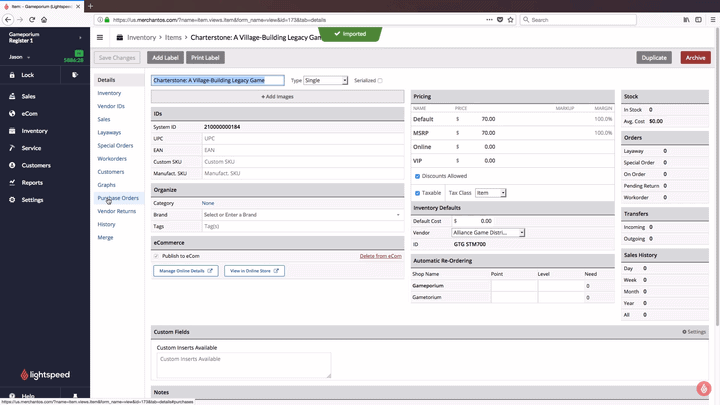 Inventory Management
Manage your entire inventory with automated, up-to-date counts from one retail POS system. Whether customers purchase from eCommerce, in-store, or through a channel partner, your inventory updates automatically. Use Lightspeed Retail's built-in purchase orders for quicker orders. Build customizable matrices to offer variations on serialized items.
Multi-Location Management
No matter how quickly you scale, Lightspeed Retail scales with you. Manage stock with quick and painless product transfers, generate multi-store reports, and centralize purchase ordering in one system. Plus, your customer data is shared across all locations, so you can always provide a seamless customer experience.
Reports & Analytics
Lightspeed Retail's built-in reporting gives you all the information you need to take control of your hardware business. Generate real-time reports to track sales, profiles, and trends. Examine costs and margins, negative inventory, and transfers. Manage your employees with reports on units per sale, voids, work orders, and more. All the information you need to manage your operation is in one central location.
Tech Support
One of the great advantages of Lightspeed Retail is their free, unlimited, 24/7 live support. Additionally, all customers gain access to one-on-one onboarding sessions and regular check-ins, as well as a library of webinars, demos, videos, and guides.
When you sign up for Lightspeed Retail, you aren't just getting a POS system. You're getting a partner that will help you as your business grows.
4. CashierLive: Best Hardware Store POS for Efficiency

The more efficient your system, the more products you can sell and the more revenue you'll bring in. CashierLive provides a highly efficient and powerful point of sale system to enhance your revenue-generating capabilities.
Quick & Easy Sales
Taking payments shouldn't be a hassle. CashierLive allows you to make quick and easy transactions from an iPhone, iPad, or computer. The system allows you to take multiple forms of payment, add tips, and accept signatures. This keeps your checkout lines running smoothly and revenue coming in.
Inventory Management
Always have a clear picture of your inventory with CashierLive's automated purchase orders for when an item drops below your restock levels. Plus, CashierLive's simple import tools can bring all of your inventory into the system, where you can track it from there.
Employee Management
CashierLive provides an integrated time clock that generates reports for each employee's logged hours as well as their transaction reports. This allows you to measure each employee's productivity and ensure you're generating a solid return on investment.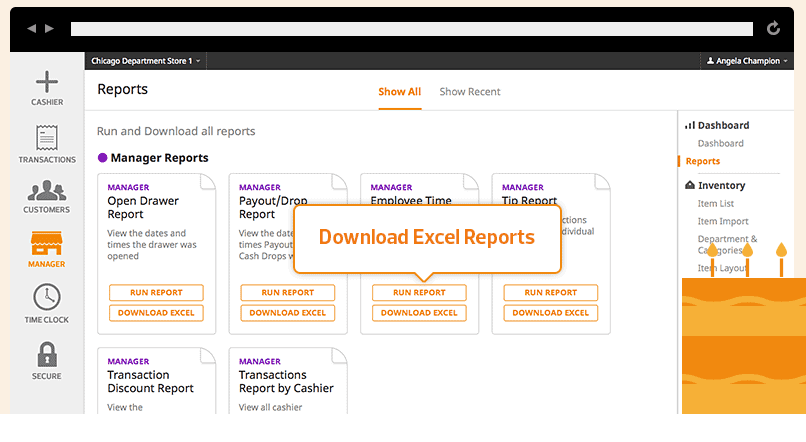 Search Inventory
If you manage a large inventory, CashierLive makes it easy for cashiers and customers to find the exact product they're looking for. The system's powerful search filters include UPC, description, supplier, and reorder number. Then you have the ability to sort the search results based on your preferences. With these features, you can avoid frustrations when looking up an item for an impatient customer.
Hardware Integrations
Eliminate hardware hassle with CashierLive's direct integrations. Your receipt printer, cash drawer, barcode scanner, and more, all integrate with the system to provide a seamless experience — both for your cashiers and the customers.
Reports & Analytics
Pull up a series of reports that will take you as broad or as detailed as you want to go. Generate automated end-of-day reports. Analyze cost, pricing information, and actual sales data to determine your store's profitability. Examine financial data like sales, returns, tax collected, and more to help you when tax season comes around.
With each transaction, CashierLive collects data that you can access in later reports. The fully comprehensive system allows you to generate a report with any piece of information you need.
Features to Look for in A Hardware Store POS System
Each of the four systems we reviewed above represent the best point of sale platforms for hardware stores. While they offer unique advantages depending on your specific needs, there are some features common to them that you will need regardless of which system you choose specifically.
Here are some of the most important features you should look out for in your hardware store POS system.
Payment Processing
It goes without saying that a POS system should have robust payment processing features. In a modern age, your system should be able to accept all forms of payment, including credit cards, mobile payment, and more.
The more seamless your payment processing, the quicker you'll be able to process purchases, and the more overall revenue you'll bring into your business.
Automated Inventory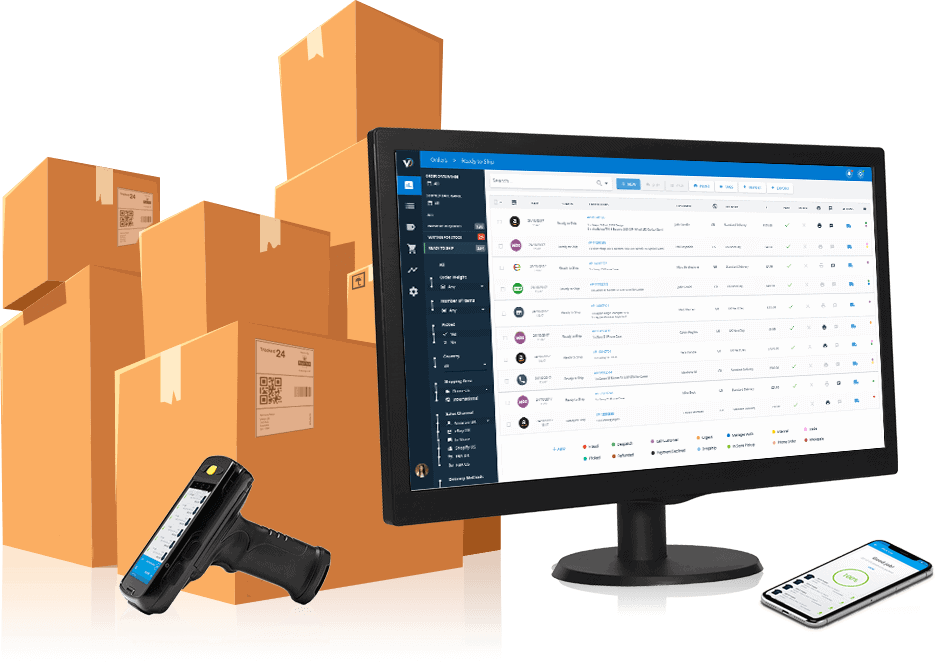 Manually checking inventory and making sure you have sufficient stock can be tedious and time-consuming. Fortunately, many POS systems feature automated inventory management.
When a customer purchases an item, your inventory is automatically updated to reflect the reduced stock. In many systems, you can set up automated purchase orders for when a particular item reaches a certain level.
This powerful feature should be a core component of the POS system you choose. When you can cut back on your time spent managing inventory, you open up more time to bring in and serve more customers.
Reports & Analytics
Whether you're managing a single store or a large chain, there are certain pieces of information you need to empower your decision-making. Is the store profitable? Where are your biggest costs, and can you reduce them? Are your employees bringing in net positive sales?
Any enterprise POS system will feature powerful and robust reports. These reports can aggregate any and all of the data collected by the system: actual sales, expenses, sales by employee, date and time of purchase, sale by item, and much more.
With all this information, you'll be able to see exactly where your opportunities for improvement are and make adjustments based on that information.
Scalability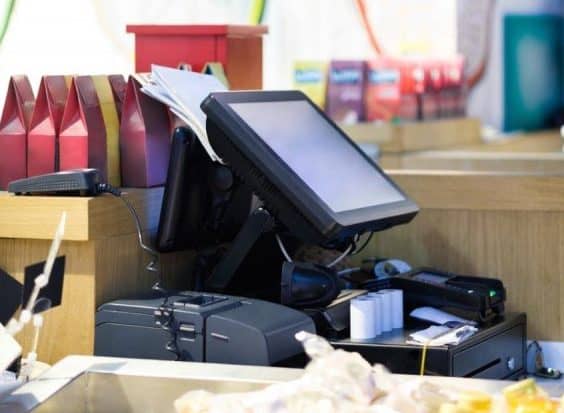 You may only own one hardware store right now, but every business owner has one eye on the future. It's important when purchasing a POS system to find a system that won't limit you when it's time to scale.
Many systems allow unlimited locations. Some charge extra for new locations. It's important to know all of this up front. That way, you don't run into any unwelcome surprises down the road.
Omnichannel Marketing & Customer Nurture
Every retailer wants to repeat business with their customers. But these days, people often need motivation or reminders to stop in, rather than just shop online.
The integration of marketing and customer nurture with a POS system is something that many businesses find important. When you can combine your sales data with customer records, it's easy to send customized and timely messages based on their interests. The more personalized, the more likely that particular customer will respond.
Since there are many seasonal construction projects, you should be able to create and promote seasonal deals within the system. With the right platform, you can time your messages to align with those seasonal changes.

Loyalty Programs & Discounts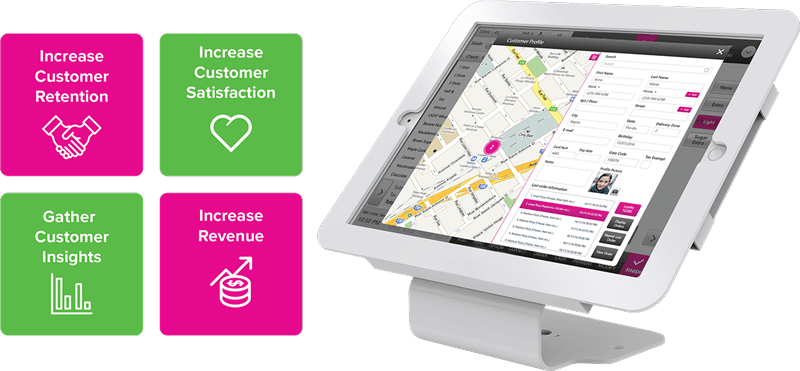 Finding creative ways to keep your customers loyal will set your business up for success. Your POS system should include the ability to create unique customer rewards that are tailored to your customers and your business. Plus, there are plenty of opportunities to offer discounts to specific customers or for certain seasons.
eCommerce
With an increasing number of purchases being made online, it's important that you don't miss out on this market share. Most of the leading point of sale systems will include the ability to build a simple eCommerce website that integrates with your inventory and retail management systems.
If you're using a more sophisticated eCommerce site, be sure to look for a POS system that integrates directly with it. Otherwise, you'll end up with different systems that aren't talking to each other, and that will cause more problems than it solves.
Reliable Customer Support
Every second of POS system downtime is potential revenue going down the drain. When considering which POS system you will use, look beyond just the hardware and software and consider whether there will be someone to call if the whole thing goes down.

Manage Your Hardware Store Business with POS Software
A solid POS system will keep revenue coming in quickly and efficiently. If your system has the right features, it will also ensure that all aspects of getting the product to your customer — from purchase orders to inventor to marketing — are all working together in harmony.
If all you need is speed and efficiency, it's probably a good idea to go with a more streamlined software like CashierLive. Simplicity will help cut back on employee training and improve adoption.
But if you're building a rapidly expanding operation, a system like Epicor or Lightspeed Retail is going to better align with your specific needs.
Whatever the specifics, we hope this guide has been helpful as you've walked through some of the top POS systems for hardware stores. The sooner you select the right software, the sooner you can start bringing in more business.