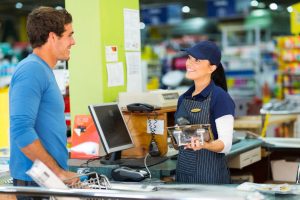 Hardware store owners need technology to streamline operations, so we decided to review the best hardware store POS systems available.
A solid hardware store point of sale (POS) system automates tons of tasks and facilitates business growth.
POS systems for retail stores—hardware stores included—are becoming necessary for revenue growth and delivering better customer service.
They free up time employees can spend tending to customers, which improves the customer experience. There are many benefits associated with using a hardware store POS system.
Point of sale systems integrate software and hardware to streamline your internal processes.
POS hardware components—which we cover in more detail below—do the heavy lifting in your POS system. System software features integrate with hardware components to create your complete POS system.
But which hardware store POS system is right for you? Which hardware components and software features should you look for?
Below we cover our top three picks for hardware store POS systems to help you select the best system for your store. We also provide valuable information on the tools you should look for in a POS system.
Our Favorite Hardware Store POS System: Revel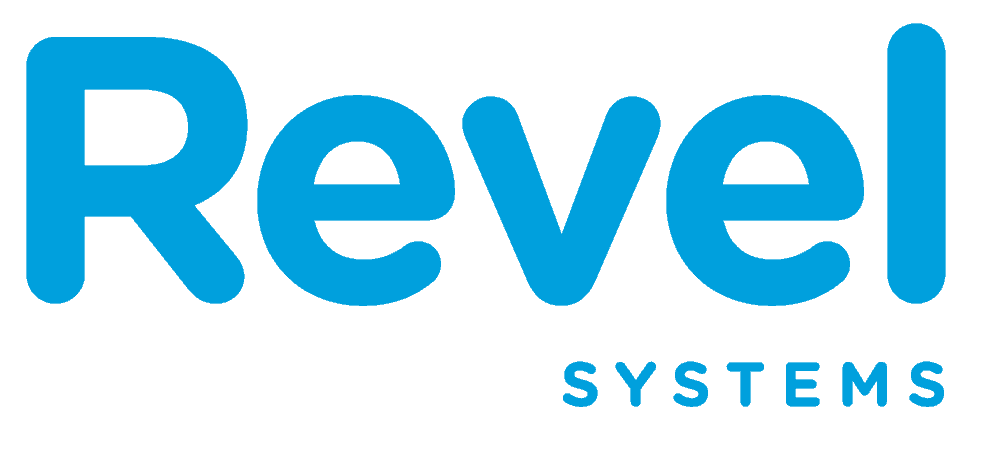 Revel Systems Point of Sale solution is widely regarded as the most versatile POS solution available. It is a feature-rich POS system and platform.
Revel offers unmatched features and integrations, designed to help grow your revenue and your business. Users report feeling very comfortable with the system because it allows them to have complete control of their business.
With best-in-class security, Revel Point of Sale offers the tools and third-party integrations you need to run your hardware store the way you need to.
3 Top Hardware Store POS Systems
Overall

4.5/5

3.5/5

3.5/5

Ease of Use

4.5/5

4/5

4/5

Customer Service

4.5/5

3.5/5

3.5/5

Starting Price

Not provided

No up-front costs

No up-front costs

Deployment

Cloud, SaaS, Web
Mobile – iOS Native

Cloud-based reporting and POS management through LighthouseTM

Cloud-based reporting and POS management through LighthouseTM

Training

Documentation
Live Online
In Person

Documentation
Live Online
In Person

Documentation
Live Online
In Person

Support

24/7 (Live Rep)

24/7

24/7

Free Trial

Yes

Yes

Yes

Free equipment replacement

No

Yes

Yes

Inventory Management

Yes

Yes

Yes

Service Fee

Not provided by vendor

$29 per month

$49 per month

Loyalty Program

Yes

No

No

Multi-Store

No

No

No

Price Book

No

No

No

Retail Management

Yes

Yes

Yes

Single Store

Yes

Yes

Yes
Get Free POS Systems Quotes
Revel

: Most Reliable Hardware Store POS System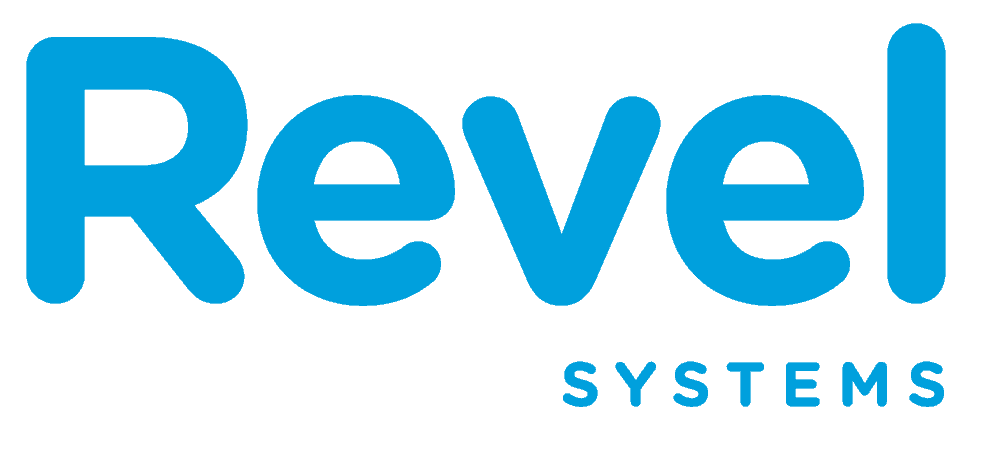 Revel's intuitive interface and feature set remove loads of complications associated with running a hardware store.
The system is quite easy to use and comes with a short learning curve. Even the non-tech savvy can learn the system in a short time.
Another nice thing about the Revel point of sale system is that it delivers tons of data security features. These include different user names and passwords for different employees.
Its powerful reporting and analytics capabilities provide constant insight into inventory levels, sales trends, revenue growth, and more. Revel is a great POS system for retail stores, including hardware stores. Below we cover a few of its strongest selling points.
Inventory Management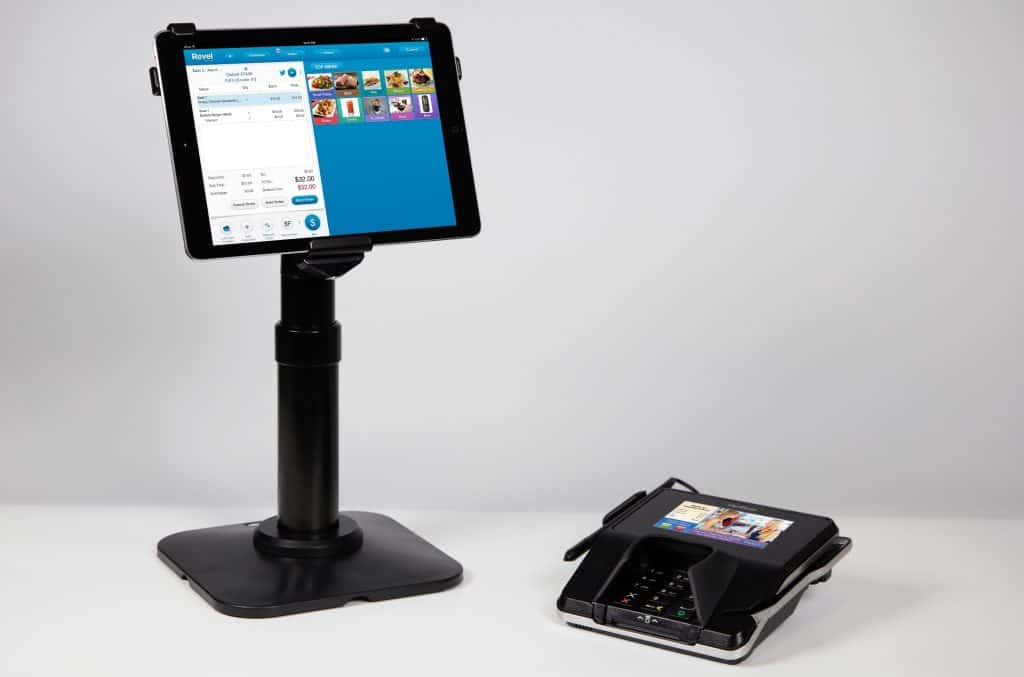 Any store that keeps inventory on site—and most retail businesses do—need a way to count and track inventory on a daily basis.
When inventory is counted and tracked manually, it is very time-consuming. Plus, it pulls employees away from more important tasks and increases the possibility of inventory discrepancies.
Of course, you always want your inventory to match what you have sold, with no discrepancies. However, discrepancies happen all the time with any business, so it is important to understand how they happen.
Revel allows users to run discrepancy reports. These help ensure the number of goods in the stockroom match what should be there based on inventory tracking.
Employee Management
Imagine you are a hardware store manager and have multiple employees working at the same time. Each one arrived at a different hour. Manually keeping track of hours worked and payment due can be a hassle. Plus, it is time-consuming and leaves the process open to human error. This can cause problems with your employees and their satisfaction levels.
With Revel, each system user has their own unique login code. This lets you track who is working, when, what they are there to do, and who is scheduled to work a specified shift.
Solid employee management features allow employees to maintain a clear view of the hours they've worked. Managers don't have to waste time managing employee movement. This lets them spend more time tending to customers' needs and delivering a better customer experience.
Reporting and Metrics
Powerful reporting, metrics, and analysis are features that every business needs. With Revel, users can run customized reports around just about any metric they want to track. These include customer purchase histories, sales trends, inventory counts, employee performance reports, and more.
The reports that most POS systems can run provide valuable insight into business results. That insight enables owners and managers to make data-driven decisions about how to grow, scale, and maintain a competitive edge.
Disadvantages
The only disadvantage we found mentioned repeatedly during our research is that Revel's customer support team is slow and leaves much to be desired. Other than that, the system is solid and a great hardware store POS system choice.
Bottom Line
Revel is arguably the best hardware store POS system available. The vast majority of its users are quite satisfied . It is a comprehensive system that can fill virtually all the needs of your hardware store.
Harbortouch Echo

: Most Affordable Hardware Store POS System: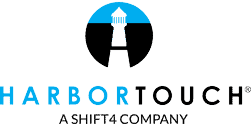 Harbortouch Echo landed at number two due to its efficient inventory control features. We already discussed how important inventory control is for a hardware store. 
Moreover, Harbortouch Echo generates sales reports, tracks employees, and offers custom barcode printing.
It lets you maintain a better grasp on the financial status of your store operations. It also provides the insight needed to make better management decisions and improve productivity. 
Inventory Control
Inventory is managed more effectively using this hardware store POS system. This, in turn, reduces inventory discrepancies and improves efficiency.
Hardware store managers can make better business decisions this way. They can create, track and send purchase orders automatically. They also receive notifications when it is necessary to reorder one or more items.
Powerful Reporting Capabilities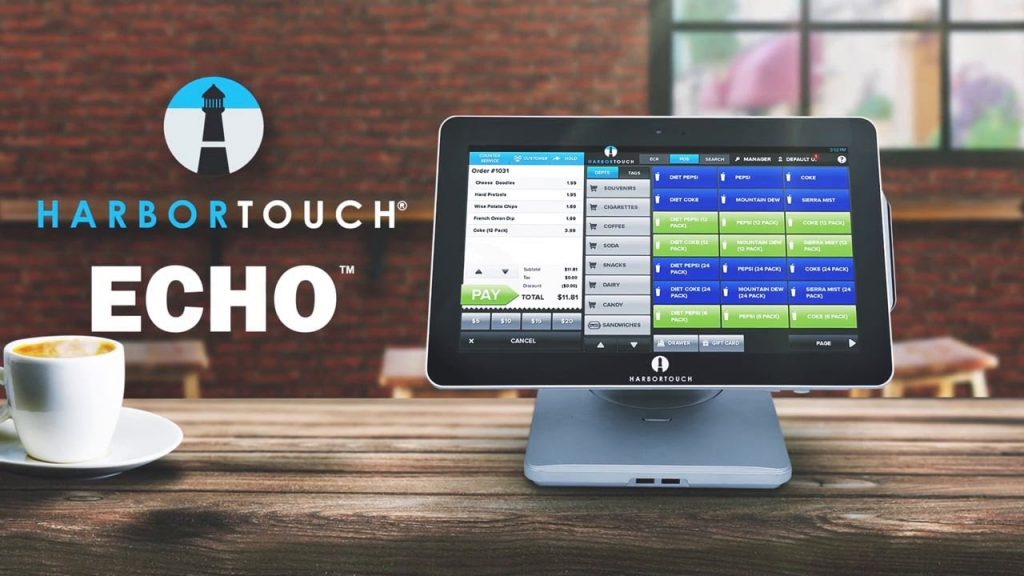 We are very impressed by the software's reporting capabilities. They let you track customers' purchasing habits and retain regular clients. Plus, these features help you acquire new customers by creating targeted marketing campaigns.  
For example, the system's Financial Overview feature functions as the main overview report showing your daily metrics.
The Ticket Detail function enables hardware store owners to keep track of all of their transactions for a certain time period.
An overview of sales of all items is easily accessible through the Item Sales Summary function.
Other useful features also include a Sales & Labor Summary, which provides a breakdown of sales and labor by the hour.
The Labor by Employee function shows each employee's overall hours worked.
Labor Detail shows exactly when a particular employee punched in and out, what job they were working, total hours, and total pay due.  
Bottom Line
You can purchase Harbortouch Echo with all of its amazing features and functions for a surprisingly low monthly fee. This is helpful for smaller and boot-strapped businesses.
If you're just starting your hardware business and don't have much excess capital, this is one of the best hardware store POS systems available.
Get A Quote from Harbortouch Echo
Harbortouch Elite

: Most Customizable, Intuitive System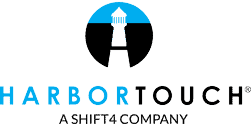 Just like the Harbortouch Echo, the Elite version boasts extremely customizable software and an intuitive interface.
It also has great payment processing features and tracks every transaction back to your central database.
However, Harbortouch Elite delivers much more than that. Frankly speaking, if you are planning to grow your hardware store, we advise you to purchase this system from the start as it will help you scale easily.
Harbortouch Elite features superior, lightning-fast hardware in its POS devices. Performing transactions, bringing up reports, and looking through your customer records is a breeze.
In addition, the software's customization capabilities go beyond most other POS systems in the same price range. Its retail store-specific package is a great fit for hardware stores.
A True Evolutionary Leap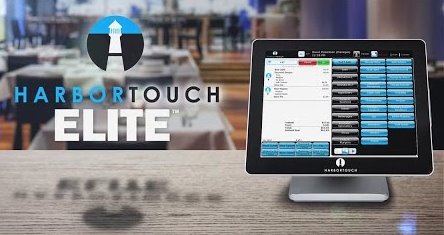 Out of all the choices here, Harbortouch Elite includes the most functionality to suit your hardware store.
It not only keeps track of your inventory but also easily imports your existing data if you're migrating from another POS system.
It has nuanced inventory management software that includes a matrix to keep track of types, colors, and sizes of various products.
If your employees work on commission, the system can also accommodate that and keep track of how much you owe them for each activity.
To accommodate your customers during special occasions, the software also has a gift registry setup option in addition to gift receipt functionality. For expensive items, you can even give your customers the option to put those items on layaway.
If you are looking for a POS system with extremely robust functionality that you can obtain for little or no upfront cost and a relatively small monthly fee, Harbortouch Elite is your best bet.
So as you are evaluating POS systems for your hardware store, shop around and examine all your options. You may just find yourself coming back to Harbortouch Elite.
Disadvantages
On occasion, you'll have to wait a while to speak to tech support. Usually, they're available immediately. Also, with a $49 per month service fee, it's a bit pricier than the Echo version, but we can assure you that it is worth the price difference.
Bottom Line
This POS system has earned the trust of a vast number of users thanks to its efficiency. It offers great quality at an affordable price.
What To Look For In A Hardware Store POS System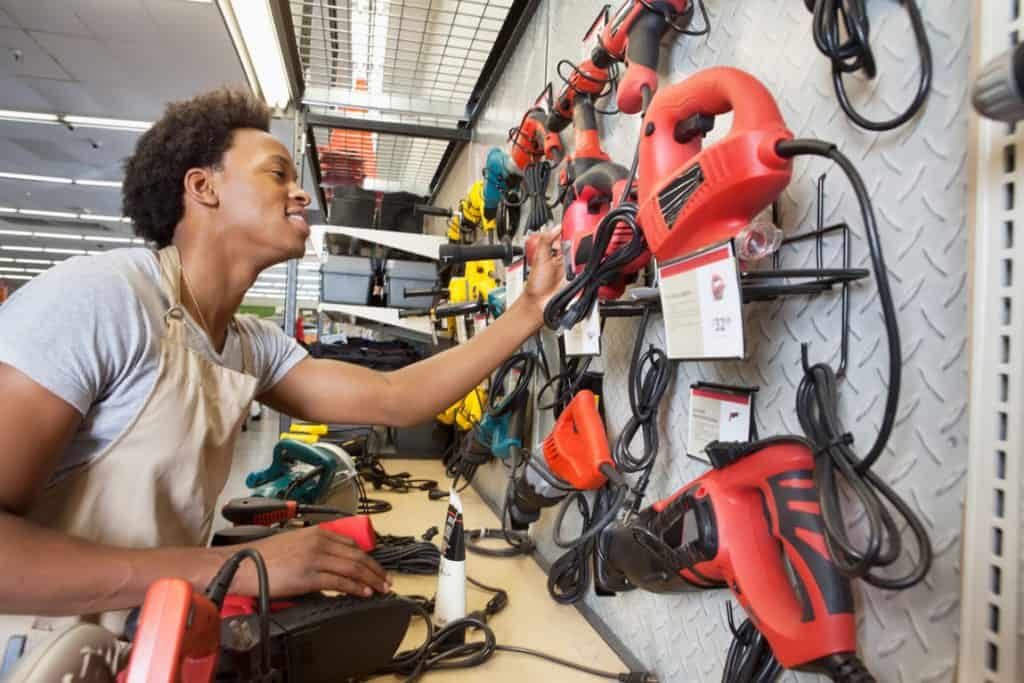 Even fairly small hardware stores need lots of little parts and pieces. Your POS system should enable you to keep track of every nut and bolt.
It should also provide a smart way to track and view sales data, providing constant insight into sales trends. 
The customer end of things is important too since most hardware stores need a convenient way to apply coupons, promos, and process sales.
A good POS system's functionality should allow you to reduce oversight, streamline transactions, and mitigate the damage caused by employee errors. Most POS systems today have all the key functionality a business owner would expect.
However, you need high-performance hardware to get the most out of your system. The first step is understanding the difference between various types of hardware and their features and functions.
Barcode Scanner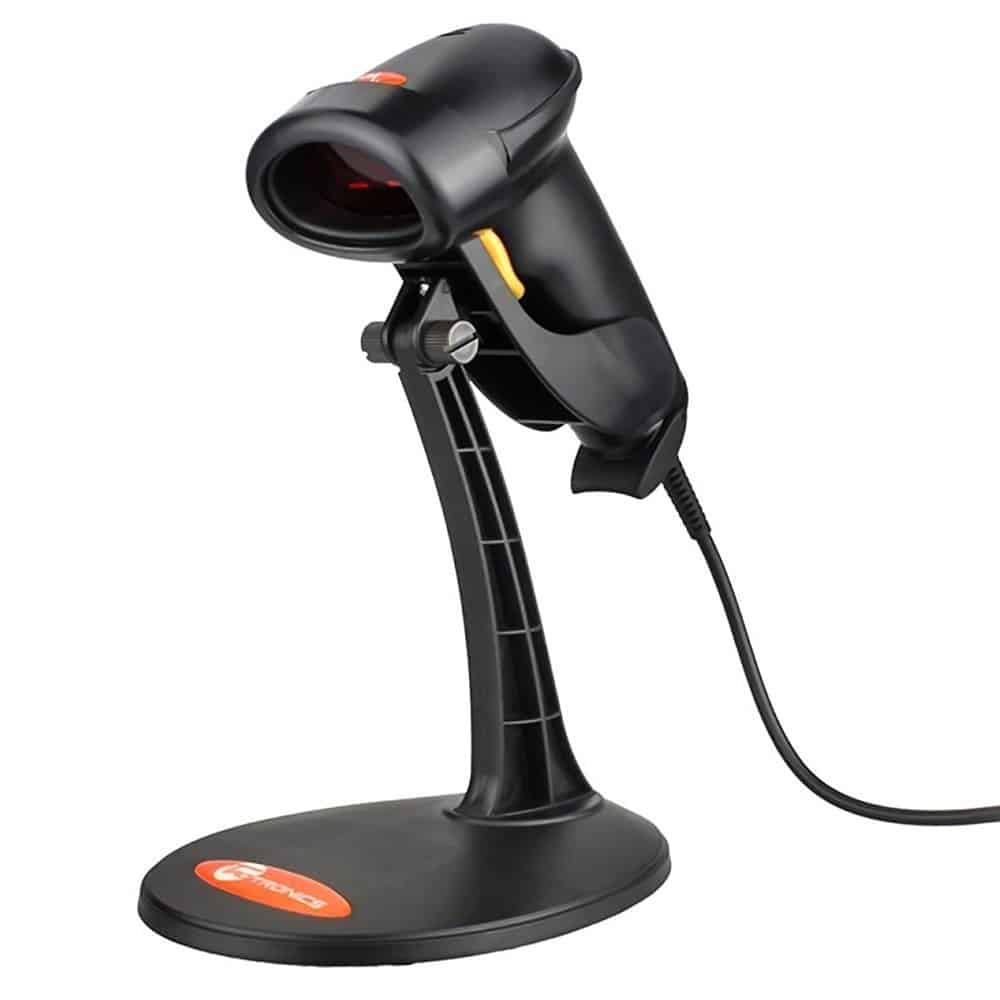 From the client's point of view, the transaction begins when a staff member introduces product barcodes to the system by means of a barcode scanner.
They would need to enter a Universal Product Code (UPC) for each item manually without this device, which is time-consuming and prone to errors. You've likely seen this take place in your local supermarket when an employee can't scan a damaged barcode.
Scanners come in a variety of sizes and shapes. Unlike supermarkets, retail stores often prefer small handheld scanners. The functionality is the same, either way.
Barcode scanners are important in gun store POS systems , museum POS systems,  and especially in auto parts POS systems, since they streamline inventory management so well.
Register Screen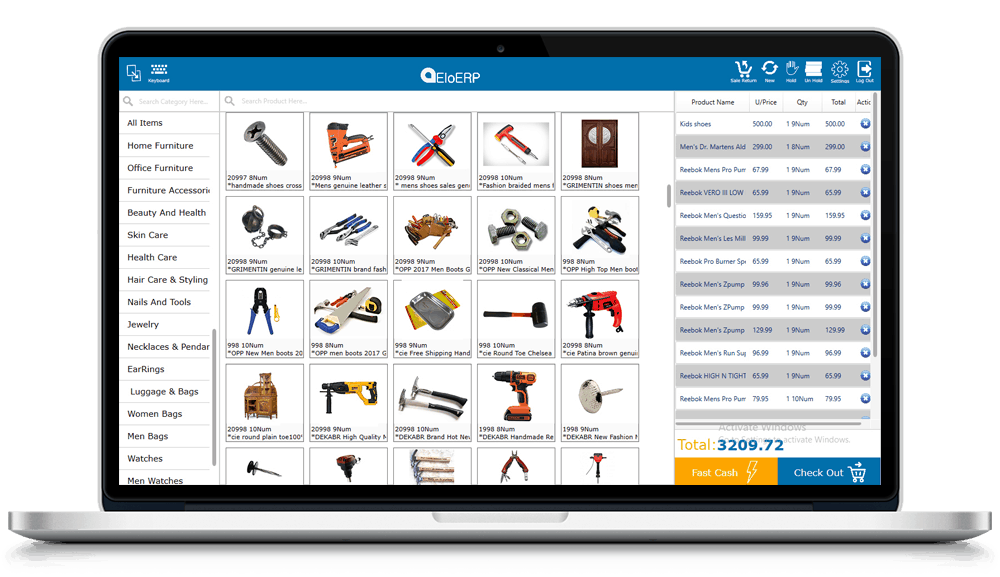 Once a staff member scans a product code, the respective product shows up on the register screen. This screen is part of a computer with several functions.
These include interpreting the code, adding the values of scanned items, and ultimately processing the transaction. Some small businesses use all-in-one devices for this, while others prefer standard PCs.
Since the register is basically a computer, you have several options available. Purpose-built systems, touchscreen monitors, desktop computers, and even tablets and other mobile devices can do this job. For multiple sales points to operate based on the same products, a good POS system should integrate with your existing website.
For example, traditional retail stores often have their own eCommerce websites. A solid hardware store POS system should integrate with eCommerce applications or include its own eCommerce functionality.
Ready to Start Shopping for Your Own System?
When shopping around, there are a few things to look for in a hardware store POS system.
First and foremost, does the system include powerful inventory features? Hardware stores struggle to keep track of inventory because they stock so many bits and parts. So, it's important to look for a system with super robust inventory tracking and management features. 
Employee management features are also important. Maintaining insight into who is working when and automating hour tracking and payroll are important benefits that save huge amounts of time. 
And don't forget reporting and metrics. You need to know which items are selling well, how sales are progressing over time, what your inventory levels looks like, and so on. Look for a system that provides these metrics in real time (ideally on a customizable dashboard).
We advise you to read user reviews and review articles like this one. User reviews help you understand systems' strong points as well as the challenges that some users have had with their system. In short, they allow you to learn how your peers have fared with a particular system.
Do your research, take your time, don't rush into anything, and you will be able to narrow down your search to the one system that is ideal for your hardware store.