(Last Updated On: October 27, 2021)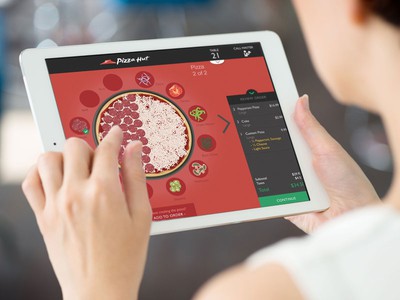 With the average pizzeria netting just 4-8%, margins can be quite slim in this competitive industry. Whether you're managing a small neighborhood pizza parlor or a large nationwide chain, getting the right POS system can make all the difference for your profit margin.
After speaking with several pizzeria owners, I found out that business owners that use POS software in their stores can easily increase their profit margin to 10%, with some stores netting as much as 16%.
But profit margins aren't everything in the pizzeria business. Managing delivery and online orders, customizing orders with various toppings and customizations, as well as tracking of your delivery drivers is important too.
After watching several software demos and personally testing each system, I found that Thrive is the best pizza POS system, offering an all-in-one solution for any size pizzeria. Perhaps the best feature from Thrive is its simple order entry, from the order modifiers to the easy-to-use checkout menu. And, after using a few systems in real-time, I was able to confirm that Thrive's POS produced the most accurate orders.
And while making sure you have the right software for pizza delivery is essential, tracking what's happening in your store is even more important. Get a system that gives you insight into your sales performance, from your busiest days to your best-selling toppings.
Don't forget about all the other features you need in your pizzeria. Adding tips, a delivery charge, customizing your menu, ingredient tracking, and employee management are just a few features your POS system should provide.
Want to explore which POS system is right for your pizza restaurant? Let's compare the unique features of each system and which one can help your business earn more and keep customers coming back.

What Are The Most Important Features for a Pizza Restaurant?
Direct online orders to your kitchen
Fast order processing
Delivery management (if you deliver)
Solid reporting
The right system will make your kitchen workflow more efficient without adding extra steps or busy work for your staff. It will allow counter staff and waitstaff to enter and process orders quickly.
It will allow you to see how your business is doing from many different perspectives. And, it will track your ingredient usage so you know when to order more cheese, and how much you'll need.
Let's take a look at POS systems that can help you decrease expenses and automate inventory management. Also, leverage customer data and optimize table turnover.
Comparing The Top 5 Pizza POS Systems
| | | | | | |
| --- | --- | --- | --- | --- | --- |
| Best Feature | Mobile Ordering | Detailed Reports | Simplified Inventory | Tableside Ordering | Custom Menu Building |
| Hardware Cost | Upon Request | Included | Included | Starts at $105/mo | Included |
| Subscription Fees | Upon Request | Starts at $69/mo | $100/month | start at $69/mo | $119/month |

1. The Best Pizza POS System: Thrive POS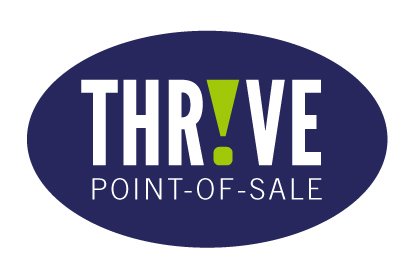 Thrive was created in 1997 by a team of restaurant industry vets who realized that pizza restaurants were unique and needed their own POS solution. They offer three different versions of their pizza-specific software:
Independent Restaurants – for those with one or two locations
Regional Chains – for those with 3-19 locations
National Chain – for those with 20+ locations
Thrive POS works on iPads, traditional POS workstations, or a combination of both. 
Thrive's Top Features
Easy Ordering
Thrive POS brings a sleek, modern feel to the pizzeria ordering experience. It combines the power of web-based solutions with a local cloud for the in-store POS. So your POS system keeps working without a hitch, even when your internet connection goes down.
In addition, its "conversational ordering" technology allows employees to ring up orders the way customers say them, including complex pizza fractions.
Online + Mobile Ordering
Thrive POS offers a full-fledged, white-labeled mobile app designed specifically for pizzerias, as well as online ordering that can work stand-alone or with an existing website.

Delivery Management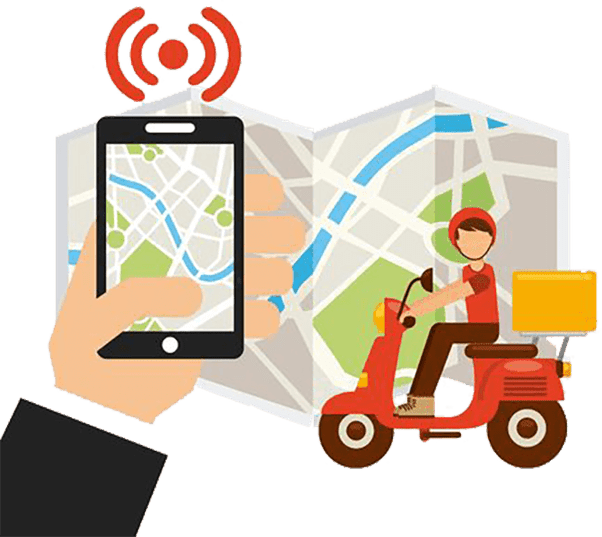 Thrive POS is designed to make driver checkout easy. There is a noteworthy focus on accountability, along with support for several different ways for you to pay drivers. You can use Google-calculated mileage reimbursement and automatic tip credit wage while on the road. The Thrive POS solution offers lots of security options and the ability to control drops, runs, and who gets to take what delivery when.
Driver reports are powerful, and can do things like comparing expected coupons to scanned coupons. Thrive's driver mobile app, Drive (it rhymes!), helps keep drivers informed, tracks their location, and tracks exactly when each delivery is made.
Payment Processing
Thrive offers its own payment processing through Granbury Payments, with many options designed specifically for the needs of pizza restaurants.

Remote Access
Thrive POS can be securely accessed from a home office or anywhere else. You can check stats, run payroll, change prices, or even ring up an order without bothering your staff or monopolizing a restaurant workstation.
Pricing
Unfortunately, Thrive POS does not make any pricing information available on its website. In the end, they are a turnkey solution provider, and work with you to design a combination of hardware and software that will meet your needs exactly. They're happy to sell just the basic POS if that's all your looking for. Pizzerias interested in pursuing the Thrive POS solution should contact the company directly for pricing.
Customer Service
Thrive offers on-site support during implementation, and provides several different levels of ongoing support depending on your configuration and services.

Downsides to Thrive Pizza POS
Pizzeria owners and managers tend to give Thrive POS either very high reviews or very low reviews, with very little in between. This pattern is common with large, complex software solutions that require a big time commitment to implement properly, as those who don't complete the training or setup end up frustrated with something that doesn't quite work.
One common thread in many of the reviews is problems with numerical inaccuracies in reporting, timesheets, payroll, and taxes, so that's something you should discuss with their sales staff when you talk to them.
2. Mobile POS System for Pizzerias: Lavu POS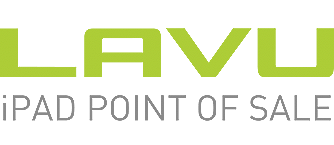 Lavu POS was the first mobile POS solution to be offered in the Apple App Store. This iPad POS system is used in thousands of restaurants in 93 different countries.
The goal is to help restaurants say goodbye to slow service, misplaced orders, unclear sales data, and other operational headaches. The Lavu POS was designed to streamline the management of eight different kinds of restaurants, including pizzerias.
Best Features
Accurate Orders
Users routinely praise the Lavu pizza POS for how easy it is to use, which means fewer order errors. The pizza creator lets users build virtual pizzas on the POS device for faster, more accurate service. They can also add individual toppings to portions of a pizza that are immediately factored into the price.
Comprehensive Reporting
The comprehensive reporting available through the Lavu pizza POS is a competitive advantage in and of itself. A sampling of available reports includes:
Bestsellers

Register sales

Sales by server

Sales by category

Order list

Kitchen change log

Transactions

Voided payments

Discounts

Time cards

Paid in/paid out

Payment types
…and many more.
Delivery and Online Ordering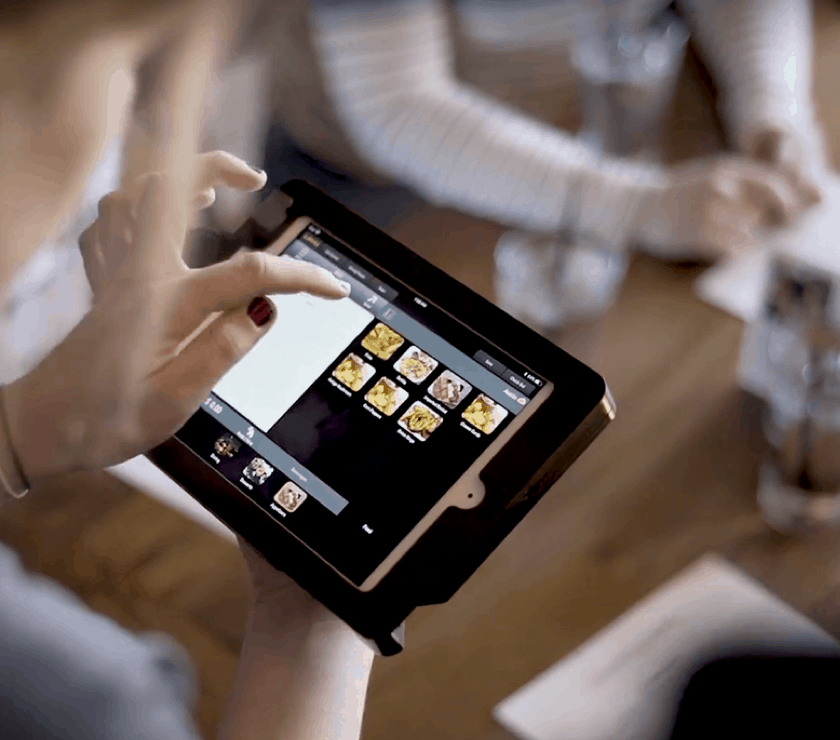 Customers can order from the comfort of their own homes with Lavu POS's delivery and online ordering features. Online ordering can be integrated into your website for delivery or take-out orders.
Customer Database
Lavu includes a customer database to keep track of customer names, email addresses, and phone numbers, which can be used to power automated marketing, email lists, and loyalty programs.

Gift and Loyalty
The gift and loyalty programs available through the Lavu POS help attract customers and encourage repeat business.
Simple Check-Out
Splitting a check is easy with Lavu's pizza-specific POS, no matter how complicated the customers make it, which can make the difference in whether your guests leave with a good taste in their mouth. Customers can opt for electronic or print signatures, as well as printed or emailed receipts.
Lavu POS works with all payment types, including cash, credit cards (including chip readers), and contactless payments such as Apple Pay, Google Pay, Samsung Pay, and contactless-enabled credit cards. 
Customer-Facing Display
The Lavu POS customer-facing display lets customers take control of placing orders on the iPad kiosk. They can see order details in real-time as they are placed, along with digital signatures and tips.
Pricing
The base price for the Lavu Pizza POS for a single terminal is $69/month when billed annually. From there, tiered pricing is available if a restaurant needs multiple terminals, and enterprise pricing can also be quoted for multi-location chains. 
Customer Service
The Lavu POS US-based Customer Care team is available 24/7 via chat, email, or phone. There is also an online Knowledge Base. Lavu Client Services provide escalated support and paid on-boarding services.
Downsides to the Lavu Pizza POS
The primary complaints seen in online user reviews tend to revolve around two main themes: Poor customer service (bugs and glitches are not addressed in a timely fashion) and occasional problems with inaccurate billing.
3. Pizza Software with Multiple Features: Toast POS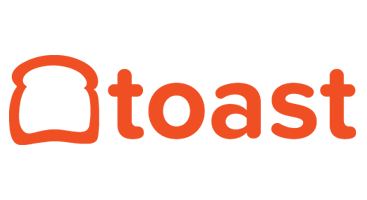 Whether you run a small pizza kitchen or a chain of pizza parlors, Toast can handle the workload. Because this POS system runs on proprietary Android-powered terminals, tablets, and kitchen displays, its hardware is more affordable than competitors who use iPads or full-fledged PCs.
Toast offers 0% financing for hardware and supports certain third-party accessories like scales and EMV card readers.
Multiple Features 
Direct Online orders to your kitchen
Toast allows your pizza shop to create a simple online ordering page where your customers can easily place their orders for takeout and delivery.
Toast offers some delivery tracking, although it is not as full-featured as Thrive POS's delivery tracking system. You can keep tabs on every delivery you send to see how efficient your driver routes are, and customers see smart time estimates that take driver location into account.
Simplified inventory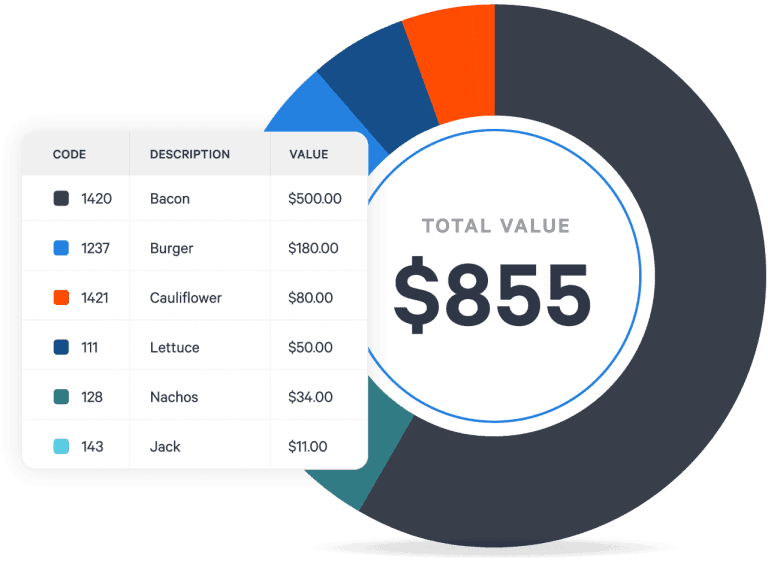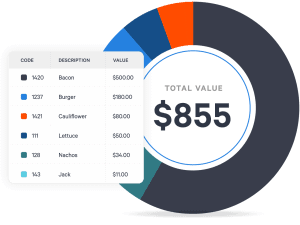 Inventory management is one of the most important and overlooked parts of running a successful restaurant, and Toast makes it simple and effective for pizzerias.
Its reporting on cost, variance, and something Toast calls "Smart menu engineering" can take you a long way towards a well-run supply chain.

You can also how much food you order vs. how much you actually use and see what the root causes of variances are. So you can see whether you're throwing away unused veggies because you sold less pizzas, or because your customers' tastes are changing.
Create your Hub
Toast will help you build a 360° view of your customers, including both online and in-person orders. You can track how frequently they order, how much they spend, what their pizza preferences are, and even things like what part of town they live in and what time of day they tend to come in.

This level of data can be invaluable in designing promotions, emails, and automated marketing, and Toast makes it possible to use almost any data point you have to customize these marketing efforts.

Faster order taking
Toast POS allows pizza shops offering counter service to simply flip their kiosk tablet around to face customers, letting them complete their order by choosing toppings, add-ons, and other customizations. This can be much faster and more enjoyable for both the customer and the staff member.

System Menu updates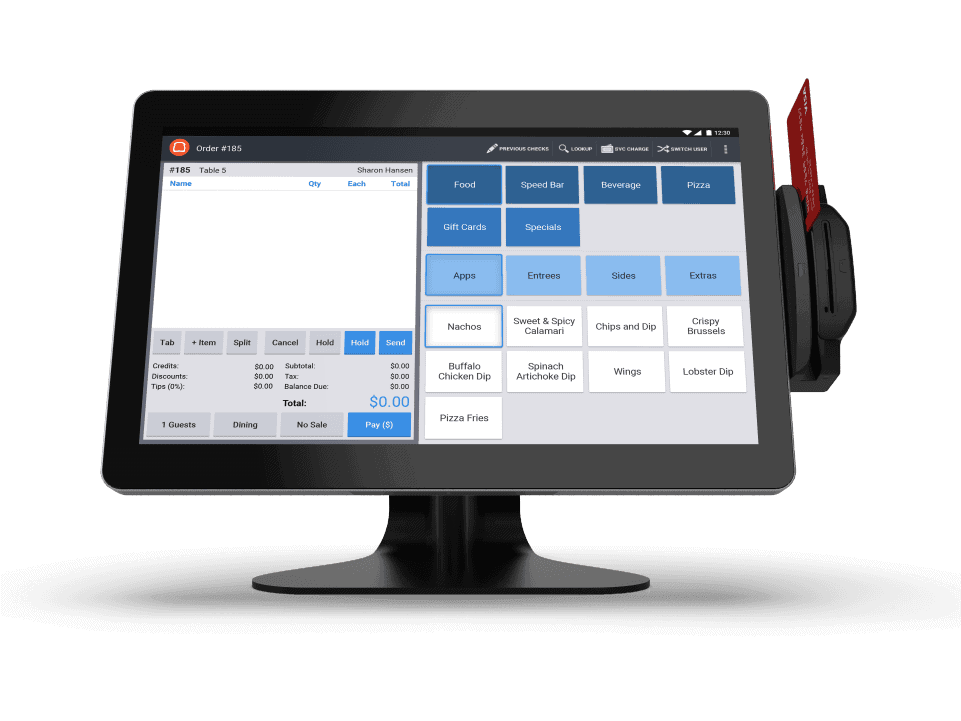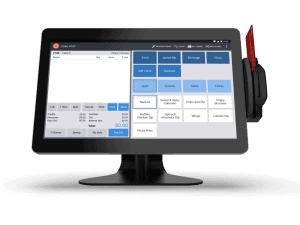 In Toast's menu software, you can easily monitor and make changes to your online menu, and it can automatically disable items and ingredients when you're running low on supplies.

Changes to prices, customizations, and other menu options are synced to your online store automatically, so you don't have to worry about updating things in two places.
Be creative
With Toast's table kiosks, you can let your customers order their own custom pizzas with a few easy taps without waiting for a server.
Personalize telephone orders
Toast gives you the ability to identify callers as either regular customers or new guests. The system displays the name, number, and past order history of customers who've ordered before, and allows your staff to offer personalized, small-town style service (even on their first day on the job).
Pricing
Toast prices start at $100/month and increase $50/month for every additional kiosk. Other features come with an additional cost. The online order and delivery system is an extra $50/month, and the mobile loyalty reward program is an additional $25/month.
Customer Service
When you initially begin using Toast, Toast provides you with a dedicated customer service representative to walk you through two important steps — setting up the system, and training your employees.

Toast also offers 24/7 customer service by phone.

Downsides to Toast
Certain features, like its loyalty program, require an extra monthly fee. And like Thrive POS, Toast's proprietary payments processor is the only choice — you can't choose to use your own processor such as Stripe, or a traditional merchant account with a bank.
4. Best iPad Pizza POS System: TouchBistro

TouchBistro POS is an award-winning iPad POS designed for full-service restaurants,   fast casual restaurants, bars and clubs, food trucks, and breweries.
It does not have a version of its POS specifically designed for pizzerias, it does not include any functionality dedicated to managing deliveries and drivers.
Table Based Features
Tableside Ordering
TouchBistro is built around the idea of tableside ordering — taking and entering orders on an iPad using the TouchBistro POS right at the table, instead of taking orders by hand or memory and then entering them into a POS system somewhere in the back.
This shift can allow full-service restaurants to drastically improve speed and accuracy, and TouchBistro says that its on-screen notifications and pop-up menu suggestions lead to more upsells and increased sales of specials and high-margin items.

Table Management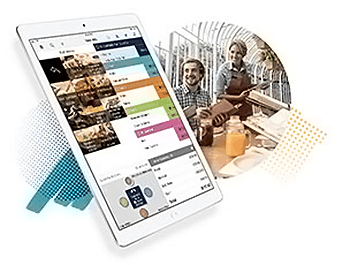 TouchBistro allows you to design the system's floor plan to exactly match your pizza restaurant's layout. Tables can be quickly changed as they're moved around, and parties can be split, moved, and combined in a visual way.
Payment Processing
One advantage of TouchBistro is that you can bring your own payment processor. They'll also sell you an integrated payment solution through one of their partners, and most set-ups include the ability to pay at the table and accept all major credit cards.
Menu Management
Within TouchBistro, photos can be added to menu items, allowing staff to show, rather than tell, when guests ask if something is good.
Menu items can be managed remotely from any iPad, not just dedicated TouchBistro tablets. You can remotely attend to low inventory alerts, 86s, and other emergencies.
The app also makes it easy to remotely route orders to different kitchen printers and displays, including rules based on menu catetories or by individual items.
Staffing and Scheduling
Staff can clock-in/clock-out via TouchBistro POS, which managers can also use to view and monitor staff activities. The punchclock data can be automatically synced with payroll software by customizable staff types.
In-app communications are included to keep front-of-house and back-of-house personnel on the same page (or screen). Scheduling can be handled through TouchBistro's partner, 7shifts.
Customer Relationship Management
Like most modern POS systems, TouchBistro includes CRM functionality that allows you to keep notes on customer preferences, which makes it easier for your staff to treat them like regulars. The TouchBistro loyalty program lets customers accumulate and redeem points. You can also communicate with loyalty customers through targeted marketing via SMS, push notifications or email. 
Inventory Management
TouchBistro let you track recipes against menu items to see ingredient-level food costs. It will calculate menu item profit margins to decide what items stay and which ones go. And in-service alerts can keep staff aware of inventory levels.
Reporting and Analytics
The TouchBistro POS does all the number-crunching most restaurants will ever need. No matter where you are, you can access reports with critical insights that lead to better business decision-making.
Pricing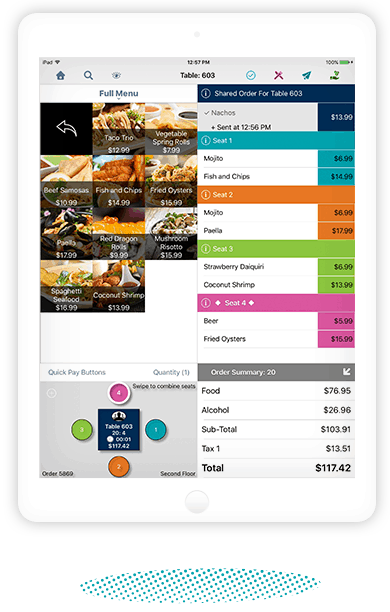 When billed annually, The Solo plan (1 license) for just the software is $69/month and a hardware/software bundle is $105/month.
The Dual plan (2 licenses) is $129/month for software-only or $209/month for a software/hardware bundle.
The Team plan (up to 5 licenses) is $249/month for software-only or $359/month for a software/hardware bundle. The Unlimited plan for 6+ licenses runs $399/month for software-only or $539/month for a software/hardware bundle.
Customer Service
Customer support and service for TouchBistro POS is provided by its Restaurant Support Squad and is available 24/7/365. 
Downsides to TouchBistro POS
The biggest complaints users have about TouchBistro are that it tends to have problems when a restaurant is very busy during peak times, and that customer support is sometimes poor and not available in a timely fashion. 

---
5. Best POS System for Pizza Delivery: Revel Systems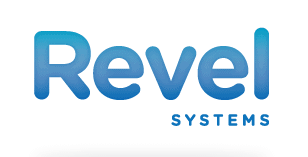 The Revel POS system is an entirely cloud-based system with an exhaustive set of features. Revel integrates all operations and channels into a single dashboard and focuses heavily on real-time reporting.
It is a completely iOS-based POS system that can work well for small pizza joints and national chains alike.
Integrated Features
Ingredient Inventory
Revel helps pizzeria operators keep and maintain a view of inventory and ingredient levels in real-time through its robust reporting module. You can set up alerts that let you know stock is running low, and you can automate purchase orders to avoid inventory shortages. Revel also includes powerful waste reporting that can lead to much better supply chain management.
One unique feature of Revel is its easy-to-use recipe manager, which lets you keep detailed records of the ingredients in all your recipes and can help develop new dishes with on-hand or routinely overstocked ingredients.
Delivery Management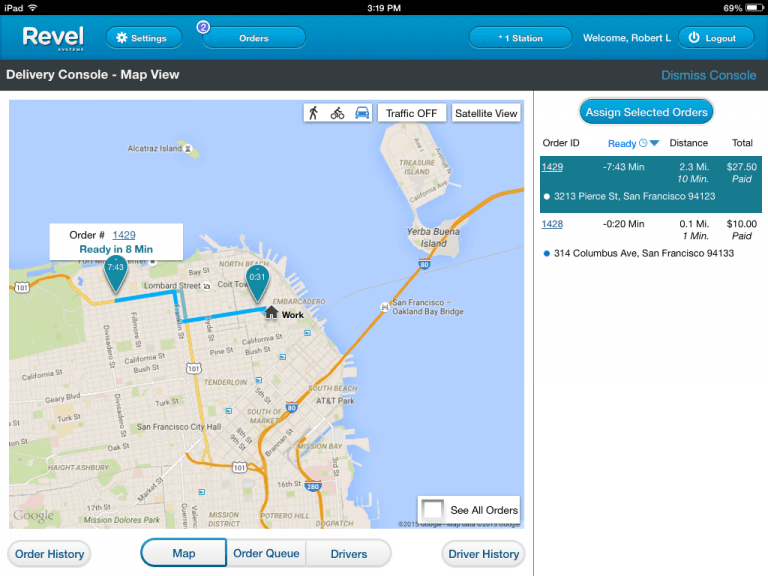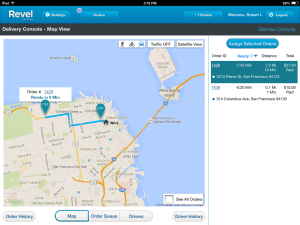 Revel is well suited to pizza restaurants that offer delivery. It manages and tracks delivery orders in real time and can help you give your customers a seamless delivery experience.
In addition, Revel's POS recognizes return customers and their past orders, and includes a tool that helps pizza delivery managers optimize delivery regions and routes to streamline operations and improve delivery times.
Customer Display System
Revel's CDS includes elegant implementations of modern POS features like paperless receipts, signing and tipping flows, loyalty programs, and visual order confirmation. You can customize all displays and imagery to match your pizza shop's branding.
Custom Menu building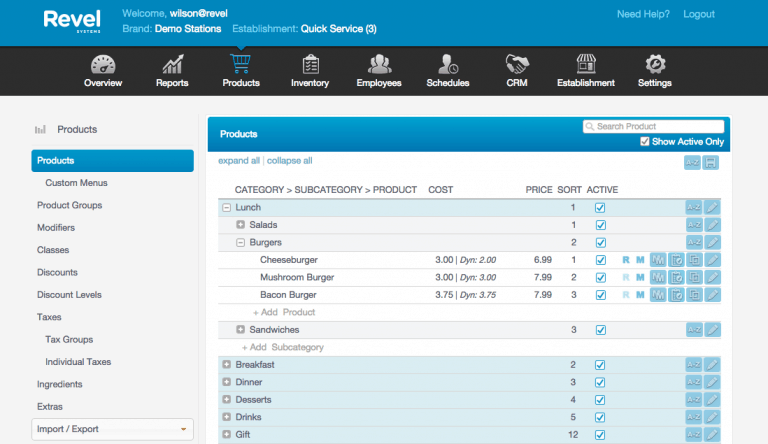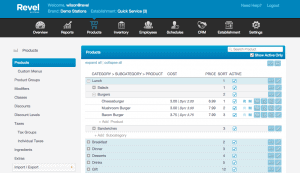 Revel's menu builder is, like the rest of its system, easy to learn and use. Reviewers rate it among the best POS systems for pizzerias who want to develop a custom or complex menu.

Pricing
Revel POS for pizza restaurants is $119/month for the first register, $70/ month for the second register, and $40/month for every register after that. Each subscription also includes live 24/7 customer service, unlimited data storage, and unlimited software updates.
Furthermore, extras available for a fee include the delivery management module, online and mobile ordering, digital menu boards, kitchen display systems, and quite a bit more.
Customer Service
Revel sets itself apart from the pizza POS competition by hiring customer service representatives throughout the country. This means you can have an actual representative come into your store and help you with any major problems.
Downsides to Revel
According to reviews, Revel's setup process can take longer than other options. Some reviewers also complain about buggy features included in automatic updates.
Read This Before Getting a POS System For Your Pizza Parlor
Most restaurant-focused POS systems have all the basics you need to get by. Here are the five things you need for pizza place POS perfection.
A Custom Pizza Function
Pizza eaters like to customize more than any other restaurant segment—it's the best and worst part of the pizza business. Many POS systems can handle customization, but only a few truly embrace it. And once you've used a POS system designed specifically to make it easy for your customers to design their own pies (and for you to charge them accordingly), there's no going back to a non-pizza POS.

Remote Management
Most retail and restaurant POS systems allow owners to get reports remotely, but not all of them allow you to actually run the business remotely.
You might be on location seven days a week right now, but choosing a POS system with remote management functionality could still benefit you in the future. Check to see whether the POS you're considering can monitor sales and employee activity from a web browser. If someone else actively manages your pizzeria, this is probably a must-have feature.
Support For Tablets 
In order for your pizzeria to be EMV Level 3 Certified, you need to be able to process payments at tableside. The best way to do this is with tablets. Some POS systems allow the use of iPads and other consumer-grade tablets.  There are all sorts of cases and protectors for consumer-grade tablets that will help prevent damage from spills, grease, and drops.
However, if your POS system requires the use of proprietary tablets, make sure they are built for the rugged environment of a pizza kitchen.
Labor Optimization
Your POS system should be able to track sales and build reports around customer traffic and employee activity. This will help you figure out which days are busiest and when you should proactively bake certain kinds of pizzas. It also allows you to schedule your employees in a way that prevents understaffing (or overstaffing).
Inventory Management
Poor inventory management is one of the biggest business expenses in the restaurant world. The right POS helps you automate the process by setting reorder benchmarks for each item based on purchase trends. For most pizza restaurant managers, this is the easiest and most effective way to mitigate expenses and decrease overhead inventory costs.

When inventory management is used effectively, you'll never have to disappoint a customer again by explaining you're out of a particular menu item.
Ready to Implement A Pizza POS System in Your Business?
As a pizzeria manager or employee, your main concern is getting delivery orders out the door faster. By using the right pizza POS system can help you modify orders on the fly, track orders and employees, and driving more revenue to your business.
Avoiding errors for each order is highly important to keeping customers happy. By using simple analytics, you can see how your pizza restaurant is doing and which days of the week are busiest. Also, track your best-selling pies and toppings and other important sales data.
Fire online orders right to your kitchen by using hardware like kitchen display systems. Whether you're taking an order in your store or on the phone, getting your orders fulfilled fast is crucial to providing better service.
And, to truly manage every aspect of your pizzeria, you'll need to add integrations to your POS system to automate tasks like accounting, inventory, or staffing and timesheets. If your restaurant sells beer or other liquor, you may need bar-specific integrations like Bevspot or Beer Saver. It's also important your POS system integrates with food delivery apps like Grub Hub, Uber Eats, Door Dash, Seamless, and others.
Getting a POS system for your pizza parlor will allow you to remain competitive while maximizing your profit margins. By offering loyalty rewards, you'll be able to provide a unique experience that other pizzerias don't.
Above all, choose software that's easy to use and that you can train your employees on in less than 15-20 minutes. Your goal should be to automate as many processes as possible, reduce order errors, and provide a seamless experience for the customer.