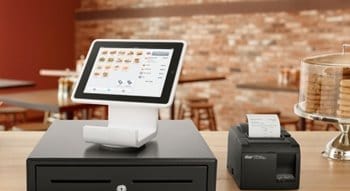 A cafe POS system is designed with the needs of small coffee shops and eateries in mind, helping them manage counter, take-out, seated, and delivery orders efficiently.
It also helps one oversee general business needs. Quick order-taking, customer service tools, and ticket-tracking are the most important features of a reliable cafe POS system.
Many POS systems made for cafes only showcase basic features like menu management and payment processing. Ideally, you'll want your system to also offer sales tracking and analytics; showing you exactly what customers purchase and what sells the most.
In this review guide, we'll compare features, pricing, and software options that may be ideal to your cafe. We'll examine three top rated cafe point-of-sale providers and detail their benefits and drawbacks.

Top 3 Cafe POS Systems
Overall

5/5

5/5

5/5

Ease of Use

5/5

4.5/5

4.5/5

Customer Service

5/5

4.5/5

4.5/5

Starting Price

$49.00/month

$0.01

Free

Deployment

Cloud, SaaS, Web
Mobile – Android Native
Mobile – iOS Native

Cloud, SaaS, Web
Mobile – Android Native
Mobile – iOS Native

Cloud, SaaS, Web
Mobile – Android Native
Mobile – iOS Native

Training

Documentation
Live Online
In Person

Documentation
Live Online
In Person

Documentation
In Person

Support

Online

Online
24/7 (Live Rep)

Online
24/7 (Live Rep)

Free Trial

Yes

Yes

Yes

Cash Drawer Management

Yes

Yes

Yes

Employee Management

Yes

Yes

Yes

Gift Card Management

Yes

No

Yes

Inventory Control

Yes

Yes

Yes

Loyalty Program

Yes

Yes

No

Separate Checks

No

No

No

Split Checks

No

Yes

Yes

Tips Management

Yes

Yes

Yes
Our #1 POP System for Cafe: ShopKeep

ShopKeep is one of the cafe POS systems on the market that is easiest to use. It is most suitable for smaller cafes, being relatively cheap, efficient, and simple. It's also no stranger to the market – Shopkeep has over 22,000 retail clients, making it the biggest small business POS system available.
Features
ShopKeep generally has every front and back end feature you'd need. It is easy to ring up items, add modifiers, accept payment, make returns, and give refunds. It's also possible to make discounts at order and item level.
The system also offers in-depth worker shift reports that show you not only what items are selling, but who's selling them. You can set staff schedules based on the busiest hours of the week.
ShopKeep's most impressive features are its analytics and inventory functionality. The analytics show which items are selling well and which aren't. This way a cafe owner can decide what to replace or restock.
The inventory functionality feature makes it possible to track quantities of each item, set reorders, and generate a report with the reorder criteria in detail.
Cost
ShopKeep's system costs $69 a month, which includes 2 months of free support from a ShopKeep expert and ongoing 24/7 customer support after that. Its price may be perfect for small establishments, but it works well for medium-size joints too.
This price includes access to their full range of features. There is a 2-week free trial and you can cancel at any time if you are not happy without having to pay a penalty.
This POS software also offers a sales and ticket management, providing everything in an easy-to-use iPad-based interface. You can also use the built-in ShopKeep Payments or your choice of merchant services providers for credit card payments.
ShopKeep also offers the following functions:
Offers gift card sales & redemption

Manage employee schedules, clock-ins

24/7/365 customer support

Run detailed business analytics reports
ShopKeep uses iPads and iPad Minis as registers. These don't need to be purchased from ShopKeep.
Cons
Few people have anything negative to say about ShopKeep's apps. Some have complained about insufficient features, which has increased steadily over the years.
The Bottom Line
This POS is designed with small vendors in mind, with a more limited inventory. It offers a full range of POS features, but the best one is its raw goods inventory tracking. It lets you tie the usage of each food item to each sale.
This real-time inventory tracking is a great feature if you need to track volumes and value-on-hand of costly goods like specialty foods or organics. You can reorder accurately based on sales velocity and low-level alerts that you set up as well.
Get FREE POS System Quotes
Our #2 Pick For Best Cafe POS: Loyverse


Loyverse lets you manage your cafe from mobile devices, generate a higher yield, acquire, keep and engage customers, manage inventory, and visualize sales analytics. Sales become fast and easy, and growing your customer base does as well. You can send messages and e-receipts to your customers, gathering key feedback in the process.
Limit Waste
This cafe POS software tracks inventory and indicates if you are losing money due to high amount of food waste, for example.
Overbuying is one of the main causes of waste. If you are tracking your sales with ingredient inventory accurately, you should have a good idea of how many raw ingredients you're using each day.
View Stock Levels
Users of this POS system receive instant notifications when inventory is running low or out. Orders are dispatched to the kitchen automatically, faster and with less errors, and your cooks know what to prepare from all orders.
Sound notifications ensure you will never miss a new order. You can view the list of completed orders and reopen orders if needed. Finally, you can see all tickets at a glance with colors indicating the anticipated waiting time.
Smart Management
With Loyverse, you can manage one or more cafes from the same account. Your data is uploaded to the cloud. You can grow and prosper with this system, boost sales and even run your own loyalty program. The visual analytical reports will also make it easier to make informed business decisions.
The back office works in sync with the POS system. A cafe owner can see what their best-selling items are and browse the transaction history.
The free dashboard app provides instant access to your cafe's stock and sales analytics at all times. You can view profit, revenue, and average sales and follow sales growth, making comparisons to previous periods of time, from days to years.
Cons
Some users say this POS software is not very convenient to use with Smartphones. On bigger screens, a category drop box is needed.
Bottom Line
This system is versatile and easy to use. It can be run online by multiple users. There is instant customer support and a separate dashboard. All in all, we think it's great.
Our #3 Pick for Best Café POS System: Square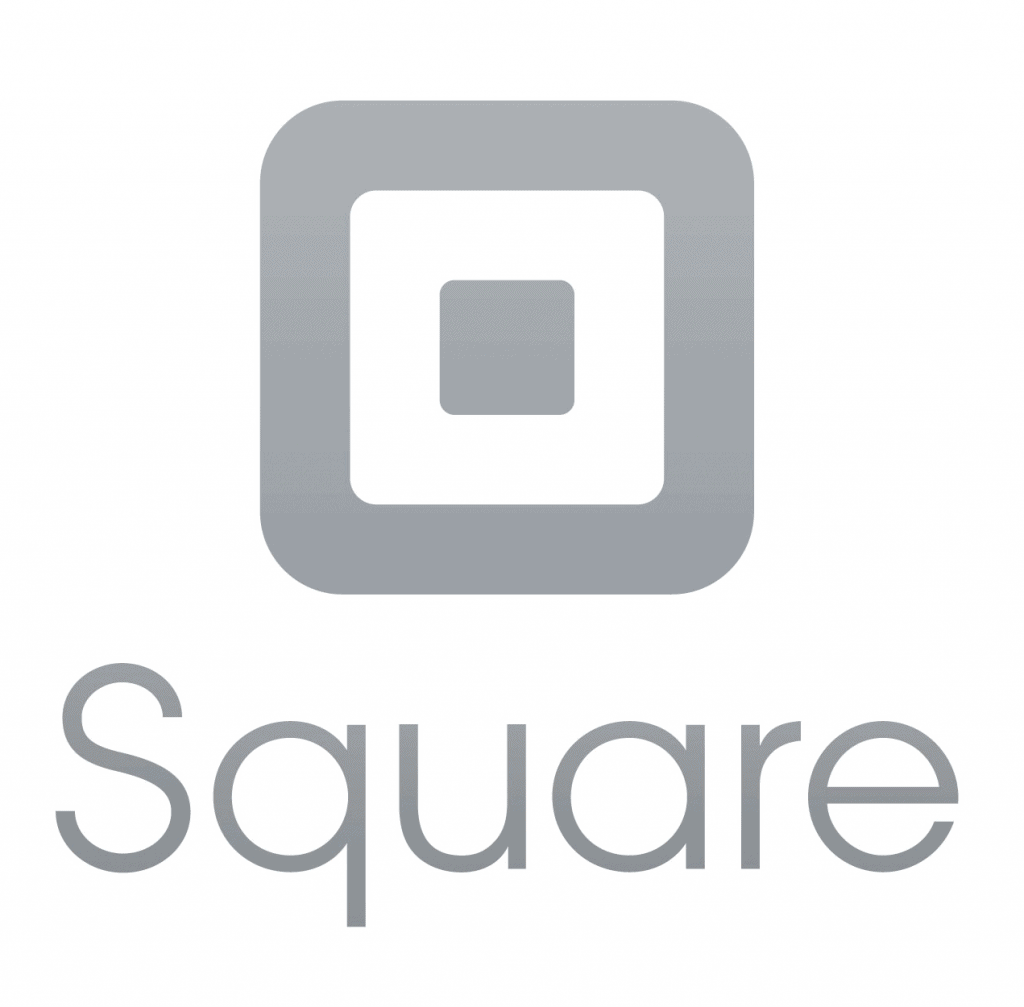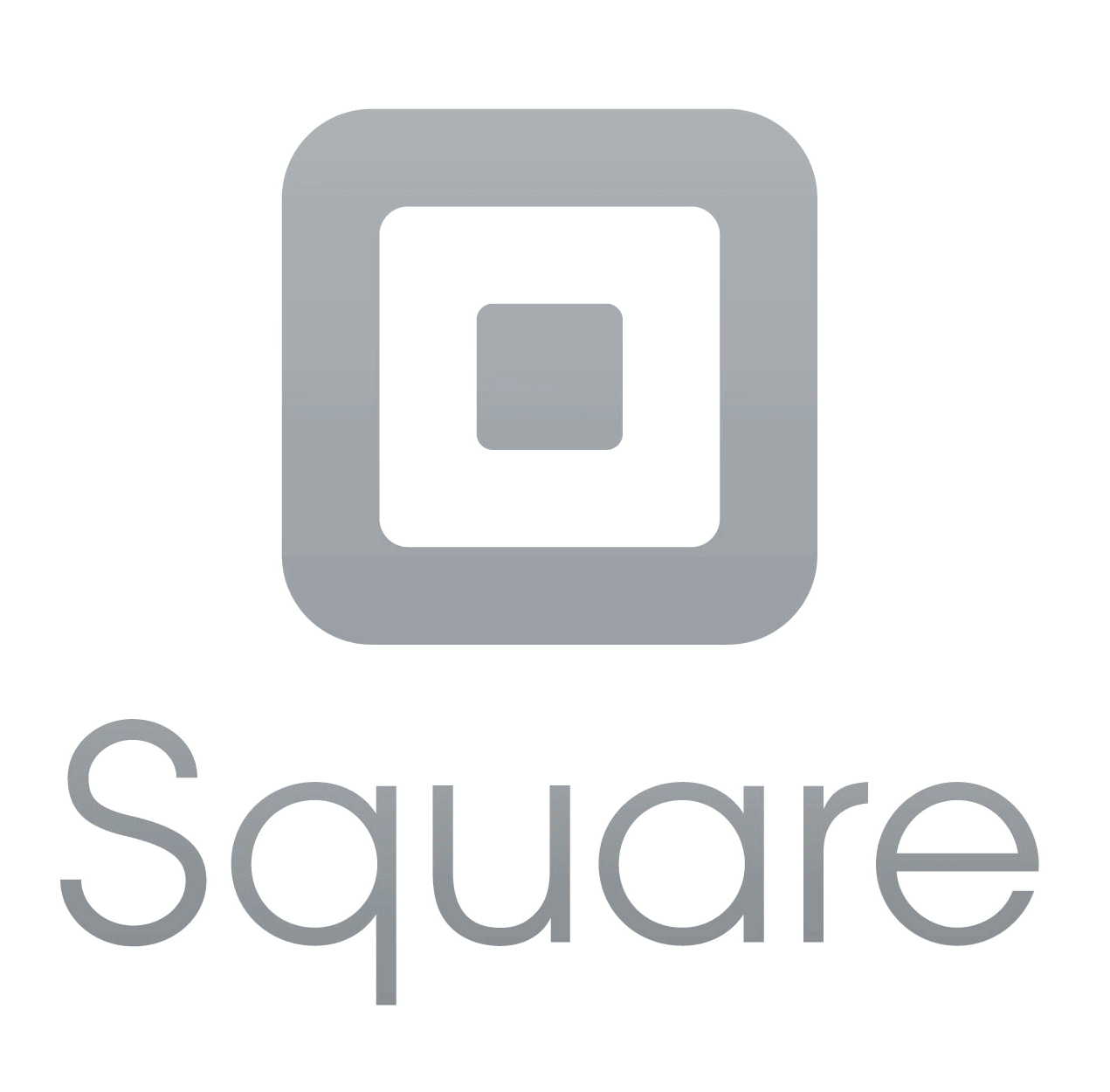 We recommend Square POS for startups and small cafe operations because it's a free system that can be customized to your specific service needs.
Square POS software provides a full suite of counter sales, ticket management tools, and inventory designed to help any startup or small cafe run efficiently.
You can easily transition to Square for Restaurants for just $60 per month if you need more robust features like recipe lists, meal modifiers, and ingredient tracking as you grow. The basic version is free.
Take Orders and Payments Anywhere
You can take payments and orders anywhere in your cafe via countertop register or mobile device and run the POS on whatever devices work best. You don't even need to invest in new register hardware If you already have iPads or smartphones.
You can take orders and payments using your phone or tablet from the get-go using Square's digital payment system that supports e-signing and emailed receipts.
Of course, lots of cafe owners would rather run at least one register station, and you can do that too. The free version can run on up to 100 separate registers with hardware being the only added costs. Each added terminal will cost you $40 per month if you opt for Square for Restaurants.
Software Options
The free Square POS offers countless features that cafe owners and staff alike will appreciate. No complicated merchant provider setup and card reader integration is needed because Square's secure payment system is built right into the POS software.
This point of sale solution delivers what most small cafes need when you add a complete suite of tools that help you create and categorize menu items, track inventory items, manage staff time, and market to customers.
Features
This POS system features a lot of economical add-ons along with many cafe POS extras.
These include:
Gift card sales & redemption

Advanced employee management tools & built-in payroll

Access to all software features via smartphone, tablet, and computer

Built-in customer feedback tracking, email and Facebook marketing integration
Some of Square's advanced features cost extra per month. You'll find these features are worth the fee if you need them. What is more, you only pay for what you use.
The great thing about Square is that a highly budget-conscious operation can start out with a feature-packed free POS system, add payroll and marketing features as needed, and transform into Square for Restaurants if you find demand rising.
Price
The free version entails no monthly, startup, or cancellation fees. The company does charge a processing fee per-sale if you accept credit or debit card payments.
This amounts to 2.75% of the total ticket for most in-store cafe sales, which is quite affordable in terms of small business credit card processing fees. What is more, the company's fully transparent, predictable fees entail no hidden fees or end-of-month charges. Check and cash sales cost you nothing.
If you'd like the Square for Restaurants option, that costs $60 per month for a single register or checkout device. Each added device is $40 extra.
You also get a lower credit card processing rate of 2.6% + 10¢ per ticket. There are some hardware costs if you need one or more register stations along with the credit card processing fee.
What To Look For In A Café POS System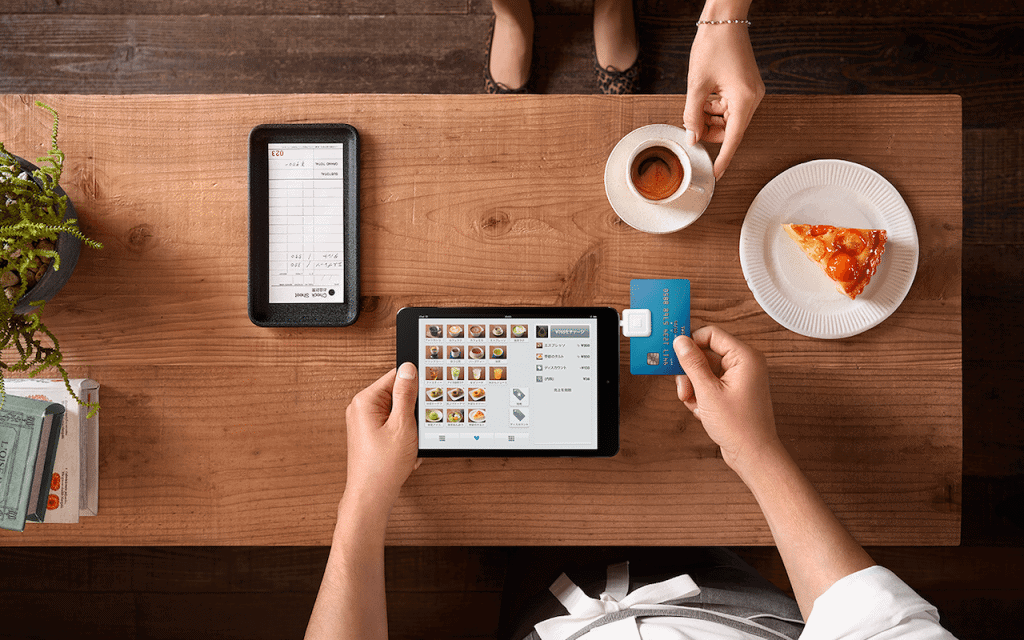 Most cafe POS systems deliver basic store management features such as payment processing, menu management, sales tracking, and business analytics as well as counter sales functions.
However, certain features set a basic retail-oriented system apart from one that is aimed at meeting the demands of a busy cafe, eatery, or beverage bar.
These include:
Supports tableside orders and payments via mobile device

Runs on sleek, low-profile countertop registers

Clear menu listings and prices

Manage open tickets & customer tabs

Tie menu recipes to ingredient inventories

Order entry that allows customization

Fires orders or tickets to a kitchen display screen

Time-specific menus and prices

Tip tracking and end-of-day payouts

Supports online, phone-in, takeout, and delivery orders

Customer relationship management (CRM) features

Multi-user environment with staff tracking

A built-in customer loyalty program
When choosing a cafe POS system, there are certain key features you need to consider, and these involve being able to view recipes, which products are selling, and knowing your costs.
The best POS system for cafes isn't just capable and rich in features – it also helps cafe operators address the concerns they may have about running their establishment.
The best POS for cafes offers the resources to discover new ways to save money while doing more on your limited time.
Train Your Staff
Your staff should be trained to use the right ingredient portions. However, with a cafe POS system that tracks ingredients, you don't have to rely on your memory. A good system will let you tap the item to find the recipe and description. This way even new, inexperienced employees will know exactly how to make a sandwich down to the ounce.
Design Your Menu Correctly
Finally, all cafe managers realize that checking food cost is important. Menu items need to be designed in such a way so that the cost of raw materials is lower than the perceived value of the item. This seems obvious, but it isn't always.
A good cafe POS system will give you an instant food cost calculation if you know how much of each ingredient goes into each menu item and the price of your ingredients. You can then adjust portion sizes or ingredients to hit your targets.
Best Cafe POS System: Our Final Review
The features outlined in this review make a busy cafe environment run smoothly, shorten customer wait times, minimize lines, and turn sales data into meaningful business reports.
We reviewed an array of popular cafe POS systems and find these 3 top the list in effectively balancing price for small businesses and features.