(Last Updated On: October 19, 2021)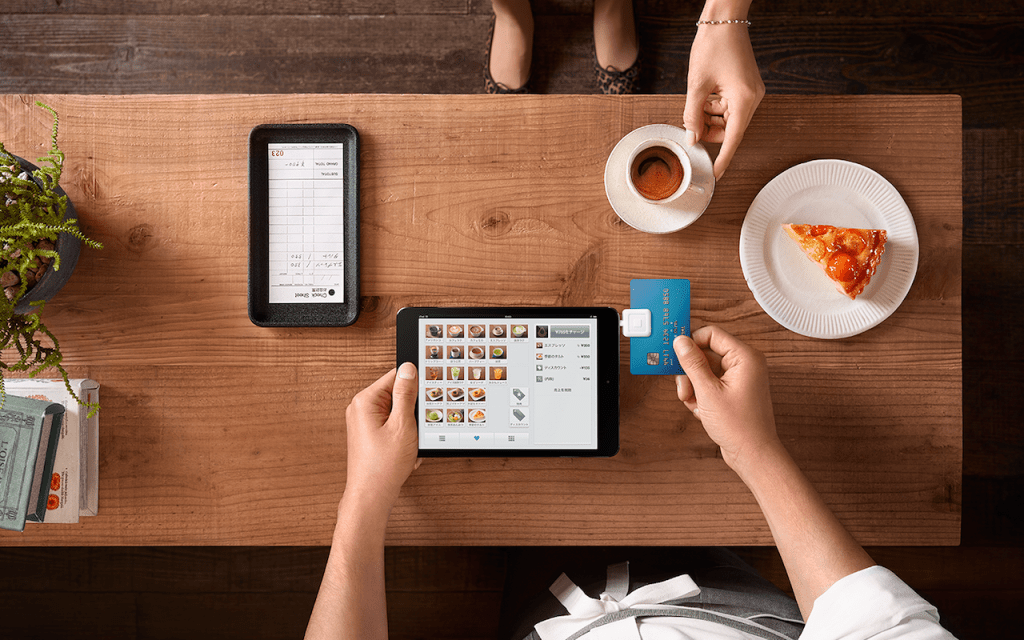 Identifying the best cafe and coffee shop POS systems doesn't have to be a headache. We're here to help you find and evaluate the best systems available.
Point of sale (POS) systems are usually one of the last things that restaurant owners think about when launching a new store. However, it is one of the most important tools a restaurant can invest in—including coffee shops and cafes.
A coffee shop and cafe POS system is essential for running a smooth operation, increasing efficiency, maintaining accurate data for reporting, and delivering superior customer experience.
When that afternoon rush comes on, a cafe and coffee shop POS system is a life saver. Once you are accustomed to using one, you will wonder how you ever survived without it.
Coffee shops and cafes, being smaller establishments, have fewer POS needs than larger restaurants and chains and can meet their needs with a simpler system. But there are still certain features that coffee shops and cafes need in a POS system, which we'll cover below.
But first, we will begin by discussing POS systems in general and what to look for in a POS system for a coffee shop or cafe. Then, we will wrap up with a comparison of the best systems available.

Top Four Cafe and Coffee Shop POS Systems
Square for Restaurants: Best overall POS system for coffee shops and cafes
Lightspeed: Most customizable POS system for coffee shops and cafes
Toast: Best system for larger and fast-growing coffee shops and cafes
Loyverse: Most cost-efficient system for new and budget-strapped coffee shops and cafes
A Side-by-Side Comparison
| POS Name | Software Subscription Fees | Hardware Cost | Customer Support |
| --- | --- | --- | --- |
| Square for Restaurants | Starting at $60/month | Bundles ranging from $670 to $1,300 or more, including installation | 24/7 Support |
| Lightspeed | Starting at $69/month | Depends on the hardware components you need. | 24/7 Support |
| Toast | Starting at $60/month | Bundles ranging from $450 to $1,300, including installation | 24/7 Support |
| Loyverse | Free | Company does not sell hardware - it must be purchased from third-party vendors | 24/7 Support |
The Best Cafe and Coffee Shop POS Systems
Here we break down our top four picks for cafe and coffee shop POS systems and discuss why they made our list.
1. Square for Restaurants


Square for Restaurants comes in at the top of our list and we've given it the title of the best overall cafe and coffee shop POS system. It is a great option for startup cafes and coffee shops because it's inexpensive, easy to use, and full of value-added features.
Square for Restaurants is a mobile, tablet-based POS system. It comes with its own, built-in payment processing system so you don't need to purchase and integrate a complicated, third-party merchant payment processing system and connected card reader. This is a big hit with users.
But the strongest selling point for Square for Restaurants is the broad feature set. The system includes standard features plus additional features that many systems do not have. There are additional, "premium" features that you can purchase as add-ons, but most cafes and coffee shops won't need those.
Features included out of the box:
Menu Management
Custom Orders
Inventory Management
Time-Specific Menus
Kitchen Tickets
Phone-in Orders
Online Ordering
Tip Management
Multiple users
Customer Marketing
Loyalty Programs
Employee and Payroll Management
Gift Card Processing
Customer Feedback Capabilities
With so many features, an intuitive user interface, a low price point, and many additional add-ons you can purchase to scale up your system, it's easy to understand why this is the best overall cafe and coffee shop POS system.
Square for Restaurants Pricing
Prices for the software system start at $60 per month. You can purchase hardware components individually, although Square itself doesn't produce that many hardware components. Rather, you must purchase third-party components, but they easily integrate with Square.
You can also purchase a complete system bundle with software and hardware included. Bundle prices start at around $670 and go as high as $1,300 or more.


Lightspeed grabbed the second spot on our list for being the most customizable POS system for coffee shops and cafes.
Users tout its inventory management, employee management, reporting, and multiple store management features as being major selling points. The system's ability to manage operations at multiple locations from one centralized system sets it apart from the competition.
Lightspeed also delivers superior user training and performance management features to ensure users learn the system quickly. Those features also enable business owners to generate the greatest return on their investment possible.
However, customization features and system flexibility are truly the system traits that impress most users. With tons of add-on features that integrate with the system—such as email marketing—you can customize Lightspeed to meet your unique needs.
Lightspeed Pricing
Prices for the software system start at $69 per month. You can purchase hardware components individually or purchase a complete system bundle. Bundle prices start at around $700.
3. Toast

Toast made the list for being the best system for larger and fast-growing coffee shops and cafes. It is a leader in the POS system industry. Prices are a little higher than other systems but the system justifies the pricing.
It is full of valuable features and users can easily scale the system as they grow. That is why we named it the best cafe and coffee shop system for larger and growing businesses.
Out of all the systems on the list, Toast is the only one that includes all available features built into the system, right out of the box.
There is never any need to integrate a feature add-on. And while you have to pay extra for a few of the premium features included in the system, once you pay the feature is activated automatically with no need for you to work through an integration process.
All of these features are ideal for larger establishments and those who are in a growth stage.
Toast Pricing
Prices for the software system start at $79 per month. The company also sells various hardware components at various prices, as well as a range of complete system bundles. Bundle prices start at around $450 for the most basic package and go up from there to around $1,300 for the most robust bundle.
4. Loyverse


Loyverse rounds out our list because it is the most cost-efficient system. It is a great choice for new and budget-strapped cafes and coffee shops because it is 100% free to use—no hidden fees involved. You only pay for credit and debit card payment processing.
The system is stocked with nearly all the features cafes and coffee shops need, which is why it's so great that the system is completely free. There are a few premium features such as advanced inventory management, which you must purchase.
But considering the number of features the system offers—and there really are a lot—it is hard to believe the system is free. But it's easy to believe that so many cafes and coffee shops use the system.
Loyverse Pricing
The system software is 100% free to use. The company does not sell hardware, only software. However, most hardware is compatible with Loyverse and the company even publishes a list of hardware components that are compatible with the system.
An Overview of POS Systems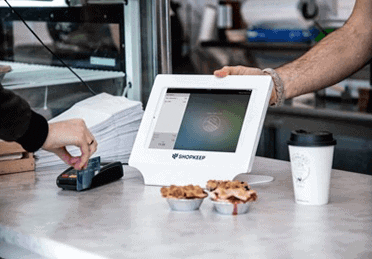 A POS system is not a static tool or process. Rather, it is a customizable network of software and hardware components that integrate to form the complete system. POS systems complete a vast assortment of simple and complex tasks that would otherwise be done manually.
They streamline your business's operating practices and automate administrative duties so your staff can spend more time focused on the customer.
This empowers small cafes and small coffee shops to serve more customers in less time, grow their businesses faster, and deliver a better customer experience. The same goes for larger establishments.
Mobile Cafe and Coffee Shop POS Systems
We encourage cafes and coffee shops to acquire a mobile POS system that uses a tablet rather than a computer monitor as its central hub of operations.
Mobile POS systems are cloud-based, software-as-a-service (SaaS) solutions, which rely on a Wi-Fi signal to operate. They store all your data in off-site servers. That data is backed up in the "cloud" so there is no risk of data loss if the system crashes.
Benefits of Using a Cafe or Coffee Shop POS System
Greater Efficiency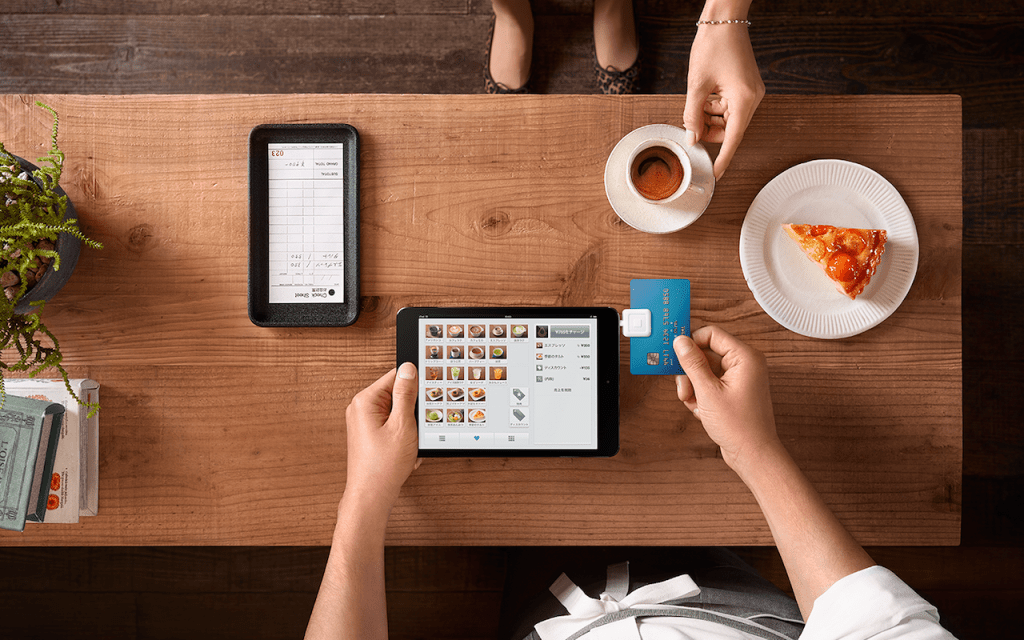 Streamlining and automating processes with a POS system allows cafes and coffee shops to complete everyday tasks faster and with better accuracy. The system completes the tasks automatically every time, without needing an employee to complete them.
Data Accuracy
Cafe and coffee shop POS systems store tons of information such as sales, inventory, employee, customer, and revenue data. This data can be used to run reports that provide the business insight needed to make better business decisions. And because it is collected automatically, not manually, you know your decisions are based on accurate data.
Better Customer Service and Higher Satisfaction
Customer service, customer experience, and customer satisfaction are among the most important metrics cafes and coffee shops can measure. The customer experience is more important today than ever before.
Cafe and coffee shop POS systems allow employees to devote more attention to meeting customer needs and delivering a better customer experience. Better customer service and a great customer experience lead to higher levels of customer satisfaction. Happy customers are more likely to return for more.
More Payment Options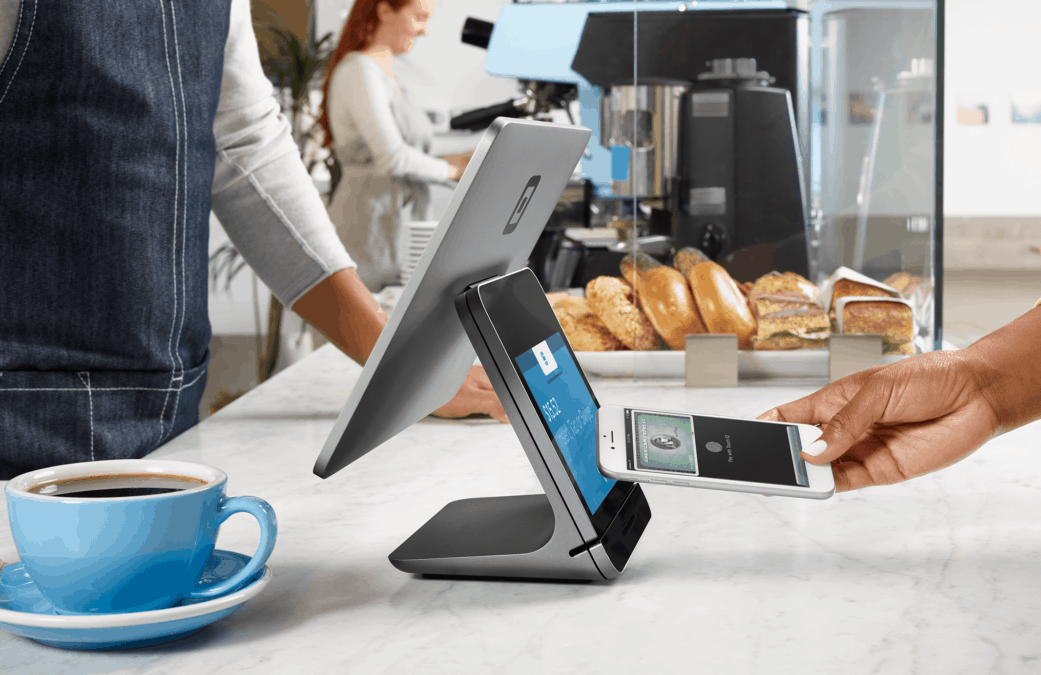 Payment terminals, automated check splitting, and card readers that can read and process all types of credit and debit cards give customers more payment options. Giving customers more options to pay reduces the effort they must put into the transaction, which further improves the customer experience.
Time Savings
Because so many processes and tasks are automated and don't require an employee to complete them, staff can spend their time elsewhere. Instead of using their time to complete manual, administrative tasks, employees can focus more on helping customers and take care of their needs.
Streamlined Reporting
A solid coffee shop or cafe POS system captures and stores loads of data. POS systems that include solid reporting around sales, inventory, and revenue allow store owners and managers to make business growth decisions based on hard data.
Efficient and Accurate Inventory Management
When inventory tracking is done manually, it's super time consuming and prone to human error. With POS inventory management features you get more accurate inventory counts and reports to ensure inventory counts align with what has been sold, with no discrepancies.
Increased Revenue and Faster Business Growth
A better customer experience leads to customer satisfaction. Satisfied customers return to purchase more and tell their friends about your business. This indirectly promotes your business to their friends and family, which is free advertising—the most effective type.
All of the above combine to empower cafes and coffee shops to bring in more customers, sell more coffee and food, and ultimately drive revenue and business growth.
What to Look for in a Cafe and Coffee Shop POS System
As mentioned above, because cafes and coffee shops are smaller establishments, they don't need as many software features or hardware components than larger, more complex restaurants. Still, there are some features and components that are super helpful to cafes and coffee shops.
Cafe and Coffee Shop POS Hardware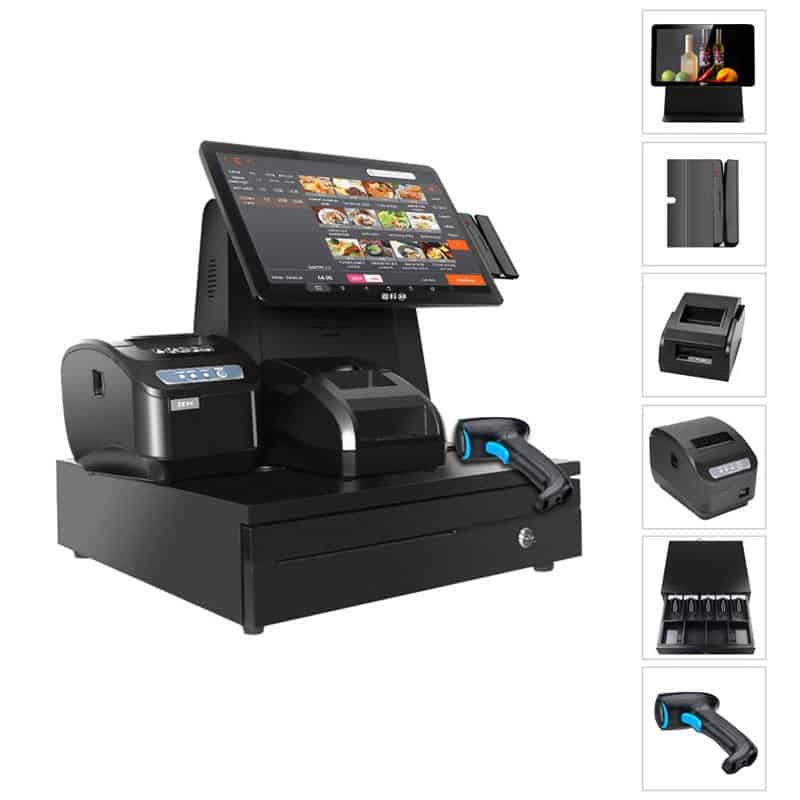 The POS hardware needs of cafes and coffee shops mostly revolve around two business processes: inventory management and payment processing.
For inventory management, POS inventory scanners are key because they allow employees to scan every item in your inventory stock room. The data collected is then automatically saved and stored in your POS system, reducing the time it takes employees to count inventory and ensuring counts are accurate.
For payment processing, there are a handful of hardware components that you'll want to connect to your cafe or coffee shop POS system. Those include:
Card Readers: It's advisable to purchase card readers that can read both chips and magstripes.
Cash Drawers: You need a place to store those bills when someone pays with cash.
Receipt Printers: All purchase transactions completed with customers require purchase receipts.
PIN Pads: When a customer pays with a debit card, they must often enter their PIN to verify their identity and complete the transaction. PIN pads streamline this process.
Kitchen Printers: When an order is entered into your POS system, it is sent to the kitchen printers in the back of the house so kitchen staff know there is a pending order they must tend to.
Signature Pads: If a customer's credit card requires a signature, you can capture and automatically store it with a POS signature pad.
Tablets and Tablet Stands: If you use a mobile POS system, you require a tablet to operate the system and a tablet stand to mount it on when it's not being carried around by an employee.
Cafe and Coffee Shop POS Software
POS software features enable you to complete specific functions through your POS system. Many POS features found in systems not intended for restaurants are useless for cafes and coffee shops. However, certain features enhance performance, drive better results, and help grow revenue.
Here are some key software features you should look for in a cafe or coffee shop POS system: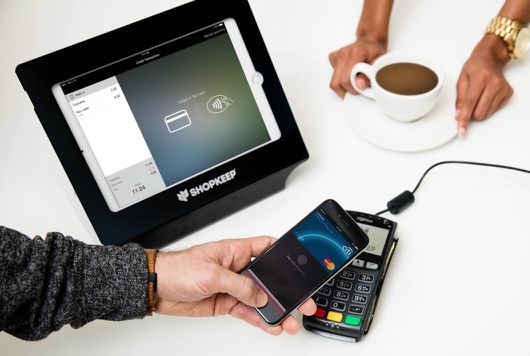 Payment Processing: To charge a customer, you must be able to process their payment. Provide multiple ways to pay—credit cards, debit cards, cash, gift cards, etc.—to improve the customer experience.
Partial and Split Payments: Many customers visit cafes and coffee shops in groups. It's likely that they will want to split the check, so everyone pays for their own meal. The ability to split payments keeps customers satisfied and improves the customer experience.
Hardware Integration: As you scale and need new hardware, it's essential that it integrates with your POS software system. Luckily, most mobile POS systems—which we recommend for cafes and coffee shops—have very broad integration features and can integrate with the vast majority of third-party hardware.
Reporting and Analysis: Cafe and coffee shop owners and managers must maintain constant insight into their results, sales, revenue, inventory, employee shifts, and much more. So, look for a system that includes powerful reporting and analysis features.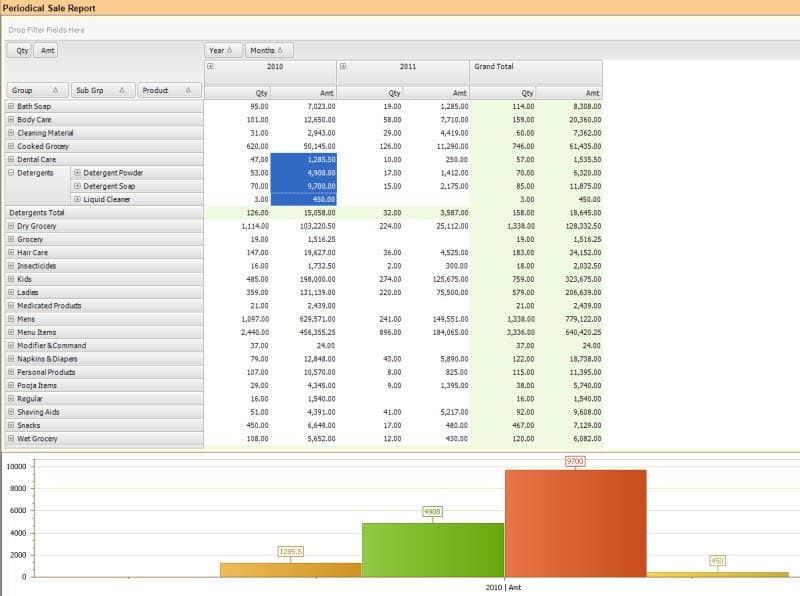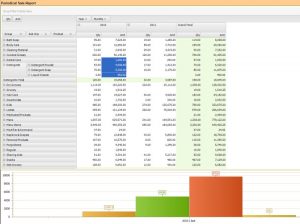 Inventory Management: Streamline inventory management with an inventory scanner that instantly relays each item you scan back to the overall POS system. The system keeps track of what has been sold and how much inventory your business has. Inventory discrepancy reports are a bonus.
Free Software Updates: Software these days, especially cloud-based software, gets updated often as bugs appear. Cloud-based software can be updated remotely from someone 5,000 miles away. You need those updates to ensure your system runs as it should and you're using the latest and greatest features. You shouldn't have to pay for updates, they should be included in the price of your software.
Customer Relationship Management: Form better, more personal relationships with your customers by collecting personal data and using it to personalize every interaction with customers. This facilitates close relationships that lead to customer loyalty and brand trust.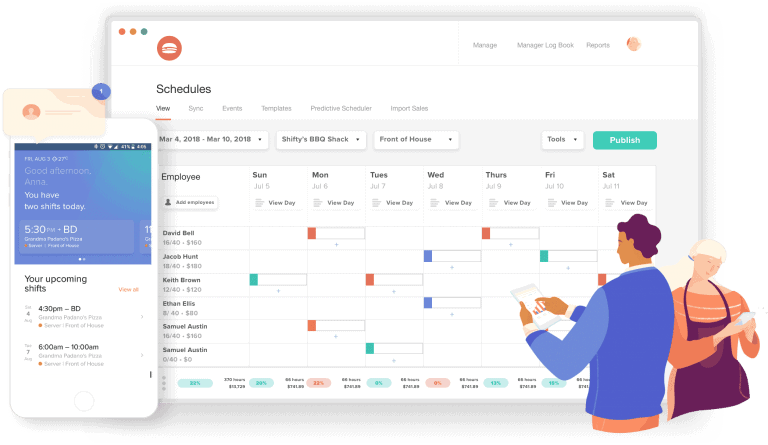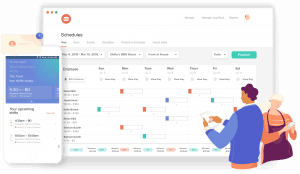 Employee Management: The best POS systems provide employee management capabilities. Each employee with access to the system has a unique login code. This enables managers to easily see who is working, when, what they are there to do, and who is scheduled to work a specified shift.
Plus, employee management features let employees maintain a clear view of the hours they have worked. And they help managers reduce time spent on employee management tasks.
Payroll Management: Tracking hours of each employee and ensuring that they receive the accurate amount of pay on payday can be a challenge when done manually. When various employees are working at the same time, each one having arrived at different times, manually calculating hours worked and overtime pay is time-consuming.
But when that data is collected and those calculations are completed automatically by your cafe or coffee shop POS system, your time is freed up and you get more accurate payroll reporting.
Automated Accounting: Automated accounting eliminates the need for restaurants to keep an accountant on the payroll.
Every transaction is automatically tracked, calculated, and used to produce accounting reports at any given time. Taxes due are also calculated and money is saved because you don't have to pay an accountant.
The Bottom Line
A coffee shop POS provides the mechanics needed to ensure the customer receives their order quickly and correctly—every morning! When you implement your new system, revenue increases, costs decrease, and the overall efficiency of your business rises.
At the end of the day, you want a coffee shop POS system that not only promises an exquisite user interface but one that doesn't cost an arm and a leg to run every month. Convenience and the ability of the POS to increase sales is the reason you're using a system.
Using a POS system like Square ensures that you're going to process orders more quickly, safely, and efficiently. We hope that this guide helps you figure out the right point of sale for your needs.