(Last Updated On: June 4, 2021)
Car was businesses can be tough to manage with various tasks taking place at once. Selling a car wash package, checking out a customer, and providing customer service are just a few. And, in a competitive business, you'll need software to automate tasks that'll save you time and money.
We dug deep and analyzed multiple systems before concluding that ezWash is the best car wash POS system, due to its many car-wash specific software features. With its intuitive, lightning-fast interface, powerful reporting, membership plans, and advanced vehicle recognition features, it takes the top spot.
The best car wash management solutions include robust marketing and reporting features. They should also deliver eCommerce capabilities, integrations with third-party apps, mobile access, and self-pay terminals to streamline operations.
Some systems provide such features, but a select few shine through the crowd as the best in the market. Let's take a look at what our research uncovered about the top four car wash POS systems.

What's the Top Car Wash POS System?
ezWash: Best Overall Car Wash POS System
SiteWatch (By DBR Systems): Best Multi-Location Car Wash POS Solution
Clover: Most Customizable Car Wash Solution
Washify: Best Membership Management Capabilities
Comparing the Top POS Systems for Car Wash Businesses
| POS System | Software Costs | Membership Plans | Our Score |
| --- | --- | --- | --- |
| | Quote-based | ✔ | 4.9 / 5 |
| | Quote-Based | ✔ | 4.7 / 5 |
| | Dependent on system configuration | ✔ | 4.6 / 5 |
| | Quote-Based | ✔ | 4.2 / 5 |

1. ezWash: Best Overall Car Wash POS Software

ezWash is a modern, feature-rich, easy-to-use car wash POS system that facilitates car wash growth. The solution is incredibly fast when it comes to processing payments, executing system functions, and virtually everything else. Below, we touch on a few of its most valuable features and system attributes.
Membership Programs
ezWash lets you offer membership plans to customers who frequent your car wash. Members can drive up, get a wash and a rinse, and be on their way without having to go inside and pay.
Not only does this keep customers coming back for more, but it also provides your car wash with a reliable source of revenue. Membership plans are often sold on an annual basis. Each new membership you sell locks in a full year's worth of revenue from that customer. This gives car wash owners peace of mind and lets them focus on strategically planning for the future.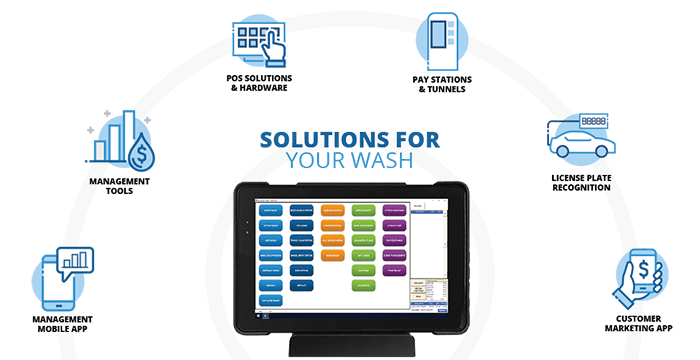 License Plate Scanning
When a vehicle approaches your car wash, ezWash can identify the vehicle by its license plate. That data is automatically stored in the system and if it's a new customer, a new customer profile gets created. All future visits and the resulting purchase data from those visits will be recorded and stored in that profile.
Plus, when someone with a membership plan arrives for a wash, their license plate is automatically scanned. The system recognizes them as a member and tracks that particular visit against the member's current plan.
In this way, members don't have to leave their cars to pay. Rather, they simply drive up, get scanned, and roll through the car wash. This saves them time and simplifies the process for everyone involved.
POS Reporting and Analytics
ezWash is known for delivering some of the strongest reporting of any car wash POS system. Users can easily and quickly run reports to gain critical insight into business performance, sales, memberships, revenue trends, employee performance, etc.
Moreover, these reports are compiled on a customizable dashboard that can be accessed anywhere, at any time from a mobile device. Your dashboard presents key metrics and reports in easy-to-digest, visual formats like graphs and charts. This makes it even easier and faster to gain and maintain the insight you need to be successful.
Finally, all data tracking and reporting is updated in the system in real-time for every user to see. This results in agile decision-making and the ability to keep your finger on the pulse of business results all times.

SiteWatch was developed by DRB Systems, producer of several automobile-specific software solutions. It's POS system, SiteWatch, offers loads of features and POS hardware that increase productivity and expedite car wash growth.
Multi-Location Management
If your car wash is growing and you're opening new locations, you want to be able to manage them all from the same system. ezWash makes that easy with its multi-location management features.
Car wash owners and managers love the ability to sync data rapidly and securely from one location to another. They also enjoy the increased efficiency they receive from being able to view reports across all locations from a single screen.
They don't have to run monthly sales or membership reports for each individual store—although they can drill down to that granular level if they wish. Or they can see how their car wash empire is performing as a whole with reporting that compiles and analyzes data from every location.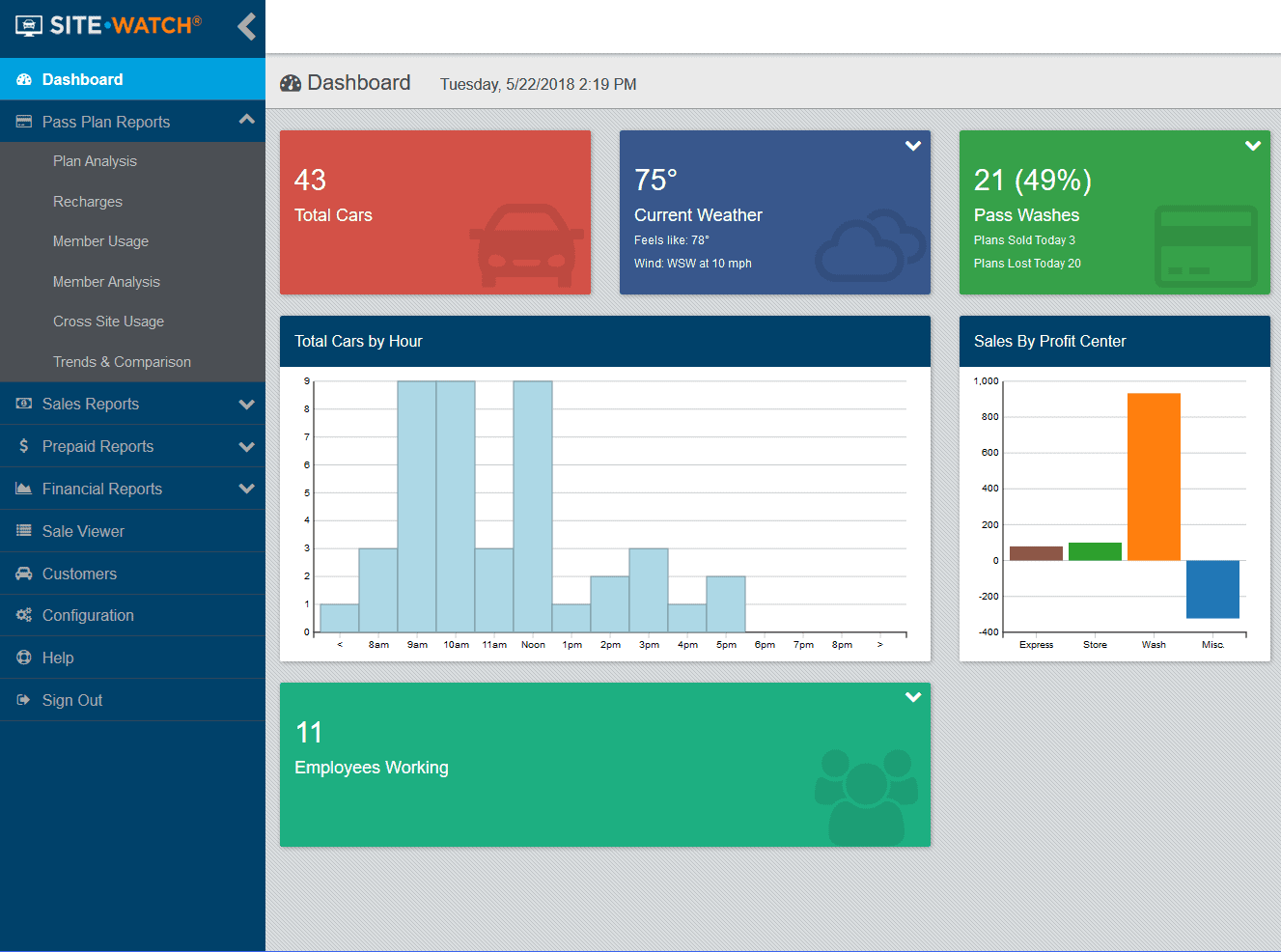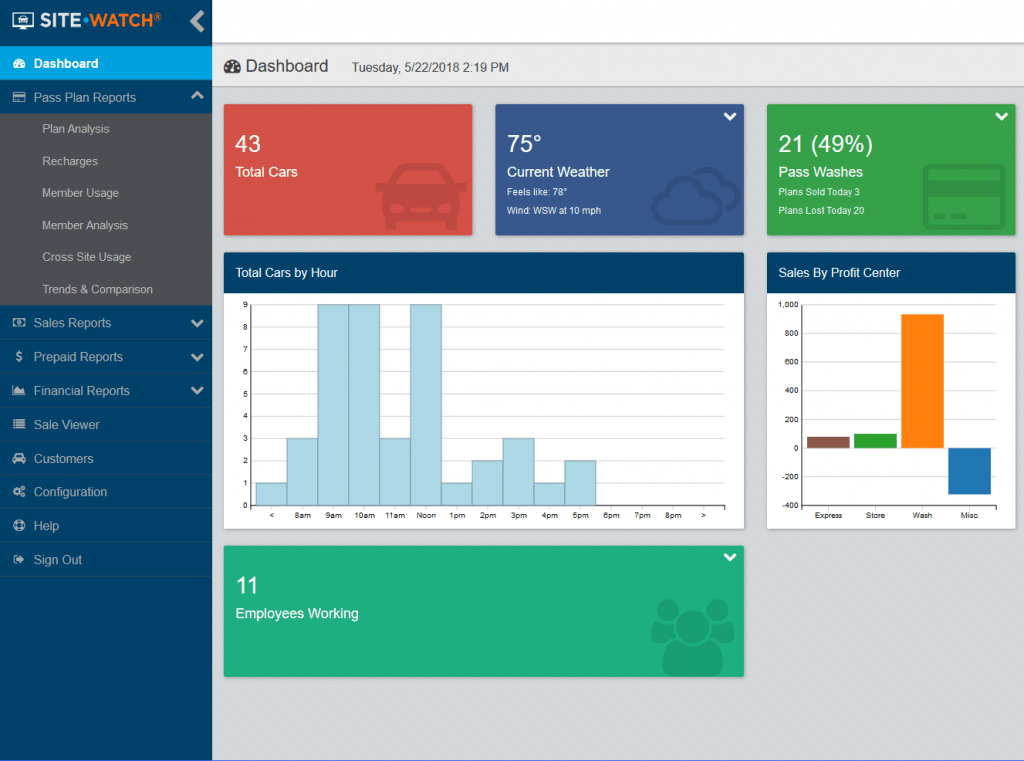 Automatic Membership Renewals
If a customer signs up for a monthly or annual membership, they get the option to have that membership automatically renewed once it expires. It's not an obligation, but an option for customers. Those who don't want to automatically renew their membership don't have to.
However, most customers tend to opt in, especially if they use a monthly membership. This alleviates the hassle of having to pay every month for a service you know you'll use in the foreseeable future. It helps ezWash users deliver a seamless customer experience and increases customer loyalty and satisfaction.
Customer-Facing Mobile App
ezWash offers users a branded mobile app (Mobile Connect) that customers can use to purchase items online from their mobile devices. They can also book appointments for specialty services, pay for, or renew memberships, and send gift cards to friends and family.
Furthermore, customers can create an account and populate it with their personal and payment information. They can update that information any time they want. Plus, they can check their membership if they forget what it offers, check prices, business hours, etc.
Finally, as a bonus, they can find the nearest car wash location and get step-by-step directions to ensure they arrive as effortlessly as possible.
3. Clover: Most Customizable Car Wash Solution


Clover is a unique player in the point of sale space. Rather than offering fully-built systems, Clover lets you build your own system according to your specific needs. Clover might not be a name you'd expect to see on this list. However, car washes are increasingly turning to Clover to manage their businesses (Source).
This works well for car washes because Clover's base POS system integrates with over 300 third-party apps, all of which are available and easy to integrate right from the Clover website.
Third-Party and Clover App Integrations
The Clover App Market is where you can find a dizzying array of third-party apps with which to customize your system. If you need accounting capabilities in your car wash POS system, you simply integrate QuickBooks or a similar app and you have accounting features. We cover a few important integrations for car washes below.
On top of that, Clover offers a number of its own, in-house apps that you can add onto the system to build it out even further. These come at no extra charge with every Clover system and include loyalty programs, promotion management, customer management, customer feedback channels, and more.
Membership Management
You guessed it—Clover doesn't include membership management as a core system feature. Instead, it integrates with some of the best membership management apps available. This gives car washes the option of adding that feature to their POS system.
For example, Cover seamlessly integrates with Memberships, an app built by Infuse that automates membership management and billing. With an industry-leading membership management app, you're almost certain to deliver a better customer experience than you would with a built-in membership management feature.


Rapid Payment Processing
Clover is a payment processing company as well as a developer of POS software and hardware. And it processes payments securely and rapidly. This is a huge benefit for car washes where speed is crucial.
Clover's payment processing capabilities also ensure car wash customers can pay any way they want. The system is designed to accept all types of payments. Customers can pay with magstripe cards, chip cards, gift cards, cash, checks, and even contactless payments such as Apple Pay, Samsung Pay, and Google Pay.
Marketing Features
Robust marketing is essential to the success and growth of car wash businesses. Luckily for car washes, Clover integrates with some of the most powerful marketing automation applications. This, again, gives users a more powerful feature than they would receive from an out-of-the-box POS.
Reporting and Metrics
Once again, Clover lets you use the most robust reporting applications available to manage your reporting and analytics. Simply integrate your reporting app of choice with Clover and you'll have actionable insights in front of you in no time.
4. Washify: Best Membership Management Capabilities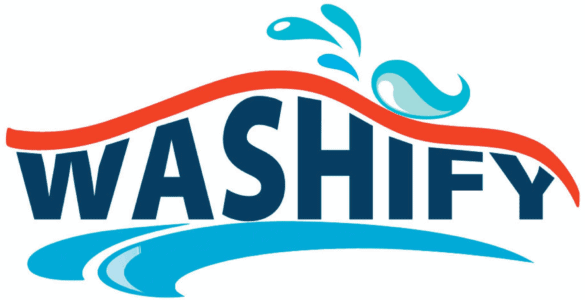 Washify is almost certainly the most widely used car wash POS system available. However, that's not necessarily because it's the best available.
Its branding is incredibly sticky, which gives it remarkably strong name recognition. The system is solid, with loads of features that facilitate car wash growth. Along with built-in marketing features, solid reporting, and mobile access, the system delivers in several additional areas.
Unlimited Membership Plans
Washify is commonly considered to offer the best membership plans of any car wash POS system. Users can offer customers membership plans and manage them all from one POS system, regardless of whether the car wash has one location or 50.
Customers can manage their membership accounts online. When they arrive for a wash, customers are automatically recognized by vehicle identifiers. They can even enroll in a membership from a standalone kiosk, making the process as easy as possible for customers and business owners alike. The reliability of revenue generated through these programs is a key selling point for Washify.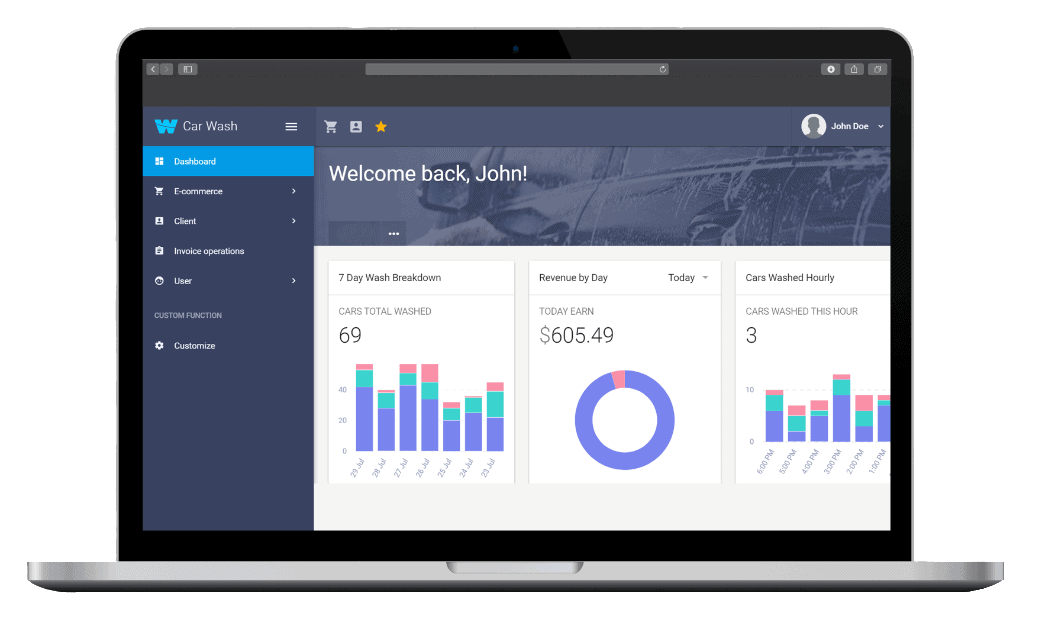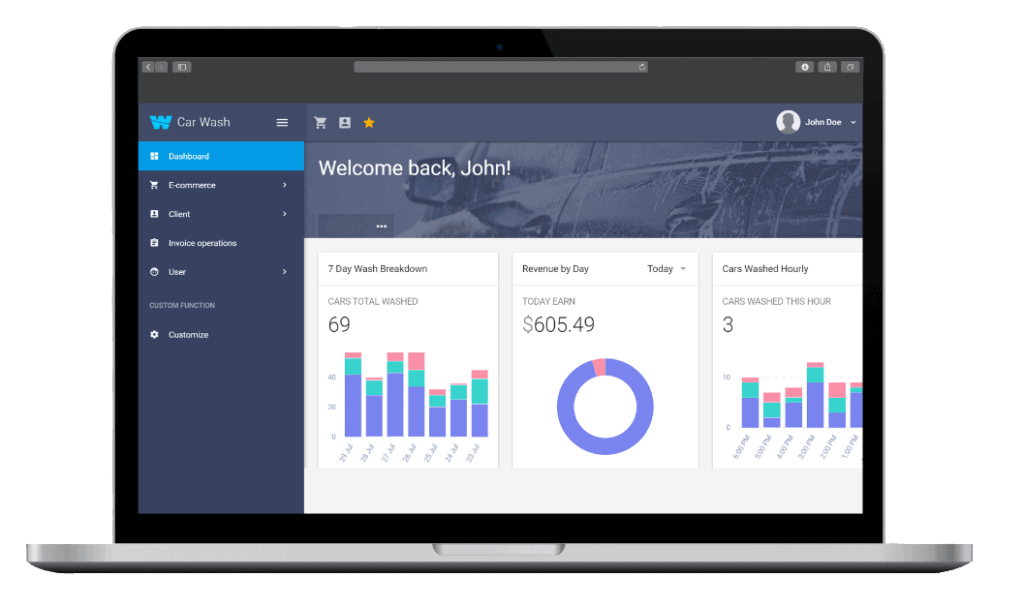 Built-in Detailing Management
This isn't a feature you find often—or at all really—built into a car wash POS system. But Washify delivers it. If your car wash offers vehicle detailing services and needs to streamline its process, Washify is worth a closer look.
The system lets customers book appointments through Washify's mobile app and receive automated notifications when their appointment date draws near. Users even get an online calendar they can sync to their other calendars for a 360-degree view of pending appointments.
eCommerce Websites
Washify lets you create your own website and use it to deliver a better customer experience. It can be branded with your car wash logo and branding style. You can use the site to sell gift cards and memberships, take appointments, communicate discounts and other special offers, etc.
Customers can pay online, book appointments, adjust their account, check the status and date of pending appointments, manage their memberships, and more.
Honorable Mention: Sonny's The CarWash Factory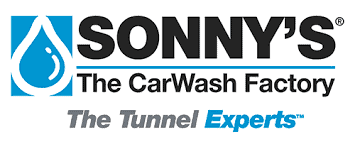 Sonny's The CarWash Factory produces a car wash POS system that deserves a mention. It's a robust system that's super user-friendly and delivers solid POS features. Among those are multi-location management, unlimited membership plans, marketing features, powerful reporting, and more.
What Do You Need in a Car Wash POS System?
The right POS system can save significant amounts of money for your business so it's important to ensure you select the right solution for your needs.
This means evaluating systems and finding the one that includes the software features and POS hardware components or integrations you need to streamline your business.
Below we provide the guidance you need to rigorously evaluate car wash management solutions and find the best fit.
Membership Plan Management
Selling membership plans is one of the most important goals for car wash owners. Customers purchase monthly, annual, etc., memberships, which provide them with specified access to your car wash.
You might choose to offer unlimited memberships that allow members to come whenever they want for a wash. A strong car wash solution gives you the ability to select how your membership plans work.
Why are memberships so important to car washes? Because they represent a source of recurring revenue that's reliable and allows for more accurate revenue forecasting.
That, in turn, brings stability to your business. It allows you to strategically plan for the future without worrying about what next month's balance sheet will look like. Moreover, memberships generate more revenue than just about anything else at car washes.
An Intuitive, Easy-to-Use Interface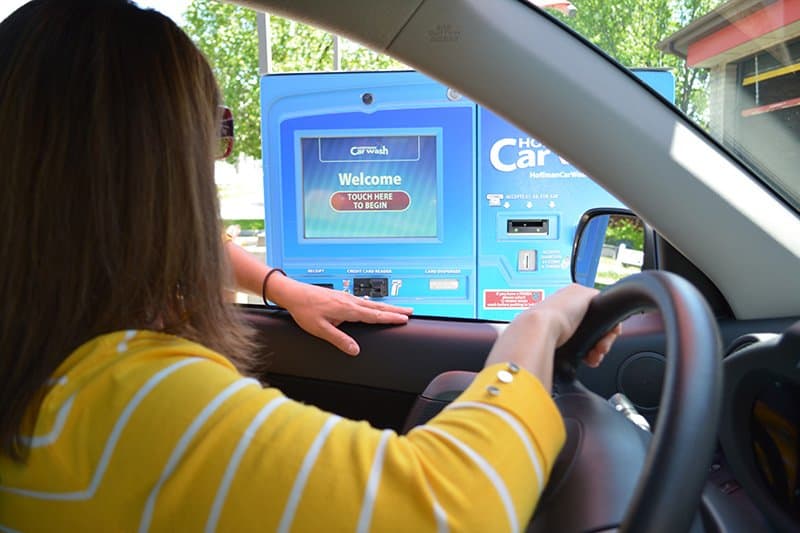 Speed is key when it comes to car wash operations. There are various employees engaged in multiple tasks at once. The last thing you need is for them to get backed up because your POS system is slow, clunky, and hard to navigate.
We recommend looking for a system that requires minimal touches to complete transactions, enter data, etc.
Marketing Features
Just like every other type of business, car washes need to spread the word and bring in new customers. A POS system with built-in features like automated email marketing campaigns helps you put your business's name in front of a broader audience, which leads to faster revenue growth and brand recognition.
Automated Vehicle Identification
This feature is less common in POS systems and is useful for car washes that have an unmanned, conveyer belt washing tunnel. Vehicle identification is used to detect vehicles driven by those with membership plans.
When a vehicle approaches the tunnel entrance, a scanner recognizes it by its license plate or a sticker on the windshield. Assuming the vehicle is driven by a member, the system recognizes them and gives a green light to enter. The vehicle can then enter the tunnel, get a wash, and leave without having to pay. That's because the cost of the wash has already been covered by the price of the membership.
Mobile Access
POS systems increasingly use mobile devices to manage data and system functions. Employees can carry an integrated tablet onto the car wash lot and process payments for vehicles waiting in line to expedite washes. This saves time for the customer and allows car washes to tend to more customers in less time.
Mobile access also allows car wash managers and owners to monitor performance offsite. They can check in on important metrics like sales, inventory, and revenue forecasting from anywhere they have internet access.
Web-Based Sales and eCommerce Integration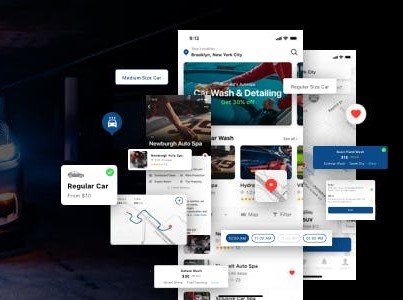 Look for a solution that lets you create an online presence by building a website or integrating an eCommerce site with your existing website.
This lets customers pay for and renew memberships online without having to come into your physical store and pay there. It also lets customers sign up for your email marketing list and check for pricing, discounts, promotions, and more.
Self-Pay Kiosks/Terminals
When someone arrives for a quick wash, they can drive past the freestanding self-pay kiosk and pay for their wash without having to interact with an employee. Once payment is processed, the customer receives a ticket or code, which they use when it's their turn for a wash. This keeps lines moving and allows employees to focus on other tasks.
Powerful POS Reporting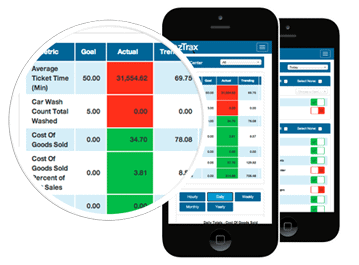 Business decisions should be made based on data, not intuition. Powerful reporting collects data around customer purchase patterns, sales, inventory, and more. That data is then analyzed to produce reports that provide valuable insight into business performance.
Armed with his insight, car wash owners can make more informed business growth decisions. So look for a system with powerful reporting to facilitate revenue growth and business expansion.
Additional Features
Plenty of additional features help car washes increase productivity, grow their businesses, and remain competitive. Look for these features when evaluating car wash POS systems:
Customer relationships management
Secure payment processing
Integrations with the existing hardware and software systems you already use
Inventory management
Online booking (if your car wash also offers detailing services)
Employee management
Which System Will Best Meet Your Needs?
The right solution for you depends largely on the type of car wash you own and operate. If your car wash is constantly overflowing with customers, ezWash could be the solution you've been searching for due to the system's impressive operating speed.
If you're growing your car wash dynasty and adding new locations, SiteWatch could be perfect given its multi-location management capabilities.
On the other hand, if you run a smaller car wash that offers a broad range of services, you'll need a customizable point of sale system. Clover has you covered there with over 300 third-party app integrations that complete nearly any task you can think of.
If you rely almost entirely on memberships to thrive, Washify is potentially a good fit for your business. Its membership management features are powerful and remarkably robust.