First impressions make all the difference with hotels. They set the tone for a guest's overall experience and can determine the reputation of the hotel. That impression, however, often begins before a guest even arrives. It begins with booking.
To manage these bookings, you'll need the very best hotel POS system. With such software, you'll be able to monitor bookings, manages reservations, and contributes to the excellence of a hotel.
By keeping customer data in your POS system, you'll be able to provide exceptional service to guests. A POS system will organize transactions in one central place, as well as manage inventory and employees.
The right hotel POS system will offer loyalty programs to incentivize returning guests. If you have a restaurant or a cafe in your hotel, chances are you'll need a system that caters to food businesses.
In this guide, we listed the top POS systems for hotels. We examine each system's features, pricing, top benefits, and drawbacks.
Let's dig in.
1. Best POS System for Hotels: Hotelogix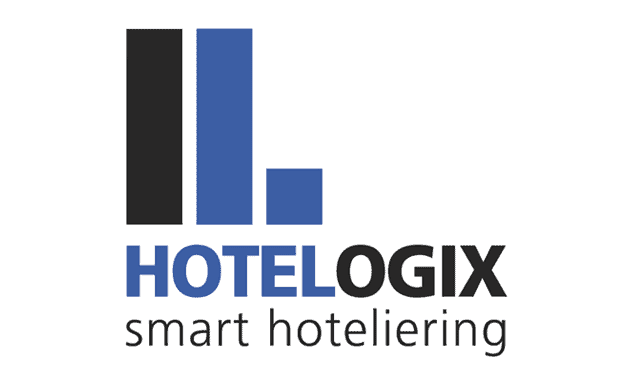 Ranked as one of the top four most popular hotel software solutions, Hotelogix is a great POS System that is the perfect solution for large and small hotels.
It works with a variety of amenities such as restaurants, travel desks, spas, minibars and much more. It comes with unlimited built-in POS System terminals.
Hotelogix offers a simple POS system for hotels that offer powerful tools to service their room operations. It allows setting up unlimited "Point-of-Sale" outlets.
It provides a variety of services. Orders may be sold directly to the guests, transferred to their rooms as room service or billed to the company directly.
Hotelogix lets you settle payments through different modes. It accepts multiple currencies, processes credit cards or generates bills directly to the company.
Hotelogix Hotel POS System Features 
Touch-to-Master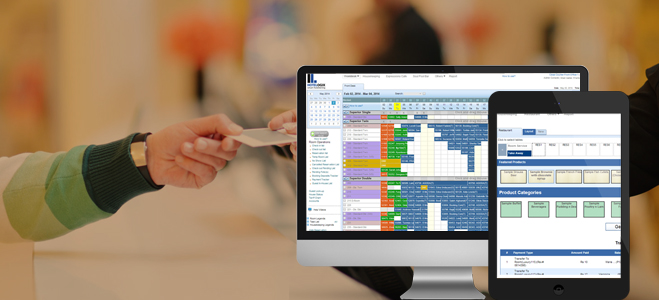 The POS touch interface is very user-friendly and requires virtually no time to master in, so staff can start performance instantly. It offers to set up as many users as you want, for any outlet.
Allowing management to gain greater control of all departments by merging operations together, like Housekeeping POS, Front Desk POS, etc.
Keeping Things Organized
Hotelogix helps organize all products and services at their POS points in different categories and sub-categories. There is an unlimited variety of separate groups that can be chosen from for featured items which help increase efficiency by moving products at a faster rate or by up-sell the hotel's competitive advantage.
Bundling Sales
Hotels can easily bundle their items at POS outlets to sell their rooms. Making packages and inclusions will help up-sell services. You can make promotion deals to attract more customers or let them add a personal touch to their stay with add-on services.
Make work predictable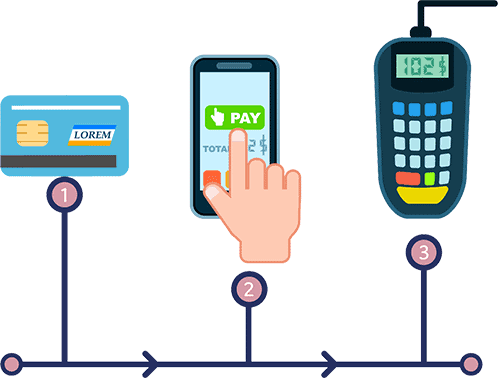 Hotelogix is directly in sync with the Front-Desk, so no manual tracking is needed. Management can send inclusions to the correct POS points, which will help staff as they will always be ready to deliver what is expected at the correct time.
Sell everywhere
You will have an edge over other competitors because you can use this powerful feature and add-on services will be sold everywhere. You can easily promote your hotel through various channels with a variety of inclusive packages and rates.
VIP clients
The POS system can also be used to offers attractive discounts on a wide array of services to travel agents and corporate clients that will create a loyal customer base for you. The system will automatically apply the discount to the POS generated bills when a guest's rate plan is entitled to services consumed at the F&B or the spa or other linked outlets.
User Management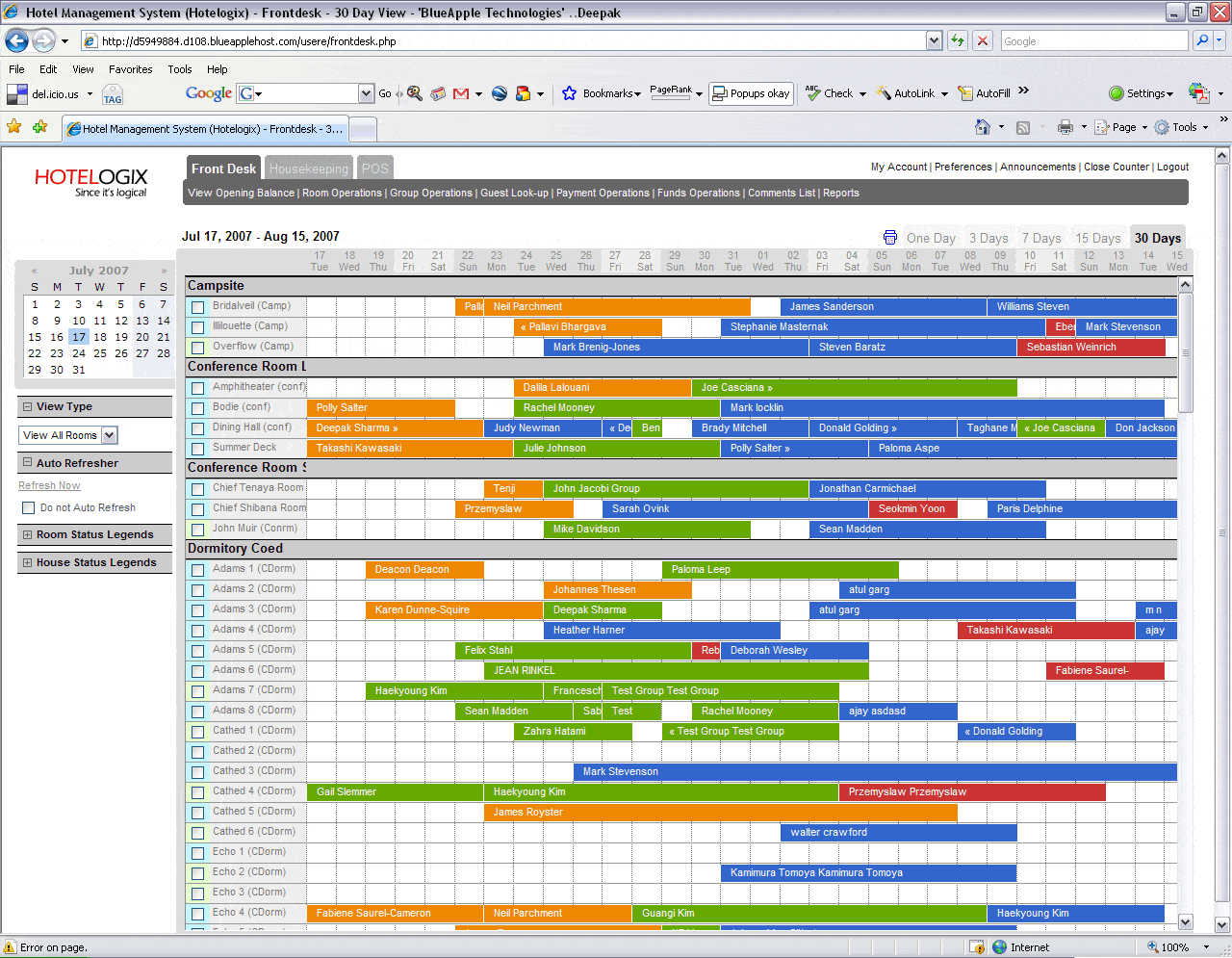 These features help manage multiple hotel properties and is useful to very large business with more than one hotel property as there is no limit to the number of staff user accounts. Real-time financial status is available to authorized users at all times.
Restrictions can be set up to restrict users to perform critical actions like night audit. Users can be created, and restrictions or permissions can be granted to edit reservations, prices, and discounts. It manages the user permission level if there are levels of a multi-property console. Additionally, you can define counter access for each user.
Pricing
Hotelogix comes in three different packages at different prices. The first package is Freemium, which as the name suggests is $0/month. However, only one user can access Freemium. The second package is the Premium package costing $3.99/ room every month with a minimum billing of $65. The third package is Enterprise which costs $5.99/room every month with a minimum billing of $90.
All packages include reviews from TripAdvisor that automatically send guest reviews to the OTA. Facebook bookings option is only available in the Enterprise package.
Hotelogix's POS components each alone cost $15 per month.
Downside to Hotelogix
No one POS system is perfect for everything. Hotelogix also lacks in one feature. On-premise or installed deployment feature is not available in the POS System. And if this is crucial that there should be on-premise or installed deployment feature available then you may want to purchase a POS with that feature available.
Comparing the Top 5 Hotel POS Systems
Top Features

Manage centrally from a single dashboard

Update rates & inventory in real-time

Track your hotel KPIs, analyze them and create reports

Easy-to-use hotel property management

Mobile POS for enhanced guest satisfaction

rGuest® helps you minimize losses by understanding guest expectations

Smooth ordering experience

Manage restaurant orders and room service seamlessly

Mobile ordering & data security

Full stock & cash control

Customer loyalty & rewards

SMS, Email, and Electronic Staff Messaging from the POS

Real-time overview of maintenance, housekeeping and reservations

Deep sales, promotions and stock management functionalities

Guests can book a spa treatment on your website or at hotel

Integrations

Amadeus, Sabre, Galileo,
Worldspan & More

AireSpa, FreedomPay, Ingenico Group, 365Retail, Guestware & More

Agendrix, AppCard, APPSeCONNECT, Clock Software, Cloudbeds & More

Amazon Web Services, TripAdvisor, Xero, Vertical Booking, Authorize.Net
& More

Easy integration with your current ERP & Other integrations

Pricing
(Single Room/Month)

Premium Package - $65

Enterprise Package - $90

Quote-based

Basic - $69

Starter - $99



Entrepreneur Package - $69

Corporate Package - $119

LS Express - $99

Additional LS Express POS - $75



Customer Service

24/7 Live Support

24/7 Live Support

24/7 Live Support

24/7 Live Support

24/7 Live Support
2. Easiest to Customize Hotel POS: Agilysys

Agilysys is a POS system tailored especially for the hotel and restaurant industry. It offers a separate POS system for those that do not want to buy an entire Property Management System (PMS).
A variety of POS options are also available such as InfoGenesis POS is for basic POS requirements, InfoGenesis Flex is for tablet-specific systems, InfoGenesis Mobile 2.1 for mobile users and rGuest Buy is a self-service food kiosk. If, however, someone decides to purchase other PMS products, then all other POS systems will sync with all the offerings.
Agilysys POS System Features:
Hotel Management Software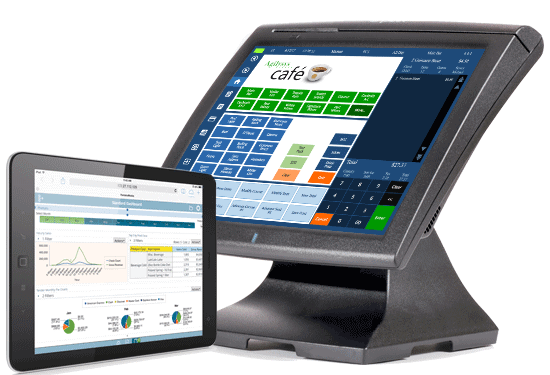 Agilysys provides solutions that help streamline your hotel's operations so that more focus can be given to providing exceptional guest service. The main focus is to make lasting connections that enhance guest satisfaction, boast an efficiency of staff and operational workers and grow revenue opportunities with automated engagement.
You can connect and share data in real-time with this POS system. This is because integration can make the hotel performance better. Agilysys POS system helps inventory related data flow into multiple distribution channels such as direct booking platforms, call centers as the Global Distribution System (GDS) and the OTAs.
Activity Management Software
Agilysys offers an activity management software which makes this POS system incredibly unique. Basically, you can schedule your guest's activity choices through the POS. As most hotels have at least a spa on-site, it is important to schedule guest's activities.
This ensures your facilities are being used and you are making a profit off of those items. The activity management software comes with the POS, but you can purchase a GolfPro or Spa Management addition. This comes in handy if you have either of those activities available on your campus.
Lodging Management System (LMS)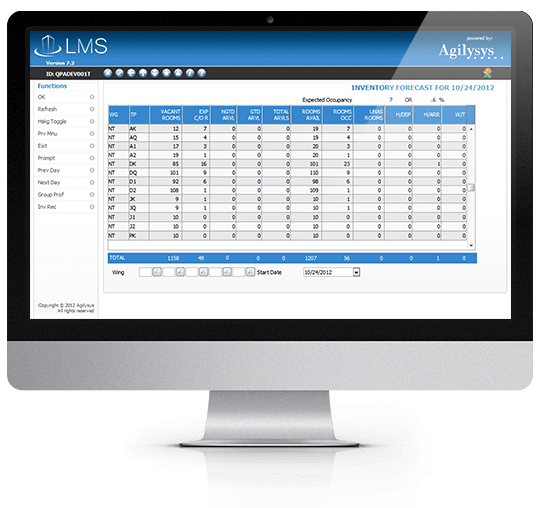 The LMS also automates all the process involved in hotel operations. From making reservations, credit card processing, accounting to housekeeping. This POS system caters to scheduling activities, food and beverage and more. LMS helps you become more efficient, increase productivity and maximize revenue generated per guest.
Through this retail POS system, your team can immediately have all readily available info about customers, not only that, employees can see past just spending activities and can make intelligent suggestions to customers. It also expedites the traditional check-in and out experience which mostly causes dissatisfaction.
The LMS POS system is scalable and makes handling hundreds and thousands of new accounts easier while providing the information you need to provide personalized services to your customers.
Analytics Software
Agilysys also offers software to analyze what your customers are purchasing and when. This allows you to reward their loyalty, creating more business for you. There are three different levels of this software you can purchase with your POS system.
The first is the rGuest Pay POS, which helps create a memorable experience for your guests. Additionally, it presents the guest with a single itinerary that includes services like spa appointments, golf tee times, dinner reservations and much more.
You can set up a guest profile that enables a one-stop solution for shopping and up-selling opportunities. It protects the guest's payment data and reduces the risks, costs, and compliance by tokenizing each transaction with point-to-point encryption (P2PE).
Offercraft creates personalized offers for your guests. This is all based on the previous purchases your customers have made. This can be incredibly beneficial, as customers are no longer receiving a standardized discount.
Agilysys Pricing
To get pricing for this POS system, you'll have to contact their sales department. The customer service help-line is available 24/7.
Downside of Agilysys
Agilysys, like all other POS Systems, has its downsides. The customer service staff is not always able to solve your issue at once, but their team can submit a ticket and get any errors fixed within a reasonable timeframe. Also, the software does not provide the option to convert reports and database data in an exportable format.
3. Hotel Software with Various Integrations: Lightspeed Retail

Running your hotel will become effortless with a POS system that integrates with your property management system (PMS). With Lightspeed Retail, guests can place food orders anywhere in your hotel and you are able to charge everything directly to their rooms.
Effortless Ordering Experience
Hotel patrons who want to sit down for dinner at your hotel's restaurant are more likely to recommend your establishment if they have a smooth experience.
With Lightspeed Retail, your guests are able to:
Allow customers to pay their entire bill and room costs at checkout
Verify that the billing is accurate by putting all charges on one bill
Combine bar, restaurant, and room service charges for any room
Match specific menus to any display device to any area in your hotel
Increased Efficiency
In the hotel industry, time is money. Increase efficiency and reduce human errors by using a point of sale system. With Lightspeed Retail, you'll be able to provide a fast and efficient service. This means more accurate bills, all while increasing customer loyalty.
As mentioned previously, you have the ability to combine restaurant and room service charges under one tab. This avoids the need to print multiple receipts and cause inconvenience to the guest.
Lightspeed Retail's software also has present modifiers, which you can click away to speed up the time it takes to process an order. For the restaurant(s) in your hotel, the servers or bartenders can use the POS system or a tablet to fire food orders to the kitchen.
Lastly, when it's time to your guests to pay; you can split checks for groups or transfer an item to another check. Guests can even add tips to their bill directly from your iPad device.
Accommodate Guests
By using mobile ordering, you may enter drink and food orders from any area of your hotel. Simply add the charges to your guest's room for a seamless experience.
And, while your staff is at it, they can offer the perfect 'mixture' with the Upsell Reminder feature. With this handy feature, your team will be able to take advantage of the opportunity to suggest ideal combinations.
Don't Forget About Your Staff
Give your staff the ability to clock in and out when needed. Assign special permissions to managers or cashiers, giving them the ability to view sales numbers or simply manage inventory.
Generate employee reports to view their earnings or their sales progress. Then, generate end of day reports to view overall sales.
Finally, with Lightspeed Retail you can get a clear overview of your employee schedule. This will help you plan for peak days or hours, so you never run short on staff.
4. Most Affordable POS System for Hotels: Bepoz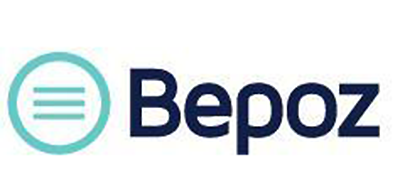 Bepoz is another reliable hotel POS system that has been in the market for 30 years and had over 5,000 installations. They specialize in POS systems across multiple industries like coffee shops, amusement parks, retirement communities, bookstores and much more. However, Bepoz POS System is reliable, affordable and has a lot of capabilities.
Bepoz POS System Features:
Promoting events and Customer Loyalty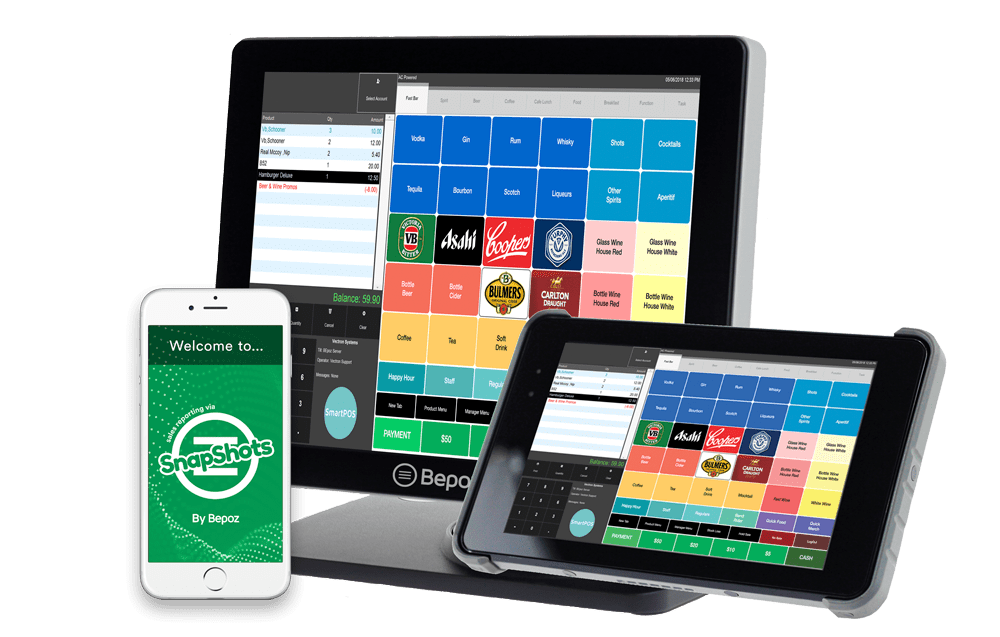 Bepoz offers a wide array of promotional systems. You can schedule promotions, like Happy Hour and Surcharge pricing, on specific days for a specific time. Then the system automatically shifts the prices and returns to normal pricing after the promotion time ends.
Bepoz also assigns gift cards, print promotional or vouchers for prizes in every conceivable way. You can reward customers for spending a specific amount in a single transaction or if they spend a progressive amount over a number of visits.
More control
Bepoz POS system helps get more cash control with individual shifts or staff reports by cash drawer. You can print these reports and give a detailed review such as payment balancing totals, customers served, average customer and much more.
Also, you can create accountability when cashiers are requested to count and enter drawer takings into the system before a shift report is printed. This means you can use a variance total to view overages or shortages for the shift.
You can keep inventory in check with the POS systems like FIFO, or the weight average cost. You can track products easily and see if they are near the minimum or maximum level.
Bepoz also has property management integration. This means that you can use their property management integration to allow your customers to pay for various items. In other words, customers can put food, retail purchases, etc, all on their hotel room.
Run reports anytime, anywhere

You can generate all the reports needed to meet your needs. All data reporting is live. You can also get on-demand reporting anywhere on your laptop, smartphone or you can schedule them to arrive in your email.
Pricing and Package Options
Bepoz offers two packages, Entrepreneur, and Corporate. Entrepreneur costs $69/month, whereas, Corporate costs $119/month. Additional add-ons are also available with each package. Prices vary with those, depending on the add-on service that you utilize.
Another benefit to Bepoz is its variety of package options. If you own multiple businesses, you can use Bepoz to keep track of all of your businesses. They specialize in Retail, Restaurants, and Enterprise, but the list of businesses they support is truly endless. If you own multiple different businesses, this may be the most ideal POS system for you.
Drawbacks to Bepoz
Bepoz does not provide installation or an on-premise option.
---
5. All-In-One Hotel Management Solution: LS Retail

Efficient hotel management systems enhance your guest experience and even make them feel genuinely welcome. On the other hand, an inept system will not only increase your costs manifold and provide inconsistent data but may also alienate clientele.
LS Retail provides a holistic solution to all your worries by giving you a transparent and enhanced view of your hotel's entire business operations.
Not only does this system help manage all the information in one database, but it also provides role-based windows for your staff to have access to information as required and permitted according to their job roles.
Multiple PMS
The system's PMS – Property Management System – helps hotels manage guests, maintenance, and all other tasks alike, as it gives information on all properties in one place.
Easy Retail Management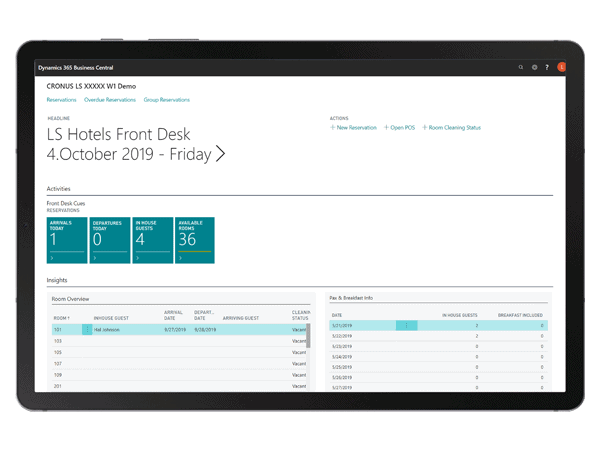 It supports mobile and stationary POS devices and allows hotels to set prices and offers centrally. The mix of manual and automated tools also enable businesses to take maximum advantage of promotional offers. Further, its stock management functionalities keep a track record of inventory movement both into and out of the hotel, which helps to prevent any shortages or mishandling.
Guest-Centric System
With LS intelligent analytics tools, businesses can track and study their customer's past interactions and preferences to make their guest profiles more meaningful. It also helps to manage loyalty programs with utmost ease as the management can use these customer preferences to personalize rewards for them.
LS Central makes sure that your hotel can enhance its guest experience through its add-on features that allow it to add and track additional services requested by your guests.
Easy Deployment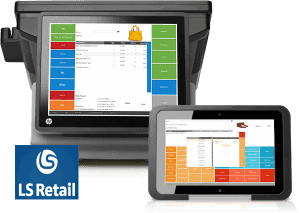 LS Central for hotels gives an option where it can be deployed solely in the cloud, on the hotel premises, or both at the same time – whichever way suits your business profile in the best way.
LS Retail – For Comprehensive Hotel Management
Overall, this system is excellent for hotels all due to its easy interface, which makes it stress-free to manage and train your staff to use it. It can streamline processes from the front desk all the way to the back office and at every level of the organization.
It gives a complete overview of your hotel's current occupancy, its housekeeping, along with all the extensive analysis required by the management to make necessary decisions. LS Retail is also integrated with tax rules from multiple countries, their currency structures, and their respective languages, which helps hotels in running a global enterprise without much difficulty.
It is a single platform that minimizes costs because it reduces the number of vendors and other systems that are otherwise needed for resolving all hotel-related business issues.
---
Consider This Before Getting a Hotel POS System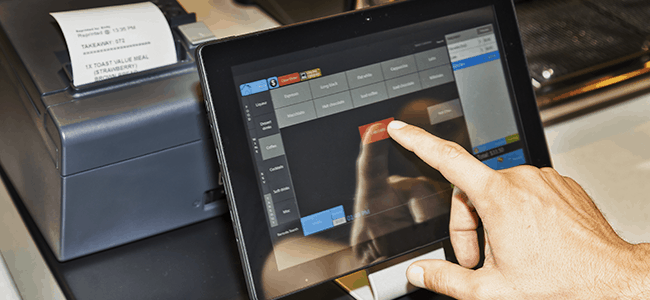 Running a hotel requires many moving parts working in unison. One of the most important parts is a POS system.
Having a quality sales tool will allow for efficient booking and secure transactions. These systems will help your business operate smoothly.
Quickly Book Guests
There is nothing more important than booking guests. Using a hotel POS system can help this process become quick and easy.
The act of processing a new guest can be time-consuming. However, this task becomes painless and efficient with the right interface. Faster booking times mean that your employees are ready to serve guests in a timely manner.
This type of software should allow for guests to pre-book their visit online. Data sent to your hotel via third-party booking sites is converted and implemented. This ensures all your information is up to date and all reservations are met.
Customize Packages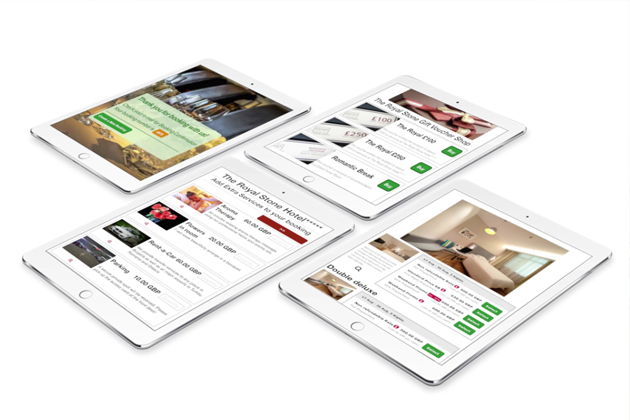 Customizable offers become quite attractive to potential guests. The words "holiday special" or "limited offer" carry a lot of weight when it comes to enticing clients. Using a point of sale solution, you have the ability to offer customized deals.
Deals like seasonal and holiday specials are a good example, where you can book room packages. The average consumer is more likely to go for a package deal, given that they are getting good value for their money.
Customizable packages also allow you to integrate sales. At times, certain guests may call for specific accommodations that were not originally foreseen. Do not be afraid to modify deals on the fly, as your system has the ability to do so.
Manage Reservations
Managing reservations online plays a key factor in operating a hotel. As stated before, there are many moving parts when it comes to running a hotel. For example, Lightspeed integrates with POWr Booking, which gives you the ability to get client information before they even walk in.
If the client makes an online reservation, the information will be distributed in real-time. This way, when the client walks into the hotel, all their details and preferred accommodations are already in place. This type of service will elevate your establishment above that of your competition.
Secure Billing Information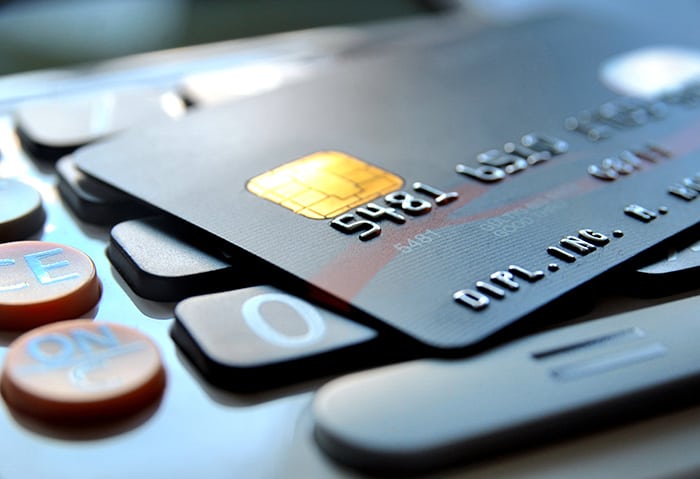 Having a secure way to handle clients' credit card information should be a priority of a hotel. It is no surprise today that hotels have become targets for credit card information theft. Point of sale systems ensures that the information is secure. All credit card information is protected through complex encoding.
The interface also allows for seamless billing for any and all room service requests. You will not need to manually put in the credit card information after the guest has checked in. The system will also do that automatically for any additional purchases made. This process will save your staff valuable time.
Rewards Deals
It is not uncommon for a hotel chain to offer reward deals to repeat customers. As a matter of fact, repeat business is the lifeline of a hotel business. It is quite easy to customize deals in a POS system, like the one from HotelLogix. Rewards deals can often increase sales. They make the customer feel more important and thus more likely to stay with you again.
For example, you can opt to use a point system that rewards clients. These points may be used at the spa, gift shop, or other areas of your hotel. Listening to the customer and rewarding them fosters a prosperous relationship.
Ready to Utilize a POS System In Your Hotel?
You can go through many hotel POS systems and still not know which one is right for your business. Our recommendation is to consider Hotelogix or Agilysys, as they are user-friendly and have effective loyalty and sales tools.
The features are very comprehensive and fit for both large and small hotels. The first option makes everything easier and simpler regardless of the size of your business. It is affordable, and it gives you more options for customization. Hotelogix provides integration, flexibility, and mobility.
Which feature are you looking for in hotel software? Share with us below!