The best bookstore point of sale system (POS) should simplify operations in a new, used or specialty bookstore. The leading bookstore POS software offers an assortment of capabilities to streamline day-to-day operations, ranging from inventory management to handling exchanges and returns.
The right bookstore POS solution should feature industry-specific functionality for it to boost your bookstore efficiency and profitability. To get such a system, you need to consider such aspects as ISBN, and ISSN tracking, special orders, a multi-dimensional inventory grid as well as markdowns management capabilities.
Reviewed below are the top five bookstore POS systems you should consider.
Below we review the five top Bookstore POS Systems. Then, we recommend the best Bookstore POS system that gives you outstanding features at an affordable price.
Our Top 5 Picks for Bookstore POS Systems
| POS Name | Software Subscription Fees | Hardware Cost | Payment Processing Rate |
| --- | --- | --- | --- |
| | Starting from $99/month | Depends on the hardware components you need | Up to 2.90% + $0.30 for swiped transactions and 3.30% + $0.30 for keyed-in transactions |
| | Starting from $99/month | Allows you to use third-party hardware devices | Depends on your preferred payments processor |
| | Starting from $69/month | Works on third-party hardware components | Custom rates with interchange-plus pricing |
| | Starting from $75/month | Depends on the hardware components you need | Flat 2.7% rate per transaction |
| | Starting from $49/month | Quote-Based | Depends on your preferred card processor |
The Best Bookstore POS System Overall: Vend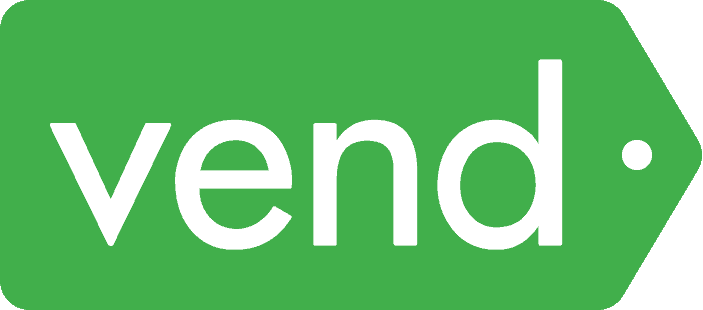 Despite being one of the most  affordable iPad-based POS systems in the industry, Vend is packed with a myriad of exceptional retail tools for a bookseller.
Some of the things booksellers have come to like about this POS system include:
E-commerce Integration
Vend integrated seamlessly with almost all the leading e-commerce platforms in the industry, allowing you to add your online store or create one in a matter of minutes. You will be able to integrate such platforms as Shopify, and  WooCommerce to your Vend bookstore POS system.
This offers your customers great experience online and allows you to manage your locations and sales centrally in real-time. You will also get a multi-channel inventory that syncs in real-time across all your business locations.
Multi-Outlet Support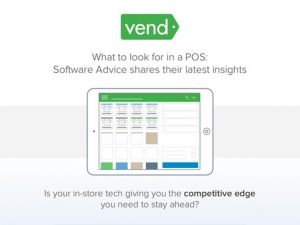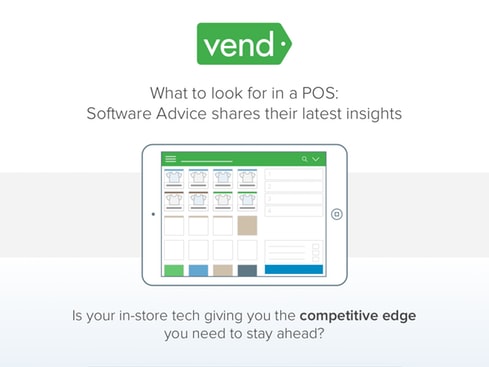 You will have an easy time scaling Vend to your growing needs as your business expands. With this POS solution, you will be able to add new users, registers, and even outlets.
With such a capability, you can manage the business, order and distribute your merchandise centrally.
The system is designed to synchronize data for all your locations automatically. As such, you can access all the information in one place for enhanced convenience.
Get FREE POS System Quotes
The Best iPad-Based Bookstore POS System: Lightspeed

The Lightspeed Retail POS system has been proven to be ideal for bookstores. Not only is the system easy-to-use, but it is also built to simplify business management for you.
With the Lightspeed bookstore POS system, you will have an intuitive, and straightforward way to manage your bookstore.
Some of the Lightspeed capabilities that have been proven to be beneficial to a bookseller include:
Stock Manager
Managing your stock is easier than ever with the Lightspeed bookstore inventory system. It allows you to add, edit or remove items in seconds. You may also import your entire existing catalog. Use tags to sort your inventory by genre, author or cover type.
Simple Order Processing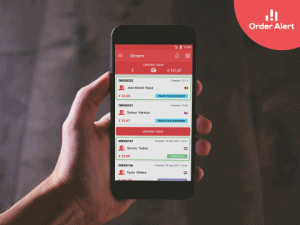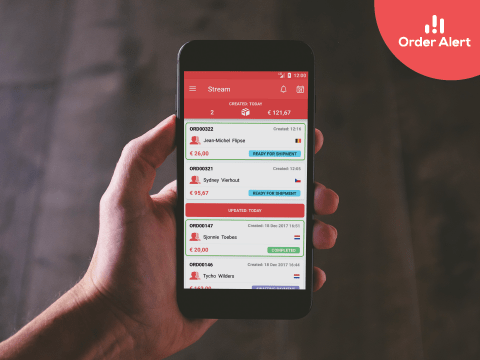 In order to save time and speed up operations, Lightspeed allows you to add items from multiple vendors into a single order.
For instance, you may add special orders onto your purchase orders and track everything directly from the LightSpeed bookstore POS.
Online Bookstore
Taking your bookstore online will attract even more customers to the business. Lightspeed helps you achieve this, this helping you to reach new customers and keep the sales rolling in during your off-hours.
The system will also offer you the convenience of managing your online and in-store bookstores from a central point. This is achieved by automatically syncing online and in-store transactions and inventory in real-time.
The Best All-in-One Retail POS System: Shopkeep 

Ranging from integrated payment processing, and customizable hardware options to feature-rich POS software, Shopkeep has everything you need to run a profitable bookstore. The solution features robust, time-saving employees, and inventory management tools.
You will also get a range of other bookstore-specific capabilities with the Shopkeep bookstore POS system, including:
Swift Transactions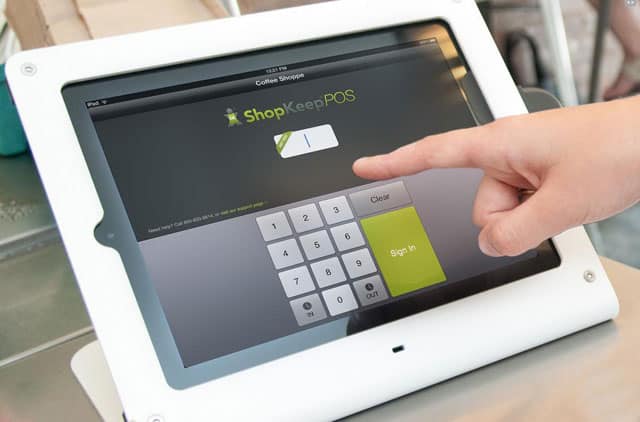 The software allows you to customize your register layout for optimal transaction speed. The integrated payment processor will ensure that you never miss a sale, with its offline credit card processing capabilities.
With such a solution, you can allow your customers to leave a security deposit or make partial payments towards items. With the intuitive Shopkeep register, you will also find it easy to issue refunds and process returns by your customers.
Simplified Reporting
Grow your bookstore profit margins and understand costs with precise, detailed data and real-time reports. The system is capable of generating a range of reports on the important business processes and store them securely on the cloud. You can access the reports remotely from your Smartphone or computer.
The Affordable Bookstore POS System: CashierLive

If you are looking for a POS system that is specifically meant for bookstores, you should consider getting the Cashier Live bookstore POS system. The solution is ideal for both independent bookshops and large chain bookstores. Some of the aspects you will come to like about this system include:
Short Learning Curve
The CashierLive bookstore POS system is rather easy to figure out, understand, and implement. As opposed to some of the leading POS providers in the industry, Cashier Live offers you everything needed to get a customer through the checkout service.
In this regard, you will get registers, computers, and payment processing hardware. The POS system also has other uses though such as bookstore POS inventory management and monitoring transaction records.
Multi-Store Support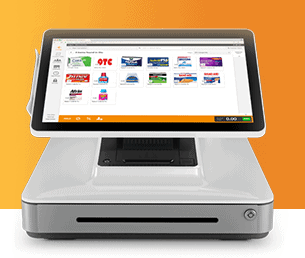 If you have a chain of bookstore outlets, CashierLive will make it comparatively easy for you to manage them. To begin with, its bookstore inventory manager is capable of tracking thousands of books and magazines across multiple locations with ease and in real-time.
With this system, you will also be able to print detailed receipts for each transaction you process.
For enhanced versatility, it allows you to accept a number of payment methods, at an affordable rate. These sales systems are versatile for booksellers, no wonder they are so popular today.
The Best Cloud-Based Bookstore POS System: Korona POS

Whether you are just starting out or own an established bookstore, Korona has the features you need to thrive in the competitive retail industry. From order automation, and vendor relations to Cashier reports and access levels, the system is packed with exceptional tools.
In addition to its theft prevention tools, and accounting software integration support, you will also like:
Reporting and Metrics
The cloud-based Cashier Live bookstore POS allows you to access important business data from any location and device. It includes detailed reports, featuring important retail performance indicators that are specific to your business.
These will, in turn, make it easier for you to manage your shelves, price products well, and run strategic promotions. It will also save you a considerable amount of time on back-office manage tasks every day.
eCommerce Integration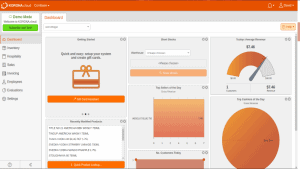 Not only does this system help your brick-and-motor bookstore thrice, but also presents your customers with an exceptional Omnichannel experience. The ability to integrate with an ecommerce platform opens a new income stream in your business, which will boost business exposure.
CashierLive e-commerce will supplement your in-store sales and allow for easy product and sales management for both channels. It will also keep your inventory consolidated and synced. Keep your shop relevant and thriving.
Factors to Consider Before Choosing a Bookstore POS System
As a bookseller, you will need a dedicated Bookstore POS solution with robust inventory management capabilities. It should make it easier for you to track and even restock a large book catalog. Cloud capabilities will ensure that your POS system can back up large amounts of data on the cloud, and allow you easy access from anywhere.
In most cases, music and Bookstore inventories contain numerous duplicates of an assortment of items. To keep things organized, most systems bookshop POS systems identify magazines and books using a barcode number, commonly referred to as the International Standard Book Number (ISBN).
If you are shopping for the best bookstore POS systems, here are some of the key considerations you need to make:
Functionality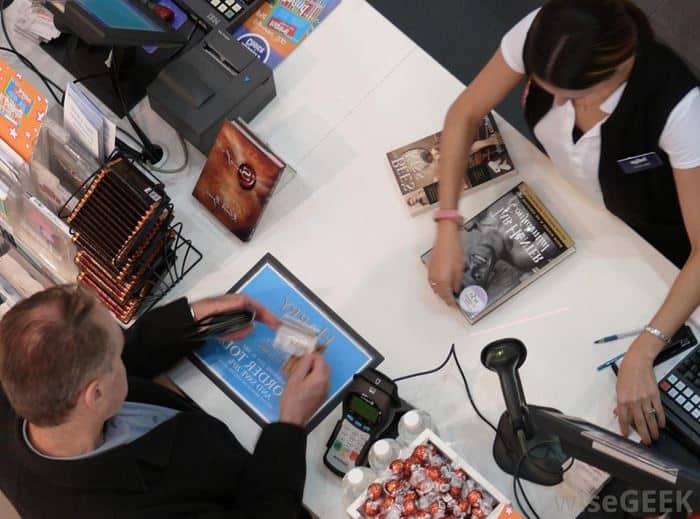 Rather than opting for the cheaper options, it is advisable to go for a point of sale solution that has bookstore-specific features and capabilities.
In addition to having the basic bookstore management and register capabilities, your preferred solution should also be suited to your business model.
Some of the basic features your preferred system should have include automated purchasing/receiving, customer relations management, integrated payment processing, marketing, and gift card capabilities. Some of the leading POS solutions for a bookstore also feature advanced inventory and employee management capabilities.
In addition to such standard POS capabilities, you should only opt for a solution that offers bookstore-specific features, including:
Textbook ISBN and ISSN Tracking
As opposed to conventional retail stores, bookstores use alternative SKUs to identify different inventory items. In addition to keeping things organized on your shelves, this feature will also present you with a detailed record for each item in your inventory.
Most of the leading bookstores use the International Standard Serial Number (ISSN), or International Standard Book Number (ISBN) system to identify their books and magazines. For CDs, cassettes, and albums produced after 1970, the leading stores use a Universal Product Code (UPC) to identify the product.
Your preferred POS system should be capable of entering and looking and the ISSN or ISBN number for any magazine or book in your store. The feature should also display product details for each item, including book title purchase date, and publisher. The system should make it easy for you to in Port such details into your bookstore inventory software as well.
As you may be aware, bookstores receive special orders regularly. As such, a POS system that features special order capabilities will come in handy. In this regard, the point of sale software you get should be capable of tracking special order items from the customer's order and even send notifications when the items are available.
For instance, it should help you keep track of books that are out of print that has been ordered by your customers. With most of the leading bookstore POS systems, this is carried out through the store inventory for the various transactions.
Just as is the case with many of the leading bookstores, you should be able to rent out different inventory items for varying periods. If you rent out books, magazines or digital content in your store, you should get a POS software that supports the same.
The solution should have a rental module with all the tools you need to capture rental items and customer details. It should also allow for efficient t tracking of the rental items from the date they were rented out until they are returned.
This will allow you to bundle/group certain items that are commonly bought together and price them together. With such a capability, you will be able to sell related items together, often at a price that is more appealing to your customers. For instance, you may group school supplies and textbooks together and sell then as a single unit.
A good number of book and music stores are known to run gift set packaging promotions from time to time. If you offer such promotions, your preferred system should support gift set sales as well. In such a case, the system should allow for the sale of gift sets for a single price while decreasing inventory levels for the individual items correctly whenever a gift set is sold.
User-defined Record Fields
To further simplify inventory management in your store, your preferred POS system should have user-defined record fields as an inventory tool. This capability is often meant to help booksellers keep an accurate track of item numbers (such as ISBNs) in their stores.
This tool may also be used to track other item attributes, such as author, publisher, textbook or magazine image, title, and edition.
Multi-dimensional Inventory Grid
The inventory manager on your bookstore POS system should be specifically designed to manage the stock in a bookstore. In this regard, a multi-dimensional inventory grid will come in handy. With such software, it will be easier for you to monitor stock items that have multiple attributes in your store.
For instance, you will be able to track such attributes as supplies and apparel width, style, color and size for one or multiple products.
Up-Sell and Suggested Items
This is a promotional feature that is designed to entice your customers to buy more items that are related to what they are buying. In most cases, the feature will automatically display a prompt to the customer, based on what he/she is buying.
This feature will make it easy and faster for booksellers to manage such things as group markdowns, quantity pricing, and multi-buy items. Some of the more advanced bookstore POS solutions will also allow you to manage promotional pricing and bulk discounts.
Non-Book/Non-Music Item Sale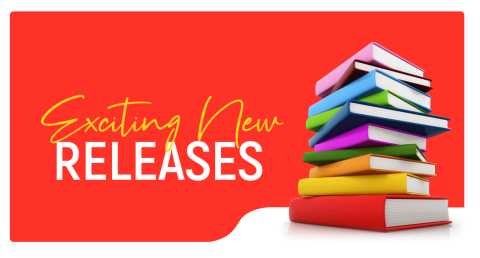 Do you sell Non-Book items in your store as well? If so, you should get a solution that supports the sale of such items, alongside books and music products. Some of the best solutions support the sale of such items as snacks, beverages, and toys in a bookstore.
The system should also allow for convenient access and lookup of the UPC library for CDs and other related inventory items. It should be capable of populating your inventory with descriptions and stock numbers right from the UPC library
Book Buying
If you also buy used books or music in your store, this feature will come in handy. It features an online database that is designed to help you ascertain the right price for each used item you are buying. The feature should also allow you to handle the transaction correctly, through general ledger and accounts payable.
Online e-Book Sale
If you happen to have an online storefront, you need to be able to sell e-books and music downloads in the popular formats. If your preferred bookstore software has online capabilities, it should be able to handle digital rights management (DRM) and royalties.
A solution that allows integrating your online storefronts, such as Biblio or Amazon, will also be great for your business. The integration of the POS system to your ecommerce platform allows you to diversify and reach more customers.
Final Verdict
All in all, the right bookstore POS system should feature a multi-dimensional inventory grid, Non-Book item sale, bundled product, and textbook number tracking capabilities. If you are shopping for the best point of sale system for a small-to-medium-sized bookstore, you should consider getting Shopify or Vend.
By allowing you to integrate with the leading e-commerce platform, these POS systems make it easy for you to sell online. As you have learned above, the ShopKeep bookstore POS system is only suited for a comparatively smaller bookstore that has a limited inventory. LightSpeed bookstore POS system, on the other hand, is suited for medium to large bookstore businesses.
Most of these retail POS systems feature a free trial period and offer a choice of affordable subscription plans to suit your business needs. Regardless of your specific business needs, this guide will help you choose the best bookstore POS system.