(Last Updated On: April 4, 2022)
As a bookstore owner, one of the keys to your success always involves keeping exactly the right inventory on hand at all times. The reading habits of your customers will change on a regular basis and it isn't enough to simply stock a wide variety of titles.
By using a point of sale solution, you'll be able to track hot new releases and manage your high level of inventory. Capitalize on current market trends that'll make your bookstore stand out. Without the right point of sale solution, you won't be able to generate reports from the software that will provide this level of actionable insight.
Likewise, a bookstore POS system can make the process of tracking both the costs and profits for products sold easier than ever. Not only that, but you'll be able to simplify your ordering process, spend less time in your back office, and integrate your physical store with your online store with an e-commerce solution.
With 20% of all book sales still being purchased in-store and more than 2,000 bookstore locations nationwide, these types of businesses still matter. Though the industry is shrinking, with a yearly turnout of nearly $10B, bookstores can't afford to ignore the use of software to survive and improve their operations.
But what is the best bookstore POS system, you ask? It's undoubtedly the MicoBiz, one of the fastest growing and most report-driven, retail-based POS systems. It offers exceptional reporting and analytics, sophisticated inventory management and other important features that will drastically improve your customer's experience.
In this guide, we'll cover the top features and drawbacks of a number of POS providers. Our goal is to help you increase your bookstore's profitability and efficiency moving forward.

Our Top 6 Picks for Bookstore POS Systems
POS System

Starting Software Cost

ISBN Tracking

Our Score

$60 / month

✓

5.0 / 5

$29 / month

✓

4.9 / 5

$175 / month
[Includes every feature the system offers.
Best suited for large bookstores]


✓

4.8 / 5

Quote-Based

✓

4.6 / 5

$49/month

✓

4.3 / 5

Quote-Based

✓

4.0 / 5

1. MicroBiz: Best Overall Bookstore POS System

MicoBiz, founded in 1989, was one of the first POS manufacturers to start offering systems for various retail verticals. This is good news for bookstores, because although there are hundreds of retail POS systems available, it's not easy to find a POS system that can meet the needs of a traditional, brick-and-mortar bookstore. 
Two Systems Made for Bookstores
The company offers an installed and a cloud-based version of its system. Here we focus on the cloud-based version as it has more features and is cheaper.
ISBN Tracking
Unlike 99% of retail goods, books don't use standard stock-keeping units (SKUs)—commonly known as barcodes—as product identifiers. Instead, they use (International Standard Book Numbers (ISBNs). They are essentially the same as barcodes but are stored and tracked in a different database that only stores ISBNs.
MicroBiz supports ISBN tracking, including textbook ISBNs. To scan a book at the point of sale, or to scan new books into your POS system inventory count, you must scan the ISBN. A regular SKU scanner won't register ISBNs. A bookstore POS that can't scan ISBNs can't monitor the movement and sale of its products. 
Why ISBN Tracking Is so Important
The alternative is to enter each title into your system manually, completing all the necessary data fields like author, publication year, publisher, edition, etc. That's just not practical or efficient for bookstores, which normally carry tens of thousands of inventory items (different books). 
MicroBiz offers some of the best ISBN tracking features available. Just scan the book's ISBN code and all of the book's information is automatically entered into your system, saving hundreds or thousands of man-hours.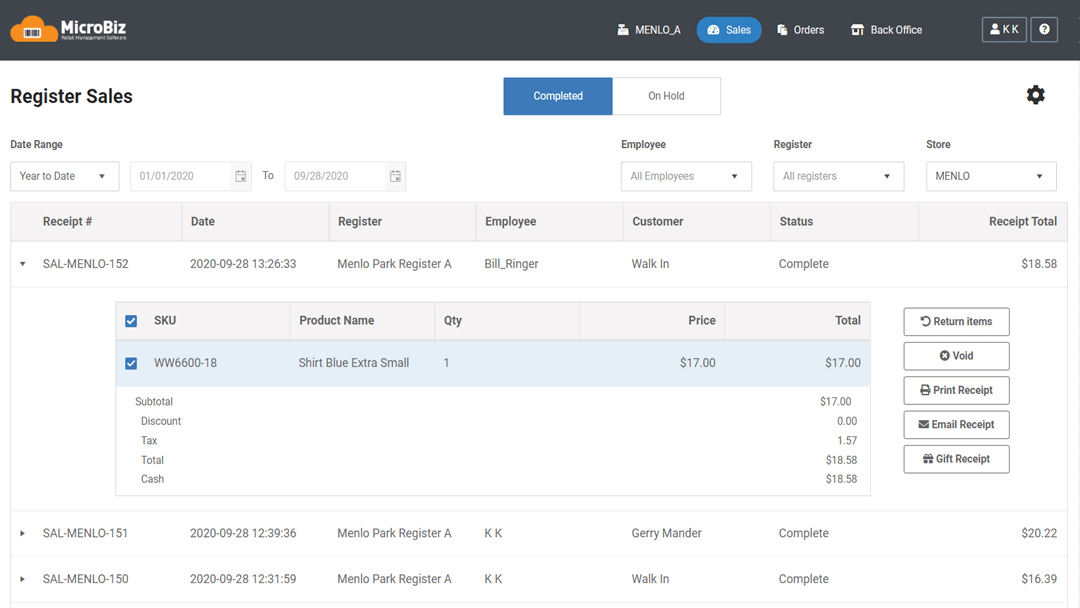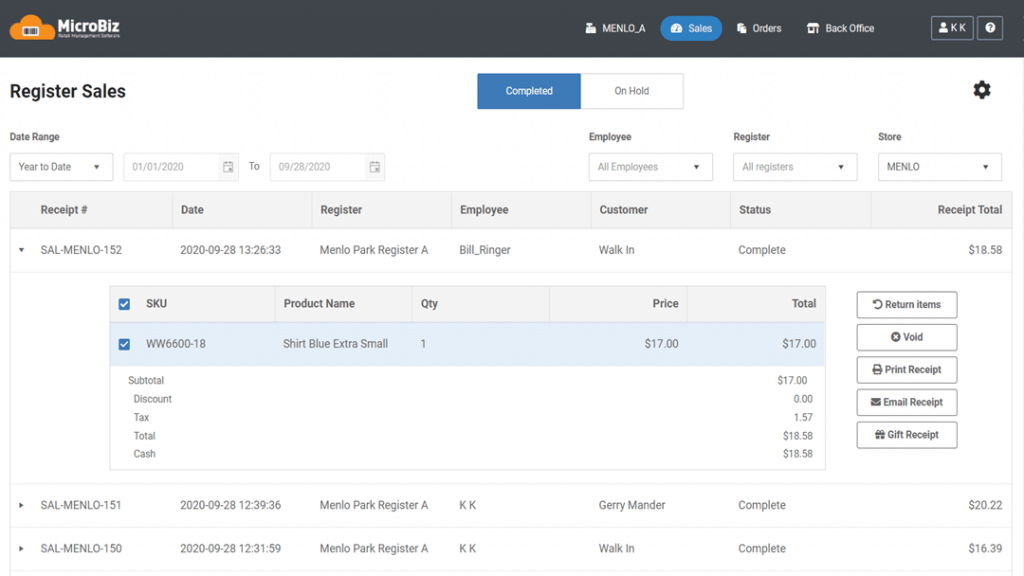 Bookstore-Quality Inventory Management
Along with ISBN scanning and tracking, inventory management is among the most critically important features in a bookstore POS. 
Bookstore's shelves are filled with tens of thousands of books, so any old inventory system won't do. Virtually every retail POS system includes inventory tracking. Unfortunately, the majority don't deliver at the quality bookstores require.
Inventory Matrix Grids
These allow you to view variations of your stocked items, like different editions of the same book or hard and softback copies of the same title. MicroBiz delivers an inventory matrix that allows users to more find the exact item they're looking for rapidly
Automated Inventory Data Entry with ISBNs
MicroBiz allows you to scan a new shipment of books and populate the system with loads of data in a flash. If you receive 50 copies of Brave New World, just scan the ISBN of one copy, enter the number of copies you received, and the system fills the system's inventory with all the data instantly.
2. Shopify: Best Bookstore POS for eCommerce

Naming Shopify the best bookseller software for eCommerce was a no brainer. Shopify started as an eCommerce platform and only later branched out into the POS space. The system isn't specifically made for bookstores (on paper) but it more than fills their needs.
eCommerce Capabilities
Why wouldn't we start with Shopify POS's eCommerce capabilities? It's POS offers the strongest eCommerce features in the industry. Shopify's eCommerce capabilities are so seamlessly integrated into its POS system that a teenager could operate the system. Let's break this down a little for you.
eCommerce Store Builder
Building your win eCommerce site in Shopify POSS is child's play. The intuitive interface with drag and drop functionality lets you add the features you want in no time. You get to choose from over 70 pre-formed website templates (or "themes") and all you do is populate each page element with the text, colors, or images you want.
Modern Design
Your Shopify site is mobile-friendly, allowing customers to browse your books on their mobile devices. Smart move, because mobile devices overtook desktops in terms of internet usage back in 2016 (Source). Shopify is ahead of the pack there.
Secure Payments
Plus, Shopify users can accept credit card payments directly without having to go through a third-party account. Moreover, if you use Shopify for your bookstore, you can choose from over 100 payment gateways, so the security of your customers' data is front-of-mind for the company.
Built-in SEO Tools & Marketing Automation
Shopify understands online commerce. It includes search engine optimization (SEO) tools to ensure your site ranks higher when someone searches for an online bookstore. Plus, with built-in marketing features, your eCommerce site is sure to gain visibility quickly.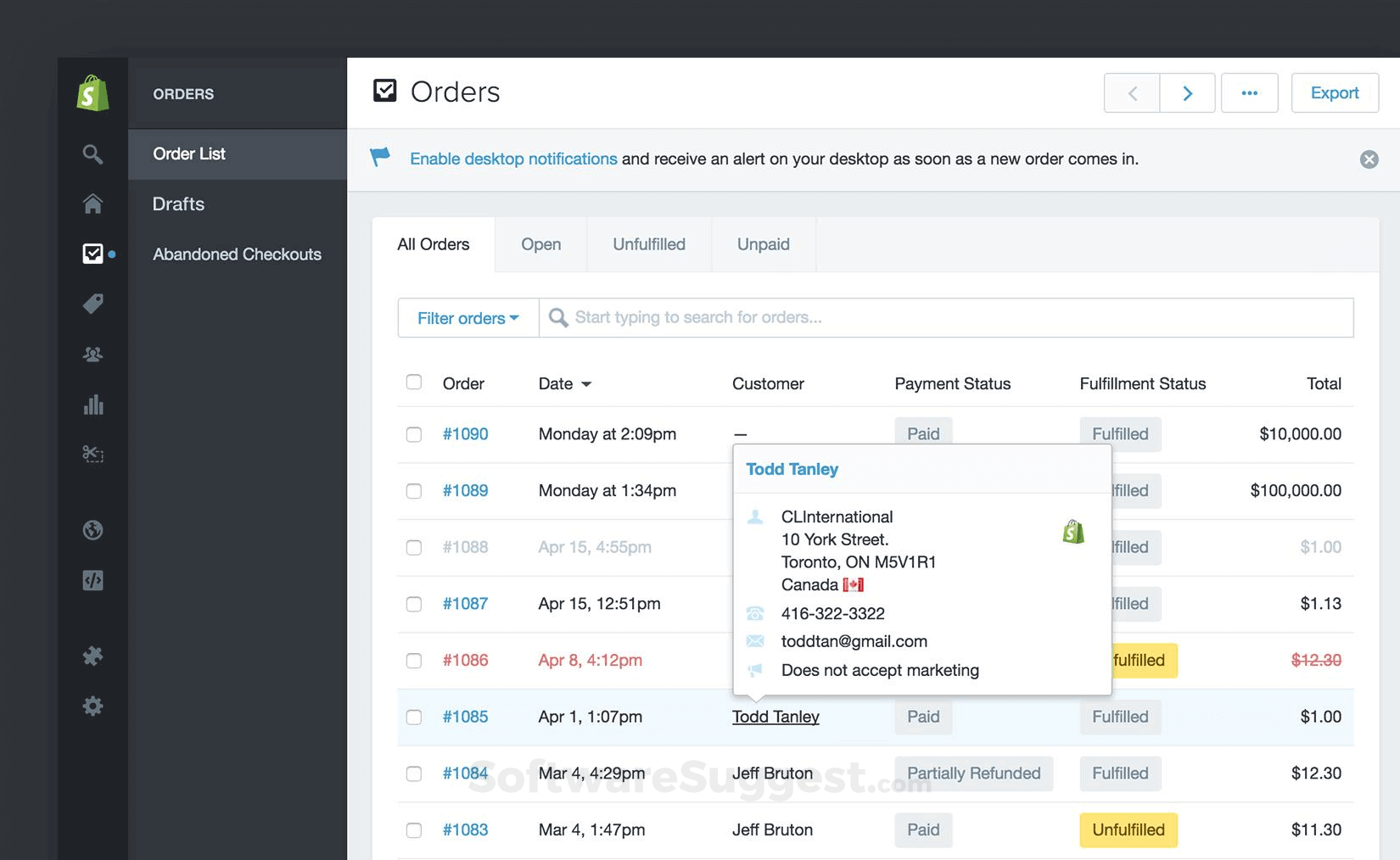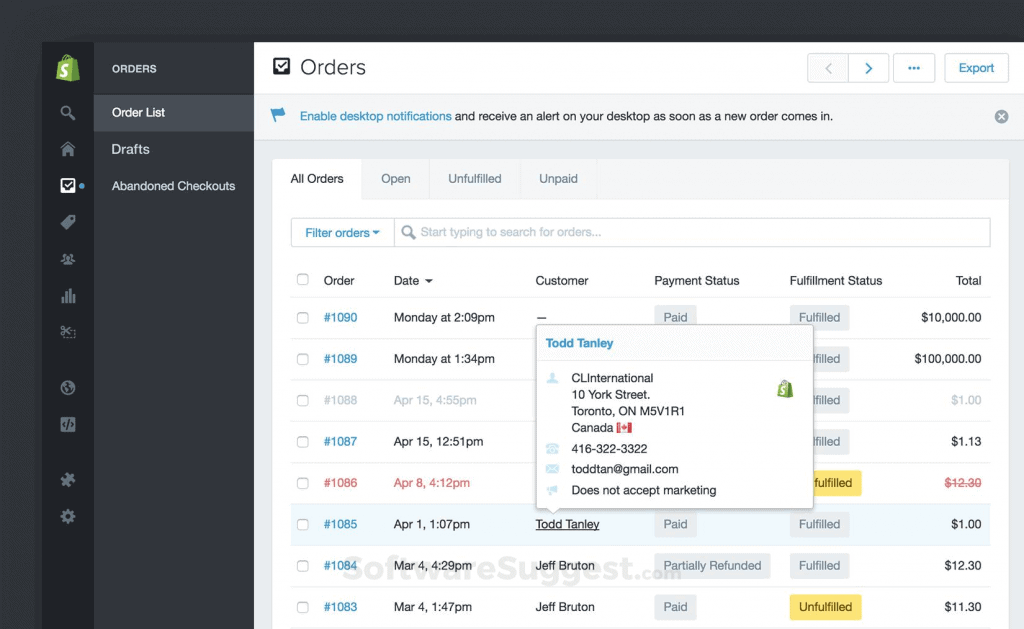 ISBN Tracking
Shopify doesn't include ISBN tracking as an out-of-the-box feature. But it can very easily be customized to scan and track ISBN codes. With a few simple steps, you can configure a barcode scanner to recognize ISBNs and populate your system's inventory with the associated data. 
So, although Shopify wasn't exclusively made for bookstores—nor does it claim t offer a "bookstore POS system," it certainly meets bookstores' needs. Many retail POS vendors in the market list bookstore-specific POS systems on their websites that can't complete one of the most important functions a bookstore POS should include.
3. CirclePOS: Most Diverse Bookstore POS System

CirclePOS is one of only two POS system providers on our list that make one system and one system only—a bookstore POS. While MicroBiz is our top pick, the company also offers POS solutions for a variety of retailers, like sporting goods, apparel, gun stores, etc. 
CirclePOS focuses on one type of retailer only. Its feature set is 100% developed for bookstores. Companies that don't try to be everything to everyone might not gain the same brand recognition, but they do tend to produce superior products. Let's see what CirclePOS has to offer. 
Circle Community Database
Any bookstore that uses CirclePOS has access to all the books that other Circle customers have uploaded to their systems. This is a great idea, and we haven't seen it before in another system. If you need to look up the details of a book you don't stock, odds are you'll find it in the Community Database because some other customer does stock it. 
Supports Any Product
Many bookstores now sell other items besides books—such as drinks or accessories of some type. If all your system has is an ISBN scanner, you won't be able to sell these other items. CirclePOS is configured to process transactions around the sale of any type of product you could think of. 
Custom Fields
When you do sell various types of products and have a diverse bookstore, it's helpful to be able to create custom fields to store data that the system is not set up to accommodate. CirclePOS does just that. It gives you unlimited custom fields to mold the system to speak your store's language, follow its unique processes and gives you absolute freedom in how you manage operations. 
Too Many Additional Features to List
The truth is that CirclePOS could be at the top of this list in a few years. It's just such a niche system with little brand recognition that few in the POS space know about it. 
Its feature set is vast and they are all developed with bookstores in mind. A few of those features include:
eCommerce website building capabilities and integration

Comprehensive inventory control—the type you'd expect from a bookstore specific POSS system

Customer loyalty programs that keep customers coming back for more.

Robust reporting and analytics, with a specialty in sales reporting 

Built-in accounting features, which is a rare feature in POS systems

Multiple store management capabilities

Features developed for book publishers and wholesalers

Franchise bookstore features
4. POS Highway (NCR): Best POS for Large Bookstores and Chains

POS Highway has been growing in popularity over recent years. It delivers a bookstore-specific POS system with plenty of bells ad whistles. Part of the reason for its recent surge on the scene is the fact that it partners with NCR Counterpart, owned by NCR Corporation. How does it support bookstores?
Handle Enormous Amounts of Stock
Even smaller bookstores carry large amounts of stock. When you start talking about Barnes and Noble, you're talking about hundreds of thousands of books in a single store. How do you manage all of that? You need a system with the capacity to manage stock rooms that look like distribution warehouses.
POS Highway allows you to do this. Not only does it facilitate managing such a large inventory, but you can easily search it in the system to see what's available. Search by ISBN, title, and more.
Track It All
It doesn't matter if you sell liquor in your bookstore, POS Highway can track the inventory levels and sale of any kind of product your bookstore sells. 
The system supports ISBN tracking, lets you create custom fields, and updates all data in real-time for everyone in your business to see. POS Highway facilitates collaboration like no other.
Reporting and Analytics
Data collection, metrics analysis, and reporting are essential to the success of bookstores. You need to know what's moving the needle and what's not to make informed growth decisions. POS Highway lets you report on everything from sales, customer types, inventory levels and turnover rates, employee performance, and more. Plus, it's all visible from a single, customizable dashboard.


Korona is widely known to have a great bookstore POS system and to be sure, the system is solid in many ways. It delivers high-quality inventory management which is important for bookstores.
You also get multiple location management capabilities, automated reordering of depleted stock, and solid reporting. However, there's one important thing missing which we discuss below. However, the system delivers enough value to make our list
Customer Relationship Management (CRM)
Basil makes it easy to manage customer relationships. It comes loaded with features that engage customers and make the purchase process easier for them. While at the same time letting you form better relationships with them. 
Similar Book Suggestions
Korona takes CRM a step further by offering value-added CRM capabilities. For example, you get on-screen popups at the point of sale that alerts you when a repeat customer arrives with a list of similar titles based on system tags that group books from the same genres.
Customer Loyalty Programs
You generate loyal customers and maintain increasingly close relationships with repeat visitors when you use Korona. You can choose to implement a point-based system, membership discounts, or a more advanced loyalty solution with special offers and other rewards.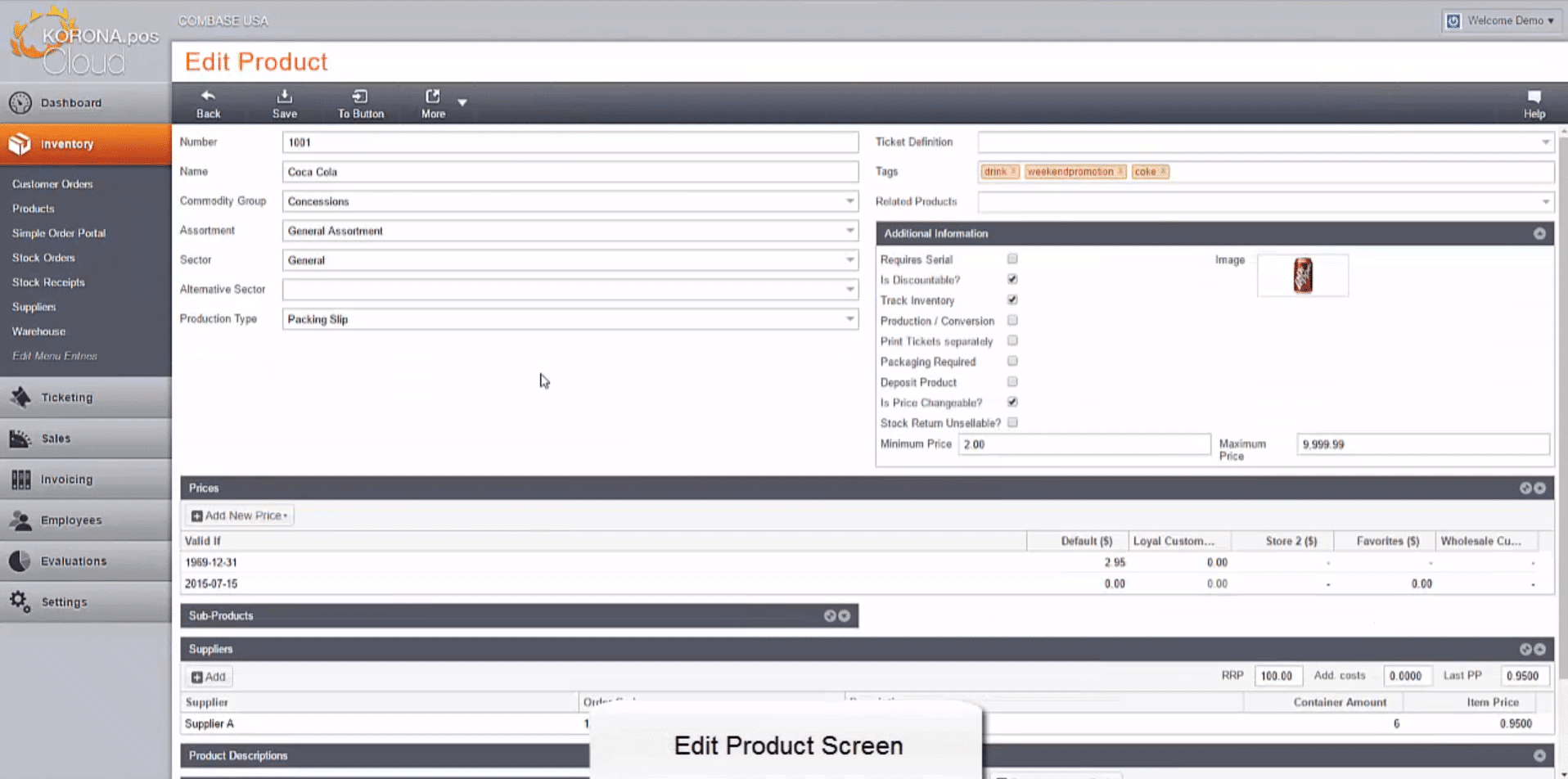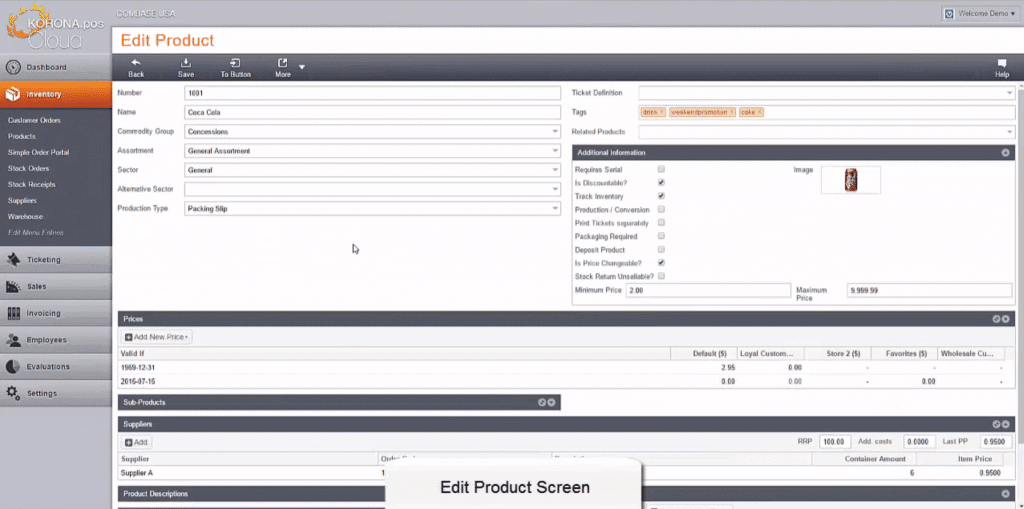 Downside of Korona
The only downside for bookstores that invest in Korona is that the system isn't set up to process ISBN codes. Instead, you'll need to find a scanner that can process ISBNs and integrate it with the system. Then, speak with the company for assistance in creating a custom configuration that allows you to house and automatically populate your inventory with book detail once an ISBN is scanned.
6. Bepoz: Best POS for Startup Bookstores

Bepoz is a POS producer that sells solutions to various types of retailers. They do make a bookstore POS. The company sells two versions of its software, one for smaller operations and one for larger operations with multiple locations. 
ISBN Processing
Bepoz is set up to scan, track, and manage ISBNs to streamline the inventory of your bookstore. It can also handle multiple other types of barcodes such as SKUs and more. You can use Bepoz to manage your book inventory and sales as well as any other type of product your store wants to sell. 
No Contract or Upfront Costs
This is a cloud-based system that you pay for on a monthly, subscription-fee basis. The company requires no contracts, and you can cancel at any time. This gives you the freedom to switch vendors if you decide Bepoz isn't the system for you.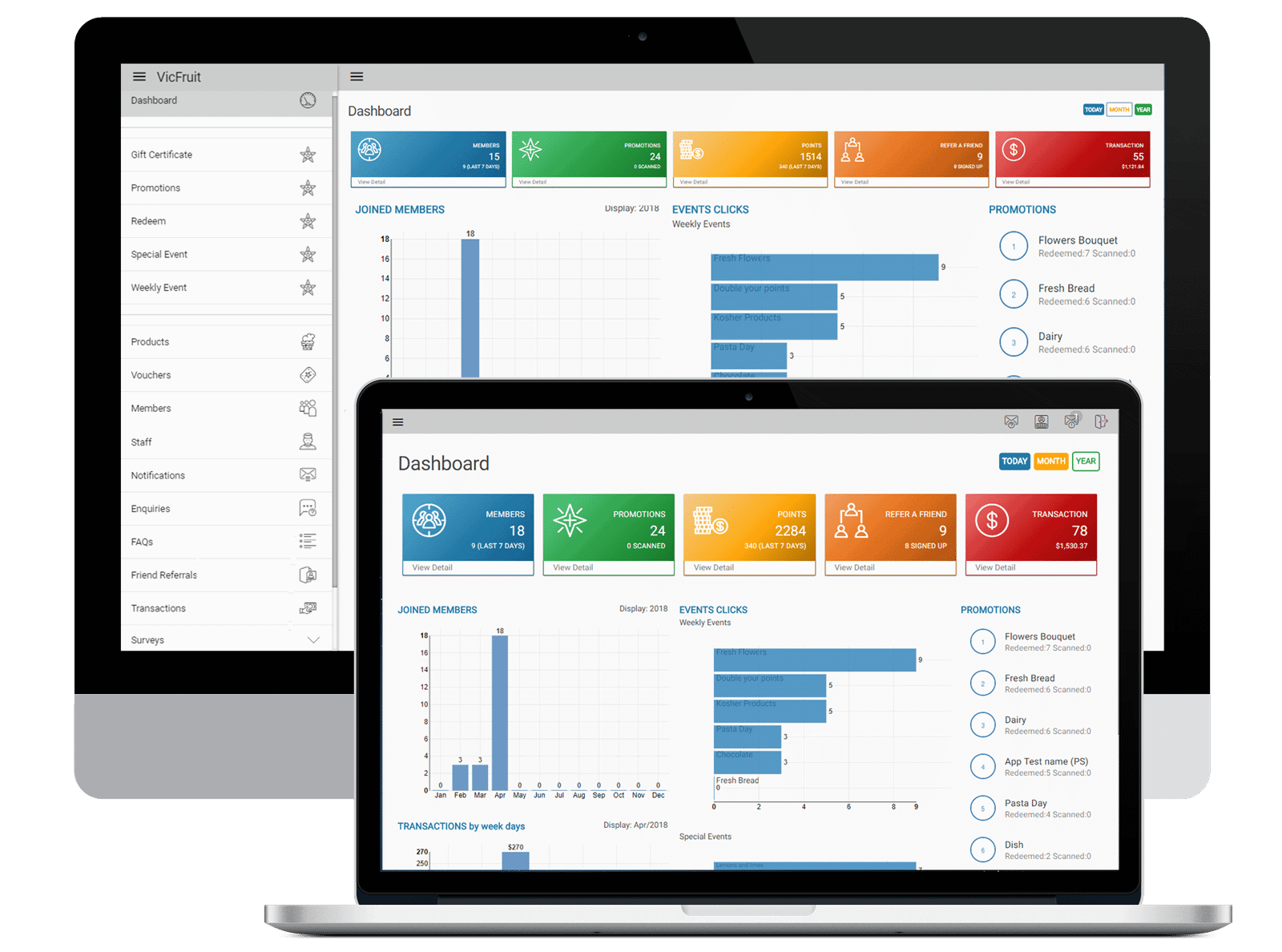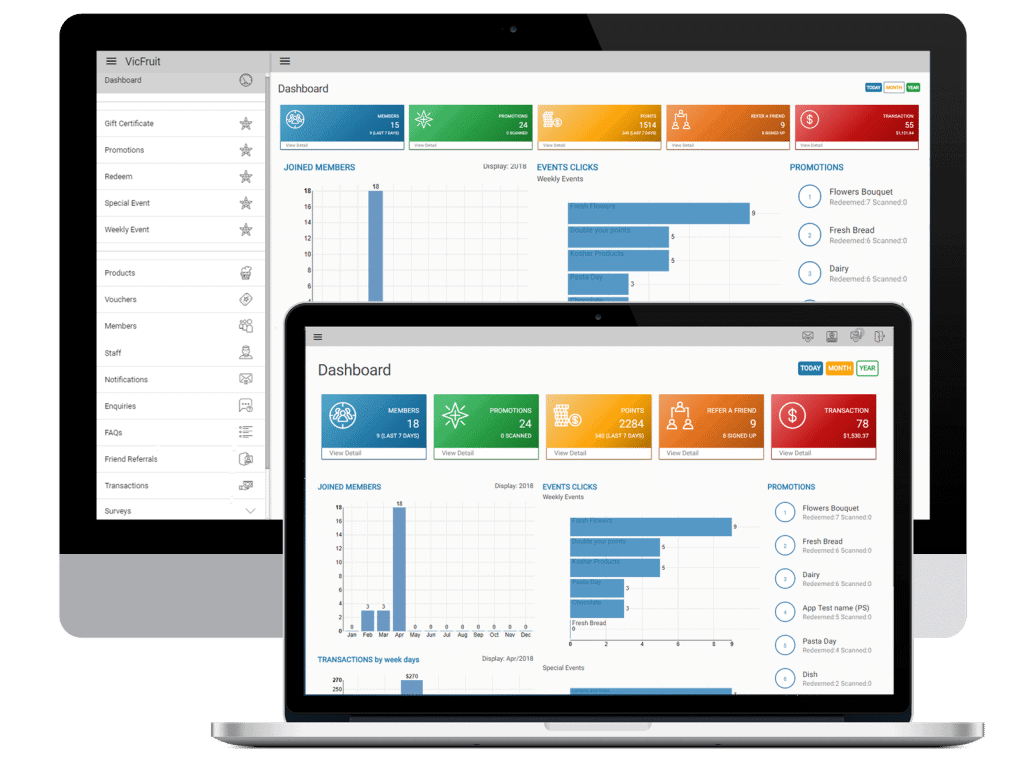 Scalability with Multiple Store Management
Do you own or manage various bookstores? If so, you want to be able to manage all of their data from a single system. Bepoz allows for this with its robust multiple store management functionality. Users can manage the data and operations for all stores from one centralized system. 
Bookstore owners can access the cloud-based system from anywhere to monitor book and other product inventory levels across all stores. Plus, they can complete many other system functions and run reports anytime from anywhere.
Buyer's Guide: Why You Need a POS and What to Look for 
Bookstores are among the last types of retail businesses to adopt POS technology. There's always been something inherently old-fashioned, or traditional, about them and anyone who's been in one understands has felt it. 
Why Having a Bookstore POS System is a Must?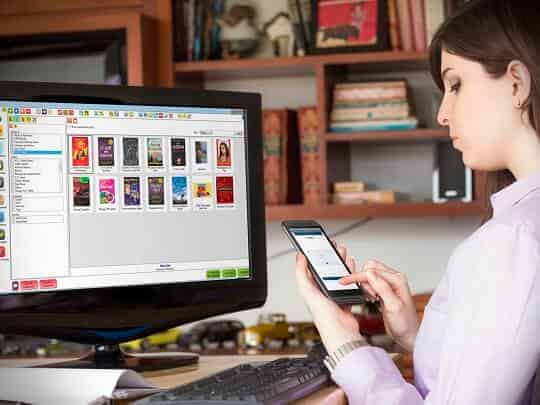 The bookselling industry changed radically when Amazon arrived on the scene, posing an instant threat to bookstores everywhere. This has forced brick-and-mortar bookstores to evolve to survive.
The Evolution of the Modern Bookstore
Traditional brick-and-mortar bookstores have been forced to make changes in the way they operate. One of those changes is that many now offer other items, such as apparel or stationery. Some have opened coffee shops inside their stores. 
Others have made the intelligent decision to open an online, eCommerce store so they can compete with online bookseller giants. But the most important and impactful changes they've had to make is a shift to using POS technology. 
If your bookstore doesn't move to a digitally-operated business model quickly, its days could be numbered. If you're still using a paper-based process, now's the time to start looking for a POS system.
But How Do I Know Which System to Select?
This is a challenge, particularly for bookstores, because although the retail POS market is saturated with options, very few of them offer the features bookstores need to streamline and automate operations. 
To complicate things further, there are very few bookstore-specific POS systems available, so the evaluation process is tricky. But don't worry, we're here to guide you through the evaluation and selection process. 
This comprehensive buyer's guide takes into account every need bookstores have and highlights the features you need to maximize the ROI from a bookstore POS. Below, we dig into the features you should look for when searching for the right system for your bookstore. We'll ensure you find the system you need to take on Amazon and the rest of the competition. 
Key Features You Need in a Bookstore POS System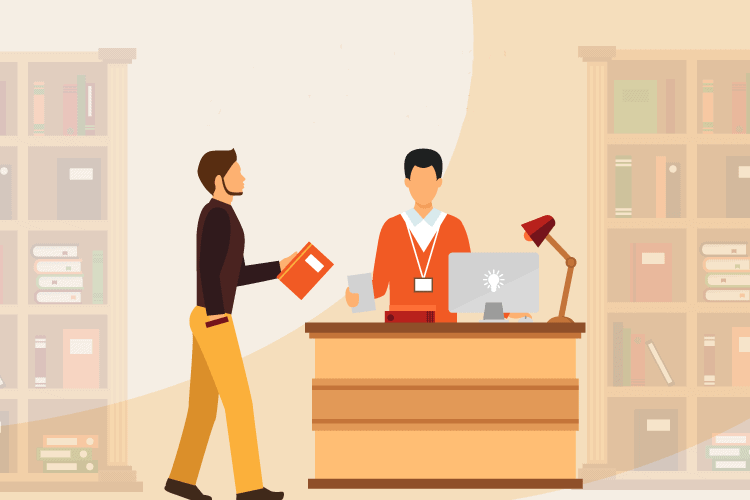 Retail POS systems come with standard functionality that is common in nearly every system you'll look at. This includes secure payment processing, basic inventory management, sales tracking, some level of reporting and analytics, customer support, etc. 
After that, retail POS systems' feature sets vary, with some including additional features out of the box and others charging an extra fee for them. But it's typically possible to get these additional features, whether you pay extra or not. 
Then, some features are only available in POS systems built specifically for bookstores. Without those features, your system won't improve your results in the same way that a bookstore system will. Below we dig into core features you need to increase efficiency, productivity, and revenue at your bookstore.
Superhero-Level Inventory Management
Every retail store needs an efficient process for counting, tracking, and ordering inventory. Inventory management is part of daily life for retailers. When inventory is counted and tracked manually, it's a time-consuming process that pulls employees away from higher-value tasks and reduces the overall efficiency of your business. 
So, inventory management features are important to retailers. If you take that importance and multiply it by 10, that's how important inventory management features are for bookstore POS systems. 
Some bookstores carry up to 50,000 books or more. Plus, many now offer other items like coffee or gift shop items. Bookstores need more than basic inventory control features. They need super robust inventory features. 
Inventory Grids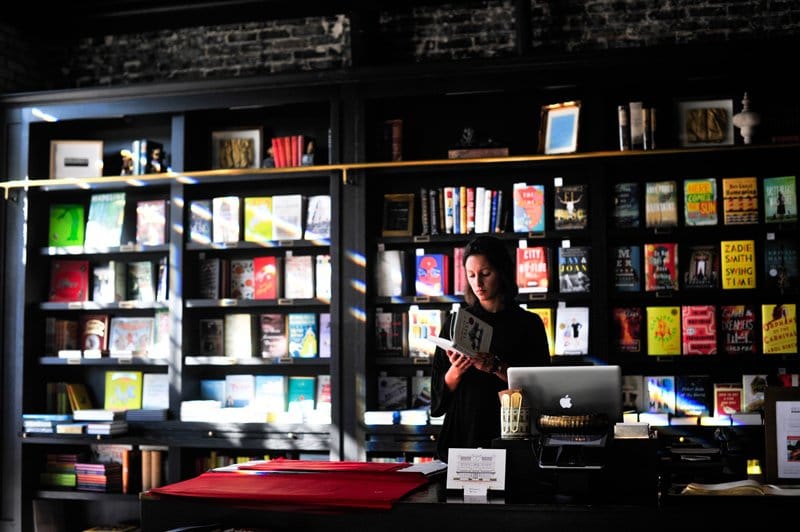 You'll want to look for a system that provides you with an inventory grid. Inventory grids give you an easier, more intuitive way to view and check the status of your inventory. 
They allow you to manage multiple variations of the same item such as different versions of a book or hard and softback editions. his feature will make it easier for you to manage such multi-attribute items as supplies and apparel width, style, color, and size attributes.
ISBN Tracking for Easy Inventory Population
With so many items, you'll want to be able to populate your system with inventory quickly so you don't spend hours manually entering data or going through tons of steps to complete the process. Books use a unique identifier called an ISBN, which stands for International Standard Book Number. They look like barcodes but are filed in a separate database. 
The best bookstore POS systems let you use a scanner to scan a title's ISBN. Once scanned, you can enter the quantity of that particular book you have. Then, your system should automatically pull in all of that book's information—such as author, title, publication date, edition number, and so on. All that should then be reflected in your inventory count.
PRO TIP: Look for a system that supports textbook ISBN inventory tracking as well as ISBN tracking for regular novels and non-fiction books.
eCommerce Sites or Integrations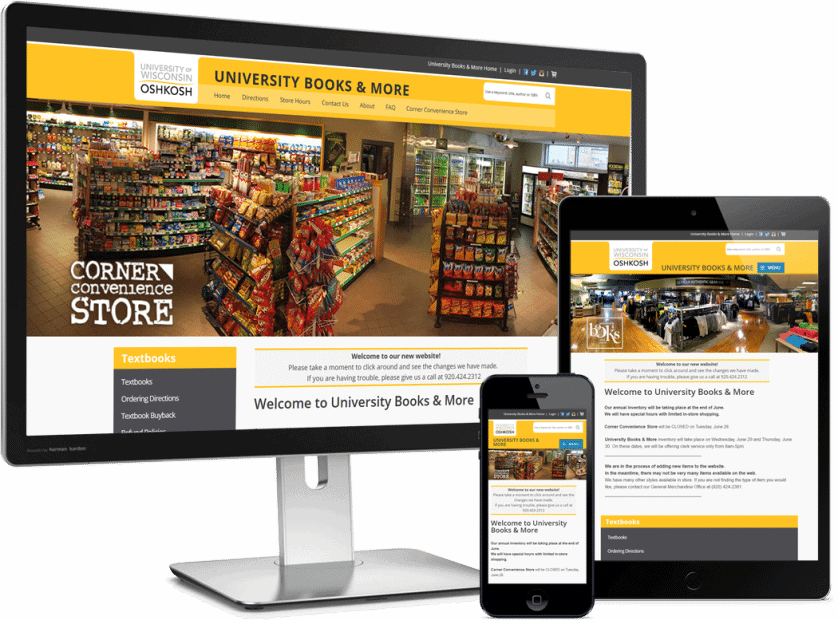 Having a visible online presence is increasingly important for bookstores. As more people shop online, you need to be able to be there competing with them, and having an eCommerce site allows you to do that.
Putting your books and other products online will maximize your brand exposure and increase revenue. Customers can shop any time f the day or night. Some systems come with built-in eCommerce capabilities and others require you to integrate with an eCommerce app. Be sure your system offers one of those two options. 
PRO TIP: When evaluating the eCommerce capabilities of your POS system, remember to ask the vendor if all sales and inventory data sync seamlessly between your online and brick-and-mortar store. For example, if someone purchases three books online, three books should automatically be subtracted from your inventory levels.
Customer Loyalty and Rewards Programs
Bookstore customers frequently return to the same bookstore regularly. They find a store they like and when they want to buy a new book, they return. They tend to be loyal to one store in particular so it's helpful to reward them for their loyalty.
Customer loyalty programs let you reward repeat customers for their loyalty by giving them incentives to keep coming back. The best bookstore POS systems facilitate this. Each time a customer buys something, your system's CRM capabilities stores this data and adds points to their loyalty profile. 
When they accumulate enough points, they become eligible for some sort of reward, whether that's a discount, special offer, etc. The next time that patron returns to make another purchase, your system should automatically apply those points and activate the discount at the point of sale.
Customer Relationship Management (CRM) Features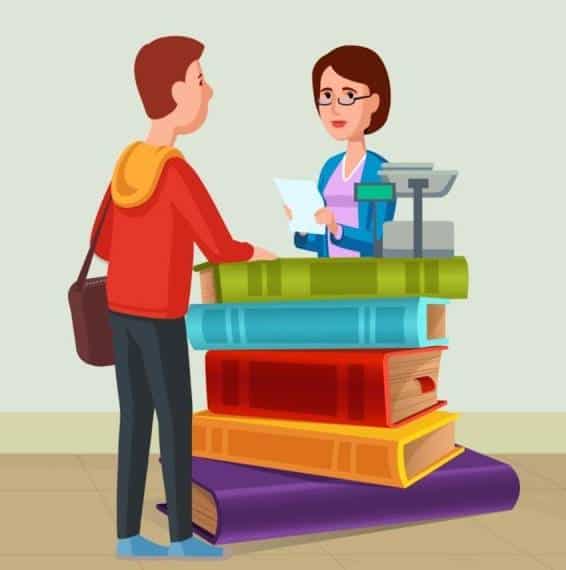 CRM features let you transform one-off buyers into loyal customers who provide you with recurring revenue. A CRM module collects and stores a variety of customer data. This includes their purchasing patterns, book genre interests, demographics, frequency of purchases, and more. This lets you get to know your customers on a personal level.
Why is this important? The better you know your customers, the easier it is to sell to them. All the demographic and behavioral data stored on each customer lets you tailor your interactions with them to align with their interests. This makes them feel more valued, resulting in a better overall customer experience. As a bonus, that customer data comes in handy when you want to effectively run marketing campaigns.
Marketing Features
Your CRM data is extremely helpful when it comes to marketing. If you have CRM and marketing features in the same system, you can pull CRM data into marketing emails for highly-personalized campaigns.
You can also use demographic and behavioral data to run segmented campaigns. For example, if one customer is a 70-year-old woman whose life revolves around baking and all she buys are recipe books, there's no point in including her in a marketing email blast informing customers about your current discount on books about religion or graphic novels. 
Support for Additional Product Types
AS we mentioned above, many bookstores have added non-book items to their list of offerings. Whether we're talking about clothing, toys, or food, if you offer anything besides books your system needs to support the sale and inventory tracking of those items. 
Shipping and Delivery Capabilities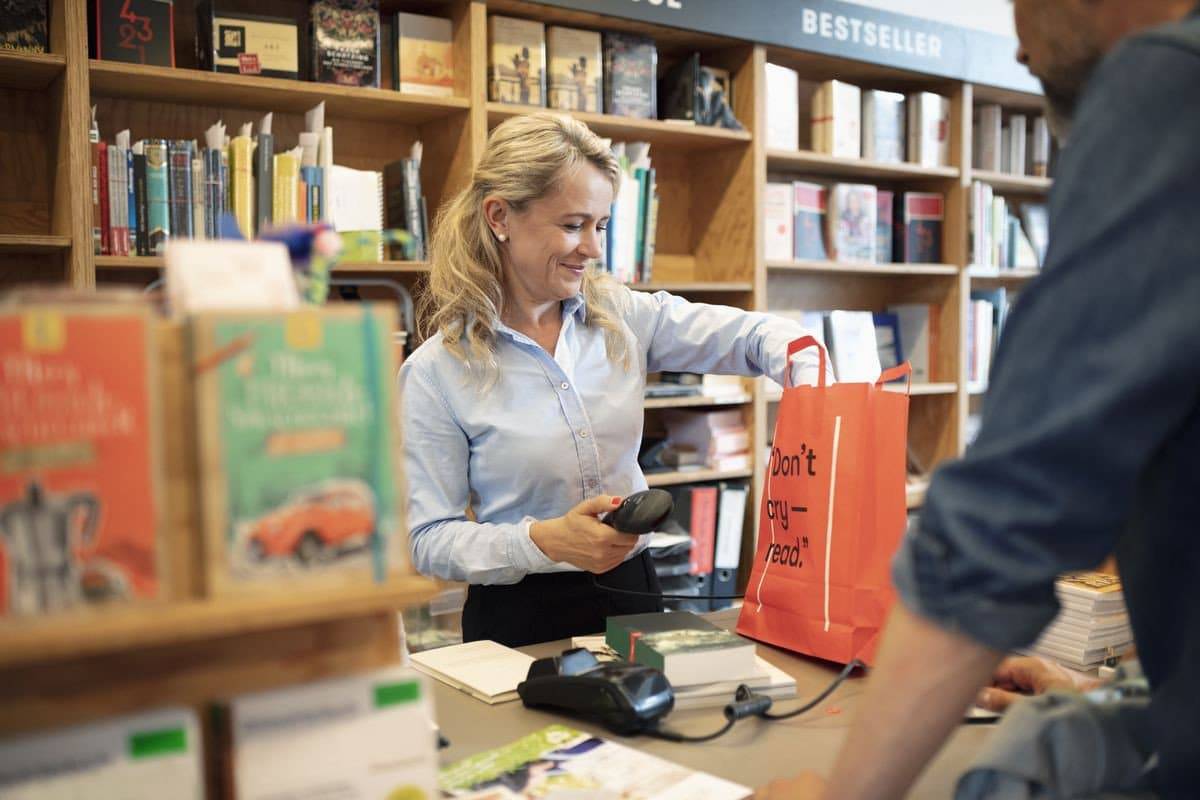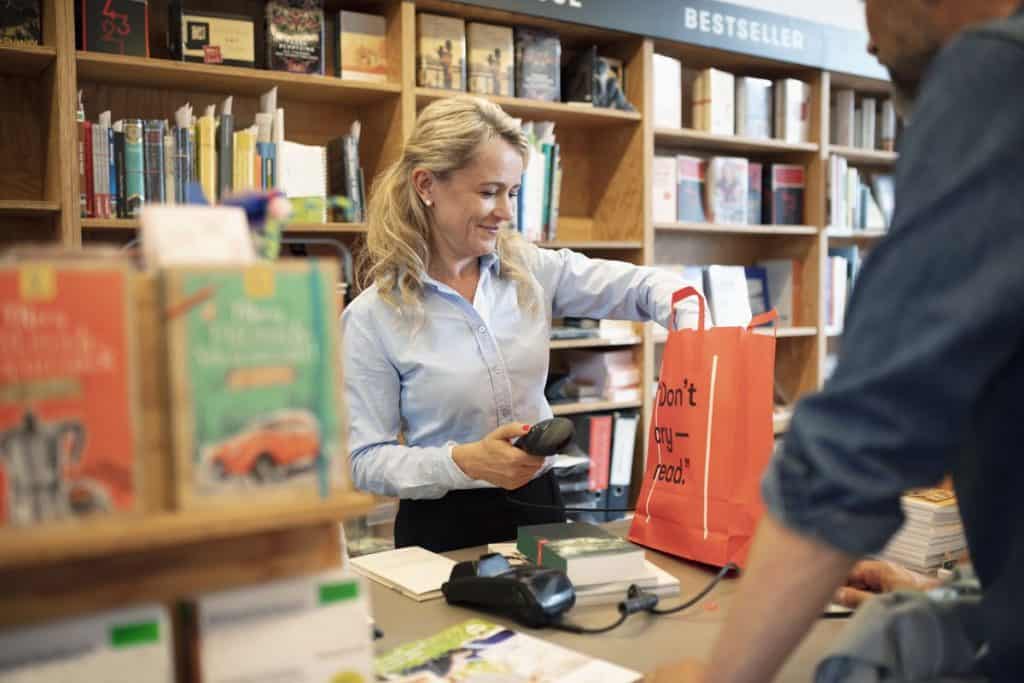 It goes without saying that if you have an online eCommerce store you also need to ship or deliver purchased items to the customers who bought them. You also need a way to facilitate in-store pick-up as some customers will want to take that route.
You could do it all manually, but that would be super time-consuming. Instead, look for a system that supports delivery, shipping, and pick-up automation. This will save you loads of time and help you generate the greatest return on your investment in an eCommerce store. 
Automatic Tax Calculation
If you have an online store, you want to make it as visible as possible. If someone across the country happens to find your site and orders something from it, that item will likely be taxed at a different rate than in your state. 
Because the purchase is taking place online, this can't be done manually. Your system needs the ability to automatically calculate tax based on location and factor that into the total due for that sale.

Customer and Out-of-Stock Orders
It's inevitable that at some point a customer will come to our store looking for a book that you ran out of and don't currently have in stock. It's equally probable that someone will request a little-known book that you don't carry because there's no demand for it. 
However, you want to please your customers, regardless of how unusual their request is. That's why it's smart to look for a system that allows you to easily order items that aren't on your normal purchase orders as well as place expedite orders for books you stock but currently don't have in stock.
Which System Would Work Best for You?
Depending on your bookstore's unique needs—and there are many different types of bookstores—the right system for you would vary. If you want a solid POS with all the features, you'd need to streamline operations, at an affordable cost, MicroBiz would be a good choice for you.
If you run an entirely online bookstore or want to expand your online eCommerce presence, Shopify is hands down your best bet. If you're willing to pay the price to have every system feature imaginable in an easy-to-use system that can manage everything from a small bookstore to a distribution warehouse, CirclePOS is worth a closer look.
Massive bookstores need a powerhouse system capable of handling hundreds of thousands of inventory items. If this describes your bookstore, you should check out POS Highway's system supported by NC Counterpart.
If books are only part of your business and your objective is to satisfy customers and gain recognition as a customer-centric business, Korona would fit the bill nicely.
Finally, if you're gearing up to open your first bookstore and want the flexibility to switch systems early on if you decide you need something a little different, Bepoz provides that flexibility while providing the features startup bookstores need and the scalability to grow.
The most important thing to do while evaluating systems is to ensure the system you go with fits within your budget and doesn't have too many or too few features. 
There's no need to overinvest in a POS system if you don't need all its features because there is certainly another system out there that will serve you as well for the price you want to pay.