(Last Updated On: June 7, 2021)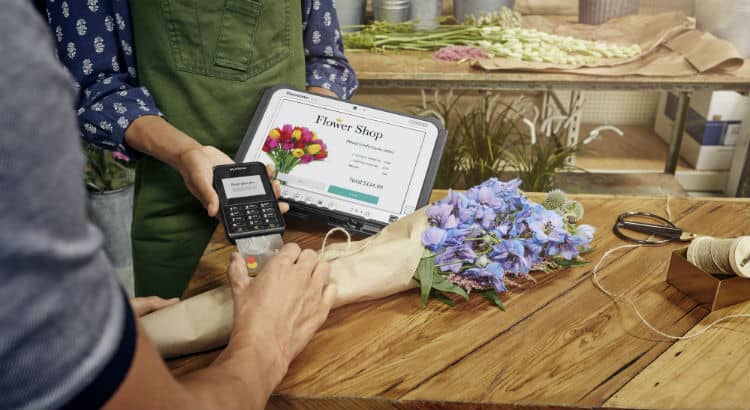 Floral shops make most of their money during a short period of time (holidays and special events). The florist needs to process many complex transactions during that short period of time. In addition to that, floral shops need to manage inventory, not only of flowers but also an assortment of gifts.
During recent times, a new challenge was introduced, the need to sell directly on your website without walk-ins. Nowadays, a floral shop must have a POS system that offers eCommerce integration, and shipping management, and delivery tracking. Other than that, the software must handle gift cards and loyalty programs.
Above all, the system must highlight the best performing products, so your business can achieve maximum profitability during a rather short window.
Based on our research and after testing multiple POS systems, we determined that the best floral POS system is IRIS floral, because it provides real-time inventory counts, works with NO Internet connection, supports multi-stores, supports barcode scanning, and eCommerce integration. 
If you like to review other choices, we'll review and compare a number of leading florist software solutions. We'll break down each provider's ease of use, features, and pricing.

Comparing The Top Florist POS Systems 
| | | | |
| --- | --- | --- | --- |
| Overall | 4.8/5 | 4.7/5 | 4.3 / 5 |
| Ease of Use | 4.6 / 5 | 4.7 / 5 | 4.5 / 5 |
| Customer Service | 4.6 / 5 | 4.8/5 | 4.4 / 5 |
| Starting Price | $79/Month | $1499/Month | $29/Month |
| Deployment | Cloud-Based | Cloud-Based & Installed | Cloud-Based & Mobile |
| Free Training | Yes | Yes | Yes |
| Support | 24/7 Live Rep | During Business Hours | During Business Hours |
| Free Trial | 14-day Free Trial | Yes--Time Not Specified | Yes--Time Not Specified |
| Inventory Management | Yes | No | No |
| Loyalty Program | Yes | Yes | Yes |
| Multi-Store | Yes | No | No |
| Retail Management | Yes | Yes | Yes |

1. IRIS Floral POS – Best Overall Florist POS System

The builders of IRIS Floral POS didn't have a background in the floral industry when they decided to develop the system.
They were tech guys who ended up speaking with various florists who needed a POS system designed specifically for them. Brainstorming ensued and, to cut a long story short, IRIS Floral POS was born.
The company founders stay true to their goal of helping floral shops by traveling and speaking with florists. They ask for suggestions and incorporate them into their product.  It's truly a client-first company.
Here are a few standout features:
Completely Customizable
There is no other business like a florist shop. Therefore, a regular POS system isn't ideal to help florists streamline operations and increase revenue. IRIS is completely customizable, allowing users to configure the system to meet their unique needs.
Real-Time Inventory Counts
Imagine someone calls needing needs a special iris bouquet. You need to know if you have enough irises on-site to complete that order. With IRIS Floral POS you don't have to put the customer on hold to go check. That data is at your fingertips with your point of sale terminal.
Pros of Using IRIS Floral POS
Easy to use interface
Simple to train new users
Constant system updates
High value for the price
Cons of Using IRIS Floral POS
2. FloristWare – Best Florist POS System for Retail Florists

FloristWare is not a large company, but they do a lot to drive the florist POS industry forward. They sponsor educational materials to help florists increase revenue growth.
The company also provides a free version of the software to any school that needs it for training students about POS software.
In fact, FloralWare does more to support and drive industry innovation than any other florist POS system on the market.
Plus, the company only hires employees with significant florist industry experience. When dealing with FloralWare, you'll always be speaking to a subject matter expert.
Key features of FloralWare:
Powerful Reporting
FloralWare delivers arguably the best reporting in the florist POS system industry. Their range of reports includes various types of:
Accounting reports
Sales reports
Accounts receivable reports
Staff reports
Production reports
Marketing reports
Each of those reporting categories is broken down into various reports. See the company website for a complete list—it's just too long to include here.
User-Informed Updates
The company and its representatives constantly speak with their clients to ask what they need but don't currently have. They then take those ideas back, sit down, and prioritize which system updates should come first. It truly is a customer-centric company with its clients' best interests in mind.
Pros of Using FloralWare
Focus on client needs—users see them as a partner, not a vendor
Consistently high customer satisfaction levels
Easy integration with leading eCommerce websites
Expansive feature set
Cons of Using FloralWare
No delivery routing module although there is probably one already in development
Expansive feature set—this is an advantage to most but translates to a steeper learning curve for new users
3. Floranext – Best Florist POS System with Website Building Capabilities

The developers of Floranext come from a family that started in 1969 with a small local floral store. It eventually grew to be a large flower retailer and one of the most successful ones at that.
Fast forward to the digital era. That same expertise was applied to developing the florist POS solution we see today. Floranext manages entire florist franchises as well as local, family-run flower shops (they never lost touch with their roots).
A few strong selling points include:
Streamlined Florist Delivery Routing
Smart map features take orders and determine the quickest route for the driver to deliver every order. Plus, it will print maps with step by step instructions for the driver. If the driver has a smartphone with GPS, it will digitally send them the route for even easier delivery navigation.
Optional Florist Website Addon
If you want to create your own florist website, all you need to do is add the Floranext website addon to your POS system.
This allows you to keep your florist POS and website data in the same system for better reporting and insight. Plus, the websites come with built-in search engine optimization (SEO) tools and eCommerce capabilities.

Pros of Using Floranext
Websites are quite easy to update, customize, and use
Highly recommended by small, independent flower shops and large, multi-store florists
Websites provide a domain name of your choice and if you leave them you get to keep it
The price
Cons of Using Floranext
Some users report managing house accounts can be tricky
A few one-off complaints, but customers tend to be satisfied across the board
Ready to Enhance Your Business with a POS System?
While we found a limited number of POS systems that are specifically designed for Florists, there are a number of good options. However, the fact that a point of sale system is industry-specific does not make it ideal for your business.
The right point of sale solution will meet your business requirements. This will include a fast checkout process, inventory management features, and applying discounts. More importantly, your POS system should offer customer loyalty features to keep customers coming back.
As a florist shop owner, the POS system you choose will help you cut costs and increase profitability. Ranging from durable and complete hardware to intuitive user interface and feature-rich software, you'll be able to gauge how well you're doing in real-time.