(Last Updated On: January 10, 2023)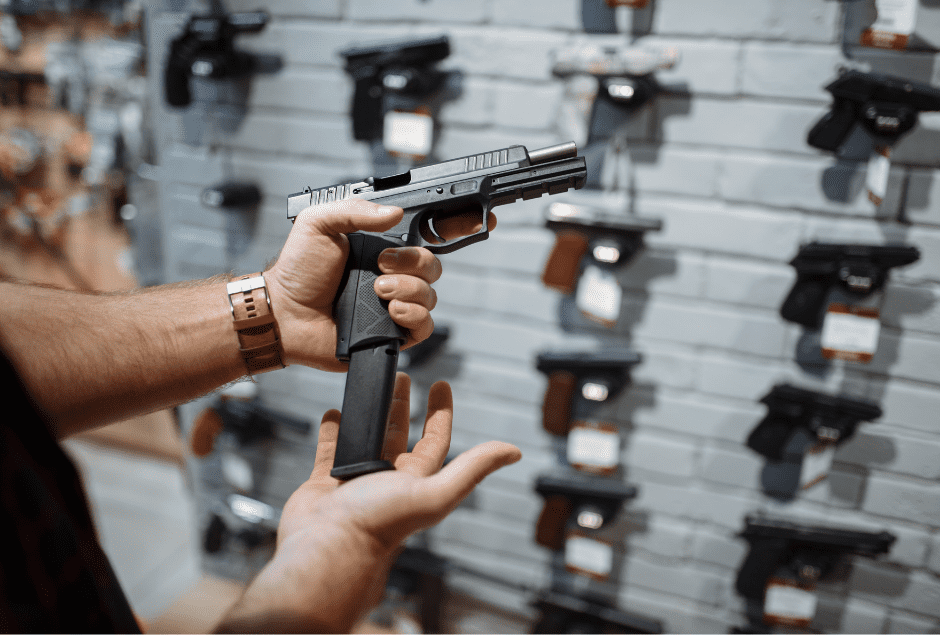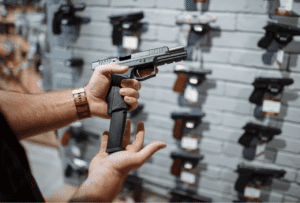 Guns have always had a strong presence in American society. Since the Revolutionary War, we've had the right to bear arms. In fact, about a third of the adult population owns a gun.
However, there is a stigma against guns in the modern age and people are pushing for more regulations. In fact, President Biden is looking to introduce strict legislation for owning guns in the United States.
By this, we comprehend the demand for guns in the country might be declining drastically, right? Well, the reality is truly different from this.
Instead of a decline in demand for guns in the U.S, the purchase of guns rose to a record 17 million just in the year 2020 lone. This is more than the past 20 years of gun sales.
In conclusion, this makes the gun business more profitable and provides more even more incentive to open gun shops. It's a great business to open that has proven to be very lucrative. However, with so much regulation, there is a difficult process when it comes to opening a gun shop.
So, if you're someone who wants to start a gun selling business in the United States and open a gun shop, you should do extensive research and know your options and the law thoroughly.
This article is formulated into a step-by-step guide for opening a gun shop in the US. Plus, it also delivers other important information related to the gun retail business.


How to Start a Gun Shop in the US
A gun or firearm business in the United States is quite controversial business with many legal procedures and paperwork because of the increased gun violence in the country.
However, you don't have to worry about what has to be done and how because in this guide, we've put together step-by-step instructions on how to start a gun shop.
But first, let's look at the important things to know before opening up a gun shop in the United States.
Important Things to Know Before Opening a Gun Shop
Now that you have some interest in opening a gun shop, there are some very important things you should know before you move forward with your business plan.
Don't Only Operate Your Business as a Gun Shop
The first and the most important thing to know about the gun business in the U.S is not to operate solely as a gun retailer. This makes it harder to get a license to sell, and your business will be more prone to closure and other problems.
However, you can open a shop that sells guns along with other products. For example, Walmart sells guns, but it isn't its sole business operation. You can also open a resale shop or a supermarket that sells guns and ammunition.
This way helps you make your way through the political, legal, and social barriers.
The Name Matters
This is another important thing to know before starting a gun shop in the USA. You need to choose a name for your shop that isn't intimidating to people and sounds more like a self-defense tool selling shop. This is a good opportunity to work with a marketing director or copywriter to help you find the best name for your gun shop.
Moreover, if you choose to operate as a resale or other kind of store that sells guns, it'll be fine as you won't have to worry too much about the name because you'll sell other items.
Control Everything, But Don't Own Anything
If any legal action pursues against your gun shop and the government decides to shut down your business, you personally can't suffer a loss if you don't own anything. In the event of this happening, you could lose possession of your store's building, inventory, and your business in general.
The better way to approach opening a gun shop is to own as little as possible but control more. You can do this by renting the storefront from a family member or register the Federal Firearm License (FFL) in the name of some other person.
As for inventory, purchase everything with your LLC so you don't suffer from any personal losses.
Avoid Selling Used Guns
While purchasing used guns at low prices and selling at higher prices can turn out to be a lucrative business, it can also cause issues for you.
For example, you could purchase a used gun from a gun owner unaware the gun is defective and then sell it to one of your customers. You would be held liable for any injury or repairs that must be made.
Perhaps, the customer might want to return it too. This will be more expensive for your business to take it back and repair it if needed.
Therefore, it is better to avoid such transactions and focus on purchasing new guns from certified dealers and manufacturers. They provide adequate quality products along with enough warranty for the product.
Opening a Gun Shop: Step-by-Step
Now you have equipped yourself with important information regarding what to know before starting a gun shop in the US. Let's move on to the main purpose of this article, how to open a gun shop.
1. Conduct Market Research
Market research is a vast subject, but you can break it down into the required sections and conduct precise market research for the guns and firearms market.
Conducting market research before starting a business is important as it's vital to understand the industry or market you will to operate in. For starters, you can look at the demographics of the place in which you're planning to open the gun shop.
Moreover, you can also analyze through the data which gender is most likely to purchase guns. This will help in stocking the right type of guns in your shop.
Another important piece of data is finding out how your customers will use your guns. Are they using them solely for recreation, protection, or hunting? This determines what type of guns you sell.
You'll really want to get to know your customers and target market to be a successful gun shop owner. Not only does this help you know what to stock in your store, but it also helps with marketing your products.
2. Know Your Competitors
The guns and firearms industry has experienced a surge of new sellers in the market since 2011. This has resulted in increased and aggressive competition inside the industry.
Moreover, the introduction of E-commerce in this industry has made the environment competitive and challenging to survive.
Thus, you need to analyze your competition and come up with strategies to defeat it. In addition to this, make sure you are aware of the other big competitors in the market.
With this info, you're able to keep a check on their actions and formulate new strategies to be ahead of them.
3. Gather Your Finances
The next step for starting a gun shop is to look for your financing options and gather the required capital to start this new venture.
This includes the money for purchasing the shop, buying inventory, working capital, and day-to-day expenses of the shop.
 It's possible that you might not have sufficient funds to purchase the shop, and in that case, leasing a storefront is a good option.
Usually, around $10,000 to $50,000 are required for the initial startup cost of a gun shop. Make sure you understand your investment options fully before proceeding with other aspects of the business.
4. Find the Perfect Location
When it comes to finding a location for the shop, you need to consider many options. For example, the cost of shops in different areas, the population in the area, suitability, and ease of transportation.
All of these factors will contribute to selecting the ideal location for the gun shop. For instance, if you open up a shop in an area where the population lacks gun-supporting individuals, you could go out of business fairly quickly.
Similarly, if you purchase the gun shop in an area that isn't accessible for you, suppliers, or customers, it will affect the business.
Lastly, price comparison is essential to get the best deal for the shop. Plus, it will save you money which can be invested elsewhere in the business's operations.
Apart from this, you need to make sure the place you're purchasing or leasing doesn't have any permission issues and has the required documentation and licenses for you to have a gun shop in the building.
Certain counties in the United States do not allow running a gun shop, so being aware of your local laws about the opening of a gun shop can save you valuable resources.
5. Get the Federal Firearm License (FFL)
The next step is to get a Federal-Firearm License, commonly known as an FFL. But first, you have to submit your application and pay the fee for the license.
The fee can vary from $20 to $200 depending on the type of trade you'll do and for how long. After this, you'll have to wait for a legal background check by the ATF.
This background check includes investigating and evaluating every aspect of your life and public activity.
 ATF carries out this background check to ensure the person receiving the FFL can be trusted with such crucial responsibility of selling guns and firearms.
Hence, if by chance you've ever violated a US firearms law or have been charged with a felony then you'll be denied by the ATF for the Federal Firearms License.
6. Customer Background Checks
One of the requirements for FFL owners is that they must run a background check on the customers they are selling guns or firearms to.
This can be done using the National Criminal Instant Background Check System so that you're sure that the trade with the customer doesn't violate federal or state law.
7. Apply for a Business Permit
Apart from getting the FFL, you'll have to apply for a business permit as well. This business permit is required for any startup or new business, and the laws may differ from state to state.
The documents required for this permit might include zoning compliance permits, tax compliance, insurance policies, and more.  
Moreover, you should know that if you operate as a resale store that sells guns then you'll have to apply for an additional resale permit as well.
8. Register Your LLC
After acquiring all the necessary permits, you will have to get your LLC registered legally. Now there are two ways to file the LLC either take the help of a professional LLC filing company or file it yourself.
Whichever method you use depends on the kind of capital you have. For example, if money is tight and you can't afford to outsource it then, you'll have to look after the whole process yourself.
LLC filing will include some state filing fees. Also, make sure you have the following things gathered before you file for an LLC:
Business name

Articles of organization

Employer identification number

Business bank account
9. Look for Reliable Suppliers and Stock Up on Inventory
Now that you're through with all the major procedures of opening a gun shop in the USA. Let's talk about gun and firearms suppliers and purchasing the required inventory for the shop.
So, the first thing to look for in a gun supplier is if they're authorized. If the supplier isn't an authorized dealer of firearms and guns, then don't proceed with any agreement. There are strict rules and licenses to purchase stock from suppliers.
Another thing to look for in an ideal supplier is payment flexibility, and a warranty for the supplied goods so that you do not have to deal with any defects problems yourself.
10. Maintain Records
When your shop opens and you start selling, secure the proper records of the sales you made as it is one of the requirements by the law in the United States.
These records will include the identity of customers along with the complete information about the firearms or guns sold to them.
Create an organized system to maintain and keep these records on hand if for any reason you may need to refer back to them.
11. Advertisement and Promotion
Once you're finished with all of the paperwork, acquired a shop, got your permits approved, and stocked the shop with adequate inventory it's time to gain some attention from potential customers.
In the beginning, it's going to be quite challenging to promote a new startup and create brand awareness against the other giants in the market. However, with a consistent and effective advertisement and promotion strategy, you can achieve your goals and see the business prosper.
There are many ways to promote your business, such as networking and linking up with prominent gun clubs or shooting ranges. This will lead to referrals and keep you in contact with gun owners who might want to purchase new guns and firearms in the future.
Another way to promote your business is by utilizing social media marketing tools. For example, you can set up Instagram or Facebook account and start posting content related to your gun shop.
Along with this, you can use the marketing tools to promote these pages or accounts so more people can know about them. However, make sure the content you post is insightful, informative, and engaging for the audience, which will ultimately lead them to purchase from your gun shop.
Benefits and Limitations of Starting a Gun Shop
The gun business has its advantages and disadvantages like any other business. However, this is true that the limitations of operating as a gun shop might be more complicated than any other business.
After all, you're dealing with lethal weapons, which can have severe consequences if not managed correctly.
Benefits of Starting a Gun Shop in the US
Don't let the complicated process and licenses keep you from opening a gun shop in the United States. There are plenty of benefits you can thrive from.
It's a Lucrative Business
Gun selling may not be very profitable in other countries, but this business still generates a remarkable profit in the US. In fact, in 2020 alone, the gun market contributed a whooping $63.49 billion to the economy.
This tells us how big of an industry it is in the US. Thus, one of the major benefits of starting a gun shop in the USA is the profitability aspect of the business, given the local demand.
Contribute to People's Self-Defense
Due to the less strict laws against gun ownership, the incidents and mass killing and gun violence cases have increased in the country.
Amidst this, people will find guns responsible for such incidents, but the truth is the people committing such crimes are the real culprits, and until such criminals are entirely eliminated from society.
People in America need to protect themselves, and so the gun business provides them with this opportunity for self-defense as backed by US law.
Easier to Track Down Criminals
With more and more legally operating gun shops and stores in the country, it will be easy to track down criminals who commit crimes related to guns.
Because there will be a legal track record of the purchaser with the sellers, which will help speed up the process of catching the culprit.
Limitations of Starting a Gun Shop in the USA
As with anything, there are negative sides to opening a gun shop in the United States. Now that you know the benefits, let's weigh the cons.
Extensive and Time-Consuming Paperwork
Opening up a gun shop may seem relatively easy if you've done your research, but in reality, that is not the case. You must get a lot of permits approved, wait for background checks to complete, and have to deal with other extensive paperwork.
Resentment from Pressure Groups and General Public
In modern America, people have withdrawn their support from guns and other kinds of firearms as they contribute towards gun violence.
Thus, the social pressure groups and the general public can put pressure on the local government to shut down the business, therefore, posing a crucial threat to the business.
Conclusion
The business of guns and firearms in the US is indeed one profitable business. However, there is no doubt it is a risky business and you have to encounter complications while opening and operating a gun shop.
Nonetheless, you can still succeed, but for that, you'll have to do extensive research and understand your options and the law thoroughly so that you can turn things in your favor when needed.
This guide will prove to be one of the most valuable and informative sources on how to start a gun shop in the USA, and hopefully, it will answer all of your questions related to this business.
Frequently Asked Questions
Where do gun stores get guns?
Gun stores usually purchase guns and firearms from an authorized wholesale distributor who can be considered a middleman between the manufacturer and the FFL gun retailer. However, some gun stores have a direct trade agreement with the manufacturers of guns and firearms.
Can I get an FFL without a business?
Yes, you can get an FFL without a conventional business location, but be aware that you can not use this permit for personal use. Plus, as long as you comply with all laws and regulations along with the local zoning laws, you can have an FFL remotely as well.
What is the profit margin on firearms?
The profit margin on one gun is usually 3-6%. It's the accessories that generate more money as the markup on them is high comparatively.
How much does a gun shop owner make?
On average, a gun shop owner makes $38,000 per year, and the lifetime earnings can be estimated to around $1,586,424. Nonetheless, it depends on the salesmen ship and the marketing strategy of the owner.
What is the most gun-friendly state?
Alaska is known to be the most gun-friendly state in the United States.
Can you buy directly from gun manufacturers?
Yes, you can purchase directly from the gun manufacturers, but to bring it in possession of you, you'll have to ship it first to an FFL holder.
How to start an online gun store?
Online gun stores can be started by a creating website through which guns can be sold online.