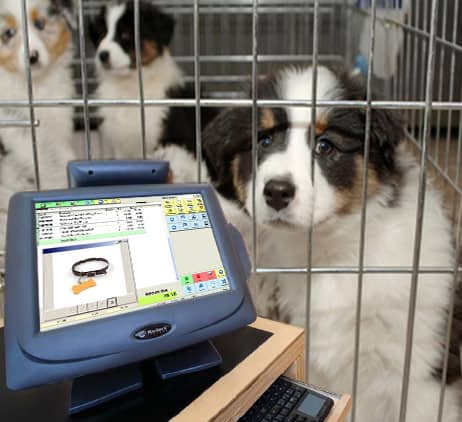 Running a pet store can be challenging. So, we compiled a list of the best pet store POS systems to help owners and managers streamline internal operations.
Point of sale (POS) systems—if you are not familiar with them—integrate software and hardware to streamline processes. They automate loads of administrative tasks so you can keep better records of important data and deliver a better overall customer experience.
Pet store employees are often on the floor assisting customers. So, it is advantageous to acquire a cloud-based POS system that operates through a web browser on any device, and/or through a native mobile app. This allows employees to check prices, answer questions, and better assist customers because they can carry their POS system around the store.
Software features to look for in a pet store POS system include sales tracking and reporting, online appointment scheduling, inventory management, and customer relationship management, among others. Pet owners are often repeat buyers so storing data on their purchase patterns helps you cater to their specific needs.
Below we present a list of the best pet store POS systems to help you in your evaluation and purchase decision-making process. We also touch on the most beneficial software features to look for in a pet store POS system.
3 Best Pet Store POS Systems
Overall

5/5

4/5

5/5

Ease of Use

5/5

4/5

5/5

Customer Service

5/5

4/5

5/5

Starting Price

$55.00/month

Not provided

$40.00/month

Deployment

Cloud, SaaS, Web

Cloud, SaaS, Web
Mobile – iOS Native

Cloud, SaaS, Web

Training

Documentation
Live Online

Documentation
Webinars
Live Online
In Person

Documentation
Webinars
Live Online

Support

Online
Business Hours

Online
24/7 (Live Rep)

Online
Business Hours

Free Trial

Yes

Yes

Yes

Appointment Management

Yes

Yes

Yes

Calendar Management

Yes

Yes

Yes

Customer Management

Yes

Yes

Yes

Pet Birthday Tracking

Yes

No

Yes

Pet Grooming

Yes

Yes

Yes

Photo Management

Yes

Yes

Yes
Get Free POS Systems Quotes
Revelation Pets

: Pet Store POS System with the Best Booking Features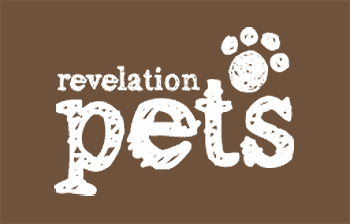 Revelation Pets is a modern, intuitive, efficient pet store POS system. The company offers a free trial and free support to customers. There are many benefits and valuable software features included in the system, which we cover below.
Best-in-Class Booking Features
The system's booking page is very simple and easy to use; Revolution Pets delivers some of the best appointment booking features of any system available. This is a primary reason it landed at the top of our list.
Users can easily manage pet daycare—in combination with boarding or separately. Appointments can be added to any booking and for any type of service. And customers can book online.
This reduces the need for employees to spend time on the phone scheduling appointments with customers. And, in the process, it increases bookings.
Users enjoy simple calendar views for easier appointment management. Moreover, it's possible to create split bookings directly in the system's calendar. Booking histories of customers are also easily accessible.
Stellar Customer Support
Customer service and customer support are incredibly important to pet store POS system users. When an issue arises, they need it resolved quickly. That's why maintaining a great customer support team is vital to business success.
Stellar customer support helps pet stores deliver a superior customer experience, which leads to higher levels of customer satisfaction. Happy customers are more likely to return for repeat purchases. They also become loyal to your store and share their experience with friends and family. This improves brand reputation and essentially acts as a free form of advertising.
Accounting Integrations
Revelation Pets integrates with your Quickbooks or Xero account to manage invoices as well as financial and accounting reports. Integrating your favorite accounting app with your POS system automates loads of accounting tasks and eliminates the need to keep an accountant on the payroll.
Automated Notifications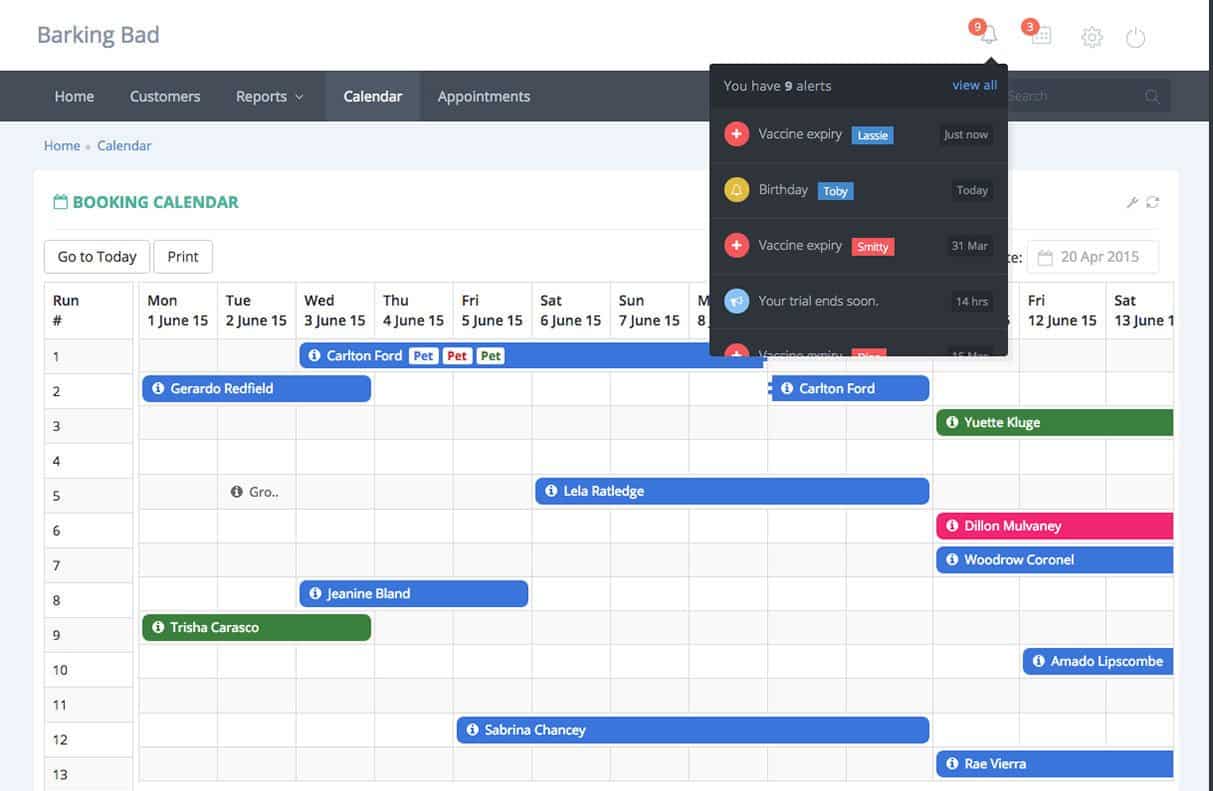 System users can effortlessly send reminders, booking confirmations, and appointment details to customers by using the system's automated notification features.
Users can send automated, customized SMS text messages, such as appointment reminders, which reduce no-shows.
System users also receive alerts for all new booking requests, vaccination expiry, and other actions that you determine through system customization.
Acquiring New Customers
The system integrates with Mailchimp, an email marketing platform. This allows you to reach out to customers when you are running discounts or special offers. With this marketing feature, you can reach more customers and prospects to alert them about company news, new products, special offers, and more.
You don't have to be an email marketing guru to use these marketing features because they are quite intuitive. It's easy, even for the non-tech savvy, to set up an automated email campaign, reach a broader audience, and bring new potential customers into your pet store.
Bottom Line
Revelation Pet saves pet stores loads of time, especially with its powerful booking, bookkeeping, and notification features. It provides pet stores with loads of benefits that would impossible to enjoy without a pet store POS system. Pet stores that acquire Revolution Pets see increased revenue and business growth. And it won't break the bank with its reasonable price point.
Get A Quote from Revelation Pets
Bindo POS

: Beet Pet Store POS System for Inventory Management

Bindo POS is a fully mobile POS system that operates through an Apple iOS native app via an iPad. It can also be accessed and utilized through a web browser on any device that lets you surf the web.
There are numerous features and capabilities that led us to rank Bindo POS as one of the best pet store POS software systems. Below we cover a few of its most attractive features, which are also its strongest selling points.
eCommerce Sites: Built-in or Integrated
Bindo POS offers its own eCommerce capabilities through an add on called Bindo Storefront. It lets you integrate your existing eCommerce site with your Bindo POS system so you can keep using the site you already created. Or, you can create a new one using Bindo Storefront. All the data it captures is stored in your Bindo POS database.
You can also integrate third-party eCommerce applications with Bindo POS if you prefer. Regardless, having an online presence with an eCommerce store increases sales and makes purchasing products easier for customers. This, in turn, equates to a better customer experience.
Modern Scanning Technology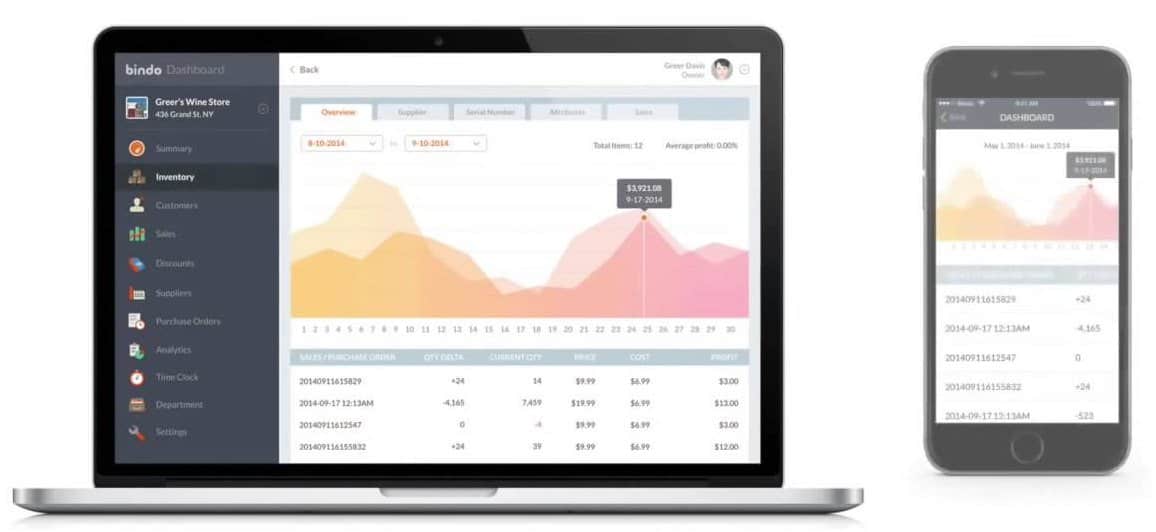 All you must do is purchase a barcode scanner. Then, when you scan a barcode, a photo, title, and description of the scanned product will automatically appear on your POS display screen.
Also, if you use a barcode scanner that can scan and track inventory, you eliminate the need for employees to manually count inventory.
Inventory Management
Any business that keeps items stocked on-site needs to track inventory. Pet stores are no exception—in fact, they probably stock more items than your standard retail store.
It is essential for businesses that keep product stock on-site to ensure that their inventory matches what they have sold, with no discrepancies. However, discrepancies happen all the time with any business, so it is important to understand how they occur. And the system can tell you how they occur.
Discrepancies can happen due to a number of scenarios. For example, if an employee is stealing inventory, you would see an inventory discrepancy appear and receive a notification about it. Discrepancies can also occur for less-malicious reasons. If you rely on an employee to manually count your inventory every day, it is almost a certainty that one day someone will miscount your stock.
That's an innocent mistake. Everyone makes mistakes—it is part of being human. But powerful inventory management features eliminate the risk of human error.
Bottom Line
We recommend Bindo POS to owners of pet shops of all sizes. Its most attractive features include ease of use, which empowers all your employees to learn how to use the system in short order. And its inventory management capabilities are among the most robust in the industry, which is why it earned second place on our list of the best pet store POS software.
Pawfinity

: Best Pet Store POS System for Small Businesses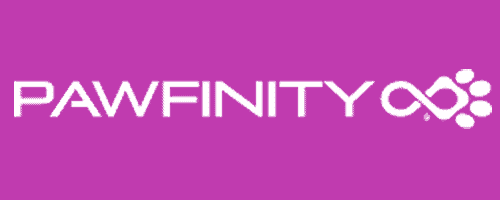 Pawfinity is designed exclusively for kennels, pet groomers, and daycare service businesses. The company's goal is to improve efficiency and ensure a better overall client experience. A free 30-day trial, setup, and support are available.
In addition to those characteristics, it also offers valuable features, including:
Flexible, Cloud-Based Software
Pet stores require software capable of handling high-volume paw traffic. This POS system organizes client and pet data by automating processes such as notifications and recurring appointments. You can customize your account to align with the specific needs of your business.
What is Cloud-Based Software?
Cloud-based, software-as-a-service (SaaS) POS systems store all relevant data in off-site servers. That data can be accessed on the go via a laptop, tablet, smartphone, etc.
The data they capture is also backed up in the "cloud" (a database server owned and operated by a third-party) so there is no risk of data loss if the system crashes.
This type of POS system is popular with and ideal for use by pet stores because if you access it on a tablet, you can carry the system around the store to assist customers.
SMS and Email Notifications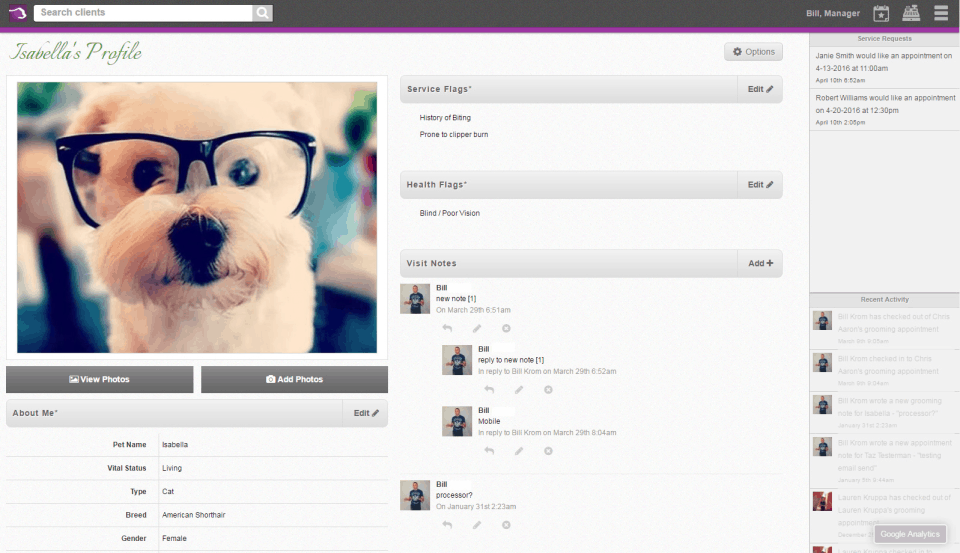 This POS system also makes it possible to reduce no-shows with automated two-way SMS text and email notifications. You can also send invoices and reminder notifications.
Essentially, you can set up automated notifications for just about any action that takes place or any other data change in the system.
Employee Management
When using a point of sale system, each employee with access to the system has a unique login code. This lets the system track who is working, when, and what they are there to do.
The best pet store POS systems provide super solid employee management capabilities. Not only does this help managers keep track of employee movement, but it also helps employees maintain a clear view of the hours they have worked.
Plus, a powerful point of sale system with automated employee hour tracking lets you keep tabs on who should be at work at any given moment.
These capabilities facilitate last-second shift changes if someone is sick or otherwise can't come to work. This is why using a POS system is the best way to manage employees, hours worked, and payment due to them. Plus, it increases accountability around employee movement and performance because everything is tracked and stored in the system.
Detailed Client Profiles
This system's detailed client and pet profile features ensure quick access to important client data. If you offer pet grooming, you need software that allows for unlimited photo storage. Photos and service notes enable you to keep valuable records that can be referenced and used in the future.
Integrated Payment Processing
The solution's integrated payment processing feature helps create a seamless transaction experience. A painless application process and competitive rates make this feature a must-have extension to this pet grooming software.
Pawfinity is able to streamline your operations regardless of the size and customer volume of your business. The flat-rate pricing makes it easy to benefit from more features as your business grows.
Stored payments are a very helpful feature, enabling businesses to save credit card data for future charges. The need for invoicing and late payments are eliminated, and you deliver a smoother overall client experience.
Free Lifetime Updates
Pawfinity's customers receive free software updates anytime new features are released. Plus, the updates happen automatically, meaning you don't have to install the update yourself.
The system operates on multiple platforms, including Windows, Mac, Android, and iOS. This flexible cloud-based software can run on practically any device using a modern web browser.
Advanced Recurring Appointments
The system offers simple deployment of regular appointments on highly flexible repeating schedules. For instance, if you need to schedule a client every four weeks for their next three appointments, Pawfinity will speed up the scheduling process and send reminder notifications to clients when their appointment is nearing.
Bottom Line
We definitely recommend this system. It has a vast array of features, all of which save lots of time. You'd be hard-pressed to find some of its valuable features anywhere else.
Ready for Your Own Pet Store POS System?
When evaluating systems, start by making a list of your requirements, considering your budget, and trying to calculate the return on your investment that your POS system will provide. Then, use those criteria to start comparing systems.
Remember what to look for in a pet store POS system.
Inventory management is key to accurate stock tracking and ensures you don't run out of any popular, best-selling items. Using a mobile POS system allows your employees to carry the system around and assist customers on the floor, improving the customer experience.
Automated online scheduling is important for reducing no-shows for grooming, kennel, and day care appointments. CRM features help you form closer relationships with your customers who purchase regularly. And, as with any modern POS system, powerful reporting is important because it gives you the insight to make data driven decisions about business growth.
In your evaluation, we advise you to read review articles like this. Also, dig up user reviews to gain a comprehensive understanding of your options. You can find loads of user reviews on popular software review sites like Capterra, G2 Crowd, and GetApp.
By doing your research and due diligence, you will certainly identify the point of sale system that meets most of your needs, aligns with your budget, and will facilitate business and revenue growth.