(Last Updated On: June 3, 2021)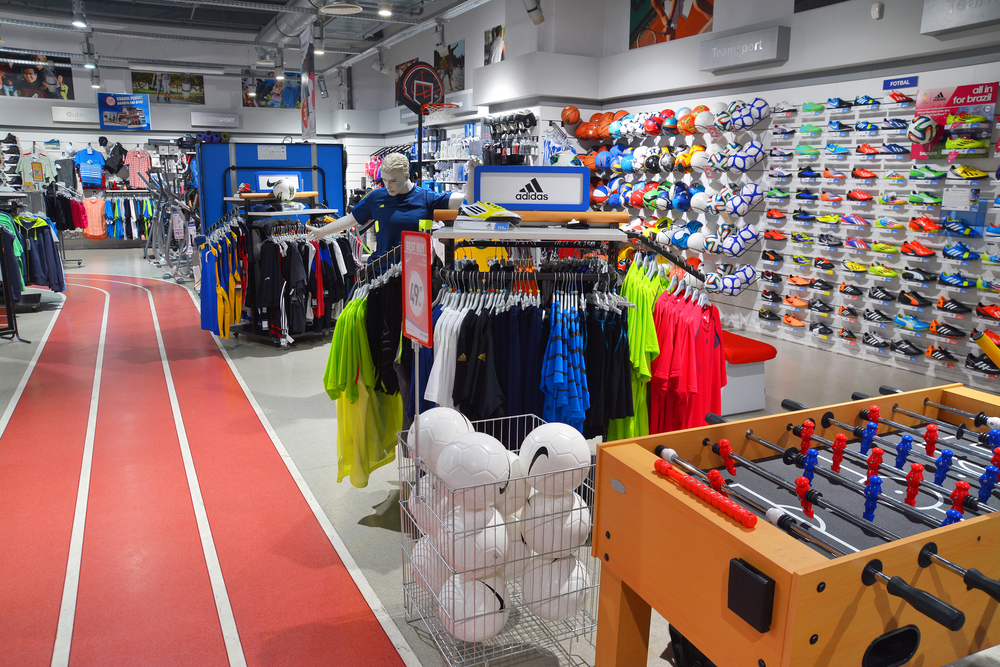 According to the Washington Post, "Sales of camping gear and hiking guides are rising as Americans take to the outdoors." In fact, the outdoor equipment industry market is now worth $6.6 billion as of 2021 with a projected market growth of 1.7 percent annually.
Only 6,000 businesses make up these numbers annually. That's why it's no wonder more entrepreneurs and business owners are leaning towards this lucrative industry every year. 
For those looking to open their own outdoor equipment shops, the main elements to focus on are as follows: the inventory, the daily operations, the marketing, and the location.
With all of these elements done right, you can easily make upwards of $2 million annually like this sporting goods shop entrepreneur. 
You must determine the factors that make up each of these integral elements for a successful business. It takes a comprehensive business plan, financial acumen, a grip on the local area's market, and the right connections and equipment for the job. To break down your prospective shop's plan, take a look at the 8 steps below and start planning today. 
With this breakdown on your side, you can create a foundation for your business. This foundation is sure to guide you through the first five years of your business with ease. 

1. Write A Business Plan
The first step to starting a successful outdoor equipment shop is to create a business plan. The average business plan consists of your target market, profit margin, and competitor breakdown. Using this information, you can start developing your brand identity and business model. These are how you will set yourself apart from the rest and increase your profit margin past your goals. 
Identify Your Target Market 
Countless market analyses have been done for the outdoor equipment industry which all lead to a few overarching truths about outdoor equipment consumers. As Outdoor Industry puts it, "Thirty-four percent of outdoor consumers live in cities, and those consumers tend to be young, ethnically diverse, active, and spend the most on outdoor gear."
On top of this, 43 percent of outdoor enthusiasts have children. This market—along with the Hispanic outdoors enthusiast market—are the most promising target points. Offering inventory specifically for urban adventure, newbies, and kids will help you stand out. To get a better grasp on your target market, you may also want to create a few buyer personas. 
A buyer persona is a made-up person profile that encompasses your entire demographic. By making these buyer personas, you can focus your marketing and inventory and feel less widespread. The average outdoor enthusiast demographic is urban middle and upper middle class people with children or in their retirement years. They are either hardcore adventure junkies or people just getting into the activities for the first time. They are also not afraid to spend a lot on products if they are high quality and stylish. 
Using this information, you may want to target two demographics. One being middle aged parents that love the outdoors and like specific and high-quality equipment. The second being older people just now getting into outdoor activities and wanting nice and easy-to-use equipment.
Identify Your Profit Margin
  According to the Small Business Chronicle, "Sporting goods stores averaged around 37 to 38 percent gross profit between 2006 and 2010. The largest average gross profit margin for sporting goods stores was 38.5 percent in 2008, and the smallest was 36.9 percent in 2010." 
Given that the average annual income for outdoor equipment shops is $1 million, expect to make roughly $65,000 in profits each year. A good way to increase your profit margins is to buy inventory with higher profit margins and with higher interest. Having better products means they're more likely to sell even if they cost more upfront. 
Identify Your Competitors 
Let's face it; you likely won't be able to compete with major outdoor brands like REI or Patagonia. Still, there is sure to be local competition to consider and analyze before opening day. To identify your competition, start by looking up your target keywords online.
For instance, if you live in Los Angeles, you might look up 'LA outdoor equipment' and then compile all of the top results. These names are more than likely going to be your competitors in your area. 
Next, take a look at their websites, their inventory, and their marketing strategies. Using these things, you can figure out their brand identities and build off of them. You can also see how they interact with your target demographic locally. Furthermore, you can learn from their mistakes and successes. Lastly, you can find opportunities locally like events and conventions they attend to compete with them more effectively. 
2.Private Brand Vs Franchise 
Deciding between owning your own brand or becoming a franchise owner can be difficult. However, it all depends on your goal as a shop owner. If your goal is to build up your business quickly and with assistance, franchise ownership is best. But, if you would rather pave your own path and find success on a smaller scale, a private brand is best.
If you choose to be a franchise owner, you will want to pick the right company to represent and fill out their application online. There will likely be rules and standards set for your new business which will make it all very structured. While you will still need to find your own location, the business plan will already be made for you. The keys to finding the right franchise to work with are deciding what you want, what companies do best locally, and which offer the most incentives. Below are some franchise outdoor brands to consider. 
Franchise Brands For Outdoor Stores 
Play it Again Sports

Sportsco

Workout World

North Face

Marmot

Five Ten

La Sportiva

Western Mountaineering

Voltaire Cycles

Giant
These are just some of the countless outdoor equipment franchise options available to you. It may also be beneficial to look for local franchises as well in your state. The local franchises may be more well-known and do better where you are which is research you will definitely need to do. This all will help you decide if a franchise is best or creating something new calls to you. 
3.Find a Suitable Location 
 Finding a location that best fits your needs as a shop owner is crucial. The things you will want to consider is how much inventory you hope to have and what equipment you need in your shop. For outdoor equipment stores, you may have kayaks, bikes, or other big inventory to accommodate. Knowing this, you will want to find a space that allows you to sell these items comfortably. 
You will also want a space that has the right ceiling height as double bike racks can save space but are very tall. Not to mention the length of kayaks and canoes.
These items are sure to sell in the summertime but take up a lot of vertical space. To find options, you should check both CraigsList as well as retail space rental sites like LoopNet, OfficeSpace, Commercial Exchange, and Crexi. Once you have options available, this is where deciding how big your space should be comes into play. 
Deciding how Big Your Space Should be
To decide how big your space should be, take a look at the inventory you hope to sell and how tall or bulky it will be. Also, look at what you plan to fill your store with. Use an aerial map to break down your store layout and then use this as a reference for store size. On average, outdoor equipment retail stores are roughly 2,500 sq. ft. which may help you to decide easier. However, you will definitely want nothing smaller than 1,000 sq. ft. to grow easily over the next five years. 
4.Find Wholesaler / Acquiring stock
Acquiring your inventory and working with wholesalers is a huge part of running an outdoor equipment shop. Finding the right wholesaler all depends on four factors: their connections, prices, location, and reliability. Your wholesaler should be able to connect you with manufacturers and products that your business will need.
They should also have affordable prices that help your profit margins as well. With your geographic region in mind, your wholesaler must also serve your area without extra shipping fees. Lastly, they should be reliable as your customers expect reliability on your end. 
To acquire stock effectively, find a wholesaler that matches this criteria in your area and then create connections with brands that are well-known in your industry. By selling high-profile brands in your store, you can increase your sales and foot traffic exponentially. 
Another option is to use wholesale lots on eBay. This works for a lot of newer companies as they find connections they can trust gradually. You can also check major B2B marketplaces to find the best wholesalers in your area. 
For opening day inventory, it is recommended that you have roughly 50 SKUs and not much more. As TimeBack Management puts it, "A brand like Hoka One One is building their line correctly. They only had 10 SKUs last year in men's and women's combined, but they generated about $6.5 million in sales—$650,000 per SKU. At the OR Winter Market, they only showed a total of 17 SKUs. True, their dealers are asking for more products in more colors, but that's a far better situation than trying to unload a bunch of distressed inventory."
5.Get Business Insurance
Getting business insurance is highly important when starting an outdoor equipment shop. You will want to have general liability insurance above all else. However, you should also consider workers compensation, product liability insurance, and commercial property insurance too. 
General Liability Insurance
General liability insurance covers bodily injury, property damage, medical payments, legal defense and judgment, and personal and advertising injury. On average, sports and outdoors shops can expect to pay $400 to $1000 annually for this insurance plan.
Commercial Property Insurance
This is only for outdoor equipment shops that own the building they are in. If a fire, burglary, or natural disaster occurs, this insurance plan will cover this entirely. It typically costs $1,000 to $3,000 per million dollars of coverage for this insurance plan. 
Workers Compensation
Workers compensation covers both part and full time employees of your business. If your employee becomes injured at work or falls ill after a work-related accident, this insurance will cover it. The average workers compensation plan for a small business costs roughly $500 to $600 annually. 
Product Liability Insurance
Given that most of the equipment you will be selling is used for dangerous activities, this insurance plan is nearly a must. Product liability insurance protects you in the case of a customer claiming one of your products injured them. For instance, if a customer claims your rock climbing gear led to them falling, this insurance plan will protect your business. Expect to pay roughly $0.50 per $100 in revenue for your high-risk outdoor products with this insurance plan. 
6.Select A POS System 
Think of your POS system as the brain of your business. A good POS system can help guide an outdoor equipment shop to success in a year or less. With this said, finding the right POS system for your store is highly important. To understand its value, let's take a closer look at the benefits of a great POS system below. 
The Benefits of a Great POS System
A great POS system doesn't just allow your customers to buy your products. In fact, POS systems can also help with inventory management, cross promotions, and managing coupon programs too. 

11. Hire Employees
When a customer buys from your outdoor equipment shop, a great POS system will mark their items off your inventory. This will help you order inventory more efficiently each week. If your customer uses a coupon, it will track this and tell you how many coupons are being used. This will help you determine if coupon campaigns are working or not. Also, a great POS system will help track cross promotion campaigns which helps hone your marketing strategies. 
On top of these things, POS systems can help in these ways as well: 
Streamlining sales

Employee management

eCommerce integration

Customer support

Mobile functionality

CRM

Detailed reporting
Knowing all of this, it's clear to see why choosing the right POS system is essential. 
7.Start A Website with eCommerce Integration 
No matter what industry you are in, having a great website is essential. For outdoor equipment shops, offering online purchases is highly effective. With this being said, you must be able to have eCommerce integration on your site. 
The 5 most popular eCommerce platforms are as follows:
Shopify (www.shopify.com)

WooCommerce (woocommerce.com)

Wix eCommerce (www.wix.com/ecommerce/)

BigCommerce (www.bigcommerce.com)

Magento (magento.com)
For outdoor equipment stores specifically, we recommend Shopify or WooCommerce as they have the most plugins available to help your brand. Some of their plugins can help with SEO, online inventory management, and blogging which are all useful tools. 
8. Promote & Market Your Business 
Promoting and marketing your outdoor equipment store is exactly how you grow organically. There are many ways to market yourself that will help you to stand out and increase profits gradually over the first year and beyond. Below, we'll break down both in-person and digital marketing strategies to help you have a well-rounded marketing campaign from day one. 
Social Media Advertising
Perhaps, the most common marketing strategy is to be active on social media. The three most popular platforms for outdoor equipment stores are Facebook, Twitter, and Instagram. If you have the creativity and free-time, incorporating TikTok is also a great idea. To start, create a content planner for each platform that includes unique content styles, consistent post times, and hashtags. Then, use a scheduling app like HootSuite or Social Aider to schedule your content. Lastly, respond to every comment and promote posts each month to gain followers and profits. 
Newsletters
A good newsletter can not just gain new customers but retain current ones as well. When people buy on your eCommerce site, ask for their emails. Also, ask for emails when they purchase in-store as well. Having profiles for them with discount incentives can make the deal sweeter for them. 
After you have a subscriber list created, use a newsletter creation site like MailChimp or SendGrid to send weekly or biweekly newsletters. The newsletters should include information about your business, discounts, cross promotions, and local outdoor news or events. This will keep people opening the emails and coming in for more products. 
Link Building
Essentially, link building consists of two parts: linkable assets and outreach. First, create blog content on your site that is easy to link to. For instance, write an article about the 10 best hiking shoes for flat-footed hikers. Then, write an article about something similar with a link to your article in it. Lastly, pitch it to all kinds of websites until it is approved. Your backlink will now help your ranking on Google and increase your site traffic organically. Repeat this process as much as you would like. 
SEO
Your site is constantly being analyzed by Google for its freshness, quality, and relevancy in your industry. By optimizing your website using SEO best practices, you can increase your site ranking and get more site traffic and profits. The goal is to rank higher than your competitors online which takes a lot of SEO work. By using keywords, meta tags, meta titles, internal/external links, and blog content, you can do just that. Use Google Analytics to track your SEO score as you go about it. 
Direct Mail
Direct mail is basically advertising that is delivered to your potential customers locally. Think about the flyers and leaflets you find in your mailbox from furniture stores or automotive shops for reference. The key to a good direct mail campaign is to offer a discount for first purchases and to use high-quality cardstock and designs. If the direct mail looks cool and has a good offer on it, you will gain far more local sales as a result. 
Conventions
Finding conventions for small businesses and adventure enthusiasts is a great way to get recognized. Some good conventions to attend include the Small Business Expo nationwide and the Outside Adventure Expo in Utah. On average, expect to pay anywhere between $1,000 to $10,000 for a booth at a convention of this magnitude. Still, the profits are sure to sweeten the deal. 
Local Involvement
There are all kinds of ways to get involved locally and get your name out there. Donating to charities in your community, attending local events, and getting booths at local events are all great ideas. For instance, if there are marathons, bike races, or obstacle course races in your area, become a vendor and interact with your target audience in person come event day. 
Outdoor Activity Hosting
Lastly, you don't just have to become a vendor for outdoor activity events, you can also host them. Hosting your own fun run that donates to a good cause is one way to do this. You can also make your own special event along with other local companies such as a mud run, an ultra endurance race, or a triathlon. These events target your demographic and help increase brand awareness organically. 
How Much Does it Cost to Open an Outdoor Store?
The average cost to open an outdoor store varies depending on the niche market you hope to work with. However, a great way to estimate your opening costs is to break down the 8 steps above into average rates. Using this, here is a comprehensive breakdown along with the total of all of these expenses combined. 
Monthly rent for a 2,500 sq.ft. storefront in a busy area: $4,166

Opening day inventory: $5,000

Fixtures: $3,500

Computer, accessories, internet, and phone system: $1,200

High Quality POS System: $1,500

Website: $1500-$3,000

Marketing/Branding Materials: $5,000

Insurance: $5,800

Additional Costs: $2,000
Total cost to open an outdoor store is between $28,166 to $29,666
Once your store is officially open, expect to pay roughly $6,000 to $21,000 per month in daily operating and maintenance costs. Having this income set aside will keep your company afloat well past your first year. 
11. Hire Employees
Takeaways
To succeed in the outdoor equipment industry, you can't just buy the materials and succeed. You have to have a solid business plan, know your market, and promote your brand flawlessly. Using the tips and tricks above, you should be able to do exactly that and make your outdoor equipment shop dreams a reality in no time.