(Last Updated On: June 2, 2021)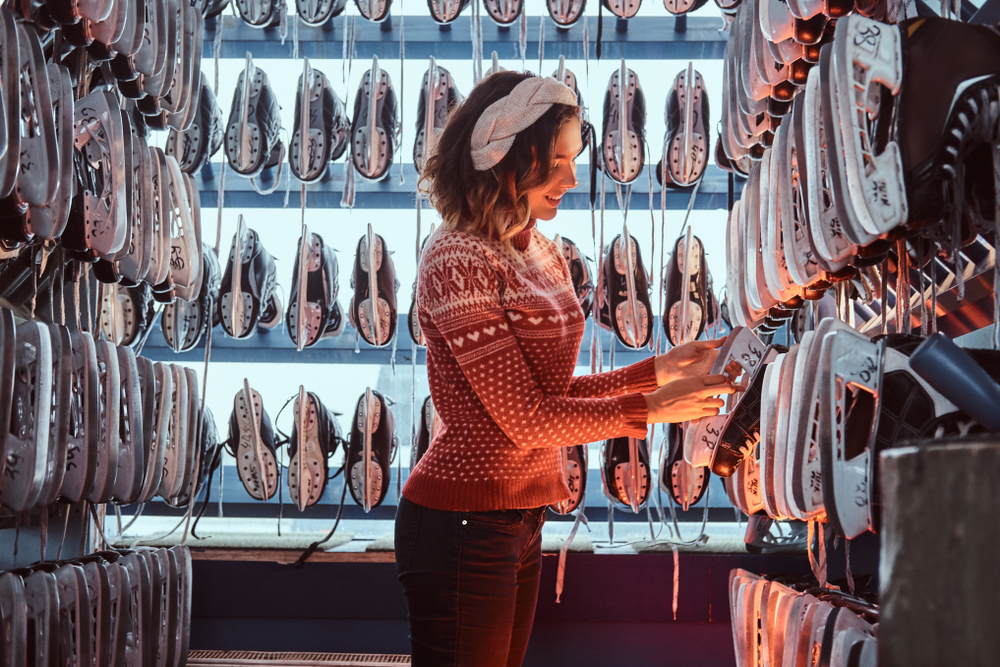 By 2025, the United States skateboarding market will reach $2.38 billion in revenue. The entrance of skateboarding in the Olympics and the increasing popularity of the sport has helped drive extreme growth.
To start a skate shop, you first need to create a business plan, obtain a license, and get financing for your business. After you have established your strategy and brand, you will then need to rent a commercial space, buy inventory and equipment, and create a website. It's also crucial to start a marketing campaign both before and after opening the skate shop.
Do you want to learn more about starting a skate shop? Keep reading and take a look at our frequently asked questions at the bottom of our article.

What Type of Products Do Skate Shops sell?
Skate shops sell a variety of different products, including:
Skateboards 

Decks

Customized build-your-own boards

Protective gear

Wheels

Board trucks

Clothing

Bearings

Grip tape
Where Do Skate Shops Source Their Products From?
Some skate shops buy their products from wholesalers and others make their products by hand. Custom skate shops often make every piece of the skateboard in-shop: the deck, truck, and the wheels. On the other hand, other shops sell pre-built skateboards designed by brands such as Element, Plan B, Zero, and Santa Cruz. A skate shop will a larger variety of products (including clothing) will likely need several different suppliers. 
Costs to Open a Skate Shop
| | |
| --- | --- |
| Expense | Amount |
| Inventory | $10,000 to $10,000 |
| Insurance (monthly) | $250 to $500 |
| Initial leasing expenses | $2,000 to $4,000 |
| Equipment and furniture | $10,000 |
| Business license | $300 |
| Website | $500 to $2,500 |
| Initial marketing expenses | $2,000 |
1.Create a Business Plan
Creating a business plan is one of the first steps to bringing a business to life. In short, a business plan should touch on the overall goals of the business, the management structure, target market, growth potential, marketing strategy, and should have a couple of years of financial projections. 
The executive summary acts as the opener to the business plan and highlights the purpose of the business and its goals. For example, what problem or need is the business addressing? How will the business act as the solution to that problem or need? Following the executive summary, there needs to be a section that covers the management structure – who owns the business and who manages it. 
Your business plan will need to cover specifics of the target market –age, gender, income level, and more. It should also contain a marketing strategy – how you plan to reach this target market. You should then expand on this and touch on the growth opportunities. Potential investors want to see that you know who your target market is and that you can expand your business.
Lastly, you need to include a couple of years of financial projections. If you're not sure how to do this on your own, we recommend hiring an accountant to assist you. This piece of the business plan is key to attracting outside investors and business partners. 
2.Apply for a Business License
You need a business license from your city or state to operate your skate shop. This is also a requirement to buy inventory from most wholesalers. To figure out how to obtain a business license, you should visit your city's permits/licenses website. 
Before opening your skate shop, you may also decide to form a business structure. Examples of business structures include limited liability companies (LLC), corporations, partnerships, and sole proprietorships. Many entrepreneurs choose to form limited liability companies because they separate the entrepreneur's personal liability from the business's liability. For example, if the LLC is sued, the plaintiff cannot come after your assets.
3.Obtain Financing
There are various ways to finance a skate shop, with one of the most popular ways being a Small Business Administration (SBA) loan. SBA loans are attractive options because they require smaller down payments compared to traditional loans and have longer repayment options. Moreover, they often have lenient terms. The SBA caps the interest rate on loans, depending on the amount of the loan. Currently, the maximum interest rate is around 8%. The SBA does not issue these loans. Instead, the loans are issued through SBA-approved lenders.
4.Define Your Target Market
While it's easy to define your target market as "skateboarders," you need to dive a little bit deeper. Before naming your target market, you should perform a market analysis and understand your area's demographics. For example, how many skateboarders are there per 1,000 residents? If you live in a small town, you could easily market your skate shop to everyone in the town who skateboards, but in a bigger city, it's not as easy.
If you get into the business of selling customized skateboards, you typically need to attract those who are more serious about skateboarding – those who spend more money. In a bigger city, it may be beneficial to check out skateboarding clubs, conventions, and other local eventers where skaters gather. As mentioned above, you will want to specify who your target market is in your business plan. 
5.Get Insurance
No matter how big your skate shop is, you must take out a few insurance policies. Three types of insurance coverage are critical: commercial property insurance, liability insurance, and workers' compensation.
Commercial property insurance protects the physical contents of your shop, including your inventory and equipment. This type of coverage is imperative, especially when you start to grow your business and carry more expensive inventory. Commercial property insurance covers the cost of damages due to theft, fires, storms, and vandalism. So, if someone breaks into your shop and steals $5,000 worth of skateboards, commercial property insurance has you covered.
Liability insurance protects you from monetary damages that could arise due to the actions of customers. For example, if a customer jumps on a skateboard in your shop and breaks his back, liability insurance covers the potential legal and medical costs. 
Workers' compensation is the last form of insurance coverage that is necessary, especially if you plan to have employees working for you. The purpose of workers' compensation coverage is to protect you financially if an employee gets injured while on the job. If an employee falls and breaks his or her leg while working, your workers' compensation policy would cover the cost of medical expenses and lost wages.
6.Rent a Commercial Space
If you plan on starting a brick-n-mortar skate shop, you need to rent commercial retail space. At a minimum, you should have at least 1,000 sq. ft. of space. Before renting a location, carefully consider the accessibility of the store and the area's demographics. For maximum exposure, you want to rent a space in a high-traffic area. If there are any skate parks where you live, try to find available retail space nearby. 
Renting commercial retail space is a lengthy process that often requires multiple rounds of negotiations. Before beginning the negotiation process, you should consult with a lawyer. A lawyer can review the lease and create a redlined version that will be sent back to the landlord. Make sure the costs are clear and that you know what utilities you are responsible for. 
7.Buy the Equipment Needed for a Skate Shop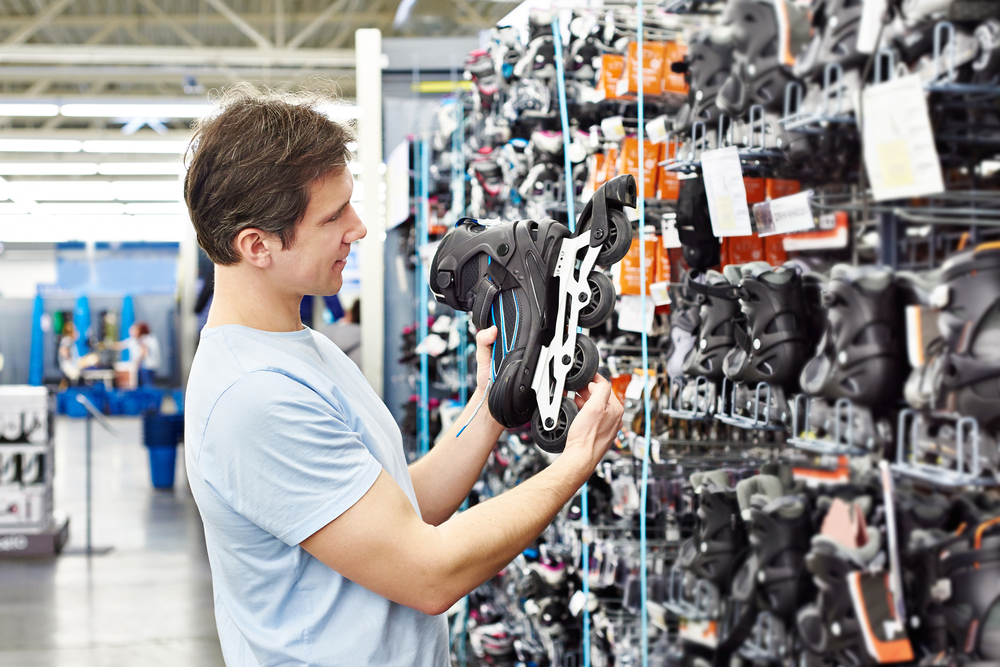 Although starting a skate shop is a capital-intensive business, most of the capital is in the form of inventory. However, there are some pieces of equipment that you will need before opening your doors:
Point of Sale (POS) system

Retail displays and fixtures

Security cameras

A safe

Skateboard molds

Jigsaw

Vacuum press

Office furniture

Lighting
Depending on the size of your shop and the products you sell, you may need additional pieces of equipment to start your shop.
8.Create a Website
You can create a website as soon as you have a business name and an idea. At a minimum, you should have a live website before you open your doors and start selling products. A website is one of the best ways to market your skate shop and spur growth. A skate shop website should contain the following information:
Products sold in-store and online

Contact information

Location

Return policy

Store background story
We recommend buying a ".com" domain with your skate shop name, if possible. You will also need to purchase a website hosting package, which can cost as little as $20 per month. After you get a domain and hosting, the next step is to design the website and populate it with content. For the most professional look, you should hire a web designer to create the website for you. A web designer will charge anywhere from a couple of hundred dollars to $5,000 plus. You can also create a website for next to nothing if you use a prebuilt WordPress theme. Make sure your website is visually appealing and carries your brand well.
9.Market Your Skate Shop
You should start to market your skate shop before it officially opens as well as after opening. To effectively attract your target market, we recommend hiring a marketing professional. Because marketing campaigns sway so much over time, it's best to start with a freelance marketing professional.
A freelancer can help you establish a campaign strategy without the same level of commitment as a full-time employee. However, once you start to consistently change your marketing techniques, it's a good idea to hire a full-time staff member. While there are tons of ways to market a skate shop, here are some of the most popular techniques:
Facebook
There are two main advantages to using Facebook – you can create a page for your business and gain a following, and you can also publish targeted ads. Creating an ad on Facebook is simple, and you're in complete control. The first thing you do is select who you want to see your ad (your target market). So if you target 14 – 27-year-old males, you can specify that in your marketing campaign. You can also specify the interests and physical location. 
When you buy an ad on Facebook, you get to choose where you want it to display – Facebook, Instagram, Messenger, or Audience Network. After you have decided where the ad will run and who will see it,  you need to establish a budget, select the format of your ad, and then place the order.
Sponsor Skateboarders
One of the best ways to get your shop's name out there is to sponsor both professional and semi-professional skateboarders. The first step to doing this is to decide how much you want to spend on sponsorship. If you're on a tight budget, you will need to stick to semi-professionals. Then you need to see if there are any well-known skateboarders in your local market. If you run a skate shop in Florida, for example, and sponsor a skateboarder in Wisconsin, it might not bring many benefits to your business.
When you sponsor a skateboarder, you typically need to go through his or her agent. The best way to find out the agent is to see if the skateboarder has a business contact email on his or her website or social media platforms. Keep in mind, sponsorships can be expensive and often require contractual agreements. Make sure you sponsor someone who will not only showcase your shop's name in good light but also help generate sales.
Search Engine Optimization (SEO)
Search engine optimization (SEO) is a technique used to drive traffic to your website by increasing its rank on search engines such as Google. You should create your website with SEO in mind. It should have an XML map, internal links, a responsive design, and a friendly structure. A good way to drive traffic to your website is to write blog posts regularly. Writing blog posts is an alternative to pay-per-click (PPC) ads that are often expensive. 
When you write blog posts, use long-tail keywords such as "custom skateboards in Denver" to drive traffic to your website. You can either write the content yourself or hire a freelance writer. Before writing posts, make sure to perform keyword research so you can optimize your posts for the best reach. Articles should be between 1,000 words to 2,500 words in length and have multiple paragraphs and subheaders.
10.Hire Skilled Labor
The skill levels of your workforce will depend on whether or not you make custom boards in your shop. If you do make custom boards, you should hire employees that have experience using molds, jigsaws, and a vacuum press. Employees that do not make the boards do not need as much experience, but should have general skateboarding knowledge and a background in customer service.
We recommend using websites such as Indeed, LinkedIn, Monster, and Snagajob to find employees. When it comes to creating the design for the skateboard deck, you could use a freelancer. You can find freelance artists on websites such as Guru and Upwork. The benefit to using freelancers is that you can broaden your talent base without having to commit as you do with a full-time employee.
11.Get A POS System To Manage It All 
Handle Your Accounting. POS terminals can now track sales, tally expenses, and even do profit/loss summaries. This makes your company run itself, in many ways. Ideally, your POS will be able to link up with the software kit you chose for your accounting.
Track Employee Hours. While scheduling shifts and tracking hours is important, it's only necessary if you want to hire people in the future. The best systems will also send this data to your accounting software.
Manage Your Inventory. You will have to track dozens, if not hundreds of SKUs every month as a quilt store. It's important to know which quilts are the most popular, which need to be restocked, and which ones are out of stock.
Take Online Orders. If you want to sell your quilts online, then you need to have a POS that tracks inventory in real-time and also updates you on online orders. Ideally, the terminal will work with the platforms that you want to sell your quilts on—such as Shopify or Etsy.
Manage Your Social Media. Social media marketing and targeted ads are going to be what help make your business go from good to great. Top tier POS software will be able to help you determine which ads perform best, hone your marketing, and also time out your ads.
Frequently Asked Questions
If you're still wondering if opening a skate shop is the right choice for you, take a look at the most frequently asked questions below.
How Much Does it Cost to Start a Skate Shop?
The cost of starting a skate shop depends on various factors – where you live, how big the store is, and the type of products that you sell. On average, you can expect to spend at least $20,000 up to $100,000 and more.
Do I Need to Create an Online Store?
No, you do not need to create an online store. If you're just starting, it's probably a good idea to just sell your products in person. As you expand your business and product line, you could begin to sell online. If you do begin to sell online, you will need to hire additional staff to maintain your website and prepare orders for shipping.
Do You Need a Special Permit to Sell Skateboards?
No, you do not need a special permit to sell skateboards. Generally speaking, you just need a business permit issued by your state or city. On top of a business permit, you should also form a business entity, such as an LLC.
How Much Should I Spend on Inventory?
There is no definite amount that you need to spend on inventory. The exact amount depends on various factors, such as how big your store is and what types of products you plan to sell. Even with a small shop, you will need to spend around $10,000 on inventory to get started.
What are The Average Profit Margins?
According to other entrepreneurs who have started skateboarding shops, the average profit margin is around 60%. And while 60% is a very attractive profit margin, you need to work hard to make sure that you can turn over inventory. Inventory holdings costs tend to be high in retail, especially when products go out of style.
Pros and Cons of Starting a Skate Shop
Here are some of the most notable pros and cons of starting a skate shop:
Pros
High-profit margins

Be your boss

Flexibility

Scalability

Capital investment is not as high as other retail businesses
Cons
Limited target market in certain areas

Competitive
Is Starting a Skate Shop Worth it?
Yes, because you can start a skate shop for less than $50,000, we believe that starting a skate shop is worth it. Since the average skate shop has profit margins hovering around 60%, you can make a lot of money if you know how to market your shop. Starting a skate shop is a great idea especially for those who are passionate about skateboarding. If you start a skate shop without any knowledge of skateboarding, it may take you longer to reach success.