(Last Updated On: June 3, 2021)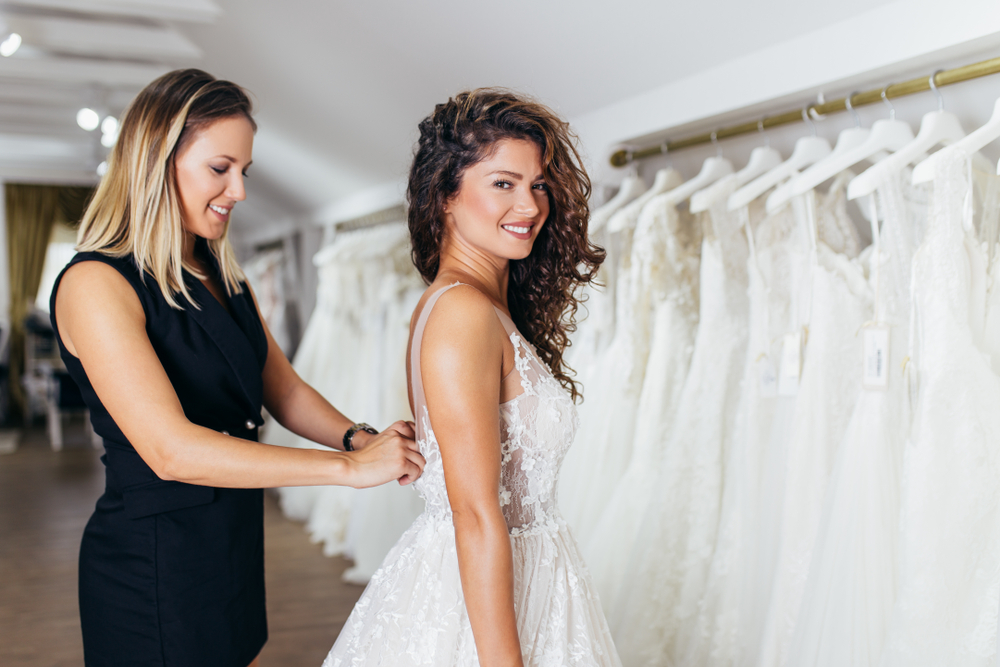 The bridal industry was worth $32.5 billion in 2017 and is expected to grow to $43.5 billion by 2022. According to a survey with over 27,000 couples, 99% of brides wore a wedding dress on their wedding day, with an average price of around $1900 per dress.
The bridal industry is a great industry to be in since many couples are willing to spend money on wedding dresses, wedding party attire, and accessories. 
Starting a bridal store will require a thorough business plan, licenses and insurances, business software and equipment, and reliable employees.
While starting your own bridal shop may seem overwhelming at first, this guide will break it down into manageable and actionable steps to guide you through the process.

1. Write a Business Plan
The first step to starting your bridal shop is to write a solid business plan. A business plan will define your mission statement, map out the steps you will take to start, and outline all of the aspects related to running your business. When creating your business plan, it is important to keep the following in mind:
Target Audience: What kind of couples and families will your bridal shop target? You may want to open a high-end shop with expensive attire, or you could open a store with competitive pricing.
Type of Competition: Before choosing your location, conduct research on your competition and find out where they are located, who they target, and what their prices are.

Remember to include the cost of a bridal shop POS system in your business plan.
2. Apply For Licenses 
Before you can open your bridal shop to the public, there are a few necessary licenses that are required. Before you can open your doors, you will need to apply for the following licenses:
City/County Business License:

Your town or county will require a business license, often referred to as a business permit, in order to legally open a retail store in their jurisdiction.

Certificate of Occupancy:

This essential certificate proves that you have passed all inspections and codes that are required in your area.

Sales Tax License:

A license that allows you to collect and remit sales tax on all items that are sold.

Resale License:

License issued by the state to businesses involved in selling goods or services.

Doing Business As (DBA) Registration:

Your new business will be separate from your personal finances and identity. Obtaining a DBA will allow you to do business under your new business name. 
3. Purchase Business Insurances
Purchasing insurance is a necessary part of starting a business and will protect you from potential losses and harm in the future. Business insurances for bridals store include:
 

Liability Insurance:

Protects your business against customer and employee claims for injury and property damage. 

Commercial Property Insurance:

Covers replacement and rebuilding costs when property is damaged.

Business Interruption Insurance: 

Helps cover financial losses if your business has to shut down temporarily. Most plans cover natural disasters, while select plans will also cover losses due to a pandemic.
4. Advertise Your Business
Advertising is an essential part of building your new business. As a brand new business, you will need a good advertising strategy to let your target audience know that you are opening, show them what you offer, and entice them to become a customer. Some recommended advertising strategies for bridal shops include:
Online Advertising Campaigns: Targeted ad campaigns are a great way to get your brand in front of your target customers and demographics. While creating your ad campaigns, ensure that you are very specific with your target audience to maximize the success of your ad campaign. 
Local Events: Many communities host events to showcase the local wedding vendors in the area, and couples who are looking to get married can attend the event to meet with vendors. 
Local Advertising: If you have a physical location, you'll want to let the community know about your new shop. Consider getting a billboard, putting out flyers, or buying advertising space on the local radio or television channels. 
Online Lists, Websites, and Apps: Submit your business and its offerings to online lists and websites that showcase local wedding vendors. Many websites and apps that offer wedding services have an app or platform that connects engaged couples with local vendors. 
Online Groups: Every area has at least one wedding group on Facebook, and some areas have multiple wedding groups. In these groups, couples can post about what they need and vendors can make posts to advertise their business. With the rise in social media usage, many couples turn to social media to find their vendors. Joining groups, posting in groups, and actively engaging with group members is a great way to take advantage of free advertising to your target audience. 
5. Decide Whether To Franchise 
When opening a bridal store, you can create your own brand or open a franchise. Opening a franchise entails opening up another location of an existing brand. The brand will allow you to operate as one of their franchise locations, use their logo and branding,  and sell their products. 
In exchange, you will be required to pay initial franchise and startup fees, along with additional fees or percentages of profits on a regular basis. Opening a franchise of a well-known and reputable brand can help you acquire new customers because the customers already know and trust the franchise brand. 
While the bridal industry has many large and successful franchise options, you can also start your own local brand. Opening your own brand will allow you to take full control over your marketing, vision, product selection, and all other aspects of your business. It will also enable you to pivot and grow as you make your own brand decisions over the years. 
6. Purchase Equipment and Inventory
Before you can open your doors, You will need to purchase necessary equipment and stock your store with inventory. You will need:
Necessary Retail Equipment
When opening your store, you will need to purchase inventory displays, cash registers, checkout counters, and a platform with multiple mirrors for brides to stand on as they try on dresses.
Many customers will bring a group of friends or family to watch them try on their attire, so you may also want to purchase couches or other seating for these additional guests. Many bridal stores also have water or drink dispensers to accommodate customers and create a positive shopping experience. 
Security Equipment: Your store should have an alarm system, security cameras, and a secure drop box or safe to store money from sales. Many insurance plans will require certain security measures in order to be eligible for coverage. 
Inventory: In the bridal business, many brides and wedding party members want to try the items on. You will need a wide variety of each product that you offer. 
Alteration Machines: Many brides and wedding party guests want the option to customize their attire to fit their body type. Many wedding dresses are manufactured for very tall brides with the understanding that alterations will most likely be made to fit the height of the customer. 
In addition to changing the length of the dress, there are many other alterations that your customers may want to pay for in order to make their dress or accessory fit their specific body type. Sewing machines and other alteration devices will be needed for these alteration services. 
Building/Decoration Supplies: Bring your new space to life by giving it a makeover to match your brands color scheme and branding. When you move into your new space, you may want to consider painting the walls and making some changes to appeal to your target audience. 
7. Decide Which Software is Needed
A Point of Sale (POS) system will be essential to the success of your business.. Having an effective POS system will accelerate your growth. On the other hand, not investing in a POS system may hinder your growth and slow down your operations. 
A good POS will enable you to: 
Manage and track your inventory 

Trigger reorder prompts when an item is expected to go out of stock

Accept payment methods such as gift cards and credit cards 

Generate profit margin and profit reports 

Generate sales reports and other critical business analytics 

Integrate with your online sales and website 

Automate many other business and day to day tasks
8. Secure Funding
Funding your store may seem intimidating at first, but there are many options that are available. Once your business is making money, you will be able to pay off your loans and startup costs. Some funding options include: 
SBA Loans: The Small Business Administration (SBA) has a program that will pair small businesses with verified and vetted lending partners. This will reduce your risk and enable easier access to capital.
Private Business Loans: Obtain loans from lenders without the assistance of the SBA.
Personal or Family Funding: Invest from your own savings or with the help of family. Be sure to set a payment plan that would be in place with any other type of loan.
Crowdfunding and Investors: While financial institutions may be interested in lending your business the necessary startup capital, there are often many individuals who will also invest in your business. 
9. Build a Website
Building a website is an essential part of branding your business. At the very least, your website should include basic information such as your location and hours so your customers can easily find where you are and when they can stop by. 
In addition to your business information, you can also include a gallery of your dresses, tuxedos, attire, accessories, or other products that your store sells. You can also choose to set up an e-commerce storefront where customers can shop directly on your website.
10. Decide Which Payments You Are Going To Take
Setting up a few different payment methods will enable your customers to pay in a convenient way and prevent you from losing sales. Typical payment methods include:
Cash:

Many customers carry cash and may want to pay upfront in cash.

Credit and debit cards:

Using a card reader, you can accept credit and debit cards. Additional fees for processing cards will apply.

Checks:

While pulling out a checkbook in a store is not commonplace nowadays, some customers still prefer to pay with checks. 

Gift Cards:

Your POS system may support the creation of gift cards and allow customers to pay using gift cards. 

Venmo:

Venmo is rising in popularity, especially among young brides and couples. Venmo supports business transactions and is a safe way to digitally accept money from customers. 
If your store has high-end or expensive offerings, you may want to consider adding an option for payment plans. 

11. Hire Employees
Your employees are the face of your business on a daily basis as they interact with customers and provide customer service. Gathering a solid team of employees is an essential part of success. 
You will need to decide where you will get your employees. A few places to search for employees include:
Job Posting Sites:

Post your positions to job websites that have a high volume of traffic. Users can filter search results by location, industry, or attributes. 

Local Postings:

Consider posting your positions at local community buildings where the community is likely to see them. You can also place ads in the local newspaper, radio station, or roadside billboards. 

Word of Mouth:

Does anyone in your family or circle of friends know someone who would be perfect for the job? Referrals from family and friends can lead to great employee leads. 

Social Media:

Many social media platforms support job postings, including Facebook and LinkedIn. 
Once the candidates and resumes start coming in, you should hold a formal interview for the promising candidates. You will need to create a set of interview questions to see if the candidate would be a good fit, has the necessary experience, and will be a hard working employee. Not only will your interview questions weed out the bad candidates, but it can also let the great candidates shine through.
12. Decide on a Payroll Service
In order to pay your employees on time and accurately, a good payroll service is required. However, a payroll service can do more than just making payment to your employees. Your payroll service can:
Release payments to employees based on their clocked time

Integrate benefits packages and 401(k) plans 

Calculate, report, and pay the payroll taxes to the state and federal government 

Generate payroll tax statements 

Ensure compliance with state and government payroll laws 

Provide electronic payroll records for your business and its employees 

Monitor time and earnings of each employee 
Many payroll services and programs are available for small businesses. You can outsource it to a payroll company, or you can utilize an online software. Both options will require monthly or annual payments for payroll services. 
Conclusion
There are few other steps that you will need to take if you want to open up a bridal shop. Like most other retail companies, you will have to get the right licenses, insurance, and supplies to make your store safe for retail customers. However, at the end of the day, It's about getting the right bridal POS system.