(Last Updated On: October 19, 2021)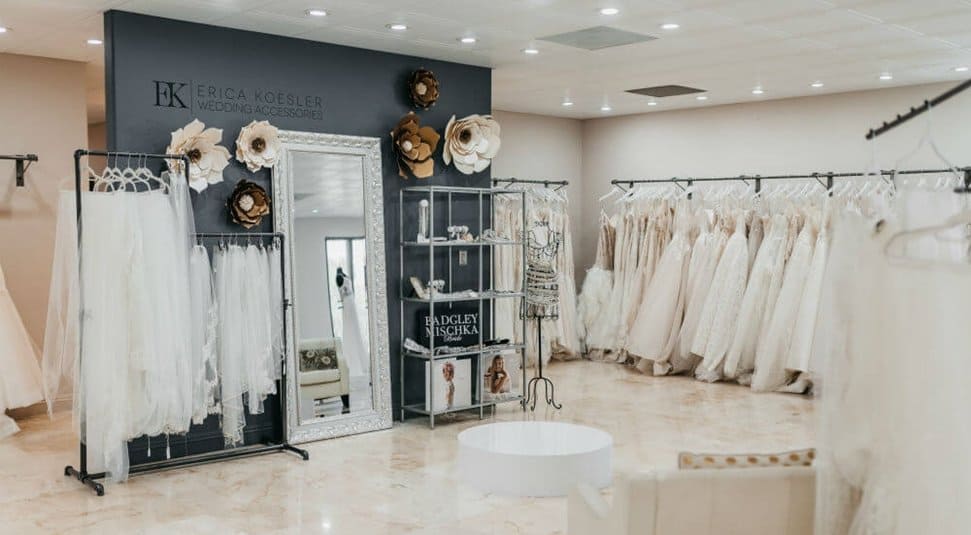 Someone's wedding can be the most important moment in their life, which is why owners and managers should use bridal store POS systems to manage their businesses. If you have ever been to a wedding, you know how important planning is. If just one little thing goes awry, it could start a domino effect that ruins the bride and groom's special day.
That's why bridal shops need a point of sale (POS) system to ensure everything is well-organized, is delivered on time, and orders are tracked with the utmost accuracy. POS systems help bridal stores streamline processes and automate manual tasks so employees can spend more time ensuring everything is done promptly and properly.
Because bridal stores are a type of retail store—for example, they share lots of POS needs with retail businesses like hardware stores—many retail POS systems can fill their needs.
However, bridal shops also take appointments to measure brides' and bridesmaids' physical dimensions to fit them with the best dress possible. This requires features that many standard retail POS systems don't provide, like appointment scheduling capabilities.
Since bridal stores are retail businesses—just like bike shops—they have hundreds of retail POS systems to choose from. Finding the right system can be challenging, time-consuming, and frustrating. That's why we're here—to help you start evaluating bridal store POS systems so you can identify the one that meets all of your needs.
Below we start with a side-by-side comparison of the top three POS systems for bridal stores. Then, we'll discuss what to look for in such a system. And we'll wrap up by providing a more detailed review of each system on our list.

Comparing the Best Bridal Store POS Systems
As we researched various POS systems, it became increasingly challenging to narrow down our list to three options. Many systems would do the job well, but we wanted to feature the best of the best. And we feel confident that we did.
It's time to reveal and compare the top three systems in the order we ranked them, starting with our top pick: BridalLive.
BridalLive: Best Overall Bridal Store POS System
Vend: Best System for Inventory Management and Reporting
Lightspeed POS: Most Customizable POS System for Bridal Stores
POS System

Strongest Selling Point

Free Trial

Compatible Platforms

BridalLive

Best Overall Bridal Store POS System

YES
30-day free trial

Cloud-Based Access

Vend

Best System for Inventory Management and Reporting

YES
14-day free trial

Native iOS App
Cloud-Based Access

Lightspeed POS

Most Customizable POS System for Bridal Stores

YES
14-day free trial

Native iOS App
Cloud-Based Access

What Should You Look for in a Bridal Store POS System?
To a large extent, you should look for certain features that are standard to many retail POS systems. Plus, there are a few features that many retail systems do not have, but bridal stores need. We'll cover those as well.
Appointment Scheduling and Management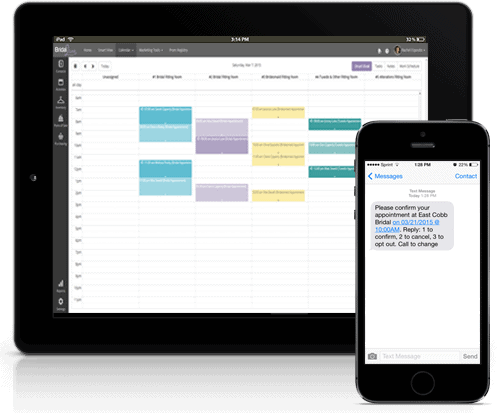 If you have ever visited a bridal store with the intention of purchasing a bride or bridesmaid dress, you know you typically must call ahead and schedule an appointment to get fitted for that dress.
Bridal store appointments do not follow a first-come, first-served process. If you want to be fitted, you must book time with the store.
A robust bridal store POS system should have built-in automated appointment management features. These include online scheduling and the ability to populate each scheduled appointment with data.
You have an online calendar with a unique link
You block off the time slots in which you'll be unavailable so no one can book an appointment during that time. Then you share that link everywhere you can—your email signature, business cards, social media pages, website, etc.
The customer clicks the link, books the time slot that's most convenient for them, and it is automatically entered on your calendar. You and the customer receive an email confirmation. The customer also receives an e-calendar invite.
Online appointment scheduling:
Saves the time involved in manually booking appointments over the phone
Allows customers to book appointments faster and at their own convenience
Reduces no-shows because customers receive automated reminders to attend their appointment
Increases productivity because employees don't have to take bookings over the phone
Improves the overall customer experience, which raises customer satisfaction levels
Inventory Management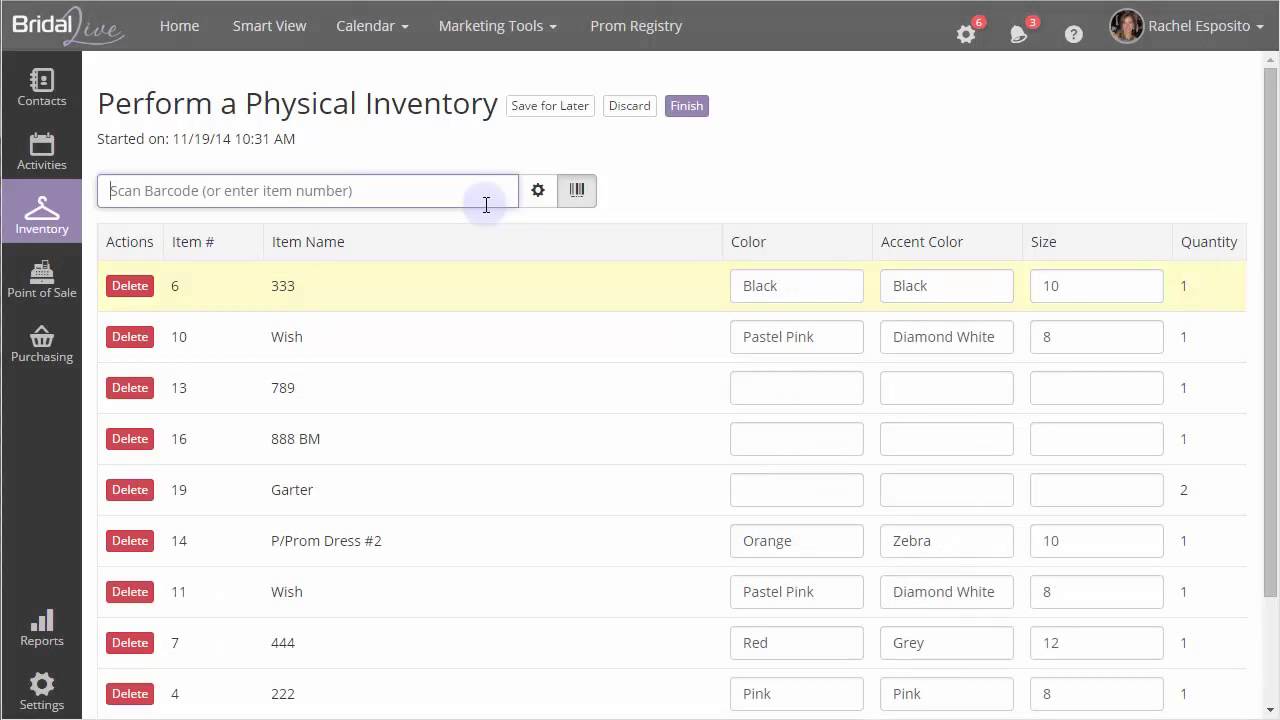 In most instances, bridal shops do not keep their selection of dresses in various sizes. Instead, they stock display dresses so fiancés, bridesmaids, and other shoppers can view the selection of dresses and select the one they want.
Regardless, bridal stores also sell shoes, jewelry, beauty products, and accessories such as bags, belts, and more. Those are the items they must keep in stock, which is where inventory management enters the picture.
Bridal stores must count and track inventory daily. When you do this manually, it is very time-consuming, pulls employees away from more important tasks, and increases the possibility of inventory discrepancies.
Of course, you always want your inventory to match what you have sold, with no discrepancies. However, discrepancies happen all the time with any business, so it is important to understand how they happen.
Luckily, most solid retail POS systems allow users to run discrepancy reports to ensure that the number of goods in the stockroom matches what should be there based on system inventory tracking.
Employee and Payroll Management
With multiple employees working simultaneously, each having arrived at a different hour, manually tracking hours worked and payment due can be a real challenge. Plus, it's time-consuming and leaves the process open to human error, which can cause problems with your employees and their satisfaction levels.
A solid POS system automatically tracks employee hours, shift times, payment due for hours worked, and more. Each employee with access to the system has a unique login code and that allows the system to do the heavy lifting while employees and managers focus on higher-value tasks.
This results in a better customer experience, which leads to higher levels of customer satisfaction and more repeat business (i.e. business growth).
Purchase Order Management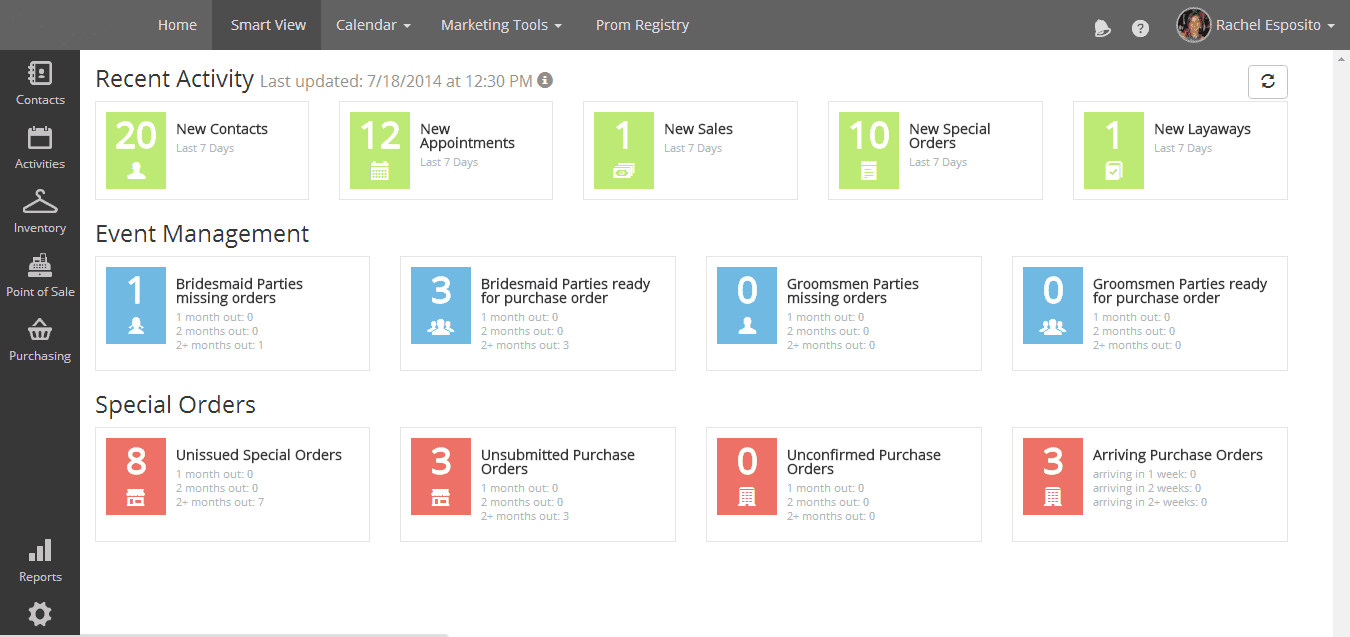 It's smart for shoppers to schedule a fitting on the same day they go to select their dress. They'll find the dress they desire most, get fitted for it, then the bridal store will order it through their POS system's order management function.
Ideal POS order management features include:
The ability to easily order new inventory from your POS system
Automatic ordering of specific items at pre-set quantities when the system realizes inventory levels of that item are running low
Integrated catalogs of bridal accessories and other items that let you order items quickly and easily
Automatic tracking or order status and expected delivery date
Automated communications sent to the customer when their item arrives
Marketing Features
In the digital era, accurate data is more important than ever before. We suggest you opt for a POS system that allows you to capture, store, and later utilize the data gathered from transactions with individual customers.
With that data, you can segment your prospects for future marketing campaigns that speak to their interests and align with their demographics.
Personalized marketing is an increasingly sought-after feature in POS systems. It helps immensely with forming relationships with customers, expanding brand awareness, bringing in new customers, and boosting revenue growth.
Custom Reporting and Analysis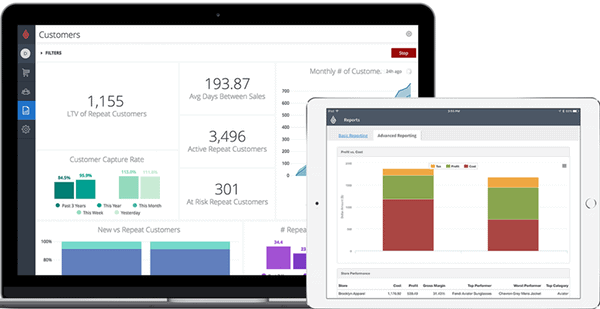 POS systems capture and store loads of data. This includes sales and inventory data, as well as personal data from customers like past purchase patterns, demographics, and more.
The data it stores about sales trends, popular products, revenue per specified time period, and more. Powerful reporting, metrics, and analysis are features that every business should require.
With so much data at their hands, users can easily maintain constant insight into their results and make better, data-driven decisions. They can run customized reports around just about any metric for which there is data stored. In other words, you need strong reporting features.
The Best Bridal Store POS Systems Reviewed
As I mentioned above, boiling down hundreds of retail POS systems into a list of only three was as challenging as learning Mandarin. But we did it! And here they are:
1. BridalLive: Best Overall Bridal Store POS System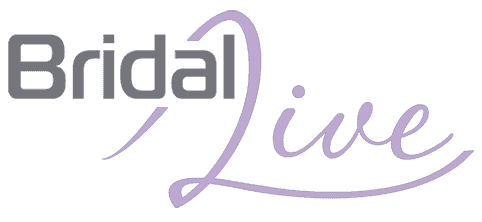 BridalLive won the top spot on our list for one overly convincing reason: it is a POS system designed specifically for bridal stores.
There are other POS systems that similarly were developed specifically for bridal stores. But, honestly, our other two picks would serve a bridal store better than those systems.
The two systems below (Vend and Lightspeed POS) are cheaper, less buggy, easier to use, and generally provide more and better features than lesser-known POS systems built for bridal stores.
My guess is that bridal store owners think they need a POS system made specifically for their type of store. They don't!
What they don't realize is that the more popular retail POS systems (Vend, Lightspeed, Clover, Square, ShopKeep, etc.) would actually produce better results at a lower cost, while still fulfilling all their needs.
BridalLive isn't like the other POS systems developed for bridal stores. It delivers high quality and robust features, while receiving few user complaints and carrying a reasonable price point (starting at $99/month).
Here are some of its most important features:
Event Management
Automated Scheduling
Point of Sale Capabilities and Various Payment Options
Inventory and Ordering Management
Up to 3 Users
Event Management Capabilities
Marketing Automation
It's a powerful, genuine bridal store POS system that's well-worth its weight in gold. We didn't just randomly pick it for the top spot on our list. It won that spot.
2. Vend: Best System for Inventory Management and Reporting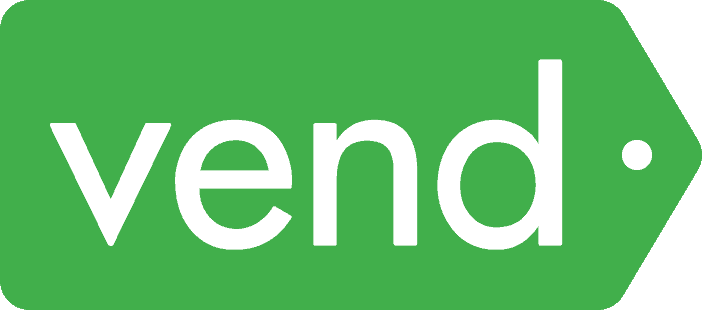 Vend is a cloud-based, software as a service (SaaS) POS system (also available as a native iOS app) that is great for retail stores in general. And it serves the needs of bridal stores better than any other retail POS system we reviewed.
Its cloud-based capabilities allow store owners and managers to access vital sales and other POS data from anywhere they have internet or mobile data access. This makes it simple to manage their store and POS data while on the go.
Vend integrates with most of the leading eCommerce and online payment applications, which is helpful for bridal stores that want to establish an online, eCommerce presence.
However, in addition to all these bonus points that Vend scores with its value-added features, the primary reason it landed the second spot on our list is that it excels at inventory management and reporting.
As mentioned above, these features are critically important to bridal stores. Vend knocks it out of the park in these areas. Its inventory management capabilities ensure your stock count is accurate, which is key for bridal stores.
And its reporting features provide deeper insight than 95% of the retail POS systems on the market. It truly did win its spot on our top three list.
3. Lightspeed POS: Most Customizable POS System for Bridal Stores

Lightspeed POS is one of the most popular and widely used retail POS systems available. It's up there with Square, ShopKeep, and Shopify. And it snagged the third spot on our list for being the most customizable POS system for bridal stores.
Users fall in love with its inventory management, employee management, reporting, and multiple store management features—they are major selling points. Plus, the system's ability to manage operations at multiple locations from one centralized system sets it apart from the competition.
Lightspeed also delivers superior user training and performance management features to ensure users learn the system quickly. Those features also enable bridal store owners to generate the greatest return on their investment possible.
However, customization features and system flexibility are truly the system traits that impress most users. With tons of add-on features that integrate with the system—such as email marketing—you can customize Lightspeed to meet your unique needs. If you're looking for a POS system for your bridal store, don't forget to evaluate Lightspeed POS.
Is it Time to Invest in Your Own Bridal Store POS System?
There is a limited number of POS systems that were built specifically for bridal stores. Plus, most of them leave much to be desired.
After reading the above, you already realize that, but it's worth reiterating. You don't need a POS system that was developed exclusively for bridal shops. Rather, a powerful retail store POS system will likely serve you better (unless we're talking about BridalLive).
We just started your evaluation for you. Now it's your turn to continue. Start by creating a list of requirements and needs so you can identify which system checks more boxes than the others on your list. Read user reviews. Always take advantage of free trials to test drive a system before you buy it.
Or, if the system in question doesn't offer a free trial, at least ask for a live demo so you can ask all the questions you have. Then compare your results with your budget and the price of each system, and you'll find the solution that works best for you.