(Last Updated On: October 27, 2021)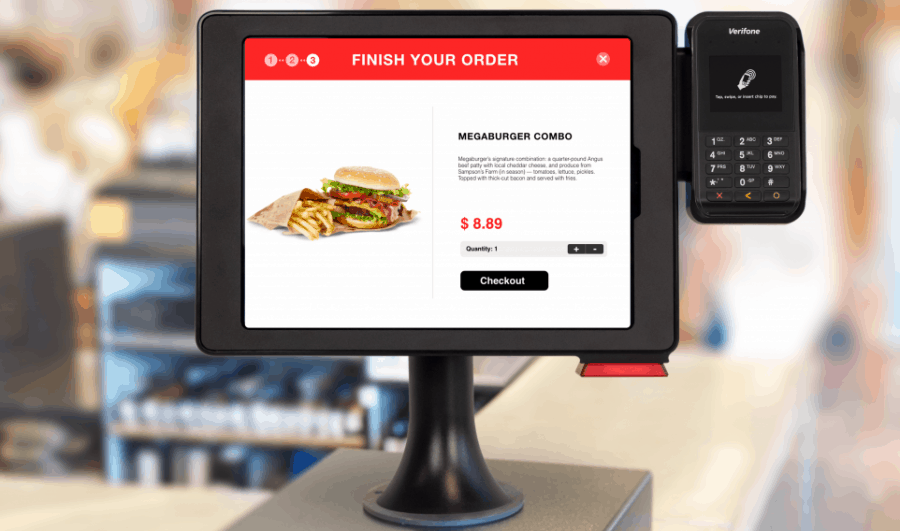 The primary goals of a fast food business model are to meet guest expectations and expand the brand. High competition leaves little room for error. The best fast food restaurant POS systems run fast transactions, engage consumers, and automate processes in an effective manner.
The fast food industry is over $223 billion with the average American family spending $1,200 annually. There are now over 20,000 restaurants in the United States alone. This means when buying new technology, it's critical to get it right the first time.
Fast food restaurants face a multitude of challenges that are specific to the industry. Too much ordering can cause waste and food spoilage. Poorly trained employees that over/under portion can hurt your margins. On a daily basis, hundreds of customers want to be recognized with a personal marketing message and discount.
The best POS systems for fast food restaurants will allow a business to create food combos that eliminate waste and discounts that bolster customer retention. The easy-to-use solution should have upselling, training, and scheduling opportunities to better manage staff. It can collect and track customer data that is later used for loyalty programs and segmented marketing.
Features like this will help to significantly speed up transactions and give you a strong, competitive edge. To deliver great food and stellar service, consider the following top point of sales systems designed with the fast food restaurant in mind.

Let's Explore These Four Fast Food Restaurant POS Systems:
Touchbistro – The POS Platform for Customer Self-Service
Toast – The POS System for Online Ordering and Mobility
Loyverse – The Most Affordable POS Solution for a Small Business
HungerRush – The POS System for Customization and Flexibility
Comparing the Most Effective Fast Food POS Solutions
POS System

Software Costs

Other Costs

Key Feature

Solo plan starts at $69/month for 1 terminal.

Dual plan is $129/month for 2 terminals.
Team plan is $249/month, for up to 5 terminals.
Unlimited plan for $399

Self-service kiosk to increase average check size, empower guests, and speed up lines.

Starter package for $69/month.

Essentials package for $99/month. Growth package for $189/month.

Toast Now app for mobile-friendly ordering, social media marketing, and seamless delivery.

Main POS and dashboard are free.

Add-ons are subscription-based. Employee Management is $5/month, Inventory is $25/month (free 14-day trial).

A small business can get away with using the entire system for free with no need to purchase hardware or IT support.

Quote-based but online reviews state between $3,000 to $6,000 per custom system.

Multilocation management and other add-ons are quote-based cost.

Deep system customization from the ground up with out-of-the-box functionality and branded messaging.

TouchBistro is the #1 iPad POS system for fast food restaurants. The software was built to make managing your business easier while delivering exceptional customer service.
The POS takes the guesswork out of making important decisions with intelligent reporting tools that help drive sales. Used in over 100 different countries, here are some of the reasons why the system is so popular with fast food:
Self-Service Technology to Boost Sales and Bust Lines
Fast food moves faster if you give people the opportunity to help themselves. When you have long lines, people will often choose self-service to speed up their order. This helps to boost sales and speeds up the entire operation.
Smart Customer Kiosk
The TouchBistro kiosk increases the average check size with intuitive and targeted upsell prompts. Patrons are guided through simple steps during the process to build a custom order.
This includes modifiers like:
Add extra toppings
Upgrade to premium sides
Make it a combo
Change the size
While guests customize their items exactly, the sales totals are building. This leaves both parties happy and saves on valuable time and labor costs.
After the ticket is sent, customers can easily and securely pay at the terminal or with cash at the counter. At the end of a shift, detailed reports are run to identify customer preferences and trends.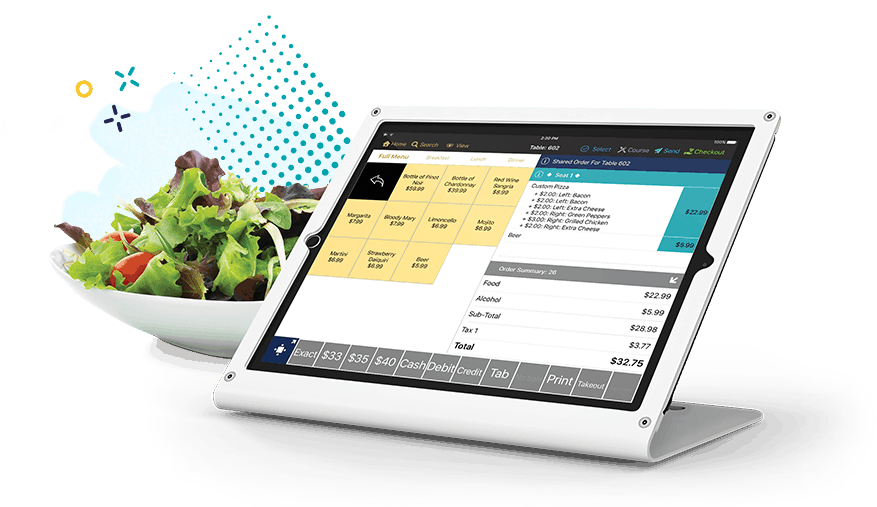 Tighter Staff Controls to Facilitate Scheduling and Payroll
Whether it's the front or back of house, employees will always determine the experience of your customers and ultimately, your bottom line. Unfortunately, managing staff schedules and tracking labor costs can be a full-time job. In fact, it's one of the greatest challenges faced in the industry.
TouchBistro provides restaurant scheduling software that enables a fast food establishment to manage, measure, track, schedule, and enable your team's success. Whether it's working around planned time off, no-shows, employee turnover, or last-minute changes, the system provides a fast-moving and dynamic solution.
Customer Relationship Management Tools to Drive Engagement
TouchBistro is a fast food restaurant POS system that comes with a built-in CRM tool. Easily add and manage customer accounts while collecting important data. Set custom discounts to automatically apply at the register, saving both time and money.
Specific fields make it simple to track key preferences and accept advance payments from your VIPs. Bill outstanding balances or pay for orders directly using a customer's existing account. This works great for corporate clients or large groups.
Offer loyalty and gift cards that allow customers to collect and redeem points after every purchase. The TouchBistro Loyalty program enables you to track each guest individually and offer them personalized promotions down the road.
Watch for These Other Features:
Award-winning Restaurant Support Squad available 24/7/365 in North America
Exclusive online customer community of other professionals and restauranteurs
Elite kitchen display system (KDS) with a consolidated view of all items across all tickets
Inventory management for in-depth tracking of recipes against menu items and food costs
Remote menu engineering with full-color pictures and automatic promotions
---
2. Toast – The POS System for Online Ordering and Mobility

Toast is a fast food POS system designed by restaurant experts specifically for the foodservice industry. That means, they offer all the features you need without extra fluff. The solution plays a big role in getting operations online and guests ordering from mobile devices.
With Toast, you have the technology needed to succeed in today's fast-paced environment. Consider critical features like:
Convenient Mobile-Friendly Online Ordering
Toast provides apps to help a fast food restaurant set up on-demand, commission-free digital solutions. Give guests the ability to order and pay for their meals from their own devices. Open up new revenue streams and capture customer data with a mobile-friendly online ordering experience that can be branded and customized.
Integrate your website with Google and post promotions via Facebook, Twitter, and Instagram in just a few taps. Control the flow of ordering during peak times and offer customers the ability to pre-order when necessary.
The system will also give you quick access to contactless, mobile payments. Simply scan a QR code on the receipt and customers will be prompted to pay.
Cloud-based Data Intelligence for Intuitive Reporting
It's important to gauge the health of your fast food restaurant at all times. Productive business insight is gained through smart data capture, reporting, and analytics. Toast allows you to take control of the restaurant's performance with detailed reporting you can run from anywhere, on any device.
The cloud-based system gives you access to critical reports like:
Sales Summary – Monitor performance over a specific time period
Location Overview – A unified view of net sales and labor costs (one location or multiple)
Product Mix – Monitor product mix and identify areas of improvement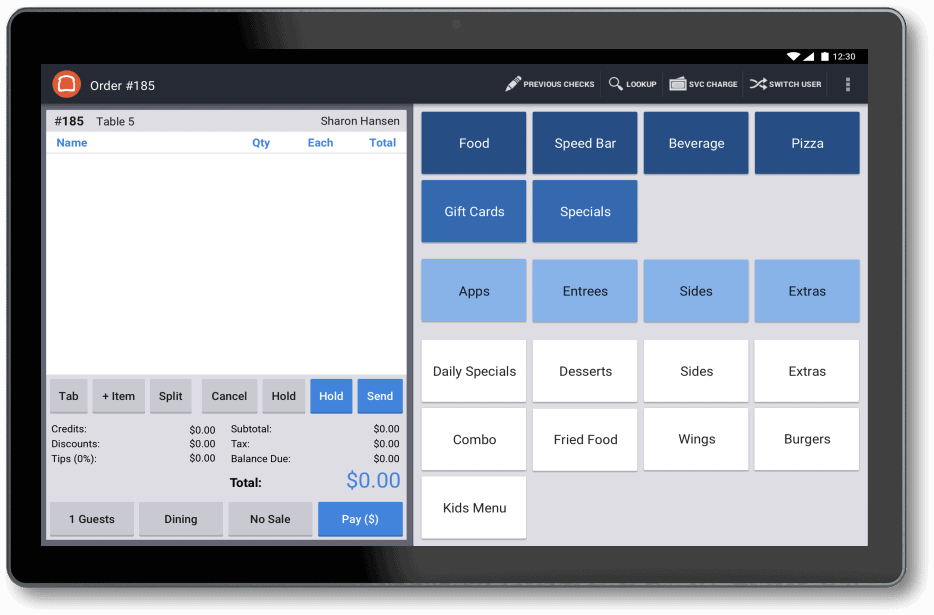 Menu Engineering with Real-time Updates
Toast enables a business to master their menu and make instant updates from any terminal or device. If you're running a limited special, avoid an awkward "86'" with real-time menu countdowns. When the last plate is ordered, it disappears from the system. It's as easy as that.
Countdowns also eliminate human error as no one is firing orders for food you don't have. Toast is a system that ensures cashiers and the kitchen are always in sync. This helps to accelerate turn times and increase revenue. All menu updates, no matter where you make them, immediately reflect in-house and online.
Exclusive Features Include:
Instant "order ready" notifications to facilitate BOH and FOH communication
Take credit card or EMV payments tableside or on-the-go
Collect and respond to guest feedback immediately
Open integrations with apps from leading technology partners
Restaurant-grade hardware with IP54 spill-proof rating
---
3. Loyverse – The Most Affordable POS Solution for a Small Business


For quick and easy sales, Loyverse enhances portability and allows you to manage a fast food restaurant from a tablet or smartphone. They boast smooth order management with a solution that's absolutely free for a small business to use. When it comes to the cost of a POS system, Loyverse has more for free than almost everything else on the market.
You can process transactions, record stock, and establish a customer loyalty program with features like:
Advanced Inventory Management with Instant Alerts
Loyverse enables a business to automate inventory, view valuation reports, and manage stock—all from the Loyverse Back Office application.
It's a cloud-based system that helps a fast food restaurant keep track of all items and ingredients, while maintaining full control over stock. Easily track and manage orders and transfer goods between locations.
When items are running low, the Loyverse solution will send instant alerts to all connected systems. You can also set automatic triggers to reorder your most popular items and replenish stock.
Look for help with:
Purchase orders
Transfer orders
Stock adjustments
Inventory count
Production
Printing labels
The system will also report on inventory history and top trends for more informed decision making.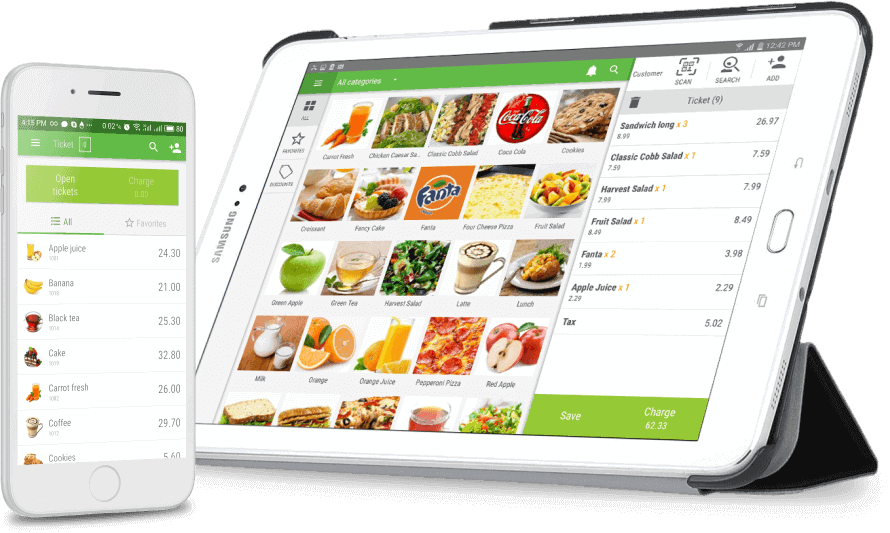 Detailed Sales Analysis for Better Decision Making
Track the growth or decline of sales with detailed reporting on the previous day, week, or month. Easily identify the cash lack at the end of every shift and track any employee inaccuracies. For closer analysis, all sales data can be exported to workable spreadsheets.
A fast food restaurant can use the POS system to browse reports on tax amounts and save time with calculations. Run reports on sales by item to identify the best-selling products and make better purchasing decisions.
Additionally, a receipts history report will enable a restaurant to monitor every transaction for sales, refunds, and discounts.
Dedicated Support for Employee Training and Resources
Loyverse is one of the best fast food restaurant POS systems for dedicated support. If you think there will be a sharp learning curve with your new software purchase, this brand may be the best choice. You can reach the support team via live chat 24/7.
If you wish to skip the queue, Loyverse helps you find answers with an extensive help center that includes hundreds of resources like:
Knowledge base articles
White papers
Tutorials
Video guides
There is also a Loyverse community of peers and other users that can provide valuable insights with various discussions on the product.
Consider These Helpful Features too:
Customer-facing digital display where guests can monitor transactions
Sync with 3rd-party integrations or create your own with an open API
Feature-rich customer loyalty program with points system and rewards
Optimized employee controls with scheduling and role-based permissions
Efficient order management to move, split, and merge open tickets
---
4. HungerRush – The POS System for Customization and Flexibility


HungerRush is a fast food POS solution that is easy to use and manage. The solution focuses on providing an exceptional user experience with deep customization. If you have a unique fast food business model, this platform will help you build a system from the ground up.
HungerRush has the functionality you need to sustain growth and scale a business. Supported by a dedicated team of US-based restaurant professionals, the fast food software offers key features like:
Centralized Operations for Cross-system Insight and Greater Efficiency
Take command of a growing enterprise with clarity and confidence. The HungerRush system was built to help you expand. From labor scheduling to food costing and delivery order management, it consolidates all of your operations into a single dashboard.
Harmonize the front and back of house with operational clarity. Create brand continuity with cloud-based data and offline functionality.
Data-Driven Decisions for Unrivaled Visibility and Clarity
You have 100% control of data from anywhere, at any time.
Easily churn clean and integrated information from one or multiple locations. The Multi-Unit Restaurant Management System provides a way to map your path to greater resiliency and profitability.
Run global reporting on top trends like:
Inventory
Labor
Payroll
Sales
The platform has over 200 customizable reports for complete access to the health and direction of your business. It takes all the guesswork out of identifying your weak spots and areas of the restaurant that need work.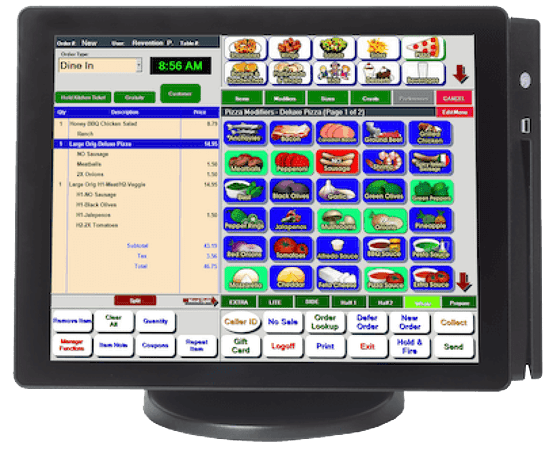 Build a Digital Presence to Accelerate Sales
Spur new growth channels with an online ordering system that guests will love. HungerRush offers a complete fast casual online platform with curbside pickup, takeout, tableside ordering, and no contact delivery.
Free up counter space and build the perfect digital site for your brand and vision. According to a recent survey, HungerRush online ordering system leads to an 18% ticket size boost on average.
The solution also integrates with the Drive platform for delivery on your own terms. Operate an efficient delivery fleet and minimize 3rd-party bills to own the customer experience.
Look for delivery features like:
Driver and route management
Real-time order notifications
Trip recall with mileage
Master reporting on late deliveries
Integrated branding from start to finish
Check out These Additional Features:
Cloud-based reporting and management for better business clarity
Buy-back program for your existing POS and legacy systems
Customer retention with record-setting loyalty program
Marketing automation and one-off campaigns per location
Built-in tools to master inventory, purchasing, and scheduling
---
The Smart Buyer's Guide for the Best Fast Food POS
Buying new technology for your business is no longer a simple venture. Everything is connected and networked. More thought must go into how your business is structured and how the system you purchase will align with current operations.
Consider these main features on your buyer's journey:
Payment Flexibility for Faster Transactions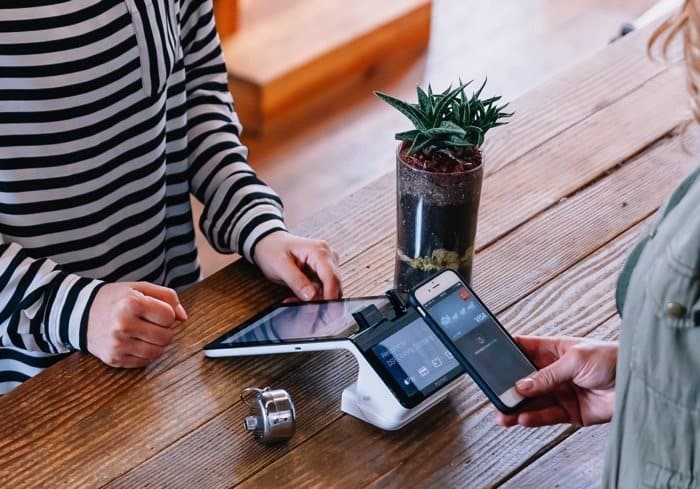 One of the first things to slow down the register is when a customer presents a form of payment you cannot process. In fact, it will often cause you to lose the sale. Don't let that happen. Purchase a point of sale product that offers as much payment flexibility as what's available.
This includes methods like:
Cash or check
Credit or debit
NFC contactless
EMV chip cards
Mobile wallets like Apple Pay and Google Pay
Customers should be able to tap, chip, or swipe in seconds and be on their merry way.
Guest Empowerment to Leverage Sales and Improve Retention
Self-service kiosks and customer-facing displays (CFD) are great ways to speed up service, drive sales, and keep customers satisfied. The simplest form of this technology is a CFD. Guests can watch as the cashier rings them in to assist with any discrepancies.
A self-service kiosk is an ideal way to bust up lines and get orders in the system faster. Customers can skip the long line and use a kiosk to take control of their purchase.
Studies have shown that empowering people in this manner prompts them to order more, with fewer mistakes, and drives customer satisfaction.
More Sales Opportunities with Online Ordering
A modern fast food restaurant must give people the ability to process orders through their own devices. The best POS systems for fast food will allow you to build a digital presence and give people the option for pickup, takeout, or delivery. The more ways you give customers to send through orders, the more you will receive.
Online orders should automatically sync up with the POS and kitchen management. All systems must be networked for operational efficiency.
Optimized Delivery with Route Management
The POS solution you choose should have a delivery system. If it's not directly offered, the brand should integrate with a 3rd-party that can provide delivery services.
Ideally, you want the POS company to offer delivery in-house, as that will eliminate any commission fees.
An effective delivery feature will include controls for:
Order alerts in real-time
Route and driver management
Trip recall
Integrated branding
Master reporting
Structured Inventory System with Automatic Controls and Instant Alerts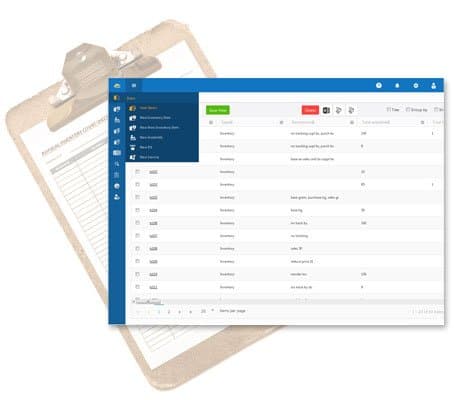 A fast food restaurant deals with a lot of product variants. If you don't understand top food trends, you may be ordering the wrong thing. Strong inventory controls enable a fast food restaurant to always have what's selling in stock. This, in turn, keeps customers happy. You never have to say "no" to someone returning for their favorite meal.
A POS with a good inventory system will also send instant notifications when stock levels are low. You should always have the ability to automate reordering and set triggers for purchasing. That way, you never worry about 86'ing something that sells.
Flexible Reporting to Measure and Track Performance
It's important to gauge your performance in every aspect of the restaurant. Look for a point of sale system that has features for in-depth reporting and analytics. You should be able to take a snapshot of your business data from anywhere, at any time.
Ideally, the POS will have a universal dashboard that displays the important data you need at a glance to manage the business on-the-go.
You should be able to track the growth and decline of sales and closely analyze business sectors like:
Sales by item over time
Labor costs and payroll
Employee performance
Inventory and stock levels
Receipts history
You must also have the ability to run detailed reports on consumer data and behavior. All information can then be exported into a spreadsheet for auditing and tax purposes.
Consider These Other Exceptional Features:
Open API for fast food brands with an on-site developer

Digital marketing program with segmented campaigns and email messaging
Accounting integrations for back-office tasks like payroll, AR, and AP
Add and alter tax rates with flexible configuration
Centralized data storage to facilitate multi-location management
Which Fast Food POS System is Right for You?
Purchasing the right POS is an important decision. If you choose the wrong platform, it could bottleneck operations and stunt growth. In fact, it may cost your business a great deal of money, so it's important to take your time.
The first step is to list out your top 5-7 pain points. This will help direct you to the systems that offer the best-suited features.
For a small operation, you'll need software to help manage staff and get a grip on inventory. For a larger business, multi-location tools with in-depth reporting may be more suitable. In either case, you always want a system that processes transactions fast with a variety of payment methods. Customers will be looking for that.
When it comes to pricing, if you already have a system in place, a subscription-based model might work best. For those starting out, a flat fee, all-in-one solution is the most practical. Also, consider payment processing for each POS (in-house or 3rd-party) and how it can add to the total cost. You may want to check RPower POS system if any of the above systems do not work for you.