(Last Updated On: June 4, 2021)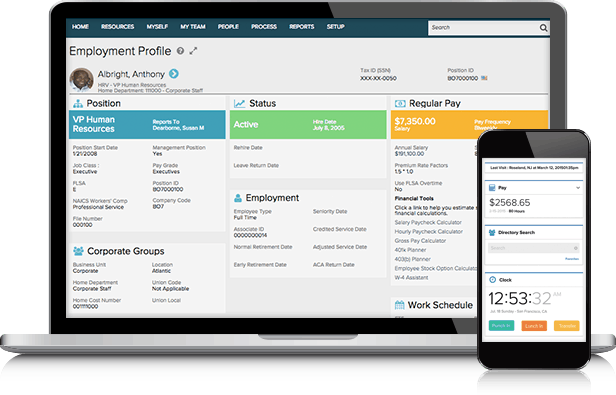 Is choosing the right POS system one of the many business decisions you need to make now? If so, RPower's point of sale software and hardware may just be the solution you have been looking for. Basically, any brick-and-mortar businesses need a POS system that is tailor-made to suit their needs.
RPower POS is specifically designed to address the needs of professional table-service restaurants. With this system in your restaurant, you will have an easier time running almost every aspect of your business, ranging from splitting checks to Hold/Fire ordering and menu coursing.
Additionally, this system is highly customizable, allowing you to personalize its features to suit the needs of your business. Throughout this review, you will learn why RPower is the preferred POS solution for more than 6,000 restaurants, bars and clubs today.
RPower POS Review – Company Overview
Rpower POS is offered by RPOWER POS—a provider that was founded in 1994. The main objective of this provider is to offer a point of sale system that is geared towards minimizing costs, enhancing efficiency and maximizing profit for their clients.
In line with such goals, the RPower POS software features an assortment of features and tools for business owners and management personnel who are frequently on the go. Some of the innovative capabilities of this system include auto off-site backups, trigger emailing, social media-driven loyalty programs and real-time reporting.
Ranging from their pro hardware solutions to innovative restaurant POS software, the provider offers you nothing, but the best POS solution. You will find this POS solution suitable for single locations and multi-store restaurant chains alike.

RPower POS Benefits
Comes with durable and user-friendly hardware
Allows for exportation of data to QuickBooks
Supports mobile device management
Superior inventory management capabilities
Supports tableside ordering and payment processing
Integrates with a patron online food ordering platform
Offers patrol management metrics
Rpower Drawbacks
The system does not support iPads
RPower Pricing
This provider does not offer any information on pricing on its official website. This is probably because the POS hardware and software components are sold through a network of authorized dealers. In other words, RPOS POS does not support direct sales on their website or on-site.
As such, the much you will end up spending on Rpower POS system will mainly depend on your preferred dealer and module. What about credit card processing fees? Again, this will also depend on your preferred credit card processor. To get an accurate quote for the Rpower POS, you should contact your preferred dealer.
RPower Hardware and Accessory Requirements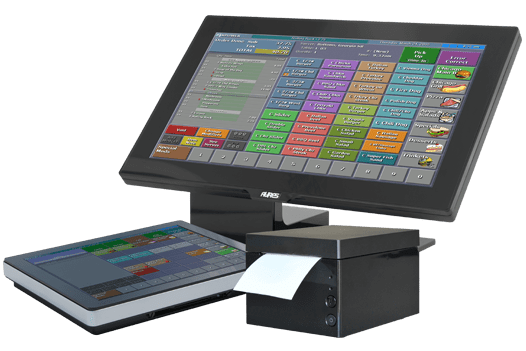 Depending on the size and needs of your business, you will need the right hardware for your Rpower POS system. Ranging from stationary point of sale terminals to kitchen display systems, the provider offers several hardware components to meet your needs.
Some of the POS hardware components offered by this provider include:
WebDT 430 for tableside ordering
J2 Series Workstation for stationery POS terminal
Touch Dynamics Breeze series
Thermal receipt printers
Dot-Matrix Impact printers
Thermal Label Printers – for printing bags, pizza boxes and take-out orders
Two, four and eight line caller ID units – for accepting phone-in orders as well as for customer recognition
Rpower cash drawers
Integrated fingerprint readers
Additionally, this POS is known to work with an array of other hardware components. For instance, you may as well add coin dispensers and cameras to your RPower POS system.
RPower POS Features and Capabilities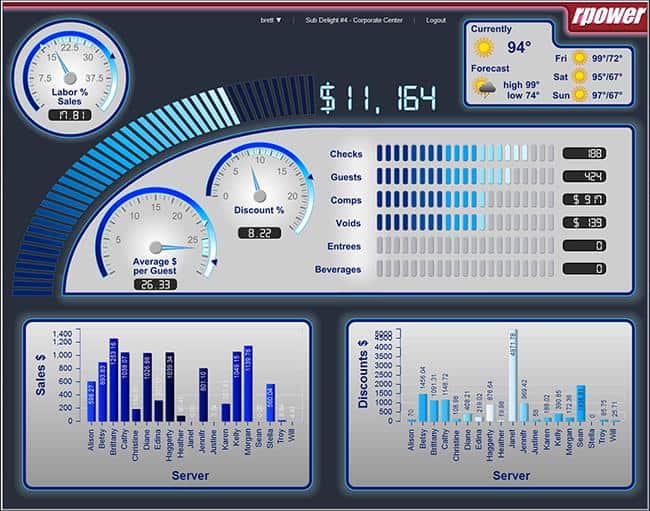 This is actually what will help you ascertain whether this system is suited for your business. So, what is the Rpower POS system capable of? Well, this system has a horde of features and capabilities that are tailor-made for the hospitality and restaurant industry.
Some of the key features and capabilities of this POS software include:
Payment Processing
Fists things first, one of the main reasons you need a POS system is to process payments in your business, right? So, how does the Rpower POS fair in that regard? To begin with, this system is capable of integrating with different payment processing providers.
While Vantif is listed as the preferred payment processor on this system, the provider allows you to choose the processor you would like to use. The system is designed to either work with payment processing platforms directly or through third-party payment gateways
This makes it possible for you to process almost all the major credit and debit cards as well as cash. With this system in your restaurants, you can also have the customers use the codes in their receipts to make payments from their phones. This will definitely give your customers the flexibility they need while paying for their orders.
Order Management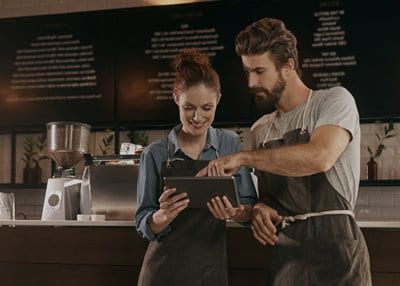 Taking, processing and preparing orders is a cumbersome task, when done manually. In order to streamline this process and enhance accuracy and efficiency in your restaurant, Rpower POS offers the right Order Management tools.
Some of the order management tools you will get with this system include kitchen display routing, graphical table layout, delivery management, property management and online ordering.
Online Ordering Integration
Almost all restaurants in the country are accepting online payments. As such, you should not miss out on this opportunity to drive more sales and revenue to your business. This is why the Rpower POS supports online ordering integration.
With this restaurant POS system, you can integrate online ordering capabilities to your business website. This allows your customers to place their orders and make payments online through your website. Thanks to the Rpower XML online Internet ordering interface, you will find it relatively easy to create and integrate an online ordering experience to your website.
Additionally, the system also supports integrations with other services, such as Seamless, TakeOut Technologies, Maven, MenuDrive and Grubhub.
Kitchen Display Routing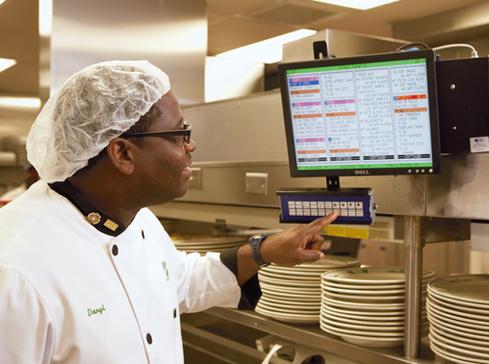 Communication between front of house and back of house staff is also important for enhanced efficiency in your restaurant. This is why this software is designed to automatically populate a kitchen display screen or workstation installed in your kitchen.
This serves as an efficient communication system in your business. With such a system, servers can accept orders at the table and send them directly to the kitchen display system; without having to walk all the way back.
Kitchen display routing on Rpower POS supports both 'Bump Bar' and Touch screen interfaces. As you can imagine, such a system will make it easier and painless to receive, prepare and deliver customer orders in your business.
Gift Card and Loyalty Programs
While trying to net in more customers in your restaurant, it pays to have the current customers coming back. As you may be aware, customer retention is not that easy. So, how exactly can you encourage your current customers to come back again?
Loyalty and gift cards are some of the best ways of enhancing customer retention in your business. In this regard, the system is designed to gather the necessary customer information; making it possible for you to offer personalized gift cards and loyalty programs.
Of you choose to use loyalty programs, the system will automatically track the much your customers are spending and award them loyalty points accordingly. The system is capable of tracking cash and points balances through account numbers, card swipes, bar codes, email, credit cards or phone numbers.
Payroll Integrations and Exports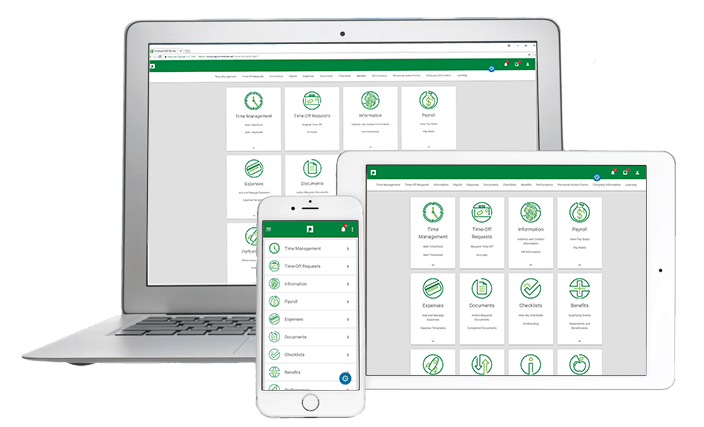 With this system in your restaurant, you will be able to extract and export employee data, such as time, to the payroll or salary software. In this regard, the software is capable of integrating with a multitude of third-party Payroll processors, including ADP, Compupay, and Paychex.
In its functioning, this functionality assigns a unique identification number to each of your employees. This number is then linked with your payroll service for accurate reconciliation, reporting and payments for the work each employee has completed.
Web-Based Reporting
Whether you own a single or multi-location business, you need to get accurate and real-time data on your business. RPower POS SQL reporting engine is specifically designed to make this a walk in the park. With this search engine, your business data including store-level sales, customer, inventory and labor data, will be collected and securely warehoused.
The data is later used to host web reports package by Rpower POS. as you will come to learn, this POS offers more than 60 different web-based reports on various aspects of your business. These reports are delivered to you in real-time through a browser.
You can then choose to download your reports in XLS, PDF or RTF formats. The Rpower Web Reports package is also capable of emailing you a selection of reports on your preferred intervals, either daily weekly or monthly.
Other Point of Sale Alternatives
The Bottom Line
Rpower POS may not be a popular alternative, but is packed with everything you need to run your restaurant more efficiently and increase sales. The product is loaded with a horde of industry-specific features, yet is simple to implement and use.
You will also love the fact that this restaurant POS can integrate with a myriad of third-party integrations, ranging from payment processors to payroll services. When it comes to convenience, enhanced customer experience and easier restaurant management, RPower is one of the best restaurant POS systems in the market.