(Last Updated On: October 19, 2021)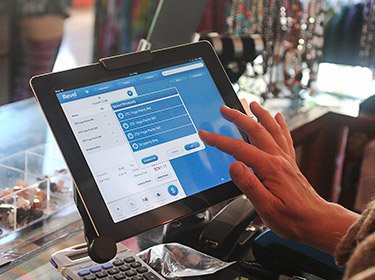 Any device without a keyboard, that is operated by touching the screen to select options, is a touchscreen device. Examples include smartphones, tablets, ATMs, check-in kiosks at airports, and point of sale (POS) systems. Today we focus on one specific type, as we provide reviews of the 9 best touchscreen POS systems.
Touchscreen technology didn't just pop up, it developed over time. The invention of the touchscreen isn't attributed to any specific person. The technology evolved through contributions from various devices over the years (Source).
There are POS systems for tons of niche business types, from car wash POS systems to POS systems for spas and salons. But the majority are built for restaurants or retail businesses, with some delivering features that satisfy the needs of both.
Below we'll give you a crash course on touchscreen POS systems. You'll read reviews of the top nine systems and learn about important system characteristics in our buyer's guide. Let's start by taking a look at our picks for the nine best touch screen POS systems on the market.

The 9 Best Touchscreen POS Systems
Here, we provide a quick glimpse into our top 9 picks to ease you into our full reviews of each system. So, what is the best touchscreen POS system? Let's dig in.
Square Point of Sale – Best Touchscreen POS System Overall
PHP Point of Sale – Best Touchscreen POS System for Startups and Smaller Retailers
Loyverse – Best Free Touchscreen POS System
Vagaro – Best Touchscreen POS System for Appointment Based Businesses
Lightspeed POS – Best Touchscreen POS System for Inventory Management
Upserve – Best Touchscreen POS System for Full-Service Restaurants
TouchBistro – Most Diverse Restaurant Touchscreen POS System
POS Nation – Best Customizable Touchscreen POS System
Shopify – Best Touchscreen POS System for eCommerce
Top 9 Touch Screen POS Systems
POS Name

Best For

Starting Price

Starting Price

Best Touchscreen POS System Overall

FREE

N/A

Best System for Startups and Smaller Retailers

$34/Month

YES
14-Day Free Trial

Best Free Touchscreen System

FREE

YES
14-Day Free Trial
for Add-on Modules

Best for Appointment Based Businesses

$25/Month

YES
30-Day Free Trial

Best for Inventory Management

$69/Month

YES
14-Day Free Trial

Best System for Full-Service Restaurants

$59/Month

NO

Best Scalable System

Quote-Based

YES
14-Day Free Trial

Most Diverse Restaurant Touchscreen POS System

$69/Month

YES
Length Unspecified

Best Customizable Touchscreen System

$99/Month

YES
Length Unspecified

Best Touchscreen System for eCommerce

$29/Month

YES
14-Day Free Trial
Reviews of the Best Touchscreen POS Systems
Now that we've provided a brief overview of the best touchscreen POS systems, let's dig into our detailed reviews. We start with the best overall touchscreen POS system: Square Point of Sale.
1. Square Point of Sale – Best Overall Touchscreen POS System

Square Point of Sale is an offering from Square, Inc., a merchant services aggregator, financial services, and mobile payment company. Based in northern California, the company is a leader in the point of sale software space as well.
Square POS is a dependable POS system that was built for simplicity. It is currently used by over two million businesses around the world. That alone indicates how powerful of a system it is. Adding to Square's credibility, it was co-founded by Jack Dorsey, who co-founded another company you might have heard of: Twitter.
The marriage of simplicity and power is what drives Square's success. The system works on mobile devices. You can attach a credit card reader to your smartphone and process a payment. It's that simple.
Square is used by restaurants, retailers, and a host of additional types of businesses.
In addition to an intuitive user interface, which simplifies training new users, Square has another strong selling point. The software is free to use. You pay for the credit card reader and other hardware components, but you can download the app at no charge.
To sum things up, Square Point of Sale is the most popular, widely used POS system available today. That's why it won the top spot on our list.
Pros
Free to download and use
Simple functionality that dramatically shortens the learning curve for new users
Used by millions and maintains consistently high user ratings
Diverse enough to meet the needs of restaurants, retailers, and more
Did we mention it's free?
Cons
Payment processing fees can be a bit high, but the company has to make money somehow
2. PHP Point of Sale – Best Touchscreen POS System for Startups and Smaller Retailers

PHP Point of Sale was originally founded in 2010 in Rochester, NY. It was initially developed to track sales and revenue at a small, local tennis shop. The system was so helpful to that tennis shop that the company's founder, Chris Muench, was soon expanding operations.
PHP remains a small company dedicated to facilitating growth for startups and small businesses. Today, the system is leveraged by countless small retail businesses across the world. It is used most by mobile phone shops, clothing retailers, book shops, bakeries, sporting goods retailers, and grocery stores.
Customer satisfaction is high across the board, with few detractors. The system delivers all the features these small businesses need. Those include eCommerce capabilities, open platform credit card integration, store accounts, customer loyalty programs, and additional advanced features retailers expect.
However, perhaps its strongest selling point is its multiple location management capabilities. These allow owners of multiple stores under the same brand to manage operations for them all through one, centralized system.
Pros
Affordable price point—perfect for the budget of a small business
Accessibility across various devices
High-quality customer service and support
Powerful sales tracking and management features
Cons
Accounting features could be improved
Some users report inaccurate inventory counts
Lack of support tutorials and how-to guides to support new users
Get A Quote from PHP Point of Sale
3. Loyverse – Best Free Touchscreen POS System

Loyverse is a cost-efficient point of sale system. It is best fit for restaurants but can also be used by retailers such as bike shops. By cost-effective, we mean 100% free, with no strings attached.
However, the system offers two additional, fee-based add-ons that are not included with the free version. They are reasonably priced, but also necessary for some businesses which essentially obligates those businesses to purchase the add-ons.
The Employee Management Add-on
The enhanced employee management capabilities are powerful, but only available for an additional cost. If you need to manage employee timecards, user permissions, and track sales by employee, you'll require it. You can add it for $5.00 USD per user, per month.
The Inventory Management Add-on
Loyverse delivers robust inventory management features, but you'll have to pay for them. Adding these capabilities will cost $25 per store, per month.
Pros
Incredibly intuitive and easy to use interface
World-class customer service and support
Customer relationship improvement through the system's loyalty programs
Advanced add-ons include a free 14-day trial so you can test them before committing
Cons
The tax calculation feature is a bit confusing for some users
Users complain about free inventory features lacking certain capabilities
4. Vagaro – Best Touchscreen POS System for Appointment Based Businesses

Vagaro delivers robust point of sale functionality. However, its feature set exceeds simple point of sale capabilities.
Vagaro's customers tend to be businesses that resolve around tending to customers who book appointments. Gyms, salons, yoga studios, and even dentist's and doctor's offices find Vagaro to be the best solution available to meet their needs.
Those businesses need a system that streamlines and automates aspects of appointment booking and Vagaro meets those needs. So, in short, Vagaro is an appointment scheduling and POS system in one.
One thing that impresses us about Vagaro is the company's dedication to the customer experience and genuinely supporting small business growth.
Vagaro consistently searches for ways to improve its system. It does so by adding new features that assist in customer business growth and improve productivity. Its customers realize this, which is why they tend to be among the most satisfied customers in the POS space.
A few of its strongest features include:
Memberships & Workshops: You can fill more appointments with Vagaro's customer-centric features.
Live Class Streaming: Vagaro lets you stream live yoga classes over the Internet.
Email, Text, & Push Notifications: Every customer looks for information in their own unique way. Vagaro lets you reach them all with automated emails, text messages, and in-app push notifications.
Pros
Industry-leading appointment scheduling capabilities
Excellent payment processing functionality
Very intuitive and easy to use
Loads of value for the price point
Cons
No upgrade packages—additional features must be purchased individually
System must be taken offline for software updates
Users can't mark an entire day as unavailable in the system's online calendar
5. Lightspeed POS – Best Touchscreen POS System for Inventory Management

Founded in 2005, the Canadian company has been a player on the main stage for over 15 years. Lightspeed Retail POS is ideal for larger retail businesses. In fact, we've read reports from smaller businesses saying the system is too complex for them.
However, we disagree. Regardless of the size of your business, Lightspeed POS will make it more efficient and profitable.
The real drawback for smaller businesses is Lightspeed POS's pricing. Its base-level version costs roughly twice as much as simpler solutions. Ultimately, it's a question of budget, not system complexity.
Smaller retailers tend to require fewer features and Lightspeed POS is packed to the brim with powerful POS capabilities. They shy away from Lightspeed due to budget concerns, but that doesn't mean it wouldn't serve them well.
Regardless, Lightspeed Retail POS is widely considered to be one of the most powerful retail POS systems available. It delivers advanced features that other systems don't. These include built-in eCommerce sites as well as SEO features to optimize customers' online storefronts.
Pros
Works with all popular web browsers
Delivers automated updates with no downtime
Great customer service and support
Features more than 250 third-party integrations
Cons
The user interface isn't the most intuitive due to the system's extensive feature set
Users must sign an annual contract—monthly subscriptions are not available
Price point is higher than other retail systems, but you get what you pay for
6. Upserve – Best Touchscreen POS System for Full-Service Restaurants


Upserve is not just another basic POS system for restaurants. On the contrary, Upserve is an all-inclusive restaurant management solution. It includes point of sale features, but they are just the tip of the Upserve iceberg.
Many users consider it the ideal POS/restaurant management system, and for good reason. Advanced features include robust table management, online order receipt, food delivery management, check-splitting, advanced tips management, and so on. That's why so many restaurants select Upserve as their system of choice.
Dining room managers are able to assign tables to individual servers based on floorplan sections. Plus, Upserve allows front of house restaurant staff to easily update menus, streamline the checkout process, quickly process payments, and more.
The system also streamlines kitchen operations with a variety of features that expedite food service. When combined with the right kitchen POS hardware components, Upserve turns a normal kitchen into an exceptional, efficient one.
Pros
Extensive tableside feature set that eases the burden on front of house staff
Menu control options are perhaps the most robust in the industry
Live, on-site training offered to new users
Broad compatibility with a vast range of POS hardware components
Cons
No free trial offered
A few of its strongest features are only available in higher-tier packages
You're obligated to sign a three-year contract to use the system
7. TouchBistro – Most Diverse Restaurant Touchscreen POS System

TouchBistro is a definite crowd pleaser. It's among the most popular restaurant point of sale systems available and is a household name in the industry.
The solution is the number one restaurant POS system across the world. When measuring system popularity by gross revenue, TouchBistro is the top restaurant POS system in over 35 countries.
Why? First of all, the system is intuitive, with a user-friendly interface, making it easy to train new employees.
Second, it's a mobile, cloud-based point of sale system designed for use with an iPad. This makes it easier to tend to customers.
However, its mobile capacity is not limited to use on iPads. It can also be accessed as a software as a service (SaaS) solution. This means you can access your system from any mobile device with a web browser and search capabilities.
Restaurant servers can carry their POS system with them to tables to take orders and process payments. Restaurant patrons particularly enjoy being to pay at the table. This system is great alternative to Rezku POS.
Pros
TouchBistro includes over 200 features
Pricing plan flexibility
Highly customizable
Supports scaling, growing businesses as they grow
Cons
Does not include a built-in payment processing function
Company could release more frequent system updates
8. POS Nation – Best Customizable Touchscreen POS System

POS Nation is a highly customizable point of sale system used by a broad spectrum of business types. It delivers features that streamline operations for retail stores, grocery stores, food and beverage businesses, liquor stores, and more.
The system is a comprehensive point of sale solution that offers extensive flexibility so users can leverage it to fit their unique needs.
This maximum flexibility blends perfectly with the system's data processing capabilities. Users can easily capture and analyze loads of data to produce all the reporting and analysis they could ask for.
With such powerful reporting, businesses can easily track sales, identify purchasing patterns, and more. This gives users the ability to make data-driven decisions about inventory, growth strategy, sales tactics, etc.
POS Nation is known for its ability to accurately track expenses and validate their accuracy against sales and inventory levels. If actionable insight and customization are what you're after, POS Nation could be the system you've been searching for.
Pros
Comprehensive feature set allows users to complete virtually any task
Customer-focused company that excels at customer service
Extremely customizable
Tons of value for the price
Cons
Users report a few glitches in the system's inventory management features
Some users claim the system is not the most user friendly
9. Shopify – Best Touchscreen POS System for eCommerce

Shopify is best known as being one of the most popular, leading eCommerce platforms on the market. The company has been driving eCommerce for businesses of all sizes for nearly two decades. However, its point of sale system is also a powerful solution.
As the company grew over those two decades, its decision makers decided to start manufacturing POS hardware components. Users can purchase POS packages that come complete with POS software and hardware in a single bundle.
This decision led to increased popularity and brand recognition for Shopify. Today, most people in the software space are familiar with Shopify—it's become a household name. It is now used in various industries and continues to be one of the top POS/eCommerce solutions available.
If you run a business and want a POS system with powerful eCommerce features, we certainly recommend checking out Shopify.
Pros
eCommerce website builder
Ease of use
Powerful reporting
Extensive software integrations
Cons
Huge rise in pricing from standard version to advanced version
Touchscreen POS System Buyer's Guide
Before deciding to move forward with a touchscreen POS system, it's important to consider a number of variables. Below, we cover some of the most important system characteristics to consider before selecting a system.
Software Features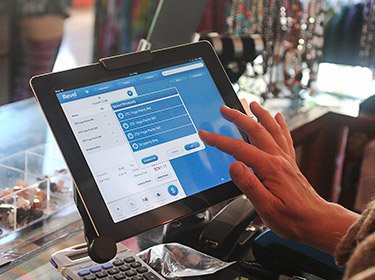 POS software is the brain of your entire POS system. Software features give commands while POS hardware (covered below) executes those commands.
Below we cover some critically important POS software features to look for when evaluating different systems. We focus on core features that virtually any type of business needs.
Payment Processing
Assuming you run a business that processes in-store payments, you need the ability to do this easily and quickly. The slower your checkout process is, the less successful your business will be.
Look for a system that can process various types of payments (cash, credit, debit, gift cards, etc.). Also, be aware of the fees each system charges for each credit card transaction.
Inventory Management
Unless your business provides services instead of products, odds are you keep inventory on-site. If you maintain large volumes of stock at your store, it's important to use a system that streamlines inventory tracking.
Look for a system that easily counts inventory, tracks inventory levels, and adjusts them accordingly when someone makes a purchase. Your system should also automatically update inventory levels when new shipments arrive.
Reporting, Metrics, and Analytics
Every business needs to capture various types of data, analyze it, and use the resulting insight to make data-driven decisions. In today's digital era, businesses that don't leverage data and analysis will almost certainly lose out to the competition.
Look for a system that captures and stores personal data about your customers, sales data, inventory data, and more. Powerful reporting will enable you to drive more sales, deliver a better customer experience, and expedite revenue and business growth.
System Integration Options
As you grow your business, you'll eventually need to integrate your POS system with software from other vendors. This typically includes customer relationship management (CRM) software, eCommerce platforms, payment processing software, marketing automation solutions, accounting software, etc.
Some POS systems include the functions these systems provide as built-in features. Many do not. Before deciding to go with a POS system provider, make a list of your current and anticipated needs. Then look for a system that easily integrates with the types of third-party software you'll need to use.
POS Hardware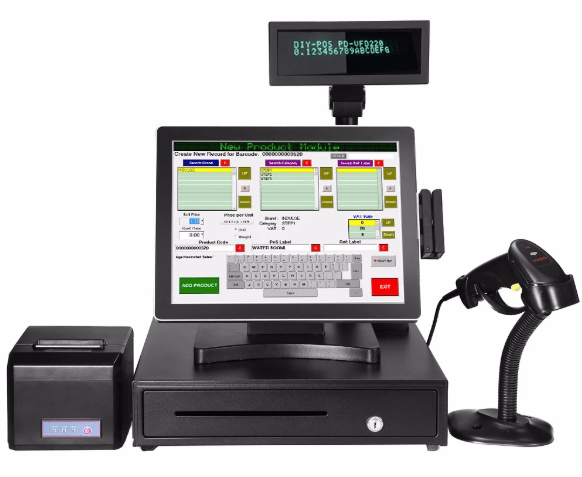 A point of sale system can't operate with software alone. It needs POS hardware to execute the commands given by your POS software system.
For example, your software can feature the best payment processing capabilities in the world. But if you don't have a credit card reader, your payment processing capabilities are useless.
Common Hardware Components
When evaluating POS systems, consider which software functions you need to use, and which hardware components facilitate those functions.
Some of the most commonly-used hardware components include cash registers, barcode scanners, card readers, receipt printers, and cash drawers.
Buying Vs. Leasing POS Hardware
POS systems typically offer two options for acquiring hardware components: leasing or purchasing them. Here, we cover the pros and cons of each.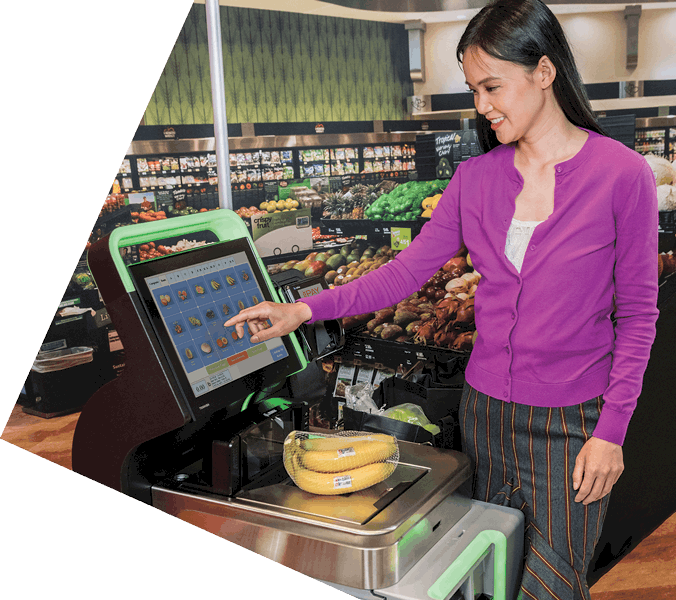 Purchasing POS Hardware: One of the pros of purchasing hardware is that after paying for it, it's yours to keep forever. As you grow and scale your business, you can always purchase additional hardware to accommodate that growth.
However, when you purchase hardware, you do so knowing that you'll eventually need to replace it. Nothing lasts forever, even POS hardware. Normal wear and tear will eventually lead to one component or another breaking down.
At that point, you'll need to invest in a new component to replace the non-functional one. Moreover, when you purchase hardware, you'll be using dated components after a few years as new models come out.
Leasing POS Hardware: Leasing hardware provides different benefits. For example, when you lease, you know that you are always leveraging the latest technology available.
Also, let's say your business model changes and you no longer need a specific component. If you're leasing, you can alter your contract and stop paying for that component. Having that flexibility is attractive to many business owners.
The downside of leasing is that it is more expensive in the long run than purchasing hardware. Our advice is to lease if you're just opening a new business. If your business ends up moving in an unexpected direction, you won't lose the larger sums of money you spend to purchase your hardware.
Alternatively, if you own or run an established business, purchasing hardware may be a better potion for you.
Time to Start Evaluating Individual Touchscreen POS Systems?
If you're ready to start shopping around for your own touchscreen POS system, you're already off to a good start.
We've covered what touchscreen systems do and considerations you should make when shopping around. Most importantly, we provided you with our opinion on the best POS software available by reviewing the top 9 systems. Now, we hand you the baton so you can continue your evaluation.
As you continue to research different systems, be sure to look for information in the right places. Reading user reviews can be particularly helpful because they provide insight from real-life users in similar situations as yours.
Don't simply read one review and make a compulsive decision. Rather, make a list of your system needs and requirements as they relate to your unique business model and goals. Consider your budget as well and ensure the system you select fits within it.
It's also important to take your time and consider many variables before deciding. That's because you'll be using this system for quite a while and your business's success will rest on the system you choose.  Think carefully and choose wisely.