(Last Updated On: June 4, 2021)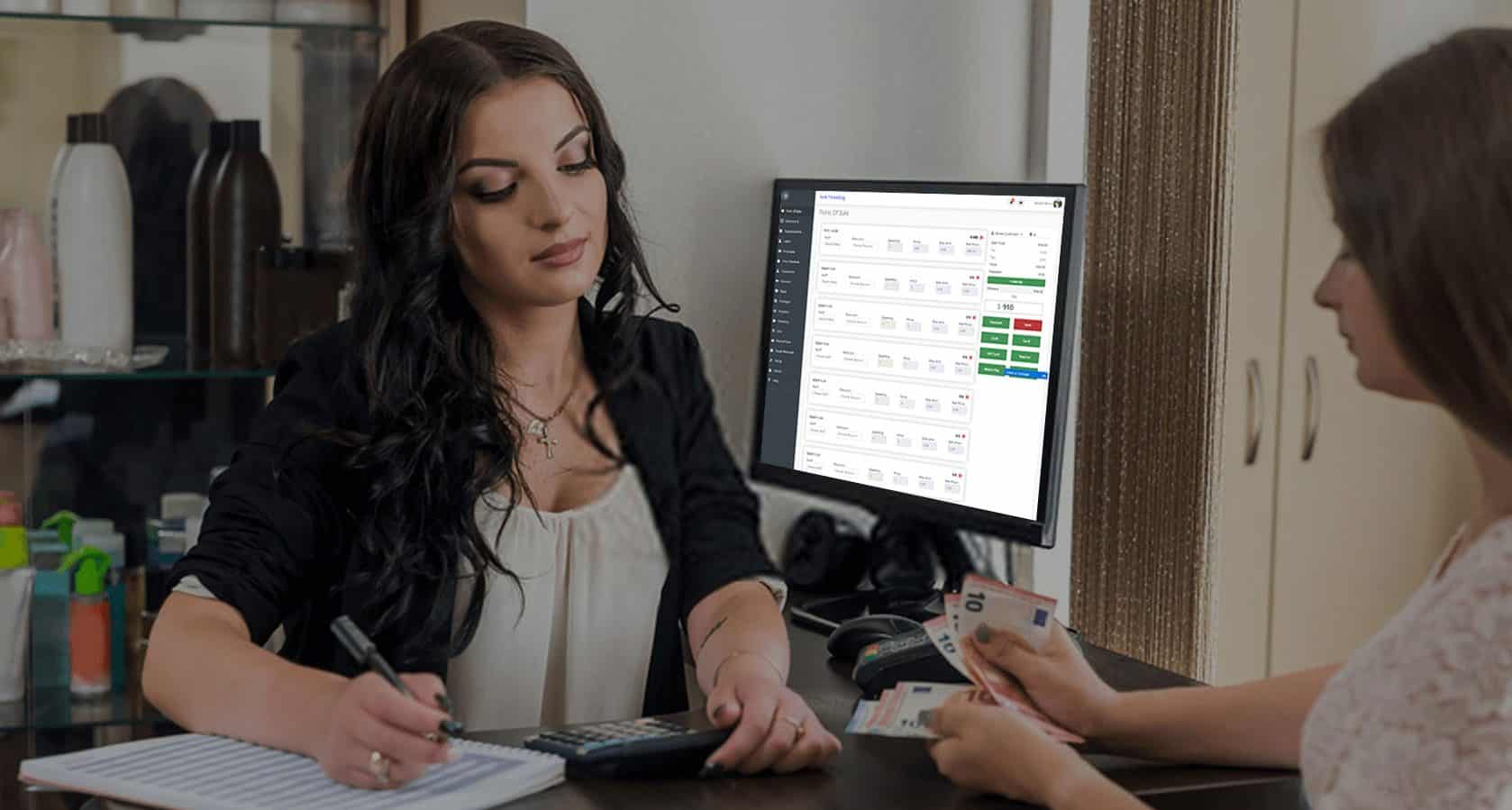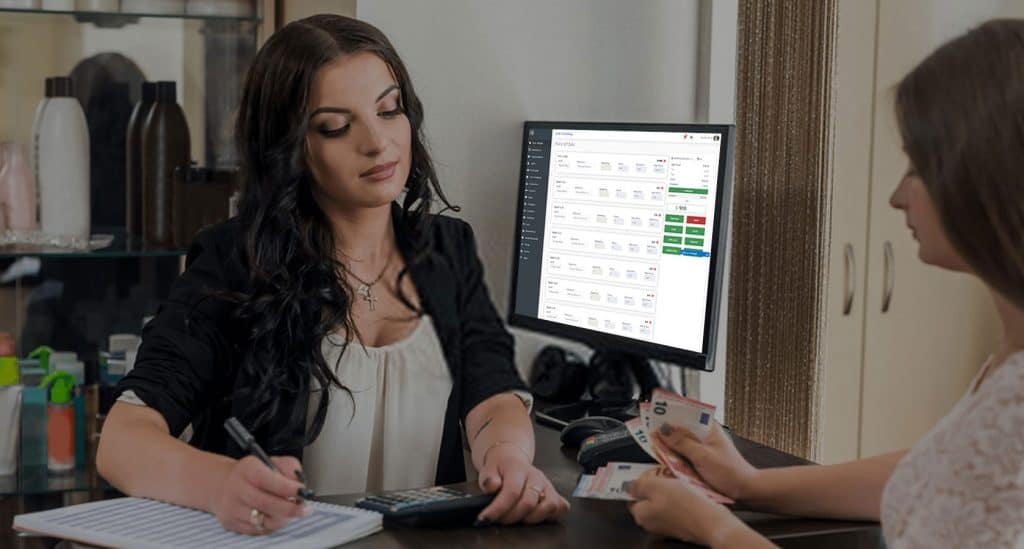 Whether you manage a busy hair salon or a thriving bridal salon, the number one challenge is missed appointments.  The average beauty business will have at least 5 missed appointments per week, which translates to $24,000 of lost revenue annually. Therefore, reducing no-shows in your salon or spa will pad your bottom line.
Salons can reduce no-shows by sending reminders, making cancellations easy thru the app, and train your staff based on best practices.  Salon POS system will help you reduce no-shows by automative SMS and email reminders as well as providing third-party app integration.
Another way the POS system can increase profits is through analyzing detailed sales reports. For instance, by looking at sales reports, the owner of the salon can swap an unpopular inventory of hair products for more in-demand products. The same applies to managing customer expectations better. Some salons will sell more facials while others do better by focusing on hair styling and coloring. Salon & spa point of sale systems have many other useful functions, which we will discuss in great detail below.
Based on our extensive research, Vagaro is the best salon POS system due to its robust appointment reminders technology. The systems offer an appointment reminder to both employees and customers alike. The system is custom-tailored for salons and it is reasonably priced. The company is so confident that you would love the system, that it offers 30 days free trial. However, for cross-location reporting Mindbody does a better job. 
Of course, every business is different and there are many other things to consider such as credit card processing, and gift card, and customer loyalty management. So if you are ready to take your beauty salon to the next level, let's review how to choose the right salon POS system for your business, and what are our top choices for salon management software.

Comparing the Top Salon POS Systems
Spa and Salon POS System

System Pricing

Free Trial

Compatible Platforms

MindBody
Essential Package: $129 per month
Accelerate Package: $239 per month
Ultimate Package: $349 per month

NO
MindBody only offers a free demo

Native iOS App
Native Android App
Cloud-Based via a web browser

Vagaro
User-based pricing starting at $25 per month, per user. Increasing to $85 per month for seven or more users.

YES
30-day free trial

Native iOS App
Native Android App
Cloud-Based via a web browser

Booker
Essential Package: $129 per month
Accelerate Package: $239 per month
Ultimate Package: $349 per month

NO
Booker only offers a free demo

Native iOS App
Native Android App
Cloud-Based via a web browser

Salon Iris
Basic Package: $29 per month
Deluxe Package: $59 per month
Premier Package: $109 per month
Professional Package: $119 per month

YES
14-day free trial

Native iOS App
Native Android App
Cloud-Based via a web browser
Installed Windows version

Rosy Salon Software
User-based pricing starting at $25 per month, per user. Increasing to $99 per month for 21 or more users.

YES
30-day free trial

Cloud-Based via a web browser

Best Salon POS Systems
1. Vagaro – Best Salon POS Overall

The last time we checked, Vagaro was the most reviewed and most downloaded spa and salon POS system available. And that's not only because of its relatively low price point, although that's definitely a strong selling point.
Potential customers can register for a free 30-day trial and test drive Vagaro to see how it fits with their business culture and aligns with their business needs.
Vagaro's key selling points include automated reminders via email, SMS text, or in-app notifications reminding customers about the appointment they previously booked so they don't forget to show up. Those reminder alerts also help employees keep track of their daily responsibilities and stay on top of their duties.
Plus, reminders eliminate the need for employees to call and confirm each appointment individually, freeing up time to focus more on the customer experience. Which, as mentioned above, leads to customer satisfaction, brand loyalty, and repeat business.
Moreover, users tout the system's marketing features, online booking capabilities, and the ability to create a website through the system. It was a hard choice deciding who took the number one spot on our list. It was almost a tie between MindBody and Vagaro. Take our word for it, Vagaro is a top-notch spa and salon POS system worth serious evaluation. To learn more, read our review of Vagaro POS.
User Reported Drawbacks
Just like any system, not all users are happy all the time and we found some common complaints in user reviews. Those included, but were not limited to:
Users complain about not being able to void a transaction after it has been entered in the case that an employee made a mistake ringing up a customer.
Although Vagaro allows users to create and host their own website through the system, users complain about the lack of website customizability available.
Many premium features require you to pay extra fees to connect them to your system, which users find quite irritating.
2. MindBody – The Runner Up


As they say, a healthy mind and a healthy body go hand in hand. You can't truly maintain one without the other. So, first of all, MindBody chose a great brand name. But that has nothing to do with the fact that it landed at the top of our list.
The system is super robust and delivers loads of features that attract spa and salon owners like a slice of New York's best pizza. For example, customers love the fact that they can download the MindBody POS app and schedule appointments online from their mobile devices.
MindBody POS's feature-rich system hooks spas and salons in growth stages by offering value-added features like multiple location store management capacities, marketing features, and the ability to find local health and fitness events in your area.
Users can search the native app and locate events near them and even book time at those events through MindBody. Users also report that the system is very intuitive and user-friendly, with a short learning curve. And its drag and drop functionality around online appointment scheduling is certainly a crowd-pleaser.
Plus, MindBody offers super robust training options; users can schedule one-on-one training sessions or group sessions, and they almost always walk away satisfied for having learned new system capabilities and tips and tricks they didn't previously know.
Overall, although it's a bit pricier than some competitors (while also carrying the same price tag as others), MindBody is certainly a market leader and our favorite spa and salon POS system available. Alternatively, it can be used as Nail Salon POS.
User Reported Drawbacks
Nothing is perfect, except Google's search algorithm [joke], and there are some drawbacks mentioned in MindBody user reviews. Here are a few:
There is no installed version, which would not seem like a problem for most businesses. However, some users report having poor internet connections at their spa or salon and need an installed version that doesn't rely on the internet or mobile data to function.
Some users claim that when MindBody updates its system it introduces new bugs and other issues that they are slow to fix, setting users back rather than pushing them forward as a software update should.
The cost of the system simply seems too high for some potential customers. However, we feel that is because those potential customers do not fully grasp the return on their investment (ROI) that MindBody will provide. Rather they lump it in with cheaper systems with fewer features, believe them to be virtually the same, and don't understand why MindBody is more expensive.
3. Booker

Booker is a powerful system that could be considered an all-in-one spa and salon management tool. It is accessible as a cloud-based SaaS solution or as an installed native app. This allows users to access the system from anywhere, any time of the day or night.
Users report loving Booker's marketing add-ons, which allow them to keep in closer contact with their customers, send them special offers, etc. Booker's add-ons, in general, are a big hit with users.
Another top selling point is that Booker's appointment scheduling features are super easy to use and can be built out with tons of details about the customer, their purchase history, personal data, and more. This allows users to build customer profiles and get to know their customers in a much closer way.
Booker has too many selling points to discuss here. But to be sure, one feature that sells the system is its ability to manage multiple locations for spa and salon owners that have more than one storefront. And, finally, users say that their customers love the intuitive online scheduling features, which remove much of the burden involved in booking appointments from customers' shoulders.
User Reported Drawbacks
It's easy to find some fault with virtually any software system. Again, these "drawbacks" are subjective and do not represent our opinion on the system. Rather, they inform you about issues other users are experiencing. Here are a few examples:
Users report that the system is quite slow when checking out customers and tracking certain data.
Other users say the system's reporting features are weak and that it is hard to find the info you need at times while running reports.
Users claim that Booker's built-in payroll features are not customizable, which would be a problem for a spa or salon because so many employees work part-time. These users say they must outsource their payroll function rather than using Booker's built-in payroll features, which adds costs and frustrates customers.
Booker does not offer a free trial. If you want to try the system you can watch a free demo and then must buy the product in order to try it for yourself.
4. Salon Iris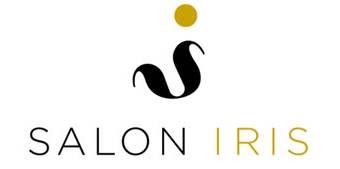 A variety of reasons led us to place Salon Iris in the fourth spot on our list. The system has most of the features spas and salons look for in a business management tool. Those include payroll management, online scheduling, loyalty programs, multi-store management from the same system, recurring appointment management, detailed customer profiles, and more.
Salon Iris can meet the needs of many spa and salon businesses and users are generally satisfied with the software they have selected. It even allows you to easily migrate your customer and business data from another system into Salon Iris at no charge.
But, one of the main reasons—if not the main reason—so many spas and salons select Salon Iris for their business needs is the system's pricing. The system offers a free trial to interested prospects and can then purchase their most basic system for a mere $29 per month per user. This is very cost-effective when compared to other systems reviewed here, such as MindBody, which starts at $129 per month for that system's most basic package.
User Reported Drawbacks
Here are some drawbacks that users have reported on user review sites like Capterra and G2 Crowd:
Some users report having lost data during system updates.
The system is not compatible with an Apple Mac desktop computer.
Many users do not like the fact that they have to pay for too many add-on features.
5. Rosy Salon Software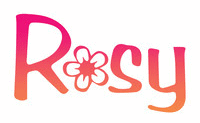 One primary reason that Rosy Salon Software is popular with consumers is that the system just makes sense to users. They report it to be very intuitive and easy to use.
Why is the system so user-friendly? Because it was developed by former spa and salon owners who intimately understand the needs, challenges, and goals of spas and salons.
Users report that the company's customer support team is fantastic, attentive, and is very adept at solving customer issues on the first attempt rather than having them wait days for a resolution to a problem.
Plus, it comes complete with the features you'd expect from a spa and salon system, such as online appointment scheduling and cancellation, customer profiles, employee and payroll management, loyalty programs, inventory management, multiple location management, recurring appointments, and more.
Plus, Rosy Salon Software offers a 30-day free trial so potential buyers can test drive the system, which builds confidence in prospects. Plus, with a price point starting at $25 per month, it's hard to ignore this system. We couldn't, which is why it made our top five list.
User Reported Drawbacks
Let's quickly cover off on some user reported drawbacks of using Rosy Salon Software:
The company does not offer a native app or an installed version. Users can only use the system from a web-browser like all other SaaS solutions.
Customer relationship management features are reported to be basic and need improvement.
Some users report that system updates don't take place as often as they should, as compared to the competition.
Buyers' Guide: What to Look for in Spa and Salon POS System
Most systems include the basic features necessary to run and operate your business. However, the best spa and salon POS software solutions include value-added features. Those premium features differentiate spas and salons and land them on "best of" lists such as this. Below we cover a few important system features and attributes that will empower your spa or salon to differentiate itself and rise above the competition.
Loyalty Programs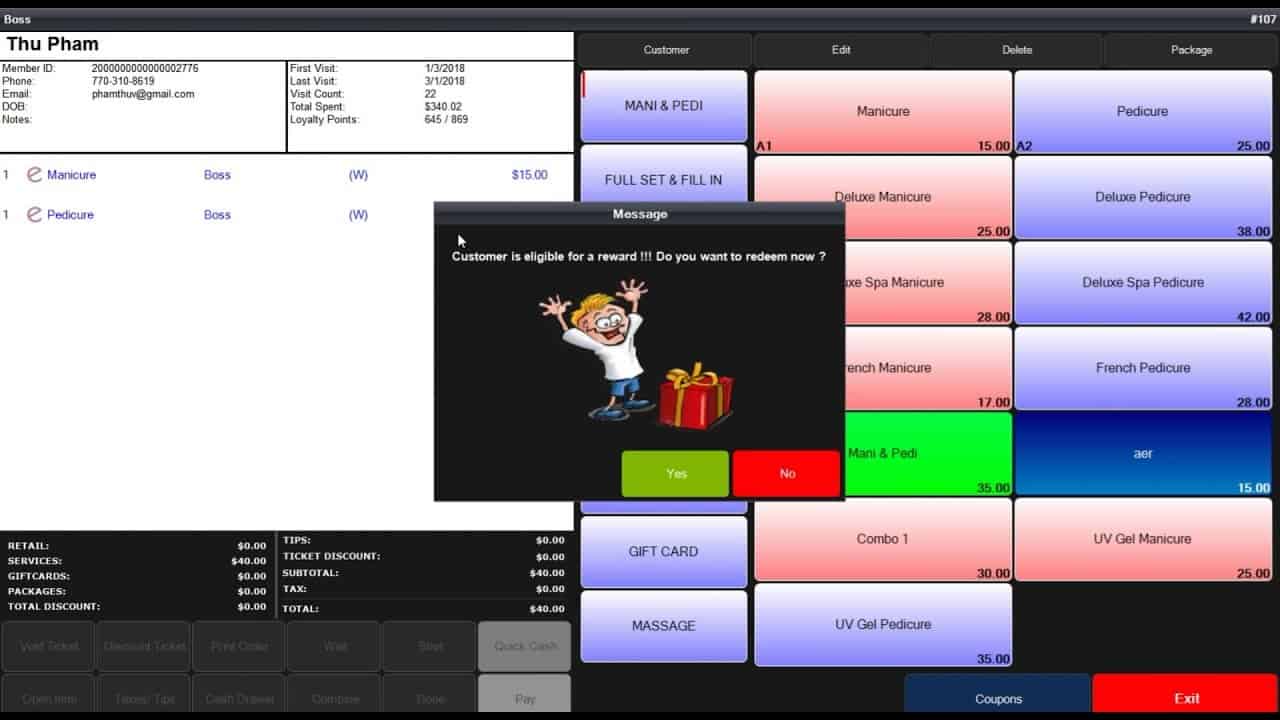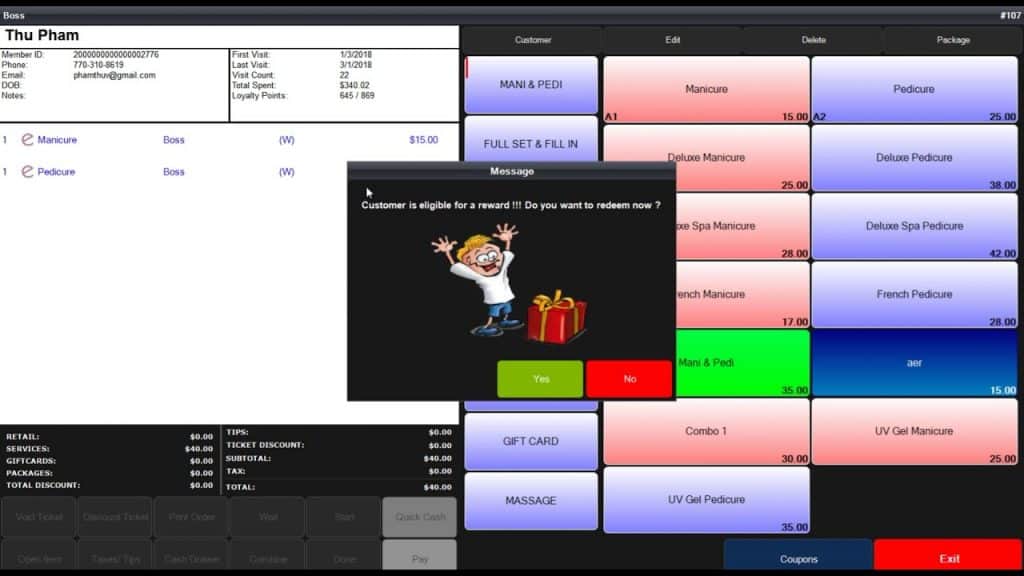 The majority of spa and salon customers—excluding those who visit a resort spa while on vacation in Cabo San Lucas—tend to return to the establishment on a regular basis, as mentioned above. They become comfortable with the staff and form interpersonal relationships with them.
Customers who continue to return to your spa or salon are displaying loyalty to your business, as well as reliable repeat business. So, why not scratch their back too by managing loyalty programs.
Effective spa and salon management software allows you to reward your loyal customers with discounts, gifts, etc., through built-in loyalty programs. In this way, you can keep track of customers who frequent your business. This makes it easy to display your appreciation for their loyalty with discounts and special offers. You can also win back lost customers by using loyalty program features to send previous patrons offers and discounts.
Appointment Scheduling and Management
If you have ever visited a spa or salon, you know that most of the time it is advisable to call ahead and schedule an appointment for a certain day at a specified time. Old school barbershops operate on a first-come, first-served basis because their customers are normally unexpected walk-ins.
That's not so much the case with spas and salons as they are establishments that cater to a higher echelon of clientele that does not like to sit waiting for a pedicure or massage. Unlike barbershop patrons, they don't form communities with one another in the same way. That's why spa and salon owners need a POS system that can automate the appointment scheduling process—to reduce the wait time of each customer.
Recurring Appointments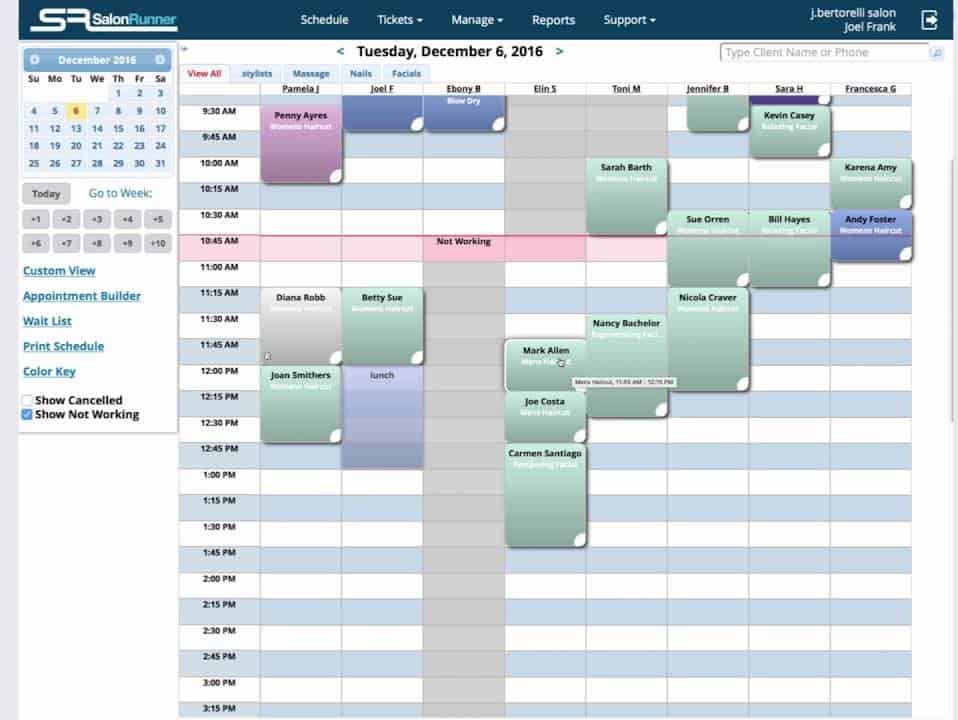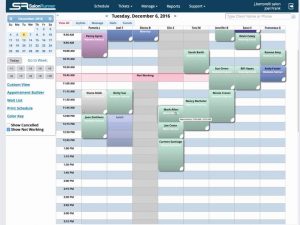 Because the majority of spa and salon customers frequent the same spa or salon every time, they need any kind of beauty treatment, many of them set up recurring appointments. For example, Joan Doe may decide she wants to reserve a 30-minute appointment every other Friday at 3:00 pm in the afternoon.
A solid spa and salon POS system provides features that allow employees to easily set up recurring appointments. Plus, the best systems will send out an automated email, text message, or in-app reminders to customers at a set time interval prior to their appointment. This reduces no-shows and increases revenue.
Online Appointment Scheduling
Online appointment scheduling is very simple and easy to understand. Your spa or salon's POS system includes features that provide you with a unique link. This link leads to your online calendar, which you have full control over. You select the dates and times that you and your staff are available, as well as the length of each time slot.
You take that unique calendar link and share it on your business card, social media profiles, website's contact page, and anywhere else that is appropriate. Customers then click the link and can see which slots are open and which are not. They select the time that's most convenient for them and the meeting automatically shows up on your calendar.
Online appointment scheduling:
Saves the time involved in manually booking appointments over the phone
Improves the customer experience because customers can book appointments faster and at their own convenience
Reduces no-shows because customers receive reminders that help them remember their appointment
Increases productivity because employees don't have to put the customer on hold when they call, flip through a scheduling book to find an open slot, and then confirm with the customer
Improves the overall customer experience, which raises customer satisfaction levels
Online Appointment Cancellation
When using an online scheduling system that allows customers to book open slots for salon visits, those who book an appointment receive a confirmation email with information about the appointment. Among the information in the email confirmation is a cancellation link.
All customers need to do is navigate to that email in their inbox or calendar, check for the cancellation link, click it, and cancel the appointment within the given time frame of the business for cancellations. Cancellation features allow spas and salons to know when a spot has freed up, which happens automatically in their online calendar.
Online cancellation also allows businesses to book new appointments in those newly opened time slots, minimizing the time employees must spend doing nothing.
Online and Pre-Payment Features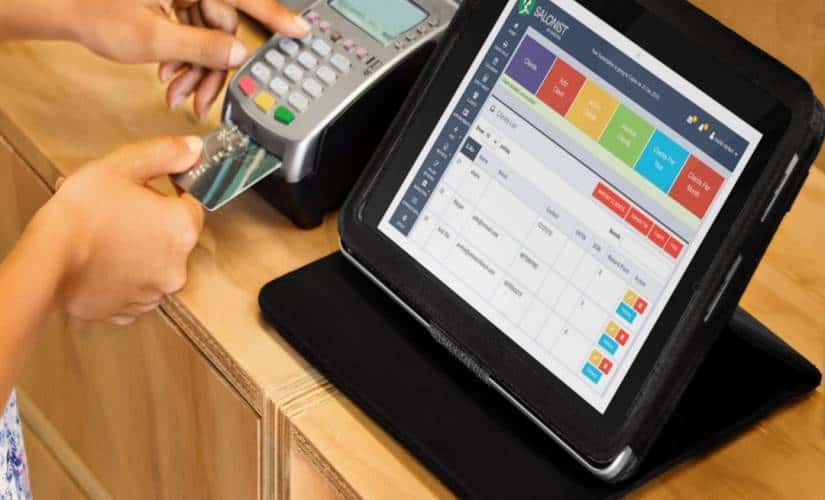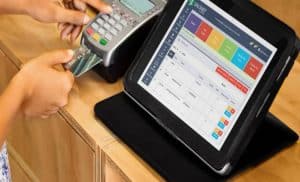 When customers have the ability to pay for their appointment online when they book, many of them will go ahead and do so just to get it out of the way. Features that facilitate this are godsends for span and salon owners and managers.
When a customer can pay ahead of time, before their appointment, they are more likely to show up, reducing no-shows. Plus, generally, when you pay for an appointment of some kind in advance, there is no refund option. So, spa and salon POS systems that allow for pre-payment enable businesses to get paid, regardless of whether the customer shows up or not.
Employee and Payroll Management
Employee management is a huge benefit that users of spa and salon point of sale systems benefit from. Most employee and payroll management tasks have always been completed manually. But with a solid POS system, those tasks can be automated and streamlined. But, how can a point of sale system streamline employee management?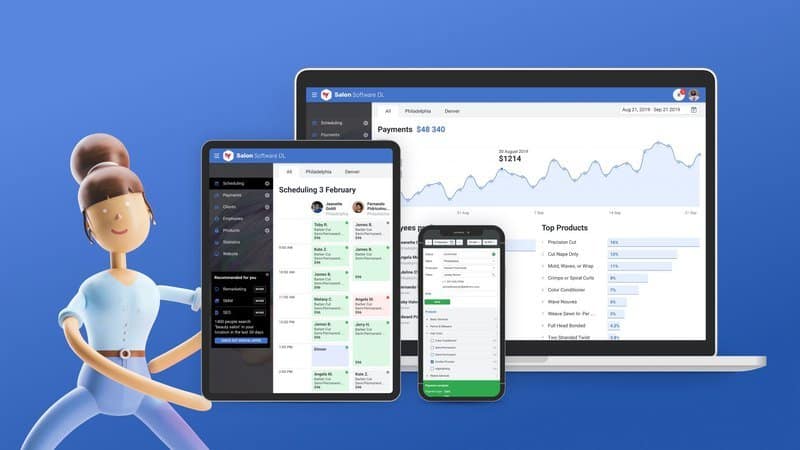 When using a spa or salon point of sale system, each employee with access to the system has a unique login code. This lets the system track who is working, when, and what they are there to do.
The best POS systems provide super solid employee management capabilities. Not only does this help managers keep track of employee movement, but it also helps employees maintain a clear view of the hours they have worked.
Plus, a powerful point of sale system with automated employee hour tracking lets you keep tabs on who should be at work at any given moment. These capabilities also facilitate last-second shift changes if someone is sick or otherwise can't come to work.
Better Accountability
When a business's employees are using a point of sale system they must log in before triggering any actions to be completed by the system.
This provides transparency around every transaction and interaction each employee has with the system and with customers.
Payroll Management
Tracking hours of each employee and ensuring that they receive the accurate amount of pay on payday can be a challenge when done manually. But when you let a point of sale system handle the process, it's easy and simple to complete.
For example, when you have various employees in your store at the same time, each one having arrived at different times, calculating hours and overtime manually can be a huge headache.
When all of that data and those calculations are completed automatically by your POS system, no employee must own that responsibility.
This both frees up time for employees and ensures more accurate payroll reporting. It also provides peace of mind to business owners because they know there is no risk of human error.
Identify and Reward Top Performers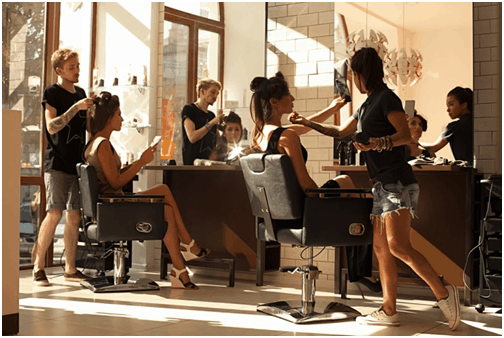 With all the employee data collected by your POS system, it is easy to see who is overperforming and who is lagging behind.
Is one employee knocking sales out of the park while another employee, in a parallel role, is finding it difficult to close sales? Your POS system reporting capabilities can provide you with real-time information around these metrics.
Many POS systems come with customizable dashboards that display updated data in real-time. Owners and managers can check in on this data at a glance.
Armed with this type of employee performance data, you can reward top performers. You can also encourage underperformers to improve their game in the areas they struggle with.
Stellar Data Accuracy
Think about the many scenarios in which an employee must collect data. It could be inventory data, sales data, or any other type of data. Do you want them to capture that data with a pencil and a pad of paper? That leaves the door open for data loss.
What happens if a sheet of paper full of important data accidentally falls out of your employee's pocket? It is probably gone forever.
Now, let's imagine an alternative scenario. Every transaction that takes place is completed digitally and the resulting data is automatically stored in your POS system. No paper trail to keep track of. No possibility that a signed receipt gets lost. Ultimately, no risk of human error.
Running your beauty parlor in that way eliminates so many potential pitfalls that it is becoming almost necessary to use a point of sale system if you want to remain competitive in the industry.
Customer Profiles and Relationship Management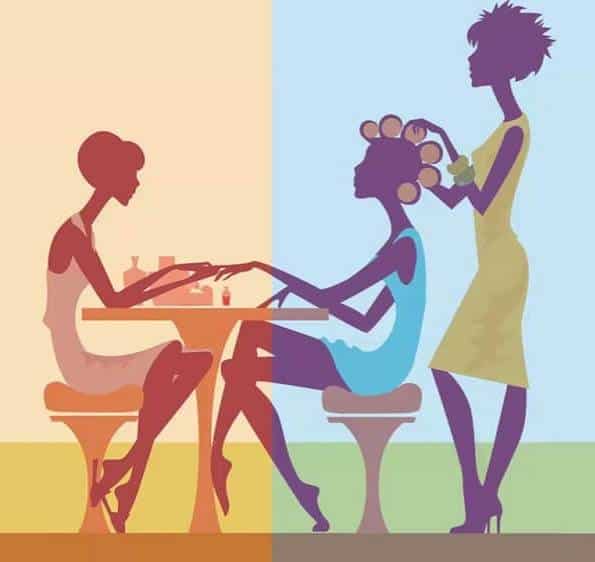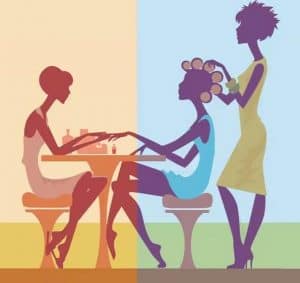 Customer relationship management (CRM) features empower businesses to form better, more personal relationships with their customers. All of the data mentioned above is stored in your POS database and can be used to develop deeply detailed customer profiles.
Individual customer profiles are filled with their personal data, customer purchase history, customer categories for easy targeting, and the tracking of the lifetime value of each customer. With this data at your fingertips, you will build those customer relationships, which will lead to higher levels of customer loyalty, increased customer satisfaction, and more repeat business.
Automated Notifications and Reminders
When a customer books an appointment, it is one of many on the schedule. It's nearly impossible for someone to remember all those appointments, so traditionally spas and salons have used paper pads and pencils (or spreadsheets) to track appointments.
With the right POS system, all those appointments are automatically saved and tracked. Users can set up automatic reminder emails to both employees and customers a day, an hour, etc., before the appointment to ensure the customer doesn't forget and the employee is ready for them when they arrive.
Reporting and Analytics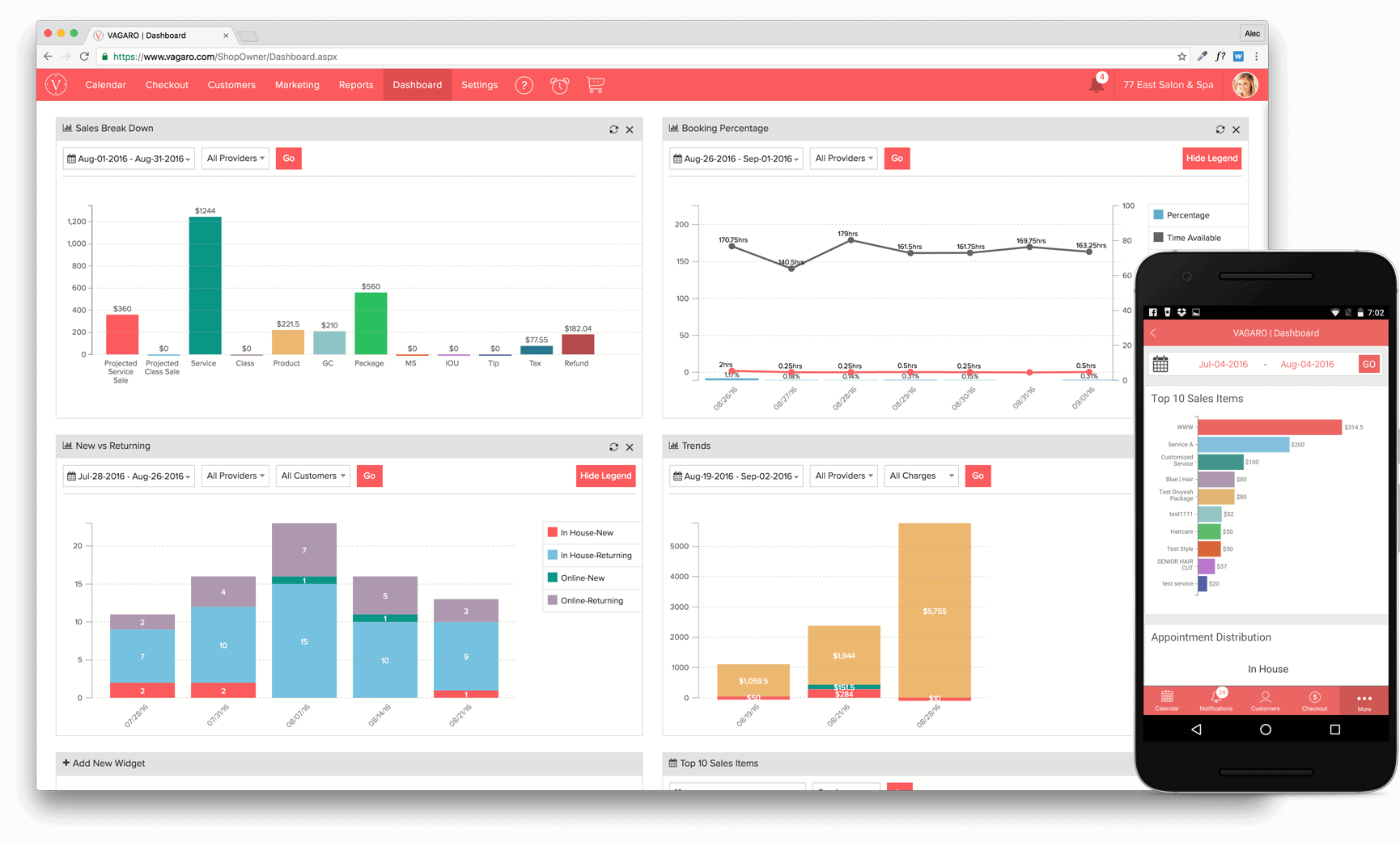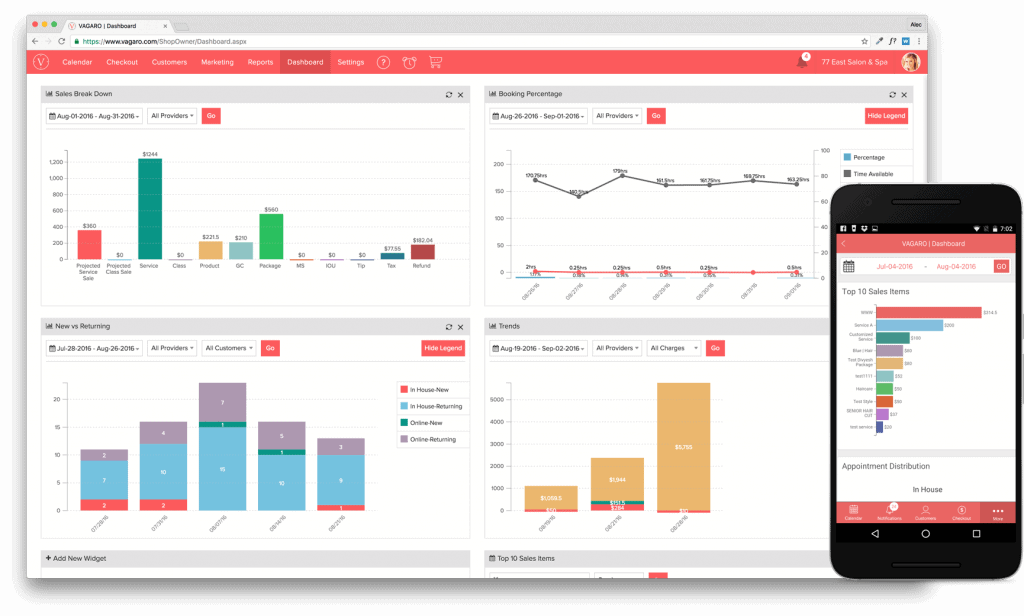 Powerful reporting, metrics, and analysis are features that every POS system should include. With so much data at their hands, spa and salon employees, managers, and owners can easily and quickly run reports and maintain constant insight into their results. This facilitates better, data-driven decision making.
Reports can be generated around just about any metric for which you want to track and store data. For example, if you want to run a report on how sales have increased in the last six months, you can do so with a few clicks. If you want to know which customers have spent the most money at your spa or salon in the past year, you can run that report easily as well.
Plus, most decent POS systems include customizable dashboards that allow you to configure them to display only the data that you need to see, and nothing more. Say goodbye to sifting through reports and data to find the insight you need; automated dashboard metrics displayed in graphs and charts give you that insight instantly.
Honorable Mentions
We will only briefly cover these, but they were so close to making the list that they deserve to be acknowledged.
Meevo2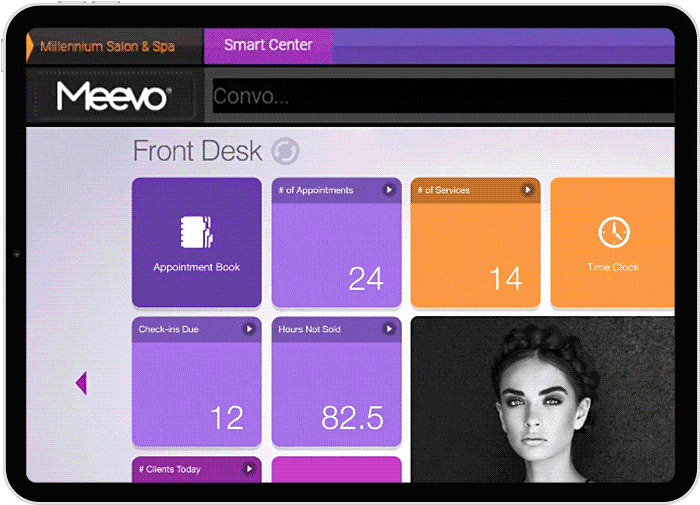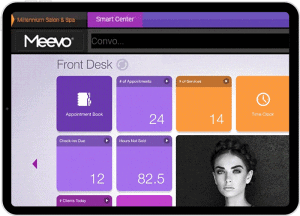 Meevo 2 is a powerful system with tons of flexibility. You can use it from an Apple or Windows desktop computer, as well as virtually any mobile device you can find.
Users love its intuitive reporting features, inventory management capabilities, and its short learning curve. However, they also complain about having to log in twice to clock in, the system lacking certain important features, and the inability to edit transactions once entered—the only way users claim they can fix a mistake on a transaction is to treat it as a refund for something already paid for and start a new transaction
Shortcuts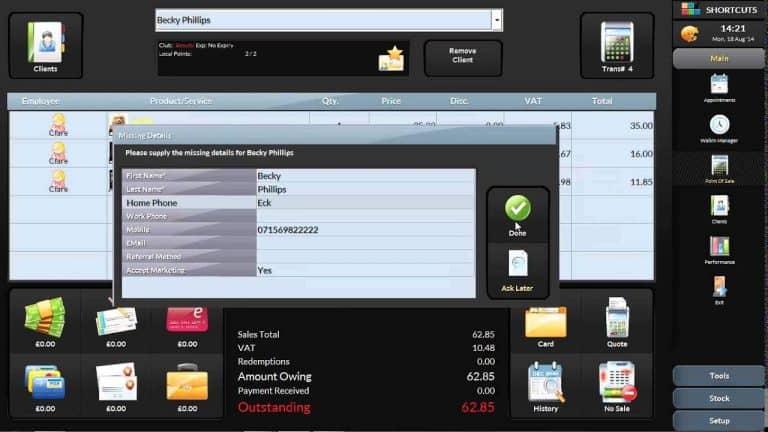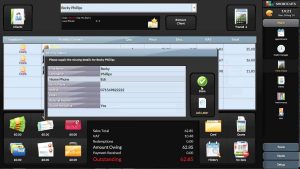 Shortcuts also comes with most of the standard features spas and salons need, already built into the system. Users also like the company's approach to customer relationship management and claim that Shortcut's employees become an extension of the customer's business and are always there to help when help is needed.
Other users dislike the fact that reporting, billing, and data capture are quite inflexible, making it more difficult to work with them (most systems allow you to customize parts of these processes. But with a basic package starting at $29 per month, there is not a lot of room to complain.
Ready to Evaluate Your System Options?
This article has provided you with consolidated research into the best spa and salon POS systems—according to our evaluations. We hope this has already made your search easier by providing you with top options to research and evaluate.
However, an important part of your search is to first identify your own unique needs. Then, make a checklist of them, and look for a system that checks as many boxes as possible.
POS review sites can also help you in your search, particularly user review sites that help you imagine yourself in situations that your peers face. And read review sites like this to complement your search process.
Armed with the information herein, you'll be able to identify the best system for your business and achieve the level of success and business growth that you are aiming for. You may also like to check our post about POS systems for tanning salons