(Last Updated On: June 4, 2021)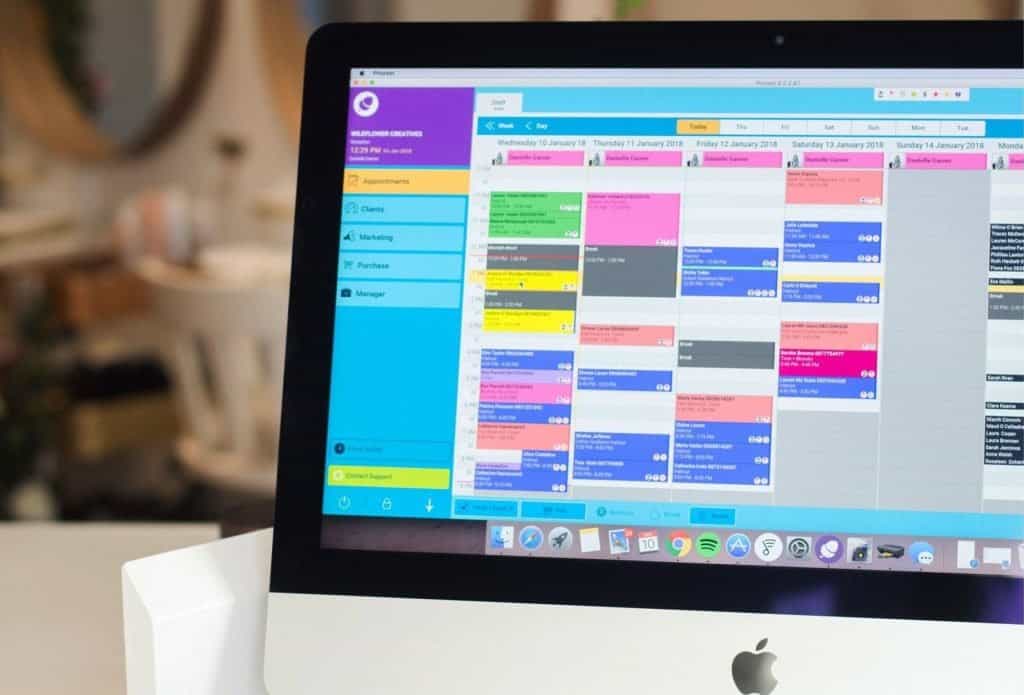 Operating a nail salon requires you to be able to multi-task and tend to many customers at once. Employee performance is a huge factor, which can make or break your nail salon. With the right POS system, many functions are automated and made simple.
A reliable nail salon POS system should have you manage your business with ease. Features like employee scheduling, automated reminders, and built-in loyalty programs are a must.
Most nail salon POS system should offer a view of your schedule with color-coded, drag-and-drop appointment booking that'll make rescheduling a breeze. Also, your system should offer secure transactions, business reports, and client history all at your fingertips. A POS system will help you improve rebooking, reduce no shows, and calculate payroll and employee commissions.
In this guide, we reviewed the top systems based on features, pricing, and ease of use. By utilizing POS software, you'll streamline your nail salon to success.

Comparing the Top 3 Nail Salon POS Systems
| | | | |
| --- | --- | --- | --- |
| Price | $25-$150/month | $200-$400 hardware | $75-$290/month |
| Software | iPad POS | Hardware specific | Hardware specific |
| Cloud Based? | Yes | No | No |
| Customer Support | Phone, email, live chat | Almost none | Form submission |

1. SalesVu – Best Nail Salon POS System

SalesVu is at the top of our list. It is geared specifically towards retail and service industries such as nail salons. This POS system offers beauty and wellness management features.
Stepping into some of the functionality, SalesVu offers intuitive online appointment management for customers. This is a must-have for any nail salon.
SalesVu gives your clients the option to see which timeslots are available for appointments. This helps streamline your workflow and keep potential guests happy.
As soon as new appointments are made, the POS system will notify you. To ensure your business doesn't lose money, the system can also require a non-refundable deposit during appoint scheduling.
SalesVu will reduce your risk of customers forgetting their appointments. The system will provide constant automatic reminders via email and text message. Employees are reminded as well, so that they can prepare for the client.
Why We Love SalesVu For Your Nail Salon
SalesVu has your nail salon in mind. Combining a feature set geared towards the service industry and salons, it's pricing structure provides an affordable option when you're just starting out.
SalesVu has partnered with Mercury Payments and Century (WorldPay) Payments who offer a free card reader. Also, some of the lowest credit card processing rates that you can find for a POS system. That's money saved!
Keep in mind you'll only be able to use SalesVu with their merchant processing solution. If you already got a better rate from another merchant, they'll match the competitor's credit card processing rate.
Hardware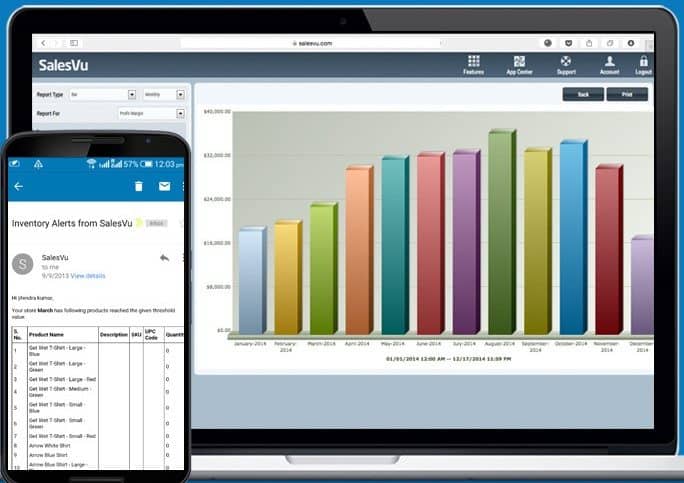 SalesVu doesn't sell hardware directly but they do recommend compatible hardware so you know what to buy. They work with mPOS Gear, a nationwide provider specializing in retail establishments. The frontend of the POS system itself will run locally on an iPad.
Cloud-Based
SalesVu is a cloud-based POS system, so everything is entirely backed up online and off-site. All your data and records will be safely stored in the cloud. In the event that your hardware fails or becomes damaged, your client data and financial transactions will be safe.
Ease of Use
This POS is split into two platforms; a frontend mobile device app that runs the POS and handles payments. The backend is where the nitty-gritty work of inventory management, reporting, and employee management occurs. This interface is simple to learn and operate with a little bit of training.
Product Features
SalesVu is renowned for offering a suite of intuitive product features. This gives your business a versatile toolset with which to respond and adapt to any situation.
Multi-Tender POS

Process payments of any type: cash, check, or credit card. Split payments for clients that desire it.
Split checks by a variety of parameters.
Email or print digital receipts.
Customize receipts for your business.
Monitor cash management.
Quickly lookup items by scanning barcodes or typing in their SKUs.
Sell products that are priced based on hours, weight, and volume.
Create happy hour pricing.
Adjust totals for tips.
It allows customers to directly sign receipts on a mobile device.
Support for online ordering.

Inventory Management

Upload all products and/or services to the backend of the POS to track product levels.
Upload inventory using CSV files.
Create multiple tax brackets.
Manage vendor profiles.
Inventory mode on the iPad turns the iPad camera into a barcode scanner.
Use an out-of-stock setting for when things run out.
Even More Features
Invoicing

It allows for multi-location capabilities.
Differentiate levels of access to different employees.
Manage invoices of all statuses (open, paid, not paid, or partially paid).
Provide quotes and generate invoice reports.

Employee Management

Clock-in and clock-out features.
Generate labor reports.

Other

Professional services appointments.
Customer management features.
Reporting functions.
Integrations and add-ons for easy accounting and social media presence.
Customer Service and Technical Support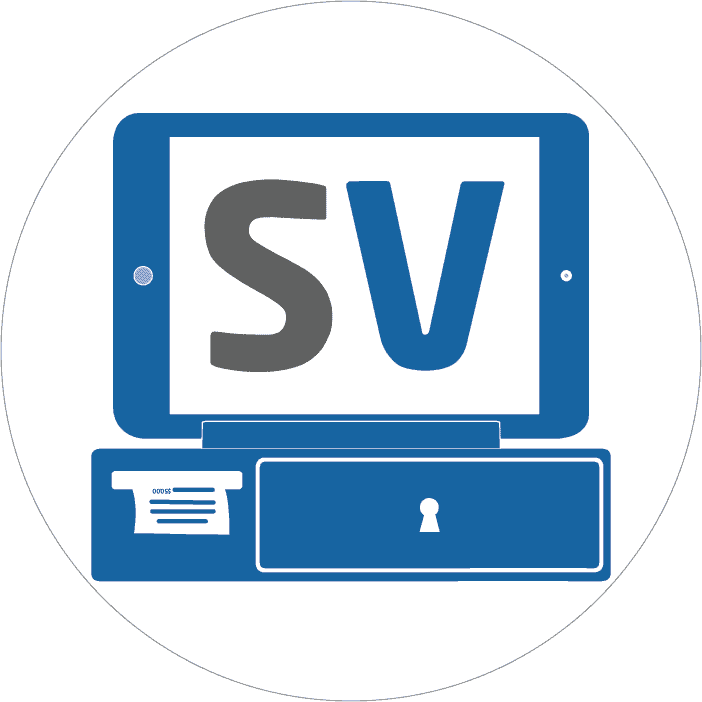 You have several options to get help if you need it. They have a support email, which will result in getting an open ticket until they respond. They are quick to respond to email queries. They also have a 24/7 direct phone line.
There is a support database for people who have registered accounts that acts as a sort of Q&A forum. A live chat is also provided for those who want quick help but don't want to make a phone call. They've made demo videos as well in-case you want to try to work out the problem yourself.
SalesVu Pricing
There are a lot of options here, which is either a benefit or a drawback, depending on what you are looking for. There are simply too many pricing options to cover here. Based on their pricing page, it starts at $25/mo and goes up to $150/mo.
Potential Downsides
There are a few downsides. The pricing options can be confusing. Also, you can only use their merchant processing. Finally, they don't sell hardware directly.
2. Clover Mini – Nail Salon POS for Smaller Operations


This POS system was designed to be a smaller, more accessible version of their other POS product, Clover Station. Clover Mini comes with a built-in printer for receipts, a USB hub, and a customer-facing camera. Also, a cash drawer and a Merchant keypad.
Clover Mini Pricing
Clover Mini, depending on where you buy from, will cost you around $200-$400. There are two service plans that you can choose from:
2000 Service Plan: gives you all the capabilities of a standard credit card terminal, in addition, to support for EMV and Apple Pay. You can manage tips and authorizations, closeout reporting, cloud syncing, and optional employee permissions.
The Pro Service Plan: includes everything in 2000 Service plus some extras. This includes ringing up orders, charging taxes, and applying discounts. Also, creating items, and managing customers.
Credit card processing fees will vary depending on your region. Also, it will be based on the provider's available and current market rates.
Cloud-Based POS System for Nail Salon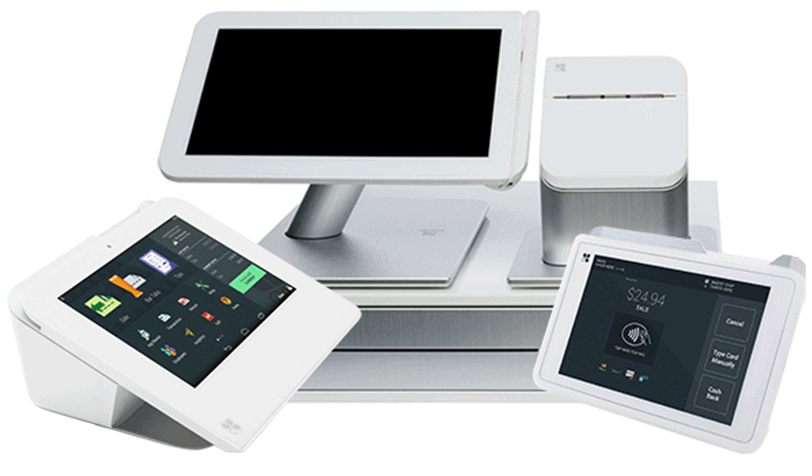 Clover Mini is cloud-based and stores all your information in the cloud. You can run your device with either a wi-fi connection or 3G/4G wireless connectivity.
If your Internet connectivity goes down, the Mini can continue to function offline for up to seven consecutive days.
Ease of Use
There is a no-hassle setup. Users have reported about how easy it is to install the system and hardware. It also has a very short learning curve with a slick, easy to read interface.
Features
Here are some basic features:
Interface: extremely simple. It looks like a smartphone screen and features a variety of apps.
App Market: figure out what you want to integrate into this POS with an easily accessible app market.
Employees and Permissions: set different tasks for employees by giving them different permissions within the POS software.
Inventory: download inventory spreadsheets to use in Excel and fill in fields for upload to Clover Mini.
Reports: generate decent analytical reports of your business.
Customer Service and Technical Support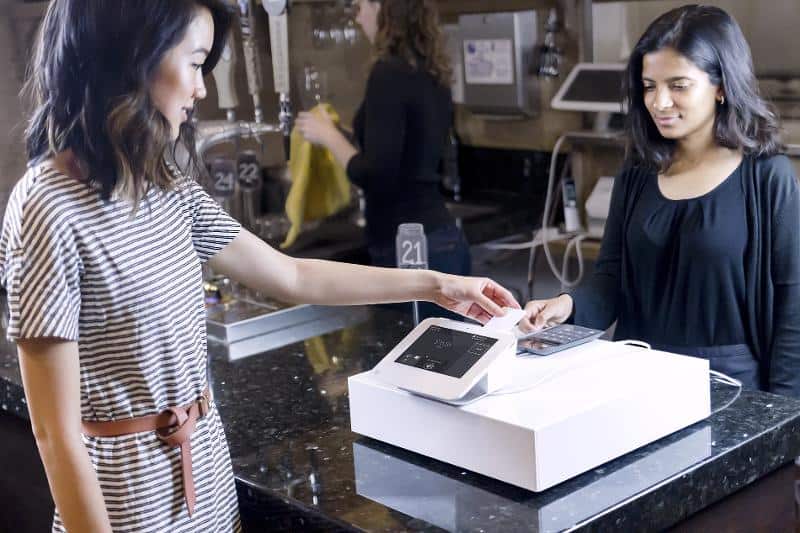 Customer service regarding payments and other merchant account issues have to go through a different provider. Clover Mini does not offer direct support here.
Clover Mini provides a self-serve help center with FAQs, guides, and troubleshooting tips. There are some videos available as well. They have Facebook, Twitter, Google+, and GitHub presences which appear to be fairly active.
Potential Downsides
Poor customer service options are the number one complaint. The other is the high cost. There is also no single place to buy it, so you're at the mercy of the retailer who can provide it. Although we were not able to verify this information, some users have also reported hidden fees and lengthy contracts.
---
3. Mindbody –  Most Featured-Packed Software


Mindbody is geared directly toward health and wellness type businesses, which nail salons can technically be considered.
They offer a huge suite of small business options. With reliable software and hardware that's been tested for years, there's no better option for nail salons that need extended features.
Mindbody Pricing
There are a few options:
Starter: $75/month.

Listing on their app.
Class and Appointment scheduling.
Retail Point of Sale.
Automated Emails and Texts.

Pro: $120/month.

Advanced scheduling options.
Brand Web Tools.

Accelerate: $195/month.

2-way SMS notifications.
Targeting inactive clients.
View metrics on mobile device.

Ultimate: $290/month.

Custom mobile app.
MINDBODY University and Demand Subscription.
Top Features from Mindbody
Being geared toward health and wellness centers, you'll find that Mindbody has a suite of features suited to your needs.
Scheduling: Flexible scheduling features ensure your clients know when they need to arrive. The ability to set staff permissions is also built-in. Assign classes, clients, and tasks to specific staff members or rooms. Offer different products or services at different rates.
Customer Booking: clients can book their own appointments through your website.
Calendar: if you want your appointments all in one place, there is a Google Calendar feature built-in at every pricing tier. Access the calendar under the appointments tab. Easily see when who, and where appointments will be.
CRM and Analytics: track your business' performance with built-in reporting features and analytics.
MINDBODY Express: recent updates have improved the functionality of Mindbody's mobile app. Manage client info from the app as well as view it.
Customer Service and Technical Support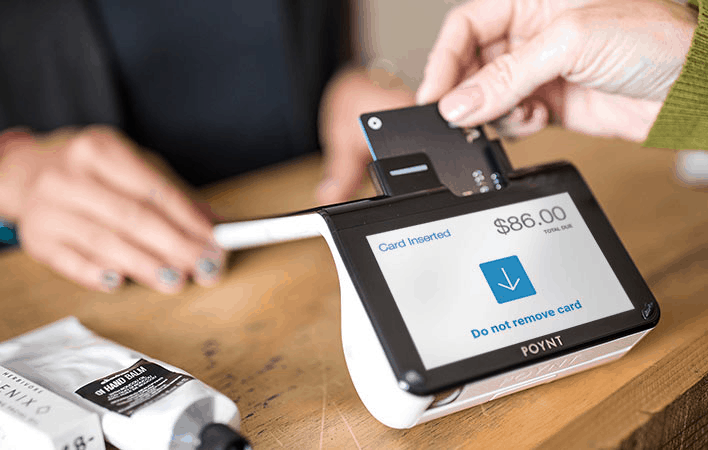 Their quick, responsive customer support has been praised by their clients. Most questions go through a form submission system but they also provide a phone number and live chat.
If you wish to solo attempt troubleshooting, check out their knowledge base or browse their blog for info.
Potential Downsides
Mos users consider Mindbody's POS system as difficult to learn. Some customers have reported billing issues and sudden hike rates. There is not a lot of multi-location functionality. Some users reported glitches in the software.
Other Beauty Related POS Systems  
Ready to Utilize a POS System In Your Nail Salon?
Finding a system specifically for your nail salon can be difficult. There are just a few providers that cater to this specific type of business and even fewer that offer all the features you need.
With features like online booking, appointment reminders, and recurring marketing, you can easily communicate with your clients through promotions and more. It's also important to be able to pull up client information quickly. This way, you can process payments faster, book appointments, and offer discounts to your clients.
What features do you look for in your POS system? Share with us below! You may want to check our