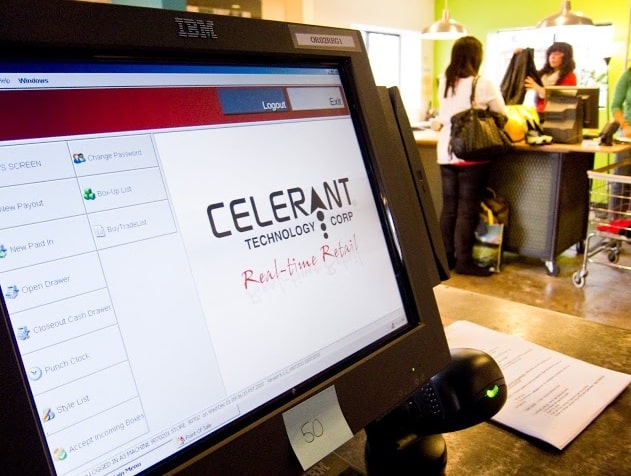 Consignment shops are a unique business with unique items. Keeping track of all the inventory can be tough since the items may be one of a kind. Consignment shops are businesses in need of POS systems to keep their business secure and manageable.
Point of sale systems designed for consignment shops make entering new inventory easy. With options to add custom price and an item description, everything stays organized. Every item can also be labeled with both a name and a barcode for scanning. For security of inventory, all information is backed up to either a cloud-based system or an offline one.
Every transaction is also recorded in your books. The automatic transaction reconciling keeps accounting simple. That means reporting profit back to your vendors has never been so easy. Below we've reviewed the best consignment shop POS systems to maximize your success. Read on and check out our top picks.
Consignment Till is a very flexible and user-friendly software program. This POS solution works especially well for consignment, resale and thrift stores. Few other products come close to matching Till's features, capabilities and functions.
It will certainly fulfill all your requirements and expectations, because it offers money-saving features and reduces the time you normally spend on managing the books.
Plus, this POS system does a lot more to make the day-to-day functioning of your consignment shop more cost-effective. Therefore, hundreds of consignment shops across the world use this POS system.
Comparing The Top 3 Consignment Shop POS Systems
Overall

5.5/5

4/5

4.5/5

Ease of Use

5/5

4/5

4.5/5

Customer Service

5/5

3/5

4.5/5

Starting Price

$395.00/one-time

$69.00/month

$119.00/month

Deployment

Installed – Windows

Cloud, SaaS, Web
Installed – Windows

Cloud, SaaS, Web
Installed – Windows

Training

Documentation
Live Online

Documentation
Webinars
Live Online
In Person

Documentation
Webinars
In Person

Support

Business Hours

Business Hours
24/7 (Live Rep)

Online
Business Hours

Free Trial

Yes

Yes

Yes

Consignor Management

Yes

Yes

Yes

Customer Database

Yes

No

Yes

Employee Management

Yes

Yes

Yes

Inventory Management

Yes

Yes

Yes

Loyalty Program

Yes

Yes

Yes

Pricing Optimization

Yes

Yes

Yes
Get FREE POS System Quotes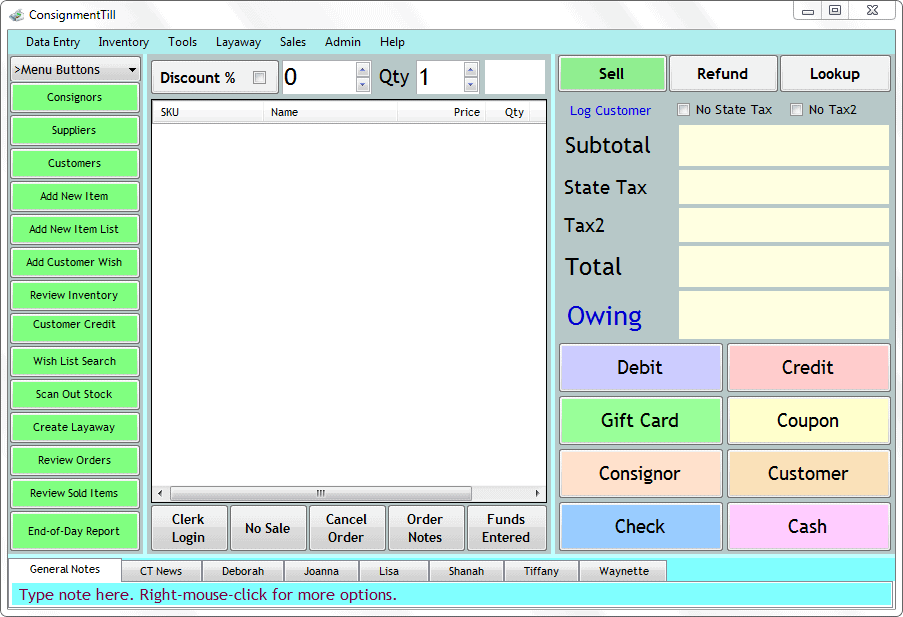 As its name suggests,
Consignment Till
is a software solution that specifically caters to the needs of retailers selling on consignment. It also handles so-called buy-outright retail items fairly well.
This software solution supports automated POS transactions, commission payouts, label and tag bar code printing, printable reports, and more. Consignment Till will easily adapt to your growing company by running in network of several computers.
Consignment Till can apply discounts per line item, by percent, per invoice, or by dollar amount. Items are taxable at various rates, and re-seller tax IDs may apply.
The item's cost and lowest price can also show on screen. Customer information is available for mailing lists. The customer's credit limit and rewards points can also show on screen.
You can put any sale on hold, or you can open the a new invoice to serve your next customer, while the current one is looking for extra items to purchase. With this POS system you can also process layaway and enter various payment schedules.
Employee Management
Any invoice shows who exactly of your sales officials created it and when this happened. The developers of this POS system know very well that unfortunately, employees can't always be trusted to run a POS station correctly.
Therefore, they have created a number of safeguards to protect you from forms of theft involving malpractice on the part of your staff.
This may include granting discounts on an invoice while listing full price on it and keeping the difference, or voiding cash sales and pocketing the money.
A software program should have provisions for auditing each employee's cash drawer and logging employees in and out.
This system enables you to put such safeguards in place, because the more people there are handling the shop's roster, the higher the risks of theft.
This software has provisions for the most common types of discounts and displays 'item cost' and 'lowest price' on the sales invoice.
Top Features
Database Backup
Automatic daily backup of your data to a remote web server (via internet)
Remote Backup Feature
Manual backup is available
Download a database backup without assistance from RJFSOFT
Option to view backup files (review backup dates) on web server
Ability to set Time of auto backup
Install on several computers and connect to the same database by way of a local area network (no extra cost to install software on networked computers)
Remote Backup also includes an online portal for consignors to view their sales and inventory online.
Automatic database backup to external drive or remote server (Remote Backup subscription – yearly fee)
The last feature enables merchants to offer consignors online access to their sales info via log-in at their website.
You can also import data from Excel files on consignors, stock, suppliers, and customers. If you need to, you can assign different printers for tags, reports, roll receipts, laser checks, and labels, or design your labels and tags.
When you set the Buyer Fee Option, the sale price sum is not split with the consignor. Alternatively, you can create item templates for quickly adding items that resell.
The Employee Mode blocks access to sales data and administrative tools. You can also set Clerk Login to record the staff member for each order, which prevents unwanted users from opening the cash register.
Customizable Inventory Categories
Brand and Size are used by default, but users have the option to introduce categories such as Location, Color, Art Medium, Type, Year Made, Condition and more, depending on their type of business. You can also deactivate (hide) suppliers, consignors or customers if you choose to do so.
Bottom Line
Consignment Till is an excellent choice of POS system, even if you run more than one consignment shop. Last but not least, the company's customer support service is professional and helpful.
Our #2 Pick For Best Consignment POS System: Bepoz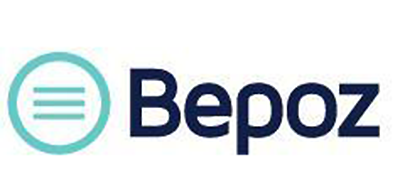 Bepoz's POS system helps your consignment business run more smoothly and efficiently. Its programs take out much of the guesswork, especially when it comes to cataloging, formatting, and pricing items, as well as keeping track of costs and expense reports.
All of this becomes possible through this system's easy to use interface.
Higher Consignment Shop Turnover
This point of sale software offers clients the opportunity to boost sales and get higher earnings by accurately calculating all expenses .
Thus, day-to-day business operations become much easier. Bepoz users can see where money is flowing in and out of their business quickly and easily, and where costs can be cut down to save money.
With a complex program that tracks which items customers are spending their money on and how much money each sale is making, consignment shop owners find it easier to manage their business.
No Long-Term Contract
Clients of Bepoz subscribe for a low monthly payment and are not locked into long-term contracts. This, we think, is a big advantage. This sophisticated POS software is full of useful features and its retail price is quite affordable. With Bepoz you also get free ongoing support and maintenance.
This is a big plus, given some ongoing issues like the constantly changing payment card industry and data security standards for credit and debit card processing. With this POS system, you stay abreast of developments by only paying your subscription fee.
This POS offers your staff the ability to make money wise decisions without having to check with you every time. They can confidently resolve minor issues with a purchase whenever they need to, though it may still be necessary for them to request assistance with larger purchases and deals.
It is very effective to have a system that tells employees how to make the right decisions. Moreover, this ensures much smoother business operations overall.
Disadvantages
On the downside, the guys from Bepoz to offer some adequate training to the users of their POS system, while at the same time the back office can be challenging to manage.
Bottom Line
This POS system makes sunning a consignment store much easier than it used to be before its creation. It is also very easy for  your staff to use. In this wau Bepoz guarantees the optimal organization and operation of all work-related processes in your consignment shop.

Liberty (Liberty4Consignment) is a sleek and powerful POS system with a space-saving design, which enhances workforce productivity and cooperation. In a nutshell, it is a winning, single-package combination.
It comes 100% ready to use and offers an excellent price to quality ratio. With its fast Intel i3 processor, Liberty will be up and running in no time.
This system is a great choice if you plan to run it on a single computer in your consignment store, but we would still recommend it even if you want to add an extra computer to an already existing network.
Top Features
Plenty of Memory (4 GB)
Thumb Drive for Backups
Large Hard Drive (500GB)
5" Touch Screen Monitor
Windows - 7 Professional - 64 Bit or Windows - 8 Professional
3 Yr. Next Day On-Site Warranty
Power Backup
Fully configured with all the necessary drivers to get you up and running
Pre-loaded with any of our Liberty products (additional cost)
This system combines the top-tier products of two awesome hardware and software companies. With it you can track new and returning customers and give them loyalty rewards. But that's not all.
Liberty allows you to access a weekly activity log of all transactions and get messages from your favorite stores. On these messages customers see all current offers and receive notifications about special events and promotions.
Great Value For Money
The price may be kind of high for you, especially if you are a small consignment shop in a rural town. The good news is that the equipment will pay itself off over time, considering this POS system's operating efficiency.
Using the equipment is what generates profit, not owning it. The company offers tons of payment options, as well as a cloud-based option for those who don't want to step off the ledge just yet and purchase the physical software.
Ultimate Flexibility
This software is among the most fully-featured POS software available for consignment and retail. Management of vendors, reports, customers, purchases and inventory allows you to operate your consignment shop more flexibly.
At the same time, all sales data is in the cloud, so you do not have to worry about information loss, or spend hours trying to update the software to its latest version.
Consignment shop owners and managers can benefit greatly from this software, just like the managers of all establishments that rely on retail sales for income.
The difference is that consignment shops are unique in the world of retail, which is why they have specific requirements.
If you are looking to automate business processes and improve efficiency, this system will give you the power to sell all types of with lightning speed.
Thus, you small consignment shop may turn into a large consignment outlet serving hundreds of customers every day.
Disadvantages
Support is responsive in general, but not all technicians are equally prepared to resolve the various issues that may arise. This can be rather inconvenient, because the software itself is quite complex.
The cloud hosting freezes on occasion, requiring a reset by the support or the shop admin. You need to buy one item or service to receive another.
Bottom Line
Liberty boasts an impressive array of features. The Resale Rewards program motivates consignors to keep returning to your business.
The software is very flexible and makes it possible to run reports, so you know what you have in stock, which days are the busiest, what is selling well or poorly, who your top sellers are and much more.
If you ever used a punch card system, it probably cost you some substantial amount of cash, not to mention the inconvenience it caused. This POS system tracks everything for your customers on their mobile devices, and they are really going to appreciate it.
Our Final Say On Best Consignment POS Systems
When shopping for a consignment system, layaway, tax info and buyer info are the most important factors to have in mind. Layaway is a great way to boost your sales, but it can also mean more work.
The system of your choice should have features which keep accurate accounts of the items on hold, scheduled payment dates and amounts, and completed payments.
A great feature all of the three POS systems reviewed here have is that a consignor can be paid in full for the sale with the very first payment.
Without constant contact, your customers may lose interest in you, which is why it is important to keep in touch. Some customers won't want to provide their personal information.
Others will be happy to do so in the hope of receiving pre-sale notices, special discounts and items. A good consignment shop POS system should be able to collect names, addresses, phone numbers and emails to build a client list.
Finally, POS software should provide flexibility. For instance, there are fifty different tax jurisdictions in the United States.
Items can be tax free by category and for re-sellers. In some states clothes are non-taxable below a certain amount and taxable above it. This and all related aspects should be taken into account when choosing a POS system for your consignment shop.