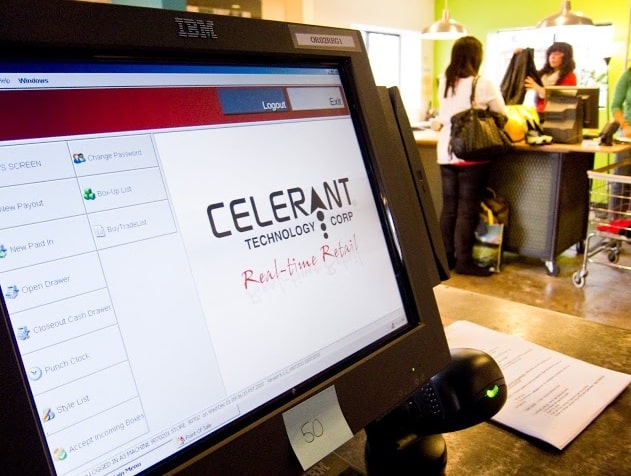 Owning and operating a consignment shop differs greatly from a regular retail store. You're in the business of helping consignors reduce, reuse, and recycle while making a little extra cash and leading buyers to some unique treasures!
By offering more efficient operation, a consignment POS system can enhance your business and increase profits and productivity. With the right consignment POS software, you can keep track of your inventory, offer accurate and speedy checkout, and maintain the data needed to make wise business decisions.
The usual retail POS systems are not designed for the unique consignment shop niche. Because the consignment shop's inventory comes from donated items, a system must be in place for receiving and labeling items and getting them out for sale quickly and efficiently.
When items are sold, consignment POS software must maintain correct inventory and assist you in calculating the consignor's payout.
Inventory tracking with a consignment POS system also helps with loss prevention. Tracking data from your POS consignment software gives you the information needed to discover any discrepancies, analyze your sales from different points of view, and make good choices for the future.
To complete the business cycle, a QuickBooks POS consignment system will offer automated transaction reconciliation. This ensures that your accounting is a breeze.
In this guide, we review three solid consignment POS software vendors.
The Best Consignment Shop POS System: Consignment Till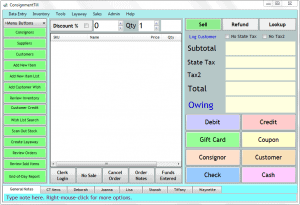 Consignment Till offers a very flexible, user-friendly consignment POS software program. This POS solution works especially well for consignment, resale and thrift stores. Few other products come close to matching Till's features, capabilities, and functions. This POS system fulfills all your requirements and expectations. Consignment Till offers money-saving features and reduces the time you normally spend managing the books.
Plus, this consignment POS system does a lot more to make the day-to-day functioning of your shop more cost-effective. Because of its outstanding features, hundreds of consignment shops across the world use this POS system.
Get A Quote from Consignment Till
Top 3 Consignment Shop POS Systems
Overall

5.5/5

4/5

4.5/5

Ease of Use

5/5

4/5

4.5/5

Customer Service

5/5

3/5

4.5/5

Starting Price

$395.00/one-time

$69.00/month

$119.00/month

Deployment

Installed – Windows

Cloud, SaaS, Web
Installed – Windows

Cloud, SaaS, Web
Installed – Windows

Training

Documentation
Live Online

Documentation
Webinars
Live Online
In Person

Documentation
Webinars
In Person

Support

Business Hours

Business Hours
24/7 (Live Rep)

Online
Business Hours

Free Trial

Yes

Yes

Yes

Consignor Management

Yes

Yes

Yes

Customer Database

Yes

No

Yes

Employee Management

Yes

Yes

Yes

Inventory Management

Yes

Yes

Yes

Loyalty Program

Yes

Yes

Yes

Pricing Optimization

Yes

Yes

Yes
Get Free POS Systems Quotes
Why We Love Consignment Till As Your Consignment Shop Software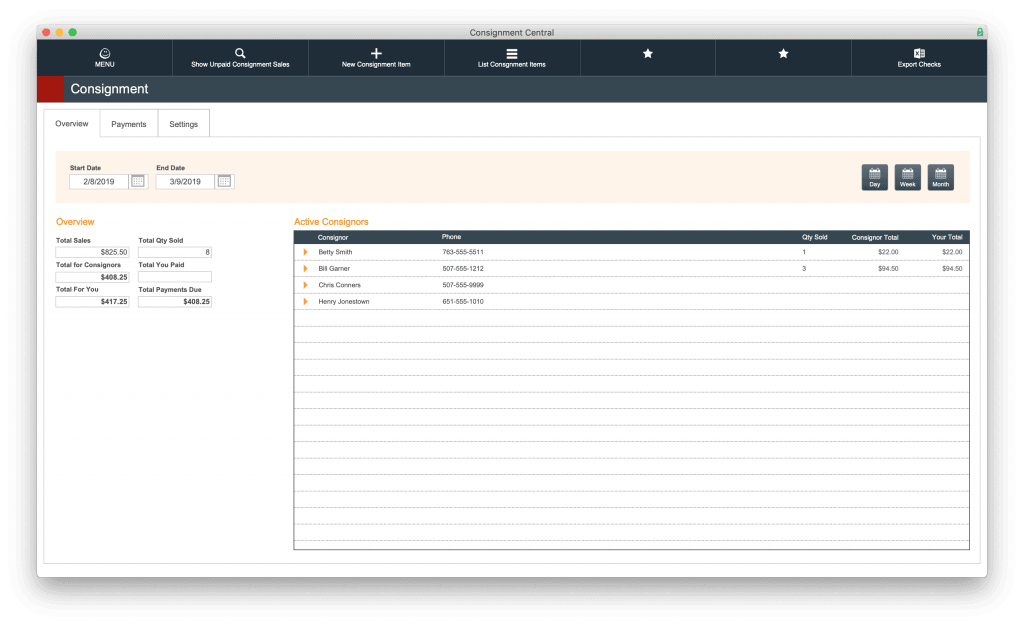 As its name suggests, Consignment Till is a software solution that specifically caters to the needs of retailers selling on consignment. It also handles so-called buy-outright retail items fairly well.
This software solution supports automated POS transactions, commission payouts, label and tag bar code printing, printable reports, and more. Consignment Till easily adapts to your growing company by allowing you to create a network of several computers.
With Consignment Till, you select the option to apply discounts per line item, by percent, per invoice, or by dollar amount. Items are taxable at various rates. Reseller tax IDs may apply.
To make this consignment POS software easy for your employees to use, valuable information may be shown on the display screen such as the item's cost, the lowest price, customer's credit limit, and reward points. Additionally, the information needed to create mailing lists to advertise events or special promotions is available at the touch of a button.
If one customer wants to shop for additional items to purchase, your customer service does not suffer. Suspending a transaction in order to serve the next customer is a breeze. You can put any sale on hold and simply open a new invoice. With this consignment POS system, you can also process layaway and enter various payment schedules.
Employee Management
Each invoice shows the salesperson who created it and when this transaction occurred. The developers of this POS consignment software know very well that unfortunately, employees can't always be trusted to run a POS station correctly. Therefore, they have created a number of safeguards to protect you from theft or negligence on the part of your staff.
While using this POS consignment software, employees will not be able to grant discounts on invoices that show full price and keep the difference nor can they void cash sales and pocket the money. A consignment POS software program should have provisions for auditing each employee's cash drawer and logging employees in and out. This system enables you to put such safeguards in place. The more employees involved in the monetary operation of the business, the higher the risk of theft.
This consignment POS software has provisions for the most common types of discounts and displays 'item cost' and 'lowest price' on the sales invoice.
Top Features
Database Backup
Automatic daily backup of your data to a remote web server (via internet)
Remote Backup Feature
Manual backup is available
Download a database backup without assistance from RJFSOFT
Option to view backup files (review backup dates) on web server
Ability to set Time of auto backup
Install on several computers and connect to the same database by way of a local area network (no extra cost to install software on networked computers)
Remote Backup also includes an online portal for consignors to view their sales and inventory online.
Automatic database backup to external drive or remote server (Remote Backup subscription – yearly fee)
Finally, this POS consignment software allows merchants to offer consignors online access to their sales information via a log-in portal on their website. You can also import data from Excel files on consignors, stock, suppliers, and customers. You can assign different printers for tags, reports, roll receipts, laser checks, and labels, or design your labels and tags.
When you set the Buyer Fee Option, the total sale price is not automatically split with the consignor. You set these parameters to each buyer individually.  You can create item templates for quickly adding items that resell.
The Employee Mode blocks access to sales data and administrative tools. The Clerk Login feature records the staff member for each order to prevent unauthorized users from opening the cash register.
Customizable Inventory Categories
Brand and Size are used by default, but users have the option to introduce categories such as Location, Color, Art Medium, Type, Year Made, Condition and more, depending on their type of business. You can also deactivate (hide) suppliers, consignors or customers if you choose to do so.
Bottom Line
Consignment Till is an excellent choice of consignment POS system, even if you run multiple consignment shops.
Last but not least, the company's customer support service is professional and helpful.
Get A Quote from Consignment Till
Consignment POS System with a Solid User Interface: Bepoz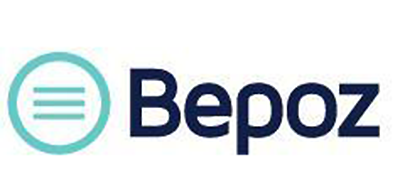 Bepoz's consignment POS system helps your business run more smoothly and efficiently. Its programs take out much of the guesswork, especially when it comes to cataloging, formatting, and pricing items.
Through this program's easy to use interface, you can use this POS consignment software program to efficiently keeps track of costs and generate informative expense reports.
Higher Consignment Shop Turnover
This consignment POS software offers clients the opportunity to boost sales and get higher earnings by accurately calculating all expenses. Thus, day-to-day business operations become much easier. Bepoz users can analyze their cash flow quickly and easily. Using this information, you can reduce costs and save money.
With a complex program that tracks which items customers are spending their money on and how much profit each sale is generating, consignment shop owners find it easier to manage their business.
No Long-Term Contract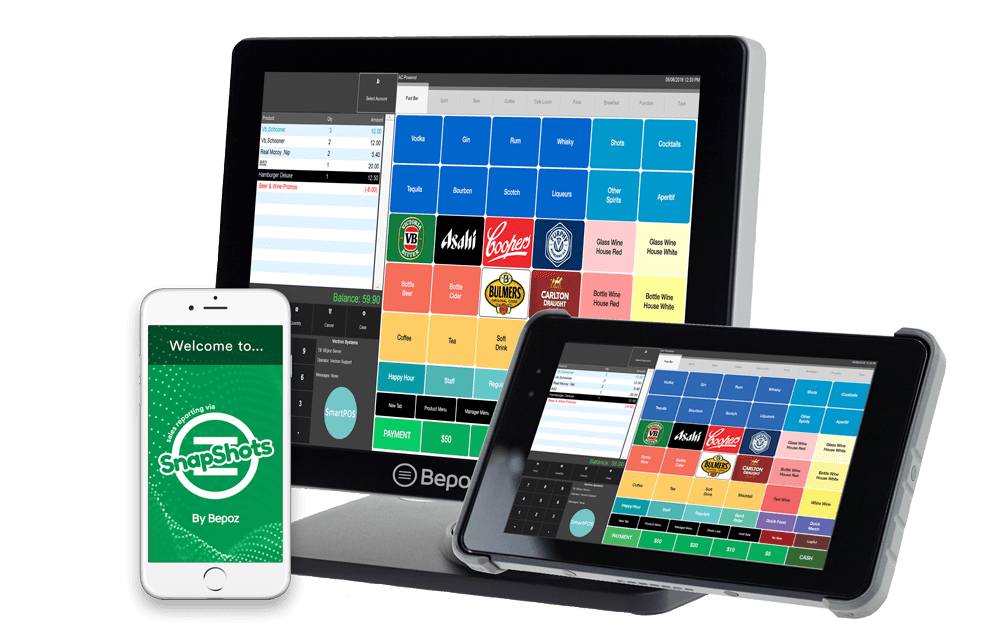 Clients of Bepoz subscribe for a low monthly payment. Bepoz does not require a long-term contract. This, we think, is a big advantage. This sophisticated consignment POS software is full of useful features. You will notice that its retail price is quite affordable. With Bepoz, you also get free ongoing support and maintenance.
Because of the constantly evolving payment card industry and changing data security standards for credit and debit card processing, readily available customer support is essential. With this consignment POS system, you stay abreast of developments by only paying your subscription fee. This POS consignment software offers your staff the ability to make wise financial decisions without having to check with you every time.
With Bepoz, you can seamlessly integrate this QuickBooks POS consignment software to automate your accounting. This feature reduces the time you spend with keeping records and increases efficiency as well.
They can confidently resolve minor issues with a purchase as needed. However, your staff may feel more comfortable if they request assistance with larger purchases and deals. It is very effective to have a system that tells employees how to make the right decisions. Moreover, this ensures much smoother business operations overall.
Disadvantages
On the downside, the guys from Bepoz need to offer adequate training to the users of their consignment POS system. The back office for this system can be quite challenging to manage.
Bottom Line
This consignment POS system makes running a consignment store much easier than it was before this product hit the market. The easy user interface ensures the optimal organization and operation of all work-related processes in your consignment shop.

Liberty (Liberty4Consignment) is a sleek and powerful consignment POS system with a space-saving design, which enhances workforce productivity and cooperation. In a nutshell, it is a winning, single-package combination. It comes 100% ready to use and offers an excellent price to quality ratio. With its fast Intel i3 processor, Liberty will be up and running in no time.
This system is a great choice if you plan to run it on a single computer in your consignment store. However, we would still recommend it even if you want to add an extra computer to an already existing network.
Top Features
Plenty of Memory (4 GB)
Thumb Drive for Backups
Large Hard Drive (500GB)
5″ Touch Screen Monitor
Windows – 7 Professional – 64 Bit or Windows – 8 Professional
3 Yr. Next Day On-Site Warranty
Power Backup
Fully configured with all the necessary drivers to get you up and running
Pre-loaded with any of our Liberty products (additional cost)
This system combines the top-tier products of two awesome hardware and software companies. With this POS consignment system, you can track new and returning customers and offer loyalty rewards. But, that's not all.
Liberty allows you to access a weekly activity log of all transactions and receive messages from your favorite stores. These messages provide customers with all the current offers. They also receive notifications about special events and promotions.
Great Value For Money
The price may seem expensive, especially if you are a small consignment shop in a rural town. The good news is that the equipment will pay itself off over time as you benefit from the POS system's operating efficiency. By using the equipment provided with the consignment POS system, you will generate a profit.
The company offers tons of payment options, as well as a cloud-based option for those who don't want to step off the ledge just yet and purchase the physical software.
Ultimate Flexibility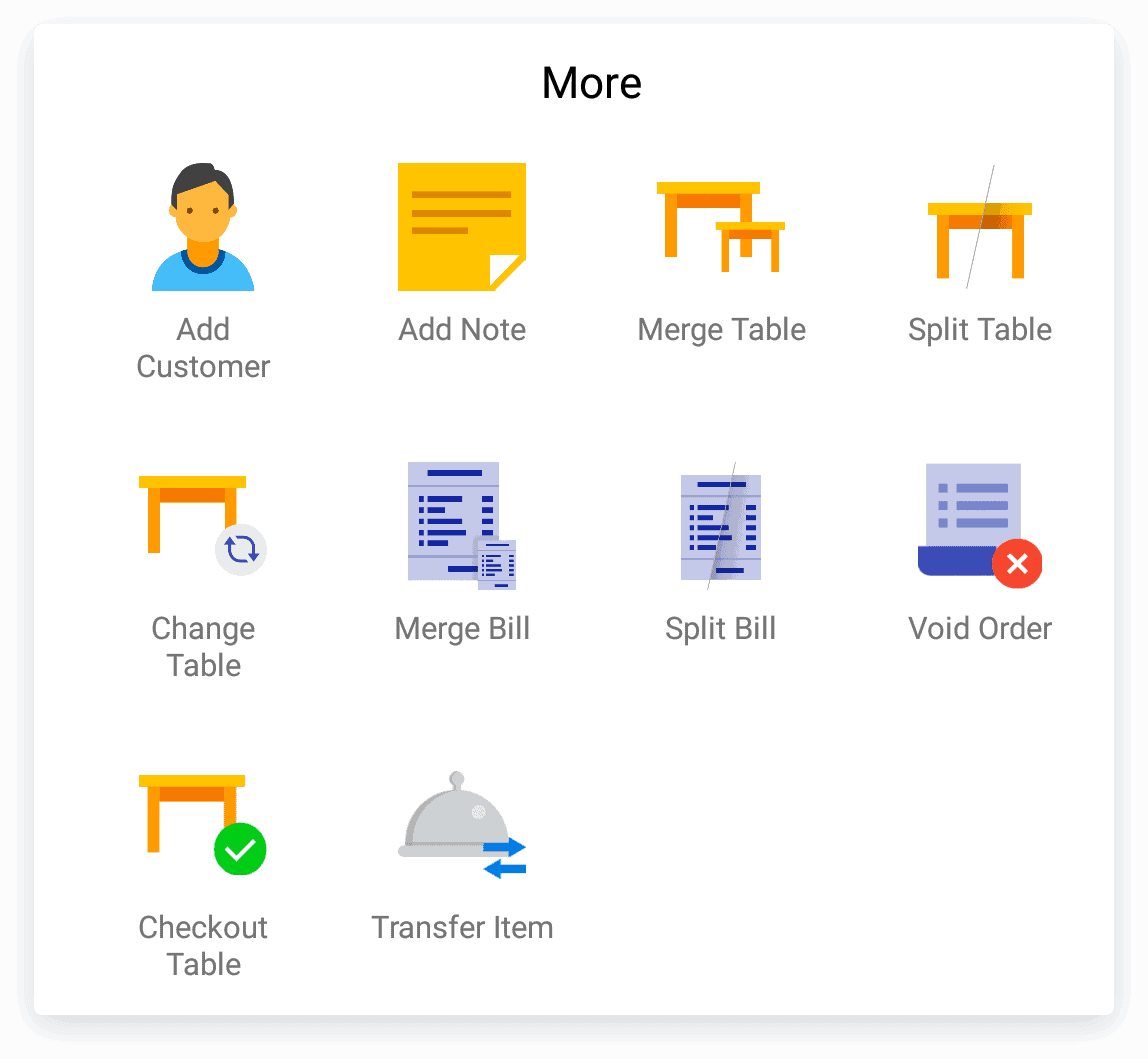 This POS consignment software ranks near the top of its class. It is one of the most exclusive POS software systems available for consignment and retail. Management of vendors, reports, customers, purchases and inventory allows you to operate your consignment shop more professionally. At the same time, all sales data is in the cloud. You do not have to worry about losing information or spending hours trying to update the software to its latest version.
Consignment shop owners and managers benefit greatly from this software. Just like the managers of other retails establishments, consignment shop managers depend on sales to generate income. The unique nature of consignment shops in the world of retail means that these shops have specific requirements.
If you are looking to automate business processes and improve efficiency, this consignment POS system gives you the power you need. Thus, your small consignment shop may turn into a large consignment outlet serving hundreds of customers every day.
Disadvantages
Support is responsive, in general, but not all technicians are equally prepared to resolve the various issues that arise. The lack of fully knowledgeable technicians can be inconvenient as this software is quite complex.
The cloud hosting freezes on occasion, requiring a reset by technical support or the shop administration.
It is often necessary to purchase one item or service in order to receive some else that you need for your business.
Bottom Line
Liberty boasts an impressive array of features. The Resale Rewards program motivates consignors to keep returning to your business. The flexible software makes it possible to run reports to keep you informed about the stock on hand, the busiest sales days, top sellers and slow movers, leading consignors and much more.
If you ever used a punch card system, it probably cost you a substantial amount of cash and caused a great deal of inconvenience. This consignment POS system tracks everything for your customers on their mobile devices. When they can see all their transaction at a glance, they are really going to appreciate it.
Get A Quote from Liberty for Consignment
Our Final Review
When shopping for a consignment POS system, the most important factors to consider are layaway, tax information, and buyer data.
Layaway is a great way to boost your sales; however, it requires extra work. The system you choose should have features which keep accurate accounts of the items on hold, scheduled payment dates and amounts, and completed payments.
A great feature included with all of the three consignment POS systems reviewed here is the ability to track the sales for each consignor. Whether your payment to consignor is automated or is made in person when they come to your store, you want to keep in contact with them so they don't lose interest.
Some customers prefer not to provide their personal information. Others will be happy to do so in the hope of receiving pre-sale notices, special discounts, and items. A good consignment shop POS system provides a way to collect names, addresses, phone numbers and emails to build a client list.
Finally, consignment POS software should provide flexibility. For instance, there are fifty different tax jurisdictions in the United States. Items can be tax-free by category and for re-sellers. In some states, clothes are non-taxable below a certain amount and taxable above it. This and all related aspects should be considered when choosing a consignment POS system for your shop.