(Last Updated On: June 4, 2021)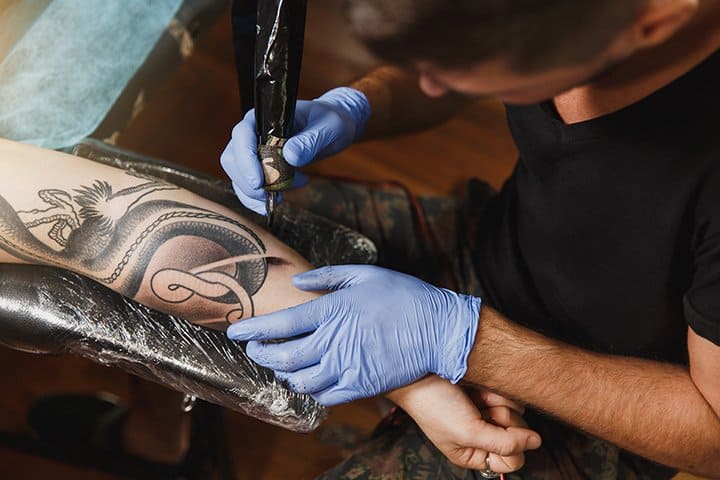 With the right POS system, your tattoo parlor will be in a better position to fight drop-off, tailor services to specific clients, build long-term client loyalty, and so much more.
There are a number of POS systems for tattoo parlors out there, each with their own specific benefits and drawbacks. But across the board, you should be looking for a platform that enables booking and appointment management, automated reminders to reduce no-shows, digital forms for waivers and releases, CRM features, and more.
If you run multiple salons, it's also important to look for a cloud-based POS system. That way, you'll be able to manage all of your locations whether you're in the shop or at home, or anywhere in between.
Our research has found that TattooPro is the best tattoo parlor POS system out there. One of the things that sets it apart is that it really is an all-in-one platform, offering payment processing, digital consent forms, marketing tools, a powerful scheduling calendar, and more. The only drawback is that it is the most expensive of the systems we reviewed.
Pricing for a tattoo parlor POS system can range from $20 per month all the way to $250 per month. There's also hardware and credit card processing fees to consider.
Let's dive into the top four tattoo parlor POS systems and learn about the features, pricing, and even potential drawbacks in each.
4 Best Tattoo Parlor POS Systems
TattooPro: Best Overall Tattoo Parlor POS System
Simple Salon: Best Tattoo POS System for Appointments
Rev23: Best Tattoo POS System for Client Experience
InkBook: Best Tattoo POS Software for Value
| POS System | Software Pricing | HardwarePricing | Our Rating |
| --- | --- | --- | --- |
| | Starts at $149/mo | Quote-based | 4.8 / 5 |
| | Starts at $16.95/mo | Quote-based | 4.5 / 5 |
| | Starts at $15.99/mo | Quote-based | 4.5 / 5 |
| | Starts at $29/mo | Quote-based | 4.3 / 5 |

1. TattooPro: Best Overall Tattoo Parlor POS System

TattooPro sets itself apart from the competition by providing a powerful array of essential tattoo shop features. While the platform is one of the more expensive options, you get high quality features and functionality for every dollar you spend.
Point of Sale
Seamless payment, bill management, receipt generation, alerts and notifications are just a few stand-out benefits of TattooPro's one-click invoicing feature. Effortlessly accept payments of all types, and connect accessories like cash drawers, receipt printers, and barcode scanners. Plus, you can set your own tax rates, artist commissions, menu options, inventory, and more. 
Scheduling
Scheduling new clients and managing artists' schedules is simple in TattooPro. View comprehensive dashboards where you can see all booked appointments and assign clients to artists based on specific areas of expertise. Plus, you can reduce no-shows with automated text & email reminders.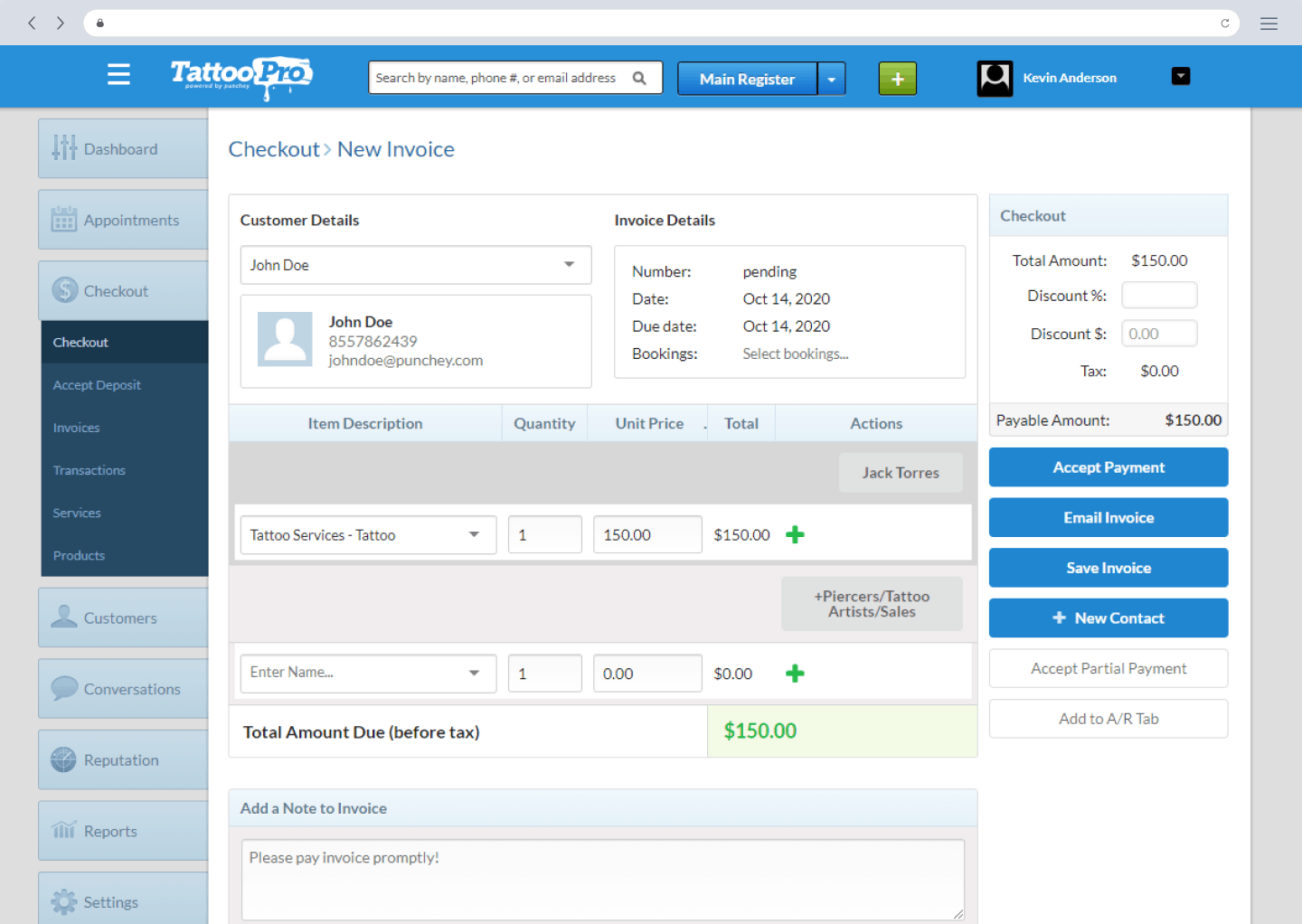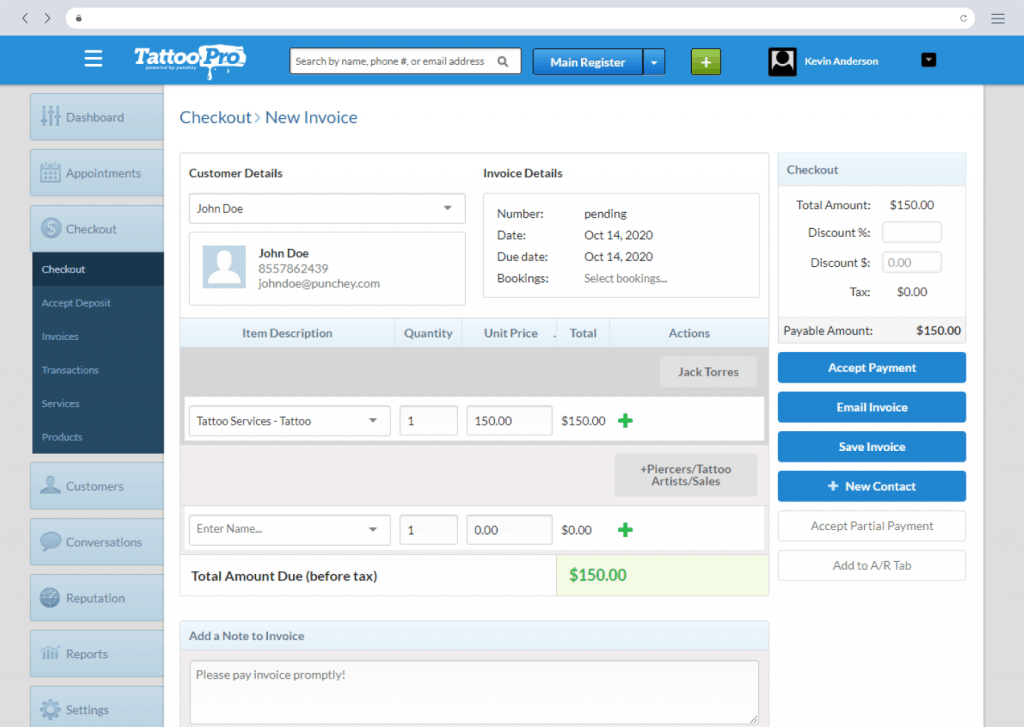 Digital Consent Forms
Built-in digital consent forms, release and waiver forms, and consent forms for minors save you time while also keeping your shop legally compliant. 
Marketing Tools
Manage your reputation and draw in new business by posting positive reviews directly to social media, search engines, and your website. Automate your social listening by monitoring over 40 different review sites, with instant notifications when new reviews are posted. Connect reviews to your CRM so you know the context behind every client relationship.  
Pricing
Pricing comes in three tiers: Solo, Shop, & Ultra. The Solo Plan starts at $149 per month. As you upgrade to more contacts, artists, and features, the price goes up to $249 per month for the Shop, and $349 per month for Ultra. 
Potential Drawbacks
The only potential drawback with Tattoo Pro is the pricing, which is significantly more expensive than its competitors.
2. Simple Salon: Best Tattoo POS System for Appointments

Appointment-setting is a critical part of a tattoo parlor's profitability. While all of the systems we reviewed have powerful scheduling tools, Simple Salon's features stood above the others.
Online Booking Portal
Simple Salon makes it easy to book appointments in just a few clicks, regardless of whether you have a website. You can build scheduling portals with their own unique URLs. These portals are also searchable via Google and can be shared across all of your marketing channels. If you do have a website, you can also seamlessly add a scheduling portal there.
Additionally, Simple Salon offers free membership in the Slick marketplace app to improve your exposure and online bookings. 
Smart Scheduling
Smart scheduling tools automatically find gaps in your existing schedule and prioritize those when selecting new appointments. This helps to keep your days filled with appointments and your artists busy. While this feature is completely automated, you also have the ability to make manual changes. 
Deposits
To help reduce no-shows,you can accept deposits at the time of appointments through Simple Salon, whether you want to hold 5% or all the way up to 100%.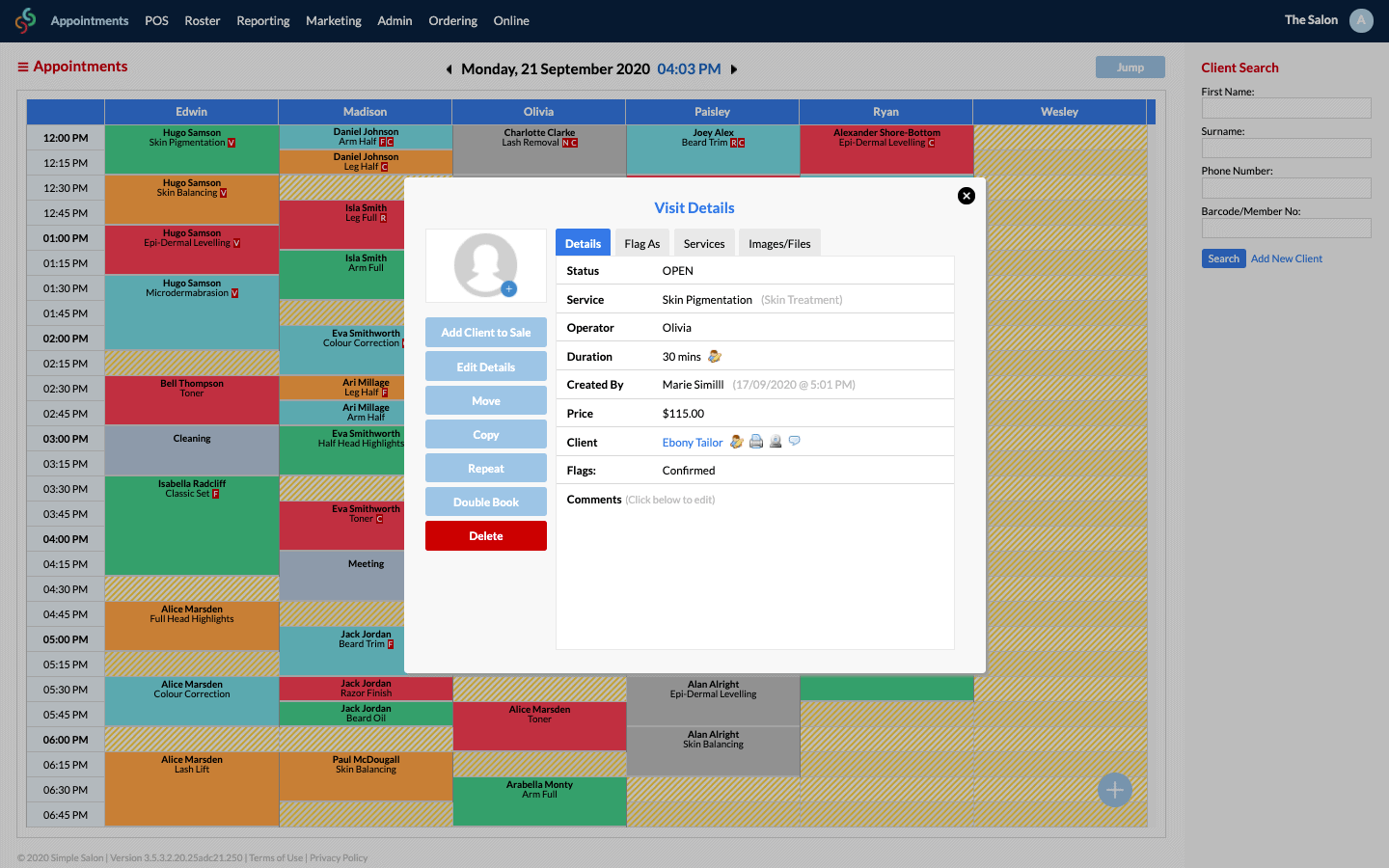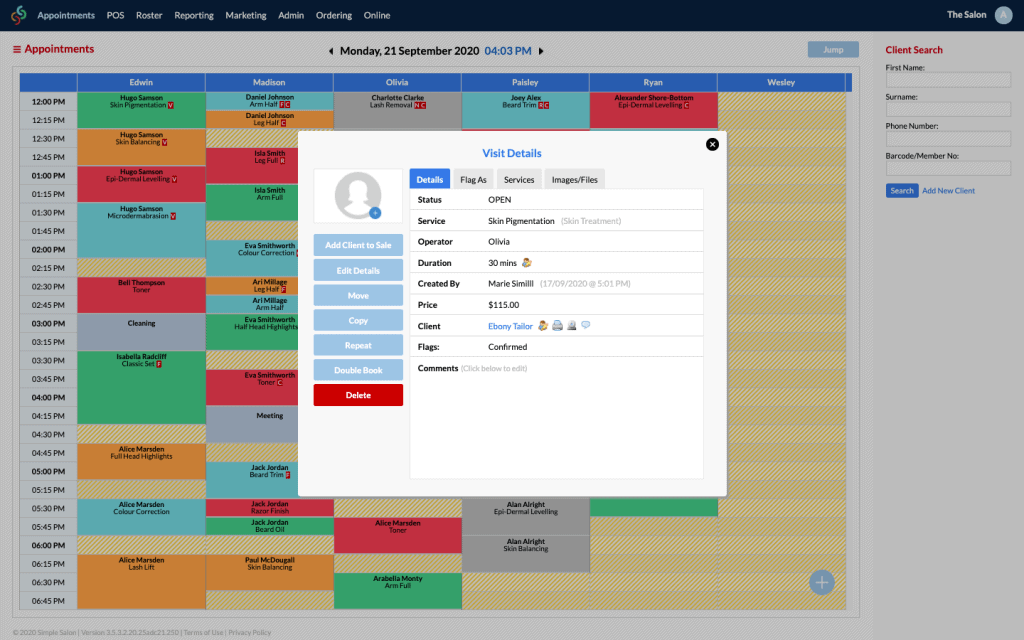 SMS Confirmation
Help reduce your no-show rate with automated appointment confirmations via text. You can also send birthday messages, re-booking reminders, and much more. 
Pricing
Pricing has four tiers, starting at $21.99 for a single-staff license (pricing on their website is in AUD, not USD, so estimate $16.95 per month in USD). That goes all the way up to $113.99 AUD ($87.85 USD) depending on the number of users and locations you have. 
Potential Drawbacks
Simple Salon lacks the ability to pull up digital consent forms, which is a must for tattoo parlors. You will also have to integrate a separate merchant services account with the platform, although there are a number of integrations available. 
3. Rev23: Best Tattoo POS System for Client Experience

If you want to provide your clients with a personalized, one-of-a-kind customer experience, Rev23 has the tools to do exactly that. With both manual and automated personalization features, you can make a positive impression on each client and build brand loyalty. 
Point of Sale
Quickly and easily process all types of payments, then add tips and surcharges. Keep a detailed inventory of all your products, including gem sizes and colors for piercings, and pull them up instantly to provide the client with exactly what they need. 
Client Management
With Rev23's drivers license barcode scanner, you can instantly pull in client information like name, address, birthday, and more. This can help with pre-filling release forms, saving everyone time and energy. Rev23 also offers standard CRM features so you can take notes on clients to allow for further personalization. 
Scheduling
Keep your calendar filled with bookings by using Rev23's powerful scheduling. Take deposits to ensure bookings turn into actual appointments. Send email and text reminders to keep clients engaged. And if a potential client does cancel, automatically fill that space with someone from your waiting list.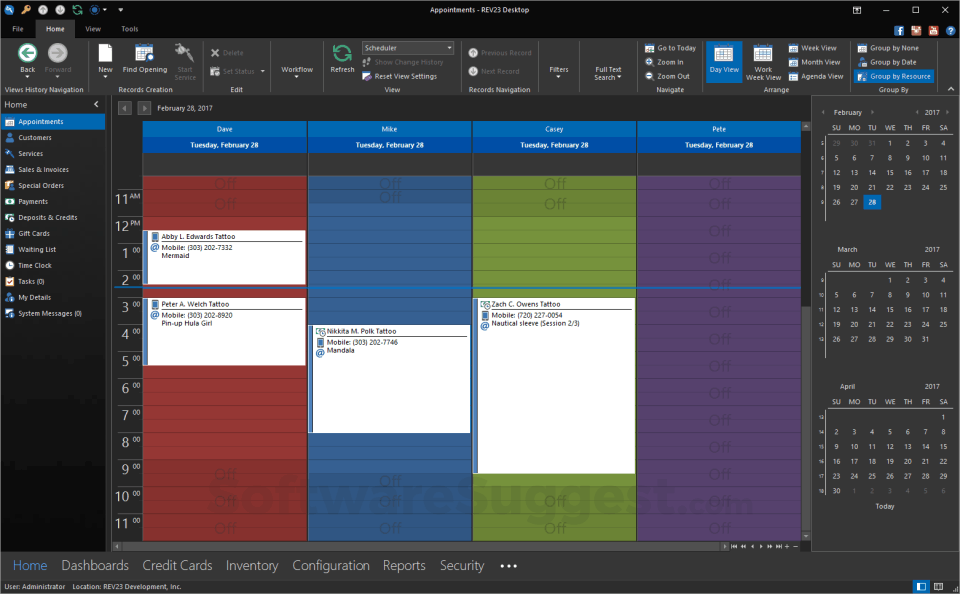 Client Release & Aftercare
Rev23 comes with digital release forms that will save you time while maintaining your legal compliance. These forms are automatically tied to the client's record and available to access at any time.
Reporting
With just a couple of clicks, you can pull information on artist payouts, sales tax, and more. Rev23 also includes an integrated timeclock for employees, so you can view profitability per employee and other key metrics. 
Get A Quote from Rev23
Pricing
Rev23 starts at $59.99 per month, or $659.99 per year, to license the software. You also have the option to purchase a $1,199.99 one-time license for a single PC, but you can only update that for a year. After that you have to pay $699.99 per year for optional upgrades, and $139.99 to install on additional devices. 
Potential Drawbacks
The only drawback to Rev23 is that the UX seems outdated. However, there don't seem to be any issues with their core features and functionality.
4. InkBook: Best Tattoo POS Software for Value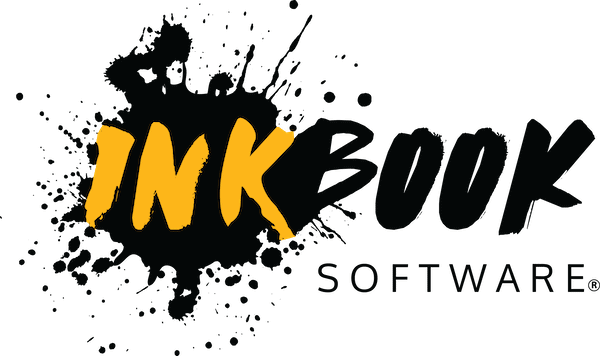 If you don't want to break the bank but need as many features and functionality as you can get, InkBook may be a good option. Here are some of their most impactful features. 
Multi-Device Management
InkBook's cloud-based system allows you to manage your schedule from any device. Run reports, launch marketing campaigns, or manage your staff whether you're in the shop or at home.
Integrated Credit Card Processing
While other tattoo parlor POS systems require third-party merchant services, InkBook simplifies the process with Integrated credit card processing. Plus, automated and consolidated reporting means you can confirm payment without having to wait for bank reconciliation. 
Appointment Booking
InkBook's intuitive, drag-and-drop appointment book makes it easy to find availability at a glance and reschedule within seconds.
Commission Tracking
Set up straight or step commission scales for all your employees, including exceptions for bonuses or specific items.
Marketing Tools
Send targeted marketing campaigns (via email and SMS) based on client preferences and purchase history. Leverage InkBook's reporting tools to see which campaigns are performing best. 
Pricing
Although InkBook isn't the absolute cheapest tattoo parlor software out there, it is the best in terms of what you get for the dollar amount. Their basic, single-user plan starts at $29 per month, but you can scale that up to a $199 per month unlimited user plan. 
Potential Drawbacks
InkBook is missing some of the features that tattoo parlors need, like digital waiver forms. However, as a basic, starter platform, this is a great option. 
Buyer's Guide: What to Look for in a Tattoo Parlor POS System
Tattoo parlors rely on more specific features than what a standard POS system can provide. Here are some of the key things to look for when choosing one for your business. 
Scheduling Tools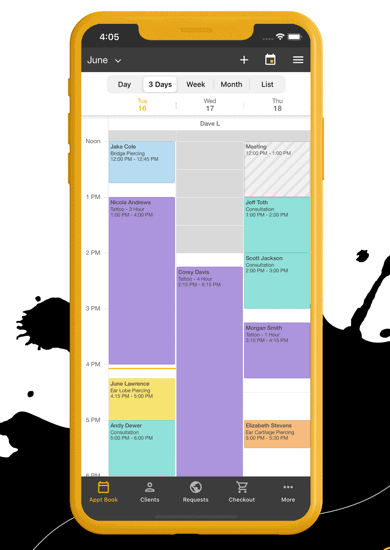 Your business lives and dies by the number of appointments that you're able to have. Find a POS system with smart scheduling software, including an easily accessible calendar system, automated email and text appointment reminders, and even the ability to take deposits so you can reduce no-shows.
Another great feature to look for is the ability to pre-select specific artists, connecting their expertise to the specific service the client is looking for. 
Automated Confirmation (SMS & Email)
The more bookings you can turn into actual appointments, the better. Automated confirmation features can help you do just that. You can set up a sequence of reminders leading up to the appointment so it's never far from your client's mind. 
Digital Consent & Waiver Forms
Maintaining legal compliance is, of course, absolutely critical to your business' longevity. Look for a POS system that can help you automate and digitally store tattoo consent forms, release forms and waivers, and tattoo consent forms for minors.
With digital forms, you can protect your clients' information more securely, speed up the sign-up process, and access that information at any time. 
Marketing Tools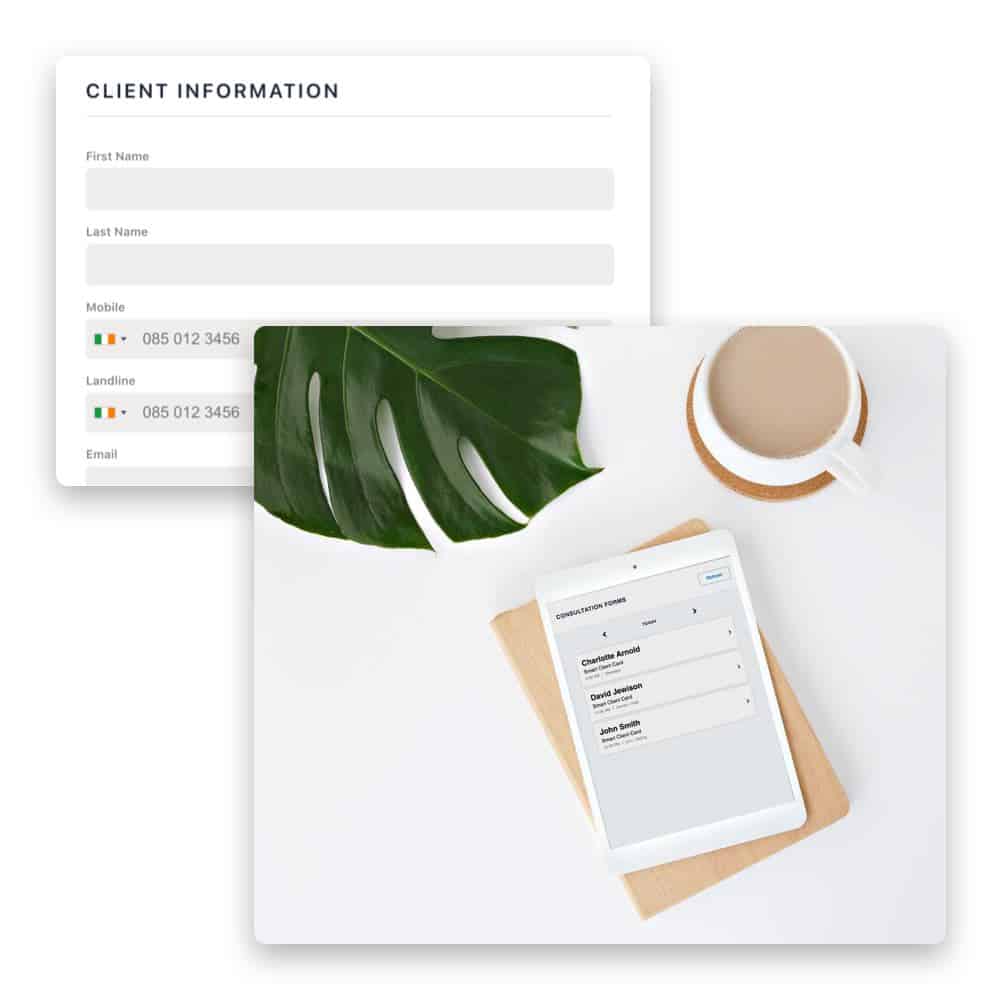 We've talked about automated confirmation already, but that's not the only marketing feature you should have an eye out for. Whether you want to send clients customized aftercare instructions, or simply text them on their birthday, you should look for a POS system with easy-to-use email and SMS features. 
Client Management
Every client has their own needs and concerns. This is true in any industry, but it's especially the case when it comes to something as personal as a tattoo or piercing. This means that having a solid CRM system is a critical piece of your business.
You should be able to take detailed notes within a record, view a client's purchasing history, access their paperwork at a glance, and even pull in other information to help personalize their overall experience. 
Conclusion
Looking for a tattoo parlor POS system shouldn't be difficult, not when there are so many options out there. We hope this guide has helped you sort through the best of the best.
In most cases, the platform you choose will probably be tied to how much you're able to spend. TattooPro is the best system, but it's also on the higher end in terms of cost, making it potentially prohibitive for some smaller shops.
On the other hand, if you go for some of the more basic platforms, you may end up spending more in the long run due to the amount of time you spend manually on certain important tasks, like filling out and signing digital waiver forms.
In the end, however, you have to make the right decision for your business. We hope this guide has helped you see the features, pricing, and potential drawbacks of each of these top tattoo parlor POS systems.