(Last Updated On: June 4, 2021)
Formerly known as MobileBytes, Heartland Restaurant is one of the best hospitality point of sale (POS) software solutions you can get. It leverages the simplicity, convenience, and power of Apple hardware along with modern cloud technology.
Envisioned for restaurants, you will find this cloud-based POS system to be feature-rich, scalable and powerful. Based on research findings, about 86% of Millennials are likely to try a new restaurant after they have seen its food-related content online.
In addition to giving you an online presence, MobileBytes is designed to streamline restaurant operations and simplify management tasks. The feature-rich solution will help you deliver a customer experience that builds loyalty in your establishment.
Throughout this MobileBytes POS review, you will learn what makes it a preferred solution for restaurant owners in the country.

MobileBytes POS System Alternatives
| POS Name | Software Subscription Fees | Supported Mobile Platform |
| --- | --- | --- |
| | Quote-Based | iOS |
| | Starting from $69/month | iOS |
| | Starting from$69.99$69.99/month/per-user | iOS |

MobileBytes POS System Benefits
Allows you to delight the guests and turn tables faster
Capable of syncing servers and the kitchen simultaneously
Features order status tracking capabilities
Allows for remote monitoring and management if restaurants over the cloud
Makes it possible for your customers to order and make payments ahead of time
MobileBytes POS Pricing
The MobileBytes restaurant POS system and associated hardware components are all quote-based. The provider offers a tired budget-friendly monthly subscription that is tailored to your needs. Although the official website does not have any pricing information, third-party sources have revealed that it starts at about $120/month.
The much you will end up paying for the solution will mainly depend on the size of your business and POS needs. To get an accurate Heartland POS system quote, you should contact the provider directly through its official site.
MobileBytes Hardware and System Requirements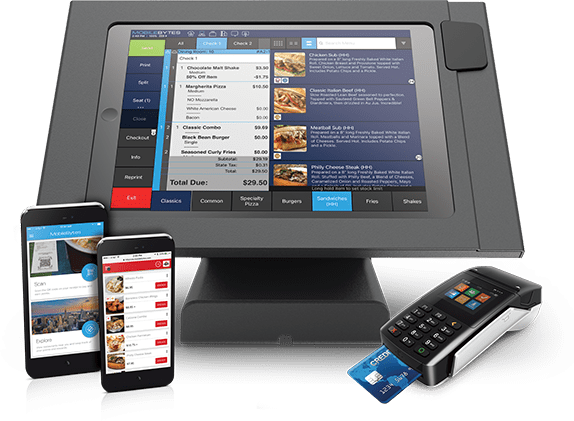 The sleek and modern Heartland restaurant POS software is capable of running on almost any Apple device. To allow for enhanced flexibility and usability, the system is exclusively designed for use on Apple hardware.
The software runs on the devices you are used to, no wonder so many users find it to be intuitive and ergonomic. This will also save you a considerable amount of money because you will be able to use the Apple devices you already own.
MobileBytes POS System Key Features
Just as is the case with some of the best cloud-based restaurant POS systems, MobileBytes runs on the cloud. Not only does this allow for seamless integration with other services, but also means that the system does not require a server. This alone has been proven to lower technology costs considerably.
You will also like the fact that the system has an offline mode, allowing you to continue processing transactions even when the internet is down. In addition to these, MobileBytes has a lot of features and capabilities to offer, including:
Delivery and Dispatch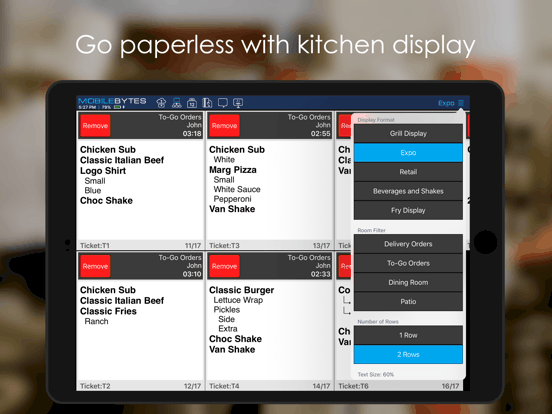 The Delivery Dispatch system feature on the MobileBytes restaurant POS system is designed to allow for easy delivery management. With this feature, you will have an easy time assigning delivery orders to your drivers.
The POS is also capable of providing the drivers with turn-by-turn directions for every order they need to deliver. It allows you to quickly add or remove delivery drivers, view orders assigned to each driver, and integrate with the POS mapping interface.
To assign orders to your drivers, you only need to drag and drop them. You will also be able to dispatch delivery orders through text messaging, These make the system perfect for Pizzerias and any restaurant that receives a large volume of delivery orders.
Cloud Management
With MobileBytes, you will be able to manage your establishment anytime, anywhere, with any device. It allows you to access all your restaurant data and manage the business in real-time anytime from anywhere. In this regard, it features an easy-to-use, cloud-based, mobile responsive website.
It allows you to access deep insights into the operational and financial performance of the restaurant from any computer, tablet device, or smartphone. This is made possible by MobileBytes Cloud Management. Additionally, it makes it easy for you to keep track of operations, and sales from your Smartphone.
It features a mobile responsive Smartphone experience, allowing you to manage all your restaurant operations from a single place. You will be able to view concise and beautiful dashboards on the restaurant's daily weekly and monthly operations.  Create and manage your staff members, menu items, room layouts, and everything else you need to keep your restaurant up-to-date all from your laptop or smartphone.
Signature Capture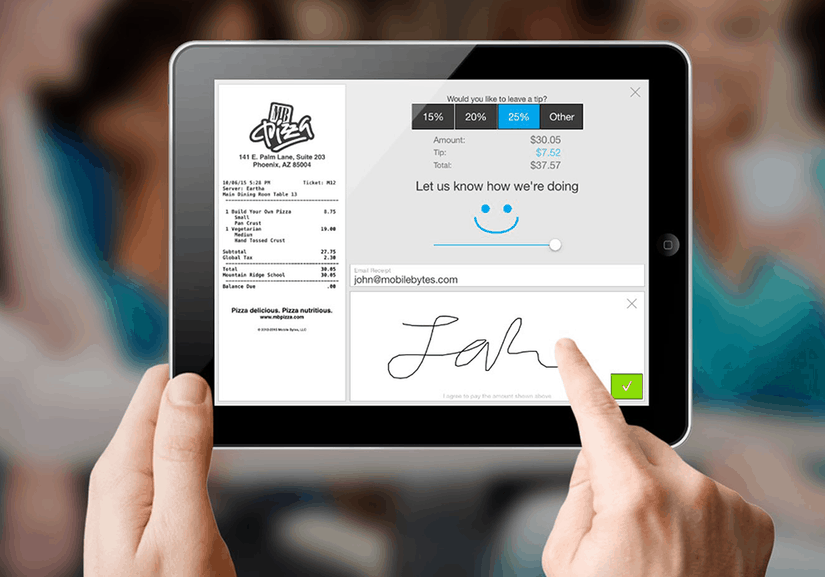 The electronic signature capture feature of the mobileBytes POS system is meant to save you time and money. With this cloud POS for restaurants, your servers will be able to process paperless credit card transactions. They can capture customer signatures directly on iPads.
Receipts are immediately emailed to customers, eliminating the need for paper. Guests will be able to rate their experience from the signature capture screen with a simple feedback slider. This has been proven to decrease the average table turn time and allow for simple customer feedback.
Setup quick tip amounts, simplify table-side ordering, and customer balance inquiries. Some of the benefits associated with these capabilities include:
Enhanced Customer Satisfaction
With the MobileBytes POS for restaurants, you can input orders directly to the kitchen using an iPad or iPad Mini at the table. Your customers will be pleased with faster service and you will turn more tables throughout the day.
In addition to processing transactions at the table, you can also capture electronic signatures and select tip amounts at the table. This allows for faster service, which increases customer satisfaction.
The system allows you to display beautiful photos of menu items to guests. It has also been proven to lower paper costs considerably.
Electronic signature capture saves you and your servers time with the ability to process paperless credit card transactions and capture customer signatures directly on their iPads. You can then email receipts directly to customers, which eliminates the need for paper in your business, hence saving you money.
Your guests can also rate their experience from the signature capture screen with our simple feedback slider. With this tool, you can also set up quick tip amounts and allow for simple customer feedback.
Guest App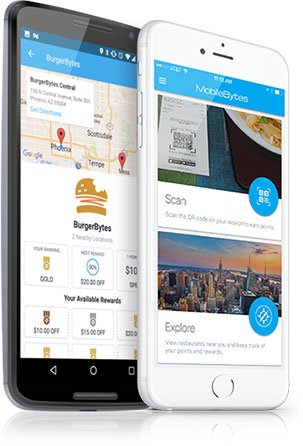 The provider also offers a guest mobile application, the MobileBytes Guest Engagement App. In an industry where customer service is critical, the Guest App for iPhone and Android is the solution that will unite the restaurant with your guests for an enhanced experience.
The App connects guests to their favorite restaurant. Using iBeacon technology, the app alerts guests when they enter a participating restaurant. It invites them to skip the line, decreasing wait times and increasing satisfaction. Additionally, customers can use their mobile devices to scan receipts to pay quickly and earn rewards for future deals.
The MobileBytes Guest App makes it easy to discover, and explore participating restaurants where guests can enjoy an exceptional dining experience. You can also scan receipts to pay and earn rewards, and place mobile orders with the 'Order Ahead' capability.
Other Point of Sale Alternatives
Final Verdict
MobileBytes is an iPad point-of-sale system that is specifically designed for restaurants. It allows you to manage your fast casual, full service, fast food, or food truck restaurant. You will find it to be a powerful, cloud-based, easy to use point of sale solution.
Heartland Restaurant (MobileBytes) POS allows you to fully operate your restaurant with straightforward menu configuration, tableside ordering, electronic kitchen display, and fully integrated credit card processing.
You will also like the table-side ordering and payments with signature capture capabilities of the software. As if that is not enough, the provider offers an integrated driver dispatch feature with turn-by-turn mapping for deliveries. With host waitlist management, and built-in time and attendance with photo verification, MobileBytes POS is simply exceptional.