(Last Updated On: June 4, 2021)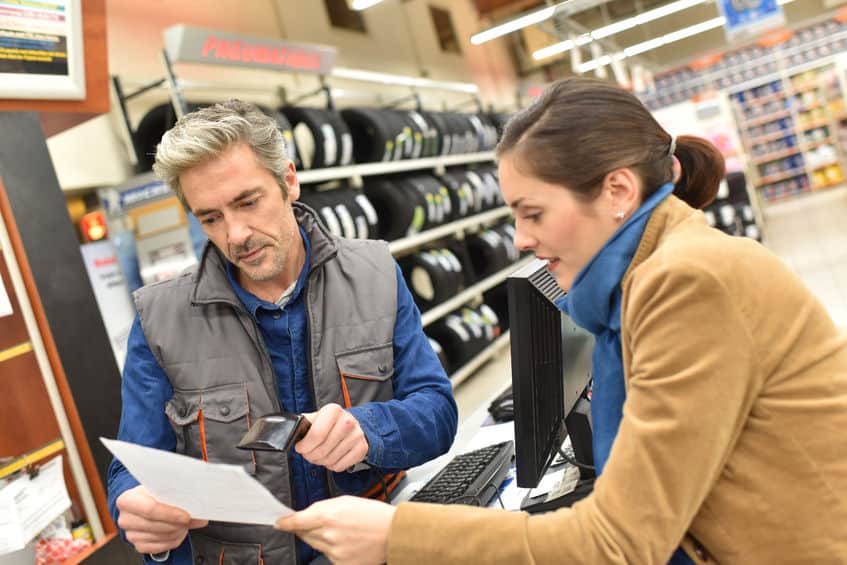 If you own an automotive parts business, you're familiar with the complexity of managing a business with thousands of SKU's and inventory types. Without auto parts software, you won't be able to forecast demand, optimize your inventory, or integrate systems that'll help better manage your business.
With the right POS system, you'll be able to track the costs and profits for the parts you sell. Keep track of which parts are running low. With a point of sale solution, you'll be able to place orders from your supplier and restock your inventory, right from the software.
The auto parts industry is growing. With the US market forecasted at $16 billion in 2020 alone, aftermarket dealers will enjoy growth at a higher than forecasted rate, mainly due to the coronavirus shutdown (Source).
Want to skip right to the best auto parts POS system? Look no further than Rev Parts Management Software. With this cloud based, all-in-one POS, you'll be able to sell through various wholesale channels online, including Amazon, eBay, Google Shopping, and others. Sync the POS system with your website and sell directly to retail customers as well.
In this review guide, we'll cover the strengths and drawbacks of each auto parts point of sale solution, while helping you choose software that will increase your business' productivity, organization, and profits.

The Top Four Auto Parts POS Systems
Rev Parts Management Software: Best Cloud-Based Auto Parts POS
Heartland Retail: Best POS Software for Complex Operations
Acctivate: Easiest to Use Auto Parts POS System
Autopart by MAM Software: POS System with Specific Car Parts Features
Comparison of The Top 4 Auto Parts POS Systems
| POS System | Software Costs | Hardware Costs | Our Score |
| --- | --- | --- | --- |
| | Starting at $49.99/month | Quote-Based | 4.8 / 5 |
| | Starting at $80/month for the Plus Plan | Quote-Based | 4.8 / 5 |
| | $4,995 (one-time fee) | Quote-Based | 4.5 / 5 |
| | Quote-Based | Quote-Based | 4.2 / 5 |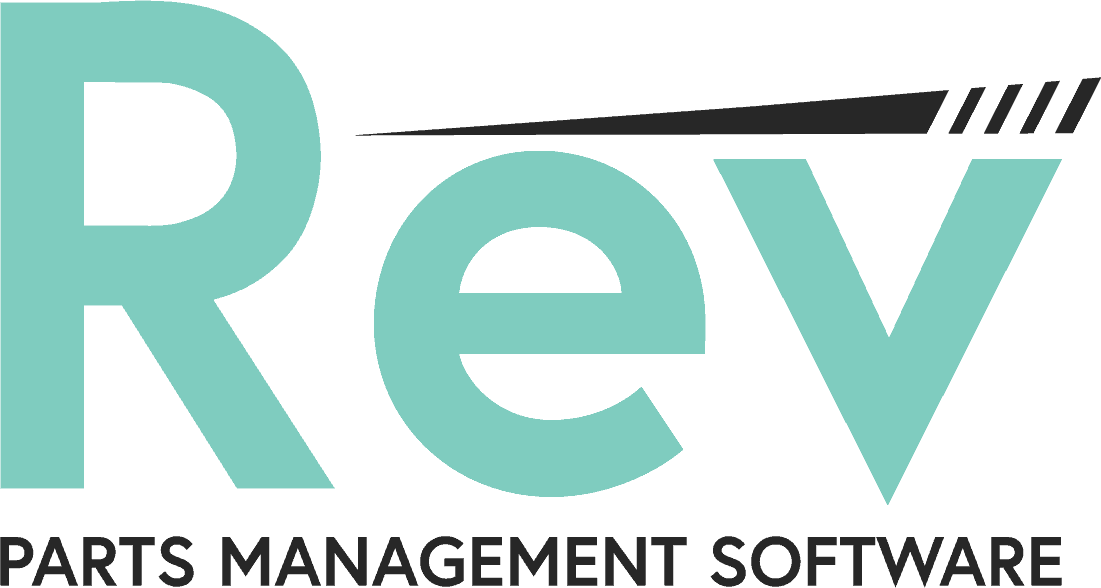 Quite simply, REV provides a POS system that helps you sell car parts in-store and online. The reason this software ranks higher than other POS systems is not only its features. The security protocols and true cloud nature make it the #1 solution in the industry. With this system, you'll never have to worry about losing data or losing it to the wrong hands.
Labeled as the fastest growing ERP provider for the automotive market, this point of sale solution offers more than just security. With REV, you can process sales orders anywhere, anytime. All the data you need can be found on one screen. The system is easy to use and has no data limits.
Search & Add New Products in Seconds
Trying to find a product in your system? Search by name, part number, description, SKU from the sales line item. Sort your results by name, number, or any other variation you like. Can't find what you're looking for? Add a product to the search records permanently and instantly, and it'll be there next time you search for it.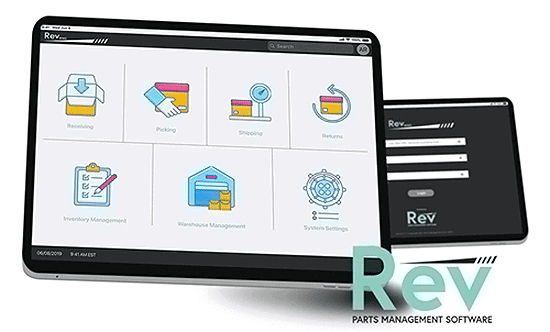 Other Notable Features
Change Accounts: View, change and create new account information for vendors or customers, without having to exit the POS system.
Track Account Balances: Create, track, and apply deposits, payments and gift cards by account—all from the Rev POS system.
Simple Returns: Take a quick peek at any current returns and return rates for a specific product or established account at the sales line item level.
Set Access Levels: Want to distinguish access levels between managers and salespeople? Assign different levels of security settings for every employee or account in your system.
Credit Card Processing: Bill your customer's payment method securely through the POS system. As Rev doesn't offer their own merchant processing, you'll have to use a third-party partner.
Additionally, this POS system can nearly automate your accounting process, by using their easy integration with QuickBooks. Import and export all the data you need and produce custom, real-time reports.
Get A Quote from Rev Parts Management
2. Heartland Retail: Best POS Software for Complex & Growing Operations

Heartland Retail provides POS features that help you compete as an auto parts dealer. The omnichannel point of sale features provided by Heartland help you automate tasks so you can sell more and focus on profitability.
User-Friendly Cloud POS
Reduce the time it takes to train your employees with this easy-to-use POS system. With Heartland Retail, you can scale up or down as needed. With mobile POS features like quick item look-up, easy customer creation, and easy returns, you can focus on promotion while the system takes care of your customer service.
Enterprise-Level Order Management System
Customers expect to get item pricing fast, and this POS system can help you do that. Access your inventory in real time and check your warehouse stock. Process your online orders seamlessly — knowing what you have in stock and what needs to be reordered.
Ship and fulfill easily with Heartland's special alerts. Create orders for parts when customers call in and save it in the system (in the event they want to buy at a later date).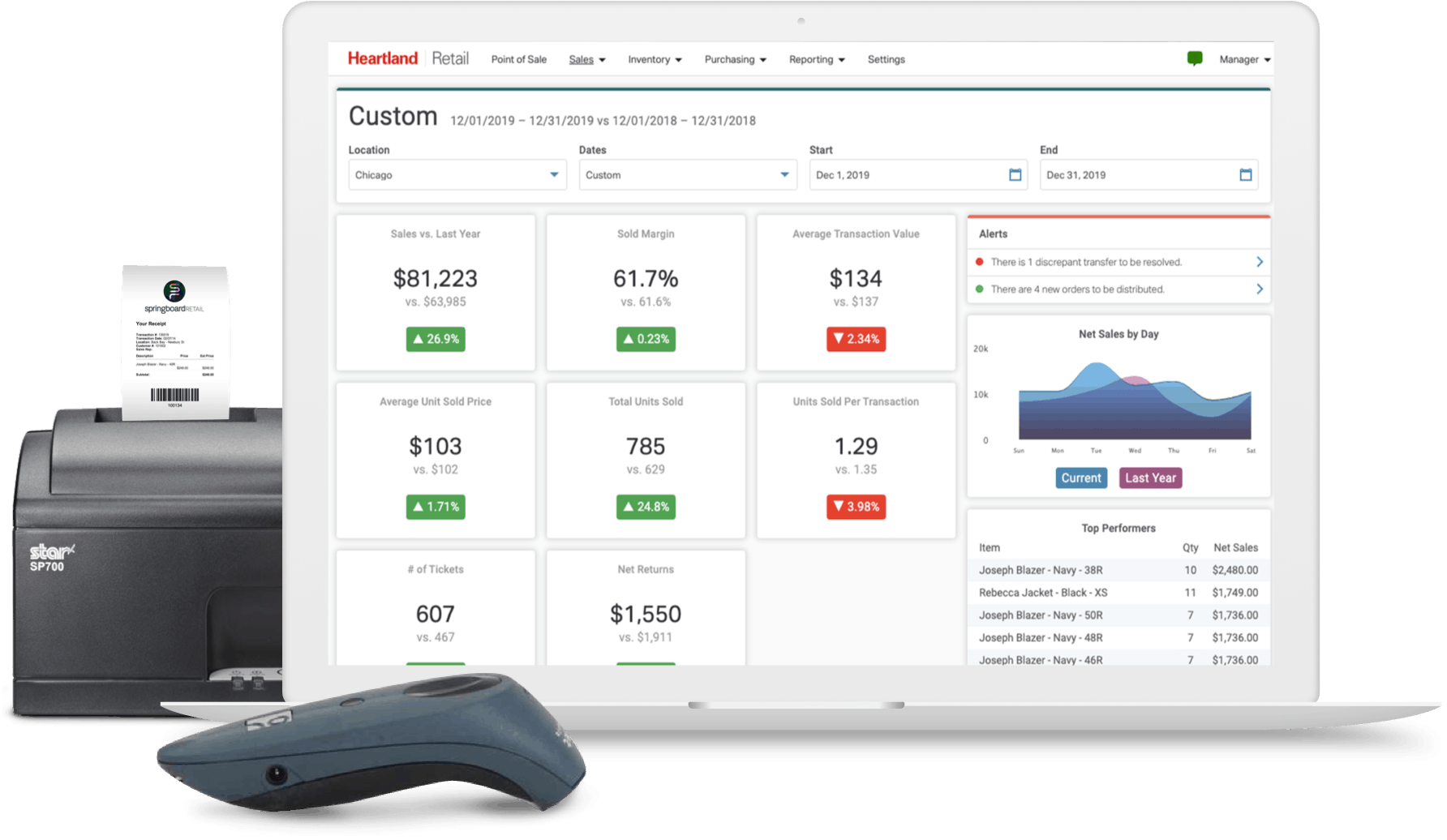 Inventory Management & Generate Reports
Manage your inventory right by tracking which items sell the most. Boost your profit margins by tracking cost and revenue for various parts. Create custom fields to track specific inventory, and then build inventory reports that let you even out your stock across your physical and online channels. Avoid stocking dead inventory or selling out of your hot items without you knowing a thing.
Manage Customers & Vendor Accounts
Use Heartland's built-in customer management tools to collect data from any transaction and create user profiles. Use sales to analyze each item and forecast sales. Get the insight you need to negotiate with vendors. Create purchase orders on the go, saving you valuable time. Manage your inventory efficiently within the POS system, avoiding any errors or duplicate items.
Get A Quote from Heartland Retail
3. Acctivate: Easiest to Use Auto Parts POS

Acctivate's POS system caters to aftermarket auto parts stores that need an easy to use and secure inventory management software. The system has a special dashboard, displaying what inventory is on hand, what's available to ship, and what needs to be ordered from suppliers.
What we love about Acctivate is its plethora of features. From inventory control to warehouse management, you can forecast sales for the day, month, or year. Automate your eCommerce channels and make ensure smooth and steady fulfillment of your products.
Acctivate has auto software features to help you succeed:
Manage complex products
Process in-store sales
Serial number and SKU management
Product returns
Multiple pricing points for product variations
Importing & exporting reports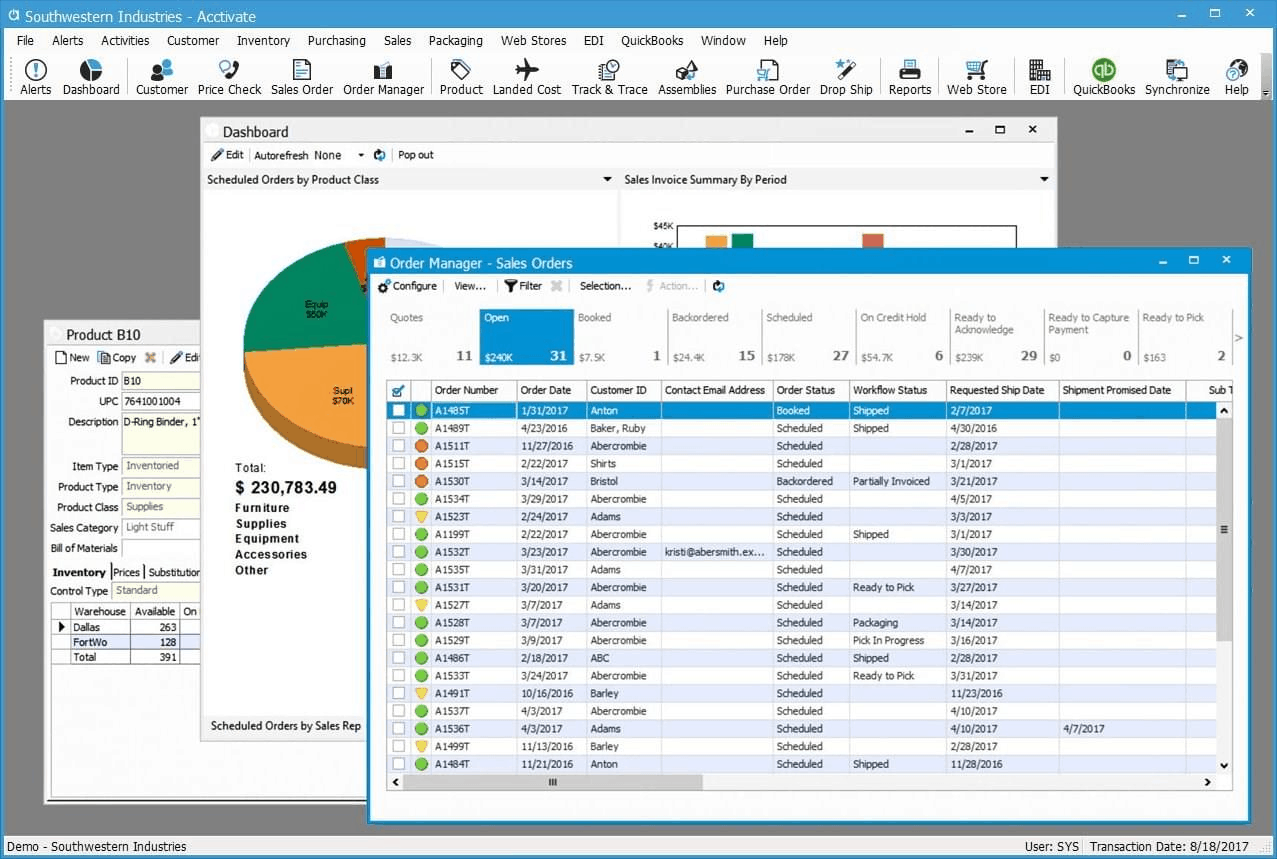 Product Management
Whether you're dealing with selling aftermarket parts or entering product descriptions in the POS system, Acctivate can help manage your retail distribution business better. From flexible product lookup by SKU, UPC, or OEM numbers to pricing information for each product, you can analyze sales and purchase history with just a few clicks.
Additionally, you can check lead time with your vendors or manage your warehouse operations from a mobile device. Need to cross-reference OEM and aftermarket parts? The system can do that easily, across multiple warehouses and locations.
Serial Number Management
Acctivate lets you manage serial numbered products with ease. Serial numbers can be identified when auto parts at received at destination. The system is also smart enough to avoid duplicate items or products. If the product is to be recalled, the system can also look it up by serial number so you can send it back to the manufacturer.
Multiple Pricing
Got one product that has three different variants? The software can import special pricing from your vendor from each variant. Enter the weight, height, length or volume of the product right into the system.

Powerful and easy-to-use POS system designed specifically for auto parts dealers. Used and trusted by more than 3,000 businesses in North America, Autopart's software helps you manage your new business and build new vendor relationships.
Product & Price Management
Autopart's POS system offers smart pricing models and sets. All prices and discounts are calculated automatically, simplifying transactions for your staff, whether managing a commercial account or selling to a retail customer. Incorporate limited-time promotions, dependent on specific requirements. Generate profit margin reports for each product you sell.
Sales & Purchase Order Processing
Use customer and sales data so your staff can view stock availability, promotions, and related products, helping your team with cross-selling or up-selling. As for purchase orders, the Autopart system has a smart system that goes way past manual or scheduled PO's.
With smart re-ordering suggestions and an analysis of your best-selling products, you can order exactly the product you need for profitability. The software can also track stock levels for the most optimal inventory management.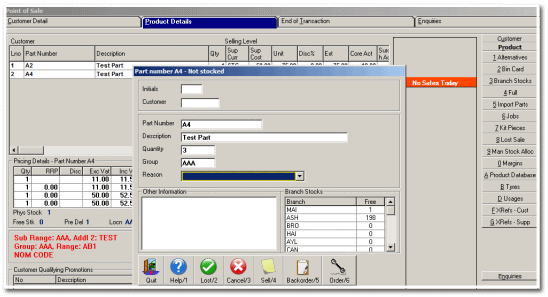 E-Commerce Capabilities
The system is able to automate nearly every step of your supply chain process. Using the web interface, you'll be able to manage your commercial accounts and retail orders. Connect directly to your suppliers and trading partners systems, checking what they have on end, so you need sell items you can't stock or at a loss. Armed with this knowledge, you're able to communicate availability and pricing to customers.
Business Analytics & Complete CRM
Although this software is great at managing orders for auto parts, we believe it is more than just an order management system. With Autopart, you can check KPI's and see where you can improve. This is done through Phocas BI, a cloud-based software specializing in analytics for manufacturing and distribution businesses like auto parts businesses. The CRM module from Autopart can help you improve customer service and sales.
Buyer's Guide: What to Look for in Auto Parts POS Software
Other than basic functions of a POS system, auto parts stores should consider features that will help them process orders faster and more efficiently.
Part Lookup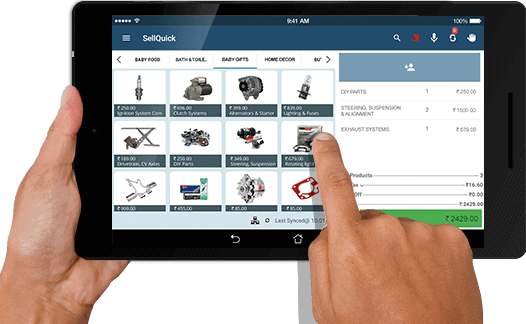 An auto parts POS system should be able to easily look up parts by vehicle make, model and year. To keep the most up-to-date inventory, your system should be updated regularly and sync with all your locations.
Ideally, your system will be cloud-based and have the capability of searching for aftermarket, OEM parts, and recommend other parts you can up-sell.
Integrations
If possible, choose a system that will offer an open API so your team can execute custom developments and integrate with any third-party plugins you may already be using. Most importantly, your chosen POS system should be able to sync with various accounting, inventory management, and ecommerce integrations. For example, if you're selling on your own website, you may require a WooCommerce integration.
Inventory Management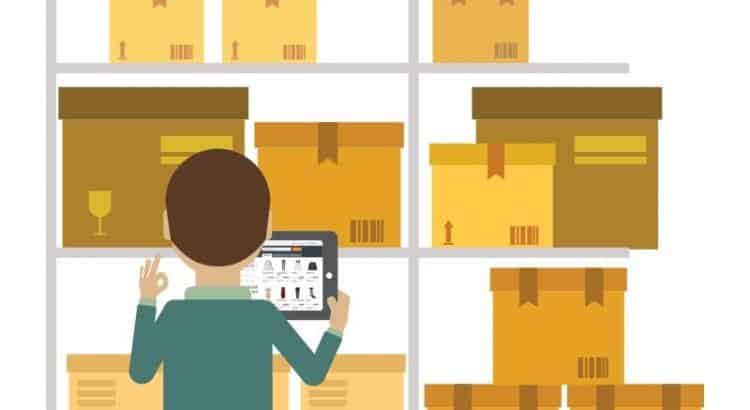 Your inventory management system within the POS should monitor the inventory levels across all your locations. This way, you'll always know what's in stock and be able to fulfill in a customer's order, whether in-store or online.
The system should have the ability to place orders 'on hold' for local pickup (layaway) or notify the customer when an item is out of stock. For online orders, you'll want the have the ability to place special orders for customers for when an item gets restocked.
Additionally, you'll want the ability to set special pricing for retail and wholesale customers. Assign special tax rates for classes of products or assign pricing based on quantity. Finally, look for a system that offers time-based promos and the ability to sort by size, color, and other variants.
Register Functions
Part of a having a POS system is using more than just the software. You'll need hardware like a register with quick pick keys for faster checkout. You'll also need a barcode scanner for parts. Other features from the register to look for include transaction recall, returns, split tenders, item discount, store credit, receipt printing, and more.
Flexible Payment Options
One of the most overlooked factors is the ability to provide your customers with multiple payment options, even in the same transaction (split payments). By improving how flexible you are with payments, you'll improve your customer service.
By using POS terminals that accepts cash, debit cards, credit, coupons, gift cards, and more, you'll ultimately improve your sales. By processing thousands of transactions, you'll also be able to study your customers' buying behaviors by examining transaction history.
Ready to Implement Auto Parts POS Software In Your Business?
Similar to the wholesale business, if you manage a business in the highly competitive auto parts business, chances are you're not taking an advantage of all the features a dependable POS system has to offer.
Whether you run a small store locally or a nationwide, enterprise-level operation, you'll need an auto parts POS system that automates tasks like online orders, inventory management, supplier orders, accounting, and much more.
The right system for your business will depend on the exact features you need and the size of your business. To learn which software is going to work for you, we recommend scheduling a demo with each provider and compare the pricing, features, and ease of use for each system.
Before settling on a solution, consider the cost of hardware, payment integration, processing costs, CRM features, multi-store capabilities, mobility from your store to your warehouse, and onboarding (the time it takes to set up your software).
Keep in mind, since both businesses require similar features, tire shops can also use the same POS systems that auto parts businesses use. You may also want to check our post on car wash POS systems.