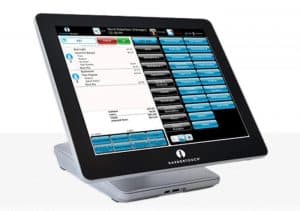 The Point of Sale or POS system is the vital transaction point that can make businesses truly successful. A good POS system does everything from handle the transaction between business and customer, to tracking vital data for management.
The use of the touch screen is instilling a standard point of sale system which is more user friendly and opening the door to allowing the customer to become a user.
Self-checkouts in Wal-Mart armed with barcode scanners, kiosks that let you order in McDonalds or finding an item in the IKEA inventory are great examples of touch screen point of sale systems being used to make daily life in a variety of industries much easier.
We see this at work daily at gas stations as they upgrade to better, touch screen POS systems at their pumps. Businesses are quickly learning they can utilize a quality touch screen POS system to increase efficiency and put their focus back on their customers.
Which POS system is right for your business? Keep reading to see the review on our top three picks!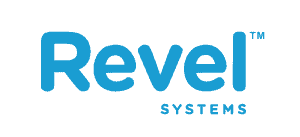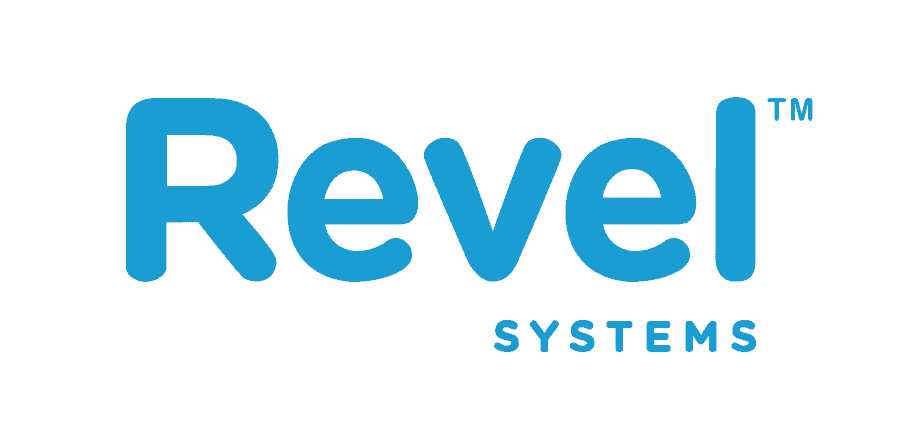 The best option for bringing a touch screen POS into your stores is Revel Systems POS. It has a lot of opportunity for customization, is easy to use, versatile, and intended for mid to large sized businesses. Revel Systems is built for the iPad and offers many features that are stress-free to use.
Revel Systems is a well-known company that prides itself on being capable of delivering any business tool you could use. Primary Revel Systems users are companies such as Goodwill, Popeye's Chicken, and Cinnabon.
Top 3 Touch Screen POS Systems
Price

Monthly fees: $70+
Hardware: $1500


Monthly fees: $39+
Hardware: Varies


Monthly fees: $69+
Hardware: Self-purchased


Customer Support

Local support by phone
24/7 Chat support
Written requests
Online FAQ
Online Troubleshooting Videos


Phone support
Email support
Chat live support
Online knowledge base


24/7 Phone support
24/7 Email support
Data Backups


Features

• Cloud Based
• Easy to navigate interface
• Discounts and Promotions
• Gift cards
• Allows customer usage
• Customer specific display
• Allows self service
• Online ordering
• Customer relationship management
• Visual trend reporting
• High accuracy data capture
• Product management
• Employee management
• Inventory management
• Ingredient-level inventory tracking
• Sales and trends tracking
• Cash management
• P2PE security
• Open API
• Fuel pump management


• Cloud Based
• Easy to navigate interface
• Driver management
• Directions and Mapping
• Price point management
• Employee management
• Customer database
• Customer reports
• Employee reports
• Inventory reports
• Sales reports
• Cash management
• Company provided training


• Cloud or Server Based
• Built for iPad
• Multiple platforms
• Business size options
• Tailored to food service
• Mobility
• At-table checkout
• Visual trend reporting
• Accurate data capture
• Print or sign receipts
• Staff management
• Inventory
• Floor plan management
• Promotions
• Discounts

A quick note, many of the prices you see here are base level or introductory rates for businesses with a few stores. Pricing for POS systems can vary on a number of factors including: number of stores using the service, volume of necessary ports or stations, volume of anticipated data to be stored, and any additional services you may choose to take on through the company.
However the prices we've provided here shouldn't leave you with sticker shock if you are looking to install a new POS system.
Revel Systems POS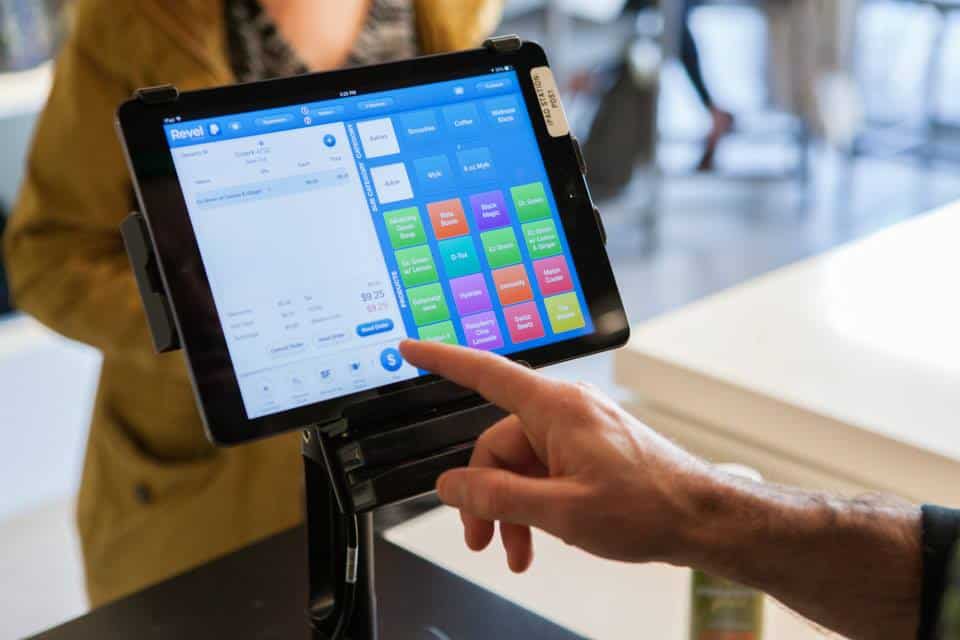 One of the top contenders here is the previously mentioned Revel Systems POS. Revel System is a cloud-based, touch screen interface that brings only your most important information into your dashboard. Eliminating the unnecessary and allowing your staff to focus on the important.
While it may seem its features are invaluable, Revel Systems views it another way. With its prices fairly low by industry standards for a POS system Revel Systems doesn't try to push expensive software.
 One Dashboard for All
Revel systems works within a single dashboard to provide a business platform integrated with customer channels. As a POS system this functionality is useful for a multitude of different stores, and businesses of varying sizes.
The slew of features shows it can be quickly and easily tailored for a restaurant or gas-station and convenience store combination. The inventory management, fuel pump management, and customer specific display build opportunities for both staff and customers to get the most out of Revel Systems. While data tracking and in depth reporting can give the owners and management new business insight.
 Around the Clock Support Team
A major selling point for Revel Systems is their easy to contact customer support with around the clock help available. For those who are less tech savvy, or if you have management staff that struggles this could be the decision making point. If you aren't entirely sure or confident in your tech abilities, more support is always better than less.
Our Second Best Touch Screen POS System: Harbortouch

Where Harbortouch is lacking on fancy features they makes up for it with a lifetime guaranty on all equipment and 24/7 support. They promise simple and cheap options which drives their prices to about half of what the competition is offering but has tiers to upgrade as any business sees they need it.
Harbortouch is a company known for delivering personalized care to their clients and aiding in those who have less experience handling POS systems.  However there isn't a lot of instruction necessary. The system is very easy to use and the dashboard is streamlined for management and business owners to only see the important.
 A Company that Works for You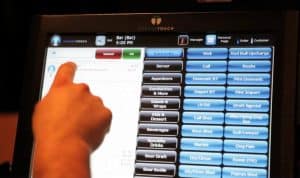 With this company you can be sure they will work around your schedule and answer your questions or concerns at times that are convenient for you. This is a deal breaker for many businesses! They provide full installation by certified technicians so there's no trying to figure it out yourself.
Where Harbortouch missed the mark on being the best touch screen POS system out there is in its reporting.
Harbortouch initially offers base level data services that are very basic reports. For thorough analytics and metrics there is another service to pay for. The Harbortouch Online Premium Reporting Tool which gives access to full information on all the data the POS has collected.
Our Final Choice for Touch Screen Point of Sale: TouchBistro POS

TouchBistro is in the "just-right" price for many restaurants that want all the mobility of an iPad based POS but don't want to have insane hardware expenses. A product after its own company's namesake, TouchBistro is a business that strives to deliver easy to use technology to restaurant owners.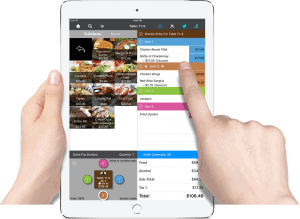 TouchBistro is the top contender in restaurants right now. Why? Because it can deliver ease of use for your staff in a way that allows them to better service your customers without being tailored for "fast-casual" or "fast-service" only. It is iPad based which is becoming more and more common these days.
In addition to the simple interfaces built for iPad's they are also easy to remove from high-risk areas or the store when the store is closed. TouchBistro has features that are intended to cater towards the food service industry as a whole.
Regardless of business size or service style. Giving new businesses a head start or old businesses looking for an upgrade, TouchBistro's interface at first blush is clearly the quick and easy solution.
 Perfect for Multi-Unit Restaurants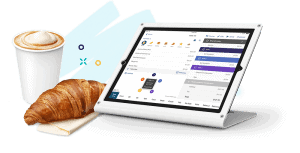 The POS system we had seen in our review that is the perfect solution for a handful of stores, great for a restaurant, is the TouchBistro POS. For restaurants seeking software specifically tailored to food service TouchBistro has the strongest functionality, reporting and support. The floor plan management, promotions, and discounts preset is the closest any restaurant will find to a 'plug-and-play' POS system.
3 Reasons Your Business Needs a Touch Screen POS System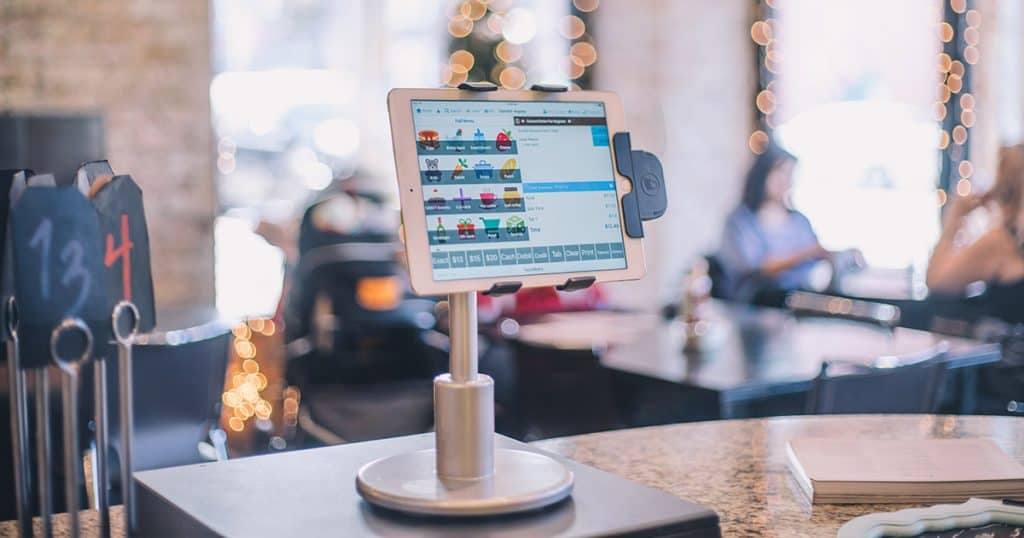 What is the difference of a touch screen v. non-touch screen POS? Let's look at two of industries that are making touch screen POS systems their first choice. These two industries are some of the last to the POS technology market but are being more cautious in their choices and looking for specific features.
While the argument is that gas stations have less human contact than ever with pay at the pump fuel options, millennials are the ones surging into the convenience stores. A USA Today article cited that convenience stores made up about 11.1% of all food stops made by millennials in 2014.
For a method of comparison, fast food places only made up 6.1% of millennial food stops. This could be one of the many reasons that the food service industry struggled to catch onto the technology craze.
1. Eliminate Unnecessary Multi-Tasking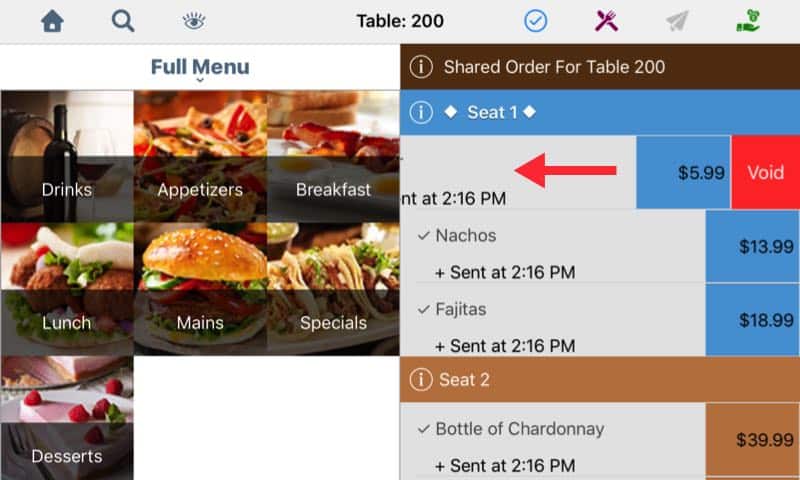 Gas stations and restaurants are bringing in new POS systems to not only track their trends and transaction data but to give their staff time to deliver quality customer service. The underlying question for many business owners is, "How do I give better service to my customers to keep them coming back?"
While it may not seem obvious that a POS system may be the solution to this problem, it may be the stepping stone to unlocking great customer service you have had in your store but your customers have been missing out on. Why are they missing out on this great customer service? Because your staff is overloaded with jumping between tasks that don't revolve around actually interacting with the customer.
Revel Systems, Harbortouch and TouchBistro are the top contenders for your business if you are a convenience store (C-stores) or restaurant owner.  For C-stores some features maybe more beneficial than others. While restaurants face different problems in multitasking the recurring transaction handling, while providing quality customer service can be streamlined by a POS system.
Restaurants understand that multitasking is the necessary evil of their industry so it becomes difficult to identify where there is opportunity to eliminate. Forbes explores how the food service industry began stepping into the technology advantage in 2012. Before they explored the benefits that Chili's saw from their tableside POS.
Employees who make sure that guests feel comfortable, and recognized, while also taking their orders, delivering plates, and clearing empty dishes. For multiple tables, for hours on end. Eliminating a lot of the time spent worrying on getting things right will enable yours server to deliver high quality service, while the kitchen staff receives notice of orders immediately and with increased accuracy.
Forbes showing the transition to technology, and Chili's leap into tableside, customer operated POS systems is a sign that allowing staff to focus on customers can reduce a variety of other multitasking which detracted from the overall quality of service.
2. A POS Can Take Care of your Customers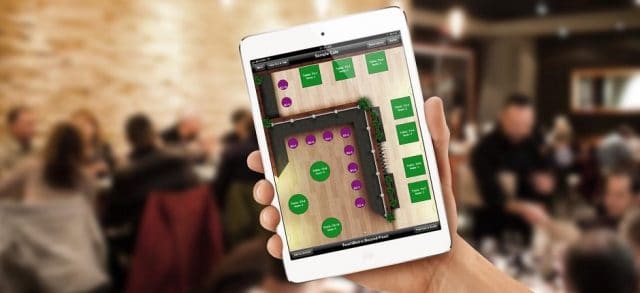 Modern customers are used to immediate and accurate interactions. With social media, and retail companies being able to respond through email or immediate calls to remedy unsatisfactory transactions convenience stores and restaurants just don't have that option. The culture of "always on" has instilled a sense of need for constant interaction. However that interaction cannot detract from the accuracy of the transaction.
A POS is the solution to quick and competent transactions. Gone will be the days of "I'm sorry I didn't get that right, let me have a manager correct it," and soon will be, "Your receipt, have a great day!"
Seen with Revel Systems and TouchBistro giving the power to your customers to operate a kiosk, mobile order, or order from their table can alleviate a lot of the stress that occurs with transactions. Inaccuracy in order taking, delays in transaction processing, and long lines can lead to customer irritation and lower customer retention.
Using a POS to deliver a higher caliber of customer service can increase your business sales and traffic. It can also make your transactions more efficient which is a primary goal of many restaurants and convenience stores or C-stores.
A high quality point of sale system with an easy to use customer interface like Revel Systems can eliminate the need for a cashier to be on hand at all times. Rather many fast-food restaurants are opting for more staff being customer service oriented and not tied to one position.
Restaurants have found that an outstanding POS system can enable servers to spend less time taking order and more time building customer rapport. It also decreases complaints of wait time for bills at the end of meals as they can now check out at their table. Are customers seeing any downside to technology in a restaurant? Not really.
Outside of casual dining, delivery and fast food restaurants are extorting technology to begin preparing food before the customer walks in the door. Facebook, mobile or even text ordering has enabled many fast and casual dining to thrive and cut costs despite the expense of installing new tech systems.
3. POS Systems Build Focus on Product and Service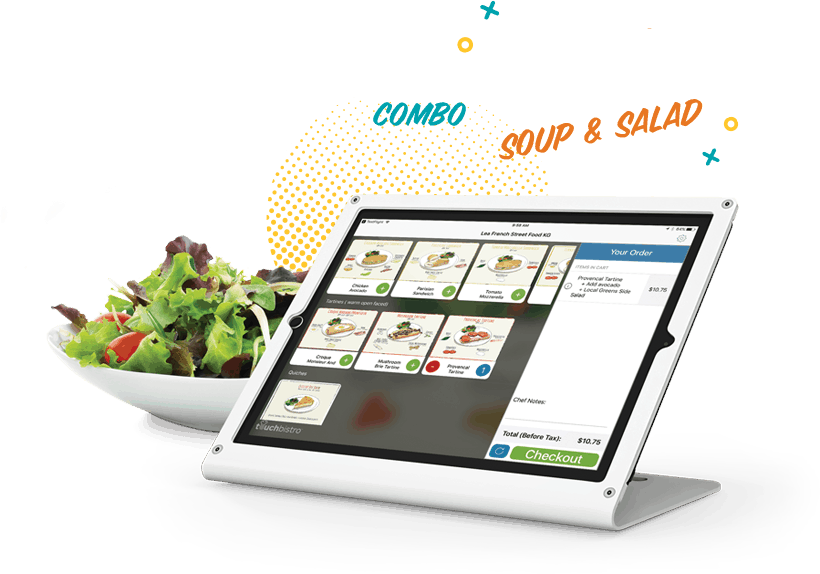 Although gas stations and conveniences stores find themselves in the niche that is necessary for everyday life, restaurants face different struggles in maintaining relevance in their industry and integrating technology.
This struggle for restaurants is interdependent. A lack of technology is resulting in losing ground in the food-service industry, and losing ground in the industry is resulting in being further out of touch with necessary technology.
Looking at the options available from TouchBistro we see one product highly focused on service. While Revel System has the ingredient-tracking inventory management which places a high focus on the product. So where is the middle ground? Is there a solution that keeps the focus on both product and service? Yes there is, and it lies in data tracking.
Where Harbortouch lost out against the competition was in its lack of in depth analytics. Data capturing is key for management and business owners to understand the full scope of their operations. Through data capturing and visual reporting a POS can enable strong business decisions that eliminate the excess and puts a clear focus on what the customers need for service as well as delivering consistent product.
Why Use A POS System For Every Customer Interaction?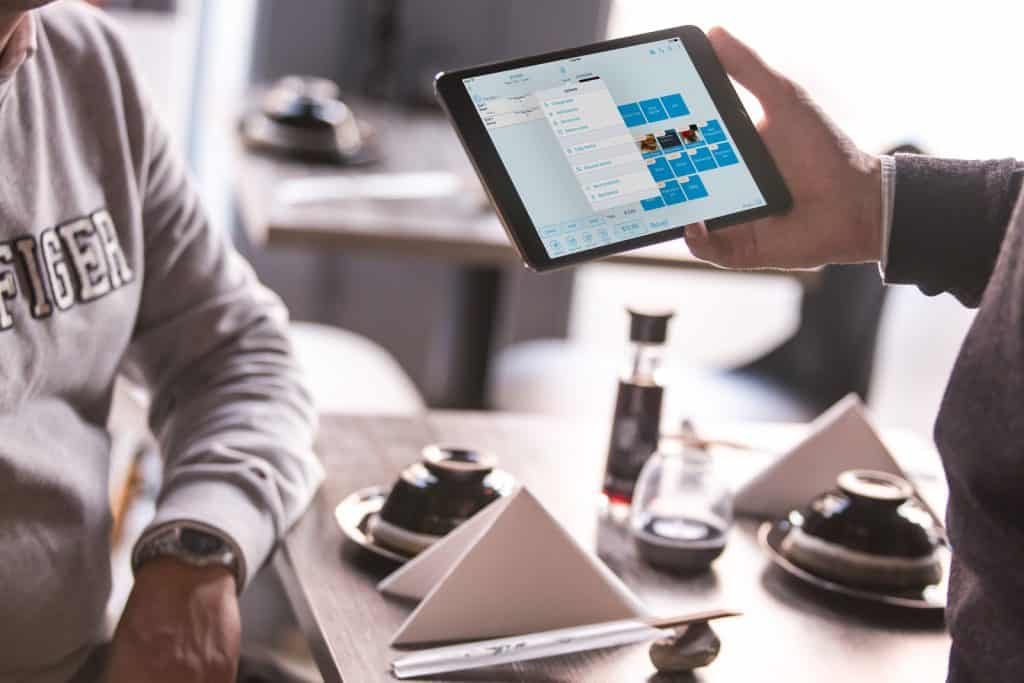 A point of sale system works best when it's used consistently and for every customer interaction. It is key in data capturing and identifying trends. The simplicity of having this data will enable you to make decisions regarding your staffing, and key customer needs. Your business will also enter into a position which allows your staff to redirect their time from extensive ordering, or cashiering and instead building a reputation of quality customer service.
A POS system can be utilized as a vital piece of equipment that isn't just for your staff to use. A focus on customer run kiosks are enabling faster ordering, faster transactions and more accuracy in data without causing the customers frustration.
This is a trend that is being seen throughout more and more industries as technology integrates itself into our daily lives. However both convenience stores and the food service industry have held off any making any major changes.
These companies are often keeping their tracking, accounting, and inventory processes manual. What you are missing out on when you are keeping many of these aspects done manually is the opportunity to instill the core value of customer service into all of your daily operations.
Our Final Review for the Best Touch Screen POS
Versatility beats out placing Revel Systems as the best touch screen POS on the market. Its mobility on the iPad is paired with features that are valuable across multiple industries and are easily customizable. Accessibility is another huge deciding factor, as it is easy for even large businesses to navigate.
Revel Systems also shows its values as a company by keeping an open API which permits external companies to write programs that integrate into the Revel Systems platform. For business owners this means that there aren't limitations on software opportunities.
One of the primary points which sold Revel Systems as the best is their level of security. Although it is cloud based there is a hybrid system at play which means that losing connection isn't going to disconnect you from all of your data.
Most of all, usability! Revel's dashboard may seem cluttered at first but useful icons, and intuitive placement of tools makes the backend easy to use. While the customer interface is intuitive as well it restricts customers to what the business decides they should be able to view. Ensuring that old promotions, and discounts aren't visible but payment screen are always easy and accessible.